Abstract
Improved thermal efficiency, reduction in fuel consumption and pollutant emissions from biodiesel fueled diesel engines are important issues in engine research. To achieve these, fast and perfect air–biodiesel mixing are the most important requirements. The mixing quality of biodiesel spray with air can be improved by better design of the injection system. The diesel engine tests were conducted on a 4-stroke tangentially vertical single cylinder (TV1) kirloskar 1500 rpm water cooled direct injection diesel engine with eddy current dynamometer. In this work, by varying different nozzles having spray holes of 3 (base, Ø = 0.280 mm), 4 (modified, Ø = 0.220 mm) and 5 (modified, Ø = 0.240 mm) holes, with standard static injection timing of 23° bTDC and nozzle opening pressure (NOP) of 250 bar maintained as constant throughout the experiment under steady state at full load condition of the engine. The effect of varying different nozzle configuration (number of holes), on the combustion, performance and exhaust emissions, using a blend of calophyllum inophyllum methyl ester by volume in diesel were evaluated. The test results showed that improvement in terms of brake thermal efficiency and specific fuel consumption for 4 holes and 5 holes nozzle operated at NOP 250 bar. Substantial improvements in the reduction of emissions levels were also observed for 5 holes nozzle operated at NOP 250 bar.
Access options
Buy single article
Instant access to the full article PDF.
USD 39.95
Price excludes VAT (USA)
Tax calculation will be finalised during checkout.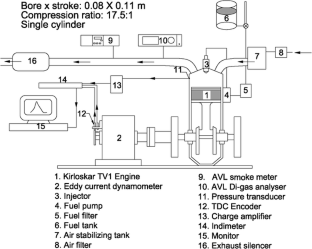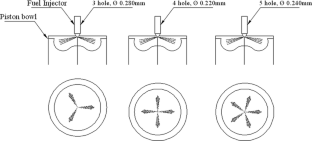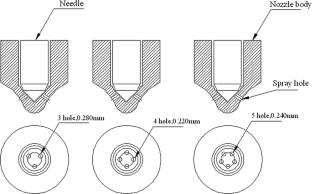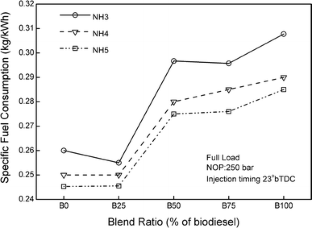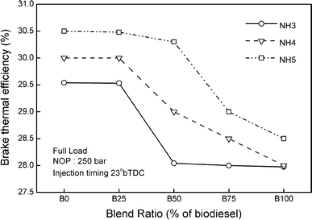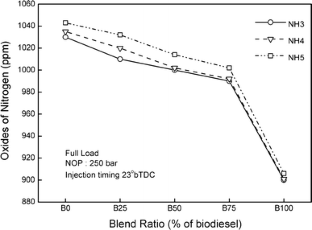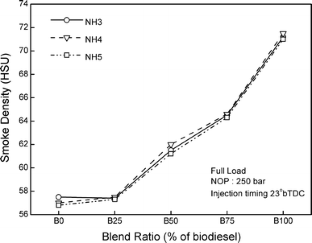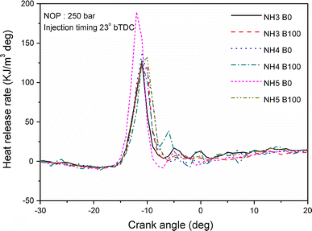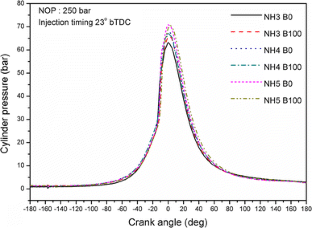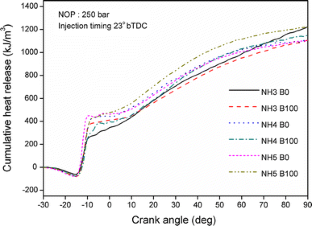 Abbreviations
CIME:

Calophyllum inophyllum methyl ester

ULSD:

Ultra low sulfur diesel

NOP:

Nozzle opening pressure

B0:

ULSD

B25:

Blend of 25 % CIME with ULSD

B50:

Blend of 50 % CIME with ULSD

B75:

Blend of 75 % CIME with ULSD

B100:

100 % CIME

NH:

Nozzle hole

CI:

Compression ignition

DI:

Direct injection

BSFC:

Brake specific fuel consumption

BTE:

Brake thermal efficiency

CO:

Carbon monoxide

CO2 :

Carbon dioxide

NOx:

Oxides of nitrogen

HSU:

Hartridge smoke unit

SD:

Smoke density

HC:

Hydrocarborn

ppm:

Parts per million

HRR:

Heat release rate

P:

Pressure (bar)

°CA:

Degree crank angle

TDC:

Top dead center

bTDC:

Before top dead center

kW:

KiloWatt

kJ:

KiloJoules

kg:

Kilogram
References
Heywood JB (1988) Internal combustion engine fundamentals. McGraw-Hill, New York, pp 491–562

Ganesan V (2005) Internal combustion engines. Tata McGraw-Hill, New Delhi

Yuan CL, Kuo HH, Chung BC (2011) Experimental investigation of the performance and emissions of a heavy-duty diesel engine fueled with waste cooking oil biodiesel/ultra-low sulfur diesel blends. Energy 36(1):241–248

Lee CS, Park SW, Kwon SI (2005) An experimental study on the atomization and combustion characteristics of biodiesel-blended fuels. Energy Fuels 19:2201–2208

Ejim CE, Fleck BA, Amirfazli A (2007) Analytical study for atomization of biodiesel and their blends in a typical injector: surface tension and viscosity effects. Fuel 86(10):1534–1544

Arai M, Tabata M, Hiroyasu H, Shimiz M (1984) Disintegration process and spray characterization of fuel jet injected by a diesel nozzle. SAE paper: 840275

Bakar RA, Ismail Semin AR, Ali Ismail (2008) Computational simulation of fuel nozzle multi holes geometries effect on direct injection diesel engine performance using GT-POWER. Am J Appl Sci 5(2):110–116

Yogish H, Chandarshekara K, Kumar MRP (2013) A study of performance and emission characteristics of computerized CI engine with composite biodiesel blends as fuel at various injection pressures. Heat Mass Transf 49(9):1345–1355

Smallwood GJ, Gülder OL (2000) Views on the structure of transient diesel sprays. At Sprays 10:355–386

Lee BH, Song JH, Chang YJ, Jeon CH (2010) Effect of the number of fuel injector holes on characteristics of combustion and emissions in a diesel engine. Int J Automot Technol 11(6):783–791

Vairamuthu G, Sundarapandian S, Thangagiri B (2015) Experimental investigations on the influence of properties of calophyllum inophyllum biodiesel on performance, combustion and emission characteristics of a DI diesel engine. Int J Ambient Energy. doi:10.1080/01430750.2015.1023838

Solaimuthu C, Vetrivel P, Subbarayan MR, Channankaiah (2014) Effect of nozzle opening pressures on diesel engine fuelled with Madhuca Indica biodiesel and its blend with diesel fuel. Ind J Eng 7(17):14–22

Subramanian KA, Lahane Subhash (2014) Impact of nozzle holes configuration on fuel spray, wall impingement and NOx emission of a diesel engine for biodiesel-diesel blend (B20). Appl Therm Eng 64(1–2):307–314

Prem Anand B, Saravanan CG, Ananda Srinivasan C (2010) Performance and exhaust emission of turpentine oil powered direct injection diesel engine. Renew Energy 35:1179–1184
About this article
Cite this article
Vairamuthu, G., Sundarapandian, S. & Thangagiri, B. Use of calophyllum inophyllum biofuel blended with diesel in DI diesel engine modified with nozzle holes and its size. Heat Mass Transfer 52, 1005–1013 (2016). https://doi.org/10.1007/s00231-015-1623-2
Received:

Accepted:

Published:

Issue Date:

DOI: https://doi.org/10.1007/s00231-015-1623-2
Keywords
Diesel Engine

Specific Fuel Consumption

Injector Nozzle

Brake Thermal Efficiency

Nozzle Hole