Abstract
The MHD Couette flow of two immiscible fluids in a parallel plate channel in the presence of an applied electric and inclined magnetic field is investigated in the paper. One of the fluids is assumed to be electrically conducting, while the other fluid and the channel plates are assumed to be electrically insulating. Separate solutions with appropriate boundary conditions for each fluid are obtained and these solutions are matched at the interface using suitable matching conditions. The partial differential equations governing the flow and heat transfer are transformed to ordinary differential equations and closed-form solutions are obtained in both fluid regions of the channel. The results for various values of the Hartmann number, the angle of magnetic field inclination, the loading parameter and the ratio of the heights of the fluids are presented graphically to show their effect on the flow and heat transfer characteristics.
Access options
Buy single article
Instant access to the full article PDF.
US$ 39.95
Tax calculation will be finalised during checkout.
Subscribe to journal
Immediate online access to all issues from 2019. Subscription will auto renew annually.
US$ 119
Tax calculation will be finalised during checkout.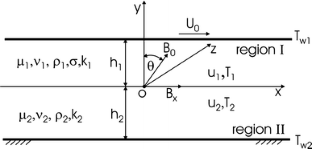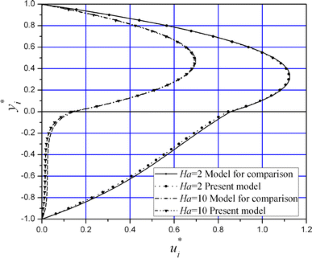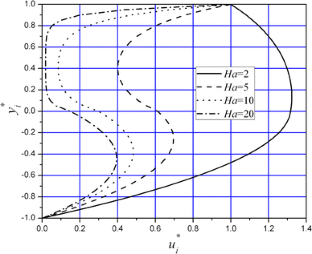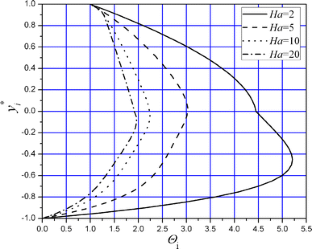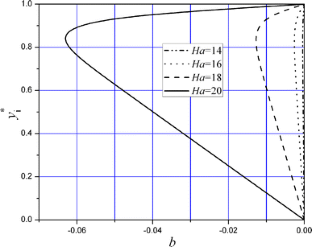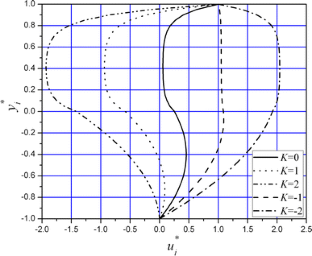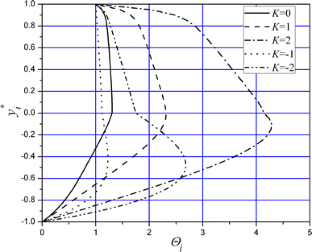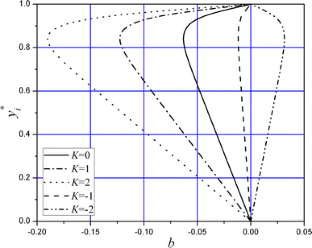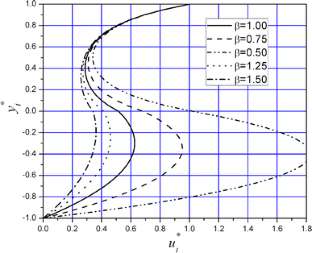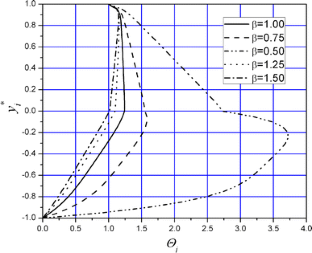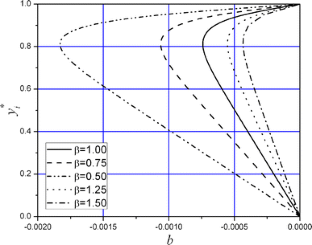 Abbreviations
B :

Magnetic field vector

B 0 :

Applied magnetic field strength

B x :

Strength of induced magnetic field

b :

Dimensionless ratio of magnetic fields

C :

Constant

c p :

Specific heat capacity

D i :

Coefficients

E :

Electric field vector

F :

Constant

H a :

Hartmann number

h i :

Height of the region i

J :

Current density

K :

Loading parameter

k :

Fluid thermal conductivity

p :

Pressure

Q :

Constant

R m :

Magnetic Reynolds number

S :

Constant

T :

Temperature

t :

Time

U 0 :

Upper plate velocity

u :

Velocity in x-direction

v :

Velocity vector

x :

Longitudinal coordinate

y :

Transversal coordinate

α:

Fluid viscosities ratio

β :

Ratio of heights of two regions

Φ :

Dissipative function

λ :

Cosine of inclination angle

μ :

Dynamic viscosity

μ e :

Magnetic permeability

ν:

Kinematic viscosity

θ :

Applied magnetic field inclination angle

Θ:

Dimensionless temperature

ρ:

Fluid density

σ:

Electrical conductivity

ξ:

Ratio of thermal conductivities

1:

Fluid in region I

2:

Fluid in region II

w :

Plate

*:

Dimensionless quantities
References
1.

Blum EL, Zaks MV, Ivanov UI, Mikhailov YA (1967) Heat exchange and mass exchange in magnetic field. Zinatne, Riga 223

2.

Barletta A, Celli M, Magyari E, Zanchini E (2008) Buoyant MHD flows in a vertical channel: the levitation regime. Heat Mass Transf 44:1005–1013

3.

Xu H, Liao SJ, Pop I (2007) Series solutions of unsteady three-dimensional MHD flow and heat transfer in the boundary layer over an impulsively stretching plate. Eur J Mech B Fluids 26:15–27

4.

Mukhopadhyay S, Layek GC, Samad SkA (2008) Study of MHD boundary layer flow over a heated stretching sheet with variable viscosity. Int J Heat Mass Transf 48:4460–4466

5.

Abel MS, Mahesha N, Tawade J (2009) Heat transfer in a liquid film over an unsteady stretching surface with viscous dissipation in presence of external magnetic field. Appl Math Modell doi:10.1016/j.apm.2008.11.021

6.

Kandasamy MR, Khamis AB (2008) Effects of heat and mass transfer on nonlinear MHD boundary layer flow over a shrinking sheet in the presence of suction. Appl Math Mech Engl Ed 29(10):1309–1317

7.

Ishak A, Nazar R, Pop I (2006) Flow of a micropolar fluid on a continuous moving surface. Arch Mech 58(6):529–541

8.

Ishak A, Nazar R, Pop I (2008) MHD boundary-layer flow of a micropolar fluid past a wedge with variable wall temperature. Acta Mech 196:75–86

9.

Lohrasbi J, Sahai V (1998) Magnetohydrodynamic heat transfer in two phase flow between parallel plates. Appl Sci Res 45:53–66

10.

Kumar JP, Umavathi JC, Chamkha AJ, Pop I (2010) Fully-developed free-convective flow of micropolar and viscous fluids in a vertical channel. Appl Math Model 34:1175–1186

11.

Muthuraj R, Srinivas S (2010) Fully developed MHD flow of a micropolar and viscous fluids in a vertical porous space using HAM. Int J Appl Math Mech 6(11):55–78

12.

Alireza S, Sahai V (1990) Heat transfer in developing magnetohydrodynamic Poiseuille flow and variable transport properties. Int J Heat Mass Transf 33(8):1711–1720

13.

Malashetty MS, Umavathi JC, Kumar JP (2001) Convective magnetohydrodynamic two fluid flow and heat transfer in an inclined channel. Heat Mass Transf 37:259–264

14.

Malashetty MS, Umavathi JC, Kumar JP (2004) Two fluid flow and heat transfer in an inclined channel containing porous and fluid layer. Heat Mass Transf 40:871–876

15.

Umavathi JC, Mateen A, Chamkha AJ, Mudhaf AA (2006) Oscillatory Hartmann two-fluid flow and heat transfer in a horizontal channel. Int J Appl Mech Eng 11(1):155–178

16.

Umavathi JC, Chamkha AJ, Mateen A, Al-Mudhaf A (2005) Unsteady two-fluid flow and heat transfer in a horizontal channel. Heat Mass Transf 42:81–90

17.

Malashetty MS, Umavathi JC, Kumar JP (2006) Magnetoconvection of two immiscible fluids in vertical enclosure. Heat Mass Transf 42:977–993

18.

Misuri T, Andrenucci M (2007) Tikhonov's MHD channel theory: a review. 30th international electric propulsion conference, Florence, Italy

19.

Sele T (1977) Instabilities of the metal surface in electrolytic cells. Light Metals, 7–24

20.

Gerbeau JF, Le Bris C, Lelièver T (2006) Mathematical methods for the Magnetohydrodynamics of Liquid Metals. Oxford University Press

21.

Chinyoka T, Renardy YY, Renardy M, Khismatullin DB (2005) Two-dimensional study of drop deformation under simple shear for Oldroyd-B liquids. J Nonnewtonian Fluid Mech 130:45–56

22.

Huppert HE, Hallworth MA (2007) Bi-directional flows in constrained systems. J Fluid Mech 578:95–112

23.

Ghosh SK (2002) Effects of Hall current on MHD Couette flow in a rotating system with arbitrary magnetic field. Czechoslovak J Phys 52:51–63

24.

Seth GS, Nandkeolyar R (2009) MHD couette flow in a rotating system in the presence of an inclined magnetic field. Appl Math Sci 3(59):2919–2932

25.

Smolentsev S, Cuevas S, Beltrán A (2010) Induced electric current-based formulation in computations of low magnetic Reynolds number magnetohydrodynamic flows. J Comput Phys 229:1558–1572

26.

Moreau R (1990) Magnetohydrodynamics. Kluwer Academic Publishers, Dordrecht/Boston/London

27.

Ishii M, Hibiki T (2006) Thermo-fluid dynamics of two-phase flow. Springer, New York

28.

Li F, Ozen O, Aubry N, Papageorgiou DT, Petropoulos PG (2007) Linear stability of a two-fluid interface for electrohydrodynamic mixing in a channel. J Fluid Mech 583:347–377

29.

Malashetty MS, Umavathi JC (1997) Two-phase magnetohydrodynamic flow and heat transfer in an inclined channel. Int J Multiphase Flow 23(3):545–560
About this article
Cite this article
Nikodijevic, D., Milenkovic, D. & Stamenkovic, Z. MHD Couette two-fluid flow and heat transfer in presence of uniform inclined magnetic field. Heat Mass Transfer 47, 1525 (2011). https://doi.org/10.1007/s00231-011-0815-7
Received:

Accepted:

Published:
Keywords
Viscous Dissipation

Joule Heating

Hartmann Number

Micropolar Fluid

Immiscible Fluid