Abstract
The pharmacokinetic (PK) models predict the hematic concentration of drugs after the administration. In compartment modeling, the body is described by a set of interconnected "vessels" or "compartments"; the modeling consisting of transient mass balances. Usually the orally administered drugs were considered as immediately available: this cannot describe the administration of extended-release systems. In this work we added to the traditional compartment models the ability to account for a delay in administration, relating this delay to in vitro data. Firstly, the method was validated, applying the model to the dosage of nicotine by chewing-gum; the model was tuned by in vitro/in vivo data of drugs (divalproex-sodium and diltiazem) with medium-rate release kinetics, then it was applied in describing in vivo evolutions due to the assumption of fast- and slow-release systems. The model reveals itself predictive, the same of a Level A in vitro/in vivo correlation, but being physically based, it is preferable to a purely statistical method.
Access options
Buy single article
Instant access to the full article PDF.
USD 39.95
Price excludes VAT (USA)
Tax calculation will be finalised during checkout.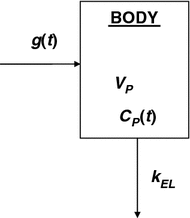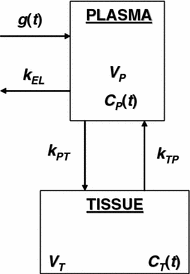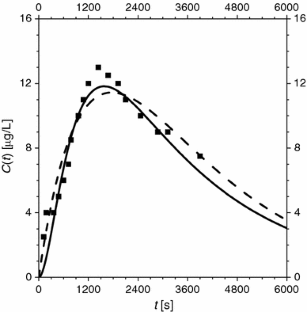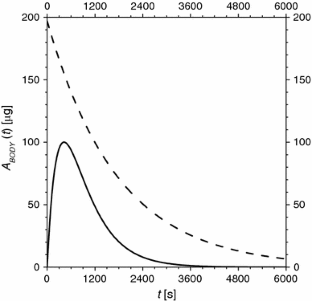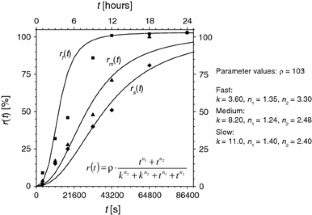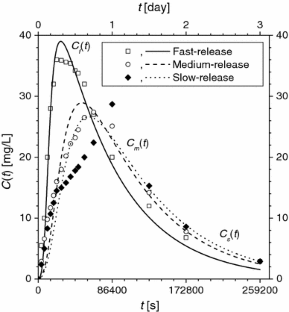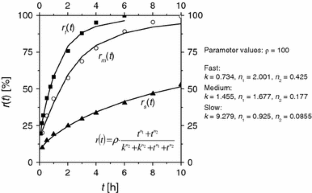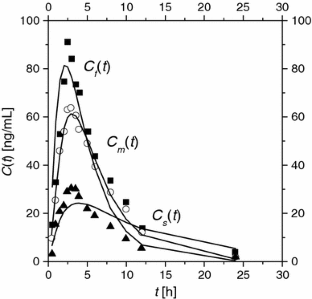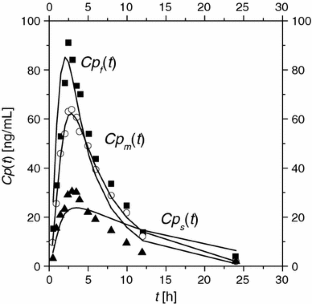 Abbreviations
ADME:

Adsorption–distribution–metabolism–excretion

AUC:

Area under curve

BCS:

Biopharmaceutics classification system

ER:

Extended release

GI:

Gastro-intestinal tract

IR:

Immediate release

IVIVC:

In vitro/in vivo correlations

MEC:

Minimum effective concentration

MTL:

Minimum toxic level

PBPK:

Physiologically based pharmacokinetics

PK:

Pharmacokinetics

USP:

United States pharmacopoeia
References
Fournier RL (1999) Basic transport phenomena in biomedical engineering. Taylor & Francis, Philadelphia

Saltzman M (2001) Drug delivery. Oxford University Press, Oxford

Grass GM, Sinko PJ (2002) Physiologically based pharmacokinetic simulation modelling. Adv Drug Deliv Rev 54:433–451

Peppas NA, Langer R (2004) Origins and development of biomedical engineering within chemical engineering. AICHE J 50:536–546

Sale M (2001) Modelling and simulation in drug development, promise and reality. Drug Discov World 2:47–50

Rooney KF, Snoeck E, Watson PH (2001) Modelling and simulation in clinical drug development. Drug Discov Today 6:802–806

Holz M, Fahr A (2001) Compartment modeling. Adv Drug Deliv Rev 48:249–264

Veng-Pedersen P (2001) Noncompartmentally based pharmacokinetic modeling. Adv Drug Deliv Rev 48:265–300

FDA (1997) Guidance for industry. Dissolution testing of immediate release solid oral dosage forms. Center for Drug Evaluation and Research (CDER)

USP 23/NF 18 (1995) The United States Pharmacopoeial Convention, Inc., Rockville, MD

FDA (1997) Guidance for industry. Extended release oral dosage forms: development, evaluation, and application of in vitro/in vivo correlations. Center for Drug Evaluation and Research (CDER)

McNabb ME, Ebert RV, McCusher K (1982) Plasma nicotine levels produced by chewing nicotine gum. JAMA 248:865–868

Grassi M, Grassi G, Lapasin R, Colombo I (2007) Understanding drug release and absorption mechanisms. CRC Press, Boca Raton

Dutta S, Yihong Q, Samara E, Cao G, Granneman R (2005) Once-a-day extended-release dosage forms of divalproex sodium III: development and validation of a level A in vitro–in vivo correlation (IVIVC). J Pharm Sci 94(9):1949–1956

FDA (2003) Guidance for industry. Bioavailability and bioequivalence studies for orally administered drug products-general considerations. Center for Drug Evaluation and Research (CDER)

Korhonen O, Kanerva H, Vidgren M, Urtti A, Ketolainen J (2004) Evaluation of novel starch acetate-diltiazem controlled release tablets in healthy human volunteers. J Control Release 95:515–520
About this article
Cite this article
Di Muria, M., Lamberti, G. & Titomanlio, G. Modeling the pharmacokinetics of extended release pharmaceutical systems. Heat Mass Transfer 45, 579–589 (2009). https://doi.org/10.1007/s00231-008-0456-7
Received:

Accepted:

Published:

Issue Date:

DOI: https://doi.org/10.1007/s00231-008-0456-7
Keywords
Diltiazem

Extended Release

Immediate Release

Divalproex Sodium

Drug Release Kinetic