Abstract
Purpose
To describe new users of atypical antipsychotics (APs) in terms of sociodemographic characteristics, cardio-metabolic risk profile, prescription patterns, healthcare costs and cardio-metabolic events over the 24 months after treatment initiation.
Methods
Atypical AP new users were selected from the ReS database and grouped into three: patients already affected by cardio-metabolic diseases (group A), patients without these clinical conditions but with predisposing conditions (group B) and patients without cardio-metabolic diseases and predisposing conditions (group C). Annual prescription patterns and healthcare costs were analysed. Subjects of groups B and C were matched with controls to compare the occurrences of cardio-metabolic events over 24 months.
Results
Thirty-two thousand thirty-four new users of atypical APs were selected (median age 69). The 22.3% had cardio-metabolic diseases, 14.8% had predisposing conditions and 62.9% had none of these. The 99.3% received monotherapy. The mean annual cost per patient was €2785, and the median cost was €1108. After 24 months, a cardio-metabolic event occurred in 11.5% of group B vs. 8.7% of the controls (p < .01), and in 5.0% of group C vs. 2.1% of the controls (p < .01).
Conclusion
Patients treated with atypical AP were on average old and, in a non-negligible amount, with cardio-metabolic disease or predisposing conditions. New users of atypical APs showed a significantly higher likelihood to develop a cardio-metabolic event early after treatment initiation.
Access options
Buy single article
Instant access to the full article PDF.
US$ 39.95
Tax calculation will be finalised during checkout.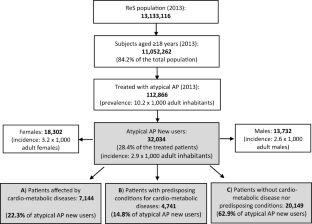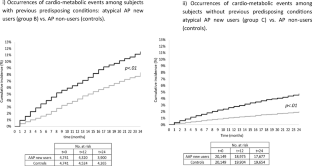 References
1.

Halfdanarson O, Zoega H, Aagaard L, Bernardo M, Brandt L, Fuste AC, Furu K, Garuoliene K, Hoffmann F, Huybrechts KF, Kalverdijk LJ, Kawakami K, Kieler H, Kinoshita T, Litchfield M, Lopez SC, Machado-Alba JE, Machado-Duque ME, Mahesri M, Nishtala PS, Pearson SA, Reutfors J, Saastamoinen LK, Sato I, Schuiling-Veninga CCM, Shyu YC, Skurtveit S, Verdoux H, Wang LJ, Yahni CZ, Bachmann CJ (2017) International trends in antipsychotic use: a study in 16 countries, 2005–2014. Eur Neuropsychopharmacol 27(10):1064–1076. https://doi.org/10.1016/j.euroneuro.2017.07.001

2.

Trifiro G, Spina E, Brignoli O, Sessa E, Caputi AP, Mazzaglia G (2005) Antipsychotic prescribing pattern among Italian general practitioners: a population-based study during the years 1999–2002. Eur J Clin Pharmacol 61(1):47–53. https://doi.org/10.1007/s00228-004-0868-3

3.

Baandrup L, Kruse M (2016) Incident users of antipsychotics: who are they and how do they fare? Soc Psychiatry Psychiatr Epidemiol 51(4):505–512. https://doi.org/10.1007/s00127-015-1129-8

4.

Marston L, Nazareth I, Petersen I, Walters K, Osborn DP (2014) Prescribing of antipsychotics in UK primary care: a cohort study. BMJ Open 4(12):e006135. https://doi.org/10.1136/bmjopen-2014-006135

5.

Maher AR, Maglione M, Bagley S, Suttorp M, Hu JH, Ewing B, Wang Z, Timmer M, Sultzer D, Shekelle PG (2011) Efficacy and comparative effectiveness of atypical antipsychotic medications for off-label uses in adults: a systematic review and meta-analysis. Jama 306(12):1359–1369. https://doi.org/10.1001/jama.2011.1360

6.

Hojlund M, Pottegard A, Johnsen E, Kroken RA, Reutfors J, Munk-Jorgensen P, Correll CU (2019) Trends in utilization and dosing of antipsychotic drugs in Scandinavia: comparison of 2006 and 2016. Br J Clin Pharmacol 85(7):1598–1606. https://doi.org/10.1111/bcp.13945

7.

Oteri A, Mazzaglia G, Pecchioli S, Molokhia M, Ulrichsen SP, Pedersen L, Poluzzi E, De Ponti F, Garbe E, Schink T, Herings R, Bezemer ID, Sturkenboom MC, Trifiro G (2016) Prescribing pattern of antipsychotic drugs during the years 1996–2010: a population-based database study in Europe with a focus on torsadogenic drugs. Br J Clin Pharmacol 82(2):487–497. https://doi.org/10.1111/bcp.12955

8.

Sultana J, Fontana A, Giorgianni F, Pasqua A, Cricelli C, Spina E, Gambassi G, Ivanovic J, Ferrajolo C, Molokhia M, Ballard C, Sharp S, Sturkenboom M, Trifiro G (2016) The effect of safety warnings on antipsychotic drug prescribing in elderly persons with dementia in the United Kingdom and Italy: a population-based study. CNS Drugs 30(11):1097–1109. https://doi.org/10.1007/s40263-016-0366-z

9.

Gareri P, Segura-Garcia C, Manfredi VG, Bruni A, Ciambrone P, Cerminara G, De Sarro G, De Fazio P (2014) Use of atypical antipsychotics in the elderly: a clinical review. Clin Interv Aging 9:1363–1373. https://doi.org/10.2147/cia.s63942

10.

Orsolini L, Tomasetti C, Valchera A, Vecchiotti R, Matarazzo I, Vellante F, Iasevoli F, Buonaguro EF, Fornaro M, Fiengo AL, Martinotti G, Mazza M, Perna G, Carano A, De Bartolomeis A, Di Giannantonio M, De Berardis D (2016) An update of safety of clinically used atypical antipsychotics. Expert Opin Drug Saf 15(10):1329–1347. https://doi.org/10.1080/14740338.2016.1201475

11.

Leucht S, Cipriani A, Spineli L, Mavridis D, Örey D, Richter F, Samara M, Barbui C, Engel RR, Geddes JR, Kissling W, Stapf MP, Lässig B, Salanti G, Davis JM (2013) Comparative efficacy and tolerability of 15 antipsychotic drugs in schizophrenia: a multiple-treatments meta-analysis. Lancet 382(9896):951–962. https://doi.org/10.1016/s0140-6736(13)60733-3

12.

Drici MD, Priori S (2007) Cardiovascular risks of atypical antipsychotic drug treatment. Pharmacoepidemiol Drug Saf 16(8):882–890. https://doi.org/10.1002/pds.1424

13.

Sacchetti E, Turrina C, Valsecchi P (2010) Cerebrovascular accidents in elderly people treated with antipsychotic drugs: a systematic review. Drug Saf 33(4):273–288. https://doi.org/10.2165/11319120-000000000-00000

14.

Spina E, Hiemke C, de Leon J (2016) Assessing drug-drug interactions through therapeutic drug monitoring when administering oral second-generation antipsychotics. Expert Opin Drug Metab Toxicol 12(4):407–422. https://doi.org/10.1517/17425255.2016.1154043

15.

de Leon J, Spina E (2018) Possible pharmacodynamic and pharmacokinetic drug-drug interactions that are likely to be clinically relevant and/or frequent in bipolar disorder. Curr Psychiatry Rep 20(3):17. https://doi.org/10.1007/s11920-018-0881-3

16.

Hsu WT, Esmaily-Fard A, Lai CC, Zala D, Lee SH, Chang SS, Lee CC (2017) Antipsychotics and the risk of cerebrovascular accident: a systematic review and meta-analysis of observational studies. J Am Med Dir Assoc 18(8):692–699. https://doi.org/10.1016/j.jamda.2017.02.020

17.

Amiel JM, Mangurian CV, Ganguli R, Newcomer JW (2008) Addressing cardiometabolic risk during treatment with antipsychotic medications. Curr Opin Psychiatry 21(6):613–618. https://doi.org/10.1097/YCO.0b013e328314b74b

18.

Wang PS, Schneeweiss S, Avorn J, Fischer MA, Mogun H, Solomon DH, Brookhart MA (2005) Risk of death in elderly users of conventional vs. atypical antipsychotic medications. N Engl J Med 353(22):2335–2341. https://doi.org/10.1056/NEJMoa052827

19.

Schneeweiss S, Setoguchi S, Brookhart A, Dormuth C, Wang PS (2007) Risk of death associated with the use of conventional versus atypical antipsychotic drugs among elderly patients. CMAJ 176(5):627–632. https://doi.org/10.1503/cmaj.061250

20.

Jennum P, Baandrup L, Iversen HK, Ibsen R, Kjellberg J (2016) Mortality and use of psychotropic medication in patients with stroke: a population-wide, register-based study. BMJ Open 6(3):e010662. https://doi.org/10.1136/bmjopen-2015-010662

21.

Schneider LS, Dagerman KS, Insel P (2005) Risk of death with atypical antipsychotic drug treatment for dementia: meta-analysis of randomized placebo-controlled trials. Jama 294(15):1934–1943. https://doi.org/10.1001/jama.294.15.1934

22.

Gill SS, Bronskill SE, Normand SL, Anderson GM, Sykora K, Lam K, Bell CM, Lee PE, Fischer HD, Herrmann N, Gurwitz JH, Rochon PA (2007) Antipsychotic drug use and mortality in older adults with dementia. Ann Intern Med 146(11):775–786. https://doi.org/10.7326/0003-4819-146-11-200706050-00006

23.

Kales HC, Valenstein M, Kim HM, McCarthy JF, Ganoczy D, Cunningham F, Blow FC (2007) Mortality risk in patients with dementia treated with antipsychotics versus other psychiatric medications. Am J Psychiatry 164(10):1568–1576; quiz 1623. https://doi.org/10.1176/appi.ajp.2007.06101710

24.

Pasternak B, Svanstrom H, Ranthe MF, Melbye M, Hviid A (2014) Atypical antipsychotics olanzapine, quetiapine, and risperidone and risk of acute major cardiovascular events in young and middle-aged adults: a nationwide register-based cohort study in Denmark. CNS Drugs 28(10):963–973. https://doi.org/10.1007/s40263-014-0176-0

25.

Chiesa D, Marengoni A, Nobili A, Tettamanti M, Pasina L, Franchi C, Djade CD, Corrao S, Salerno F, Marcucci M, Romanelli G, Mannucci PM (2017) Antipsychotic prescription and mortality in hospitalized older persons. Psychogeriatrics 17(6):397–405. https://doi.org/10.1111/psyg.12263

26.

Piccinni C, Ronconi G, Calabria S, Dondi L, Forcesi E, Rossi E, Pedrini A, Martini N (2018) Healthcare resources utilisation in primary progressive multiple sclerosis. Neurological sciences 39(7):1169–1174. https://doi.org/10.1007/s10072-018-3404-4

27.

Piccinni C, Cevoli S, Ronconi G, Dondi L, Calabria S, Pedrini A, Esposito I, Favoni V, Pierangeli G, Cortelli P, Martini N (2019) A real-world study on unmet medical needs in triptan-treated migraine: prevalence, preventive therapies and triptan use modification from a large Italian population along two years. J Headache Pain 20(1):74. https://doi.org/10.1186/s10194-019-1027-7

28.

Cimminiello C, Dondi L, Pedrini A, Ronconi G, Calabria S, Piccinni C, Polo Friz H, Martini N, Maggioni AP (2019) Patterns of treatment with antiplatelet therapy after an acute coronary syndrome: data from a large database in a community setting. Eur J Prev Cardiol 26(8):836–846. https://doi.org/10.1177/2047487318814970

29.

ISTAT-Istituto Nazionale di Statistica (2014) Demography in figure. http://demo.istat.it/index_e.html. Accessed 10/12/2019

30.

Cramer JA, Roy A, Burrell A, Fairchild CJ, Fuldeore MJ, Ollendorf DA, Wong PK (2008) Medication compliance and persistence: terminology and definitions. Value Health 11(1):44–47. https://doi.org/10.1111/j.1524-4733.2007.00213.x

31.

Leslie DL, Rosenheck R (2012) Off-label use of antipsychotic medications in Medicaid. Am J Manag Care 18(3):e109–e117

32.

Alexander GC, Gallagher SA, Mascola A, Moloney RM, Stafford RS (2011) Increasing off-label use of antipsychotic medications in the United States, 1995–2008. Pharmacoepidemiol Drug Saf 20(2):177–184. https://doi.org/10.1002/pds.2082

33.

De Hert M, Detraux J, van Winkel R, Yu W, Correll CU (2011) Metabolic and cardiovascular adverse effects associated with antipsychotic drugs. Nat Rev Endocrinol 8(2):114–126. https://doi.org/10.1038/nrendo.2011.156

34.

Kovacs G, Almasi T, Millier A, Toumi M, Horvath M, Koczian K, Gotze A, Kalo Z, Zemplenyi AT (2018) Direct healthcare cost of schizophrenia—European overview. Eur Psychiatry 48:79–92. https://doi.org/10.1016/j.eurpsy.2017.10.008

35.

Trifiro G, Gini R, Barone-Adesi F, Beghi E, Cantarutti A, Capuano A, Carnovale C, Clavenna A, Dellagiovanna M, Ferrajolo C, Franchi M, Ingrasciotta Y, Kirchmayer U, Lapi F, Leone R, Leoni O, Lucenteforte E, Moretti U, Mugelli A, Naldi L, Poluzzi E, Rafaniello C, Rea F, Sultana J, Tettamanti M, Traversa G, Vannacci A, Mantovani L, Corrao G (2019) The role of European healthcare databases for post-marketing drug effectiveness, safety and value evaluation: where does Italy stand? Drug Saf 42(3):347–363. https://doi.org/10.1007/s40264-018-0732-5

36.

Piccinni C, Piazza A, Poluzzi E, Tarricone I, Koci A, Berardi D, Fioritti A, de Ponti F (2015) Social and clinical descriptors of antipsychotic prescription. Int J Psychiatry Med 49(1):45–62. https://doi.org/10.2190/PM.49.1.d

37.

Sacchetti E, Trifiro G, Caputi A, Turrina C, Spina E, Cricelli C, Brignoli O, Sessa E, Mazzaglia G (2008) Risk of stroke with typical and atypical anti-psychotics: a retrospective cohort study including unexposed subjects. J Psychopharmacol (Oxford, England) 22(1):39–46. https://doi.org/10.1177/0269881107080792

38.

van Walraven C, Austin P (2012) Administrative database research has unique characteristics that can risk biased results. J Clin Epidemiol 65(2):126–131. https://doi.org/10.1016/j.jclinepi.2011.08.002

39.

Suissa S (2008) Immortal time bias in pharmaco-epidemiology. Am J Epidemiol 167(4):492–499. https://doi.org/10.1093/aje/kwm324

40.

Fasseeh A, Nemeth B, Molnar A, Fricke FU, Horvath M, Koczian K, Gotze A, Kalo Z (2018) A systematic review of the indirect costs of schizophrenia in Europe. Eur J Pub Health 28(6):1043–1049. https://doi.org/10.1093/eurpub/cky231
Funding
The study was partially supported by an unrestricted grant from Angelini S.p.A.
Ethics declarations
Conflict of interest
The authors declare that they have no competing interests.
Ethical approval
This is an observational non-interventional database study, reutilising administrative data for the purpose of addressing a research question. The study was conducted under specific agreements between Fondazione ReS and Italian Regional/Local Health Facilities participating in the ReS database. All these institutions have general legal and ethical frameworks that allow them to conduct research by making secondary use of administrative data and provided sufficient guarantee of individual records' deidentification.
Informed consent
Not applicable.
Additional information
Part of the results of this study has been presented as abstracts to the 32nd ECNP (European College of Neuropsychopharmacology) Congress (7–10 September 2019, Copenhagen) and to the national meeting of the Italian Society of Psychiatry (21–23 June 2019, Firenze).
Publisher's note
Springer Nature remains neutral with regard to jurisdictional claims in published maps and institutional affiliations.
Electronic supplementary material
About this article
Cite this article
Piccinni, C., Dondi, L., Ronconi, G. et al. Real-world data on new users of atypical antipsychotics: characterisation, prescription patterns, healthcare costs and early cardio-metabolic occurrences from a large Italian database. Eur J Clin Pharmacol 76, 1301–1310 (2020). https://doi.org/10.1007/s00228-020-02899-9
Received:

Accepted:

Published:

Issue Date:
Keywords
Atypical antipsychotic

Cardio-metabolic risk

Administrative data

Real-world evidence

Italy