Abstract
Aim
To assess and evaluate patient safety incidents and in particular, medication errors, during a large multi-center pre-hospital trial of emergency therapy (PARAMEDIC2), in order to inform and improve future pre-hospital medicines trials.
Methods
The PARAMEDIC2 trial was undertaken across five NHS Ambulance Services in England and Wales with randomisation between December 2014 and October 2017. Patients with an out -of-hospital cardiac arrest unresponsive to initial resuscitation were randomly assigned to 1 mg intravenous adrenaline or matching placebo. Records were reviewed to identify trial medication errors involving documentation and/or clinical protocol errors occurring in trial participants. Causes of medication errors, including root cause analysis where available, were reviewed to identify patterns and themes contributing to these errors.
Results
Eight thousand sixteen patients were enrolled, of whom 4902 received trial medication. A total of 331 patient safety incidents was reported, involving 295 patients, representing an overall rate of 3.6% of these, 166 (50.2%) were documentation errors while 165 (49.8%) were clinical protocol/medication errors. An overall rate of 0–4.5% was reported across all five ambulance services, with a mean of 2.0%. These errors had no impact on patient care or the trial and were all resolved
Conclusion
The overall medication error rate of 1.8% primarily consisted of administration of open-label adrenaline and confusion with trial medication packs. A similar number of patients had documentation errors. This study is the first to provide data on patient safety incidents relating to medication errors encountered during a pre-hospital trial of emergency medication administration and will provide supporting data for planning future trials in this area.
Access options
Buy single article
Instant access to the full article PDF.
US$ 39.95
Tax calculation will be finalised during checkout.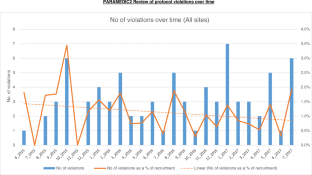 References
1.

Elliott R, Camacho E, Campbell F, Jankovic D, Martyn St James M, Kaltenthaler E, Wong R, Sculpher M, Faria R (2018) Prevalence and Economic Burden of Medication Errors in The NHS in England. Rapid evidence synthesis and economic analysis of the prevalence and burden of medication error in the UK. Policy Research Unit in Economic Evaluation of Health and Care Interventions. Universities of Sheffield and York. http://www.eepru.org.uk/prevalence-and-economic-burden-of-medication-errors-in-the-nhs-in-england-2/ Accessed 30th July 2019

2.

Sutherland A, Canobbio M, Clarke J et al (2018) Incidence and prevalence of intravenous medication errors in the UK: a systematic review. Eur J Hosp Pharm. https://doi.org/10.1136/ejhpharm-2018-001624

3.

Lifshitz AE, Goldstein LH, Sharist M, Strugo R, Asulin E, Haim SB, Feigenberg Z, Berkovitch M, Kozer E (2012) Medication prescribing errors in the prehospital setting and in the ED. Am J Emerg Med 30(5):726–731

4.

Vilke GM, Tornabene SV, Stepanski B, Shipp HE, Ray LU, Metz MA, Vroman D, Anderson M, Murrin PA, Davis DP, Harley J (2007) Paramedic self-reported medication errors. Prehosp Emerg Care 11(1):80–84

5.

Westbrook JI, Raban MZ, Walter SR, Douglas H (2018) Task errors by emergency physicians are associated with interruptions, multitasking, fatigue and working memory capacity: a prospective, direct observation study. BMJ Qual Saf 27(8):655–663

6.

Westbrook JI, Woods A, Rob MI, Dunsmuir WT, Day RO (2010) Association of interruptions with an increased risk and severity of medication administration errors. Arch Intern Med 170(8):683–690

7.

Moon JY, Lee Y, Han JM et al (2019) Effects of pharmacist interventions on reducing prescribing errors of investigational drugs in oncology clinical trials. J Oncol Pharm Pract. https://doi.org/10.1177/1078155219834723

8.

Brown JN, Britnell SR, Stivers AP, Cruz JL (2017) Medication safety in clinical trials: role of the pharmacist in optimizing practice, collaboration, and education to reduce Errors. Yale J Biol Med 90(1):125–133

9.

Perkins GD, Ji C, Deakin CD, Quinn T, Nolan JP, Scomparin C, Regan S, Long J, Slowther A, Pocock H, Black JJM, Moore F, Fothergill RT, Rees N, O'Shea L, Docherty M, Gunson I, Han K, Charlton K, Finn J, Petrou S, Stallard N, Gates S, Lall R, PARAMEDIC2 Collaborators (2018) A randomized trial of epinephrine in out-of-hospital cardiac arrest. N Engl J Med 379(8):711–721

10.

Perkins GD, Quinn T, Deakin CD, Nolan JP, Lall R, Slowther AM, Cooke M, Lamb SE, Petrou S, Achana F, Finn J, Jacobs IG, Carson A, Smyth M, Han K, Byers S, Rees N, Whitfield R, Moore F, Fothergill R, Stallard N, Long J, Hennings S, Horton J, Kaye C, Gates S (2016) Pre-hospital assessment of the role of adrenaline: measuring the effectiveness of drug administration in cardiac arrest (PARAMEDIC-2): trial protocol. Resuscitation 108:75–81

11.

https://www.gov.uk/guidance/good-clinical-practice-for-clinical-trials. Accessed 28th November 2019

12.

Jacobs IG, Finn JC, Jelinek GA, Oxer HF, Thompson PL (2011) Effect of adrenaline on survival in out-of-hospital cardiac arrest: a randomised double-blind placebo-controlled trial. Resuscitation 82(9):1138–1143

13.

Tanno LK, Alvarez-Perea A, Pouessel G (2019) Therapeutic approach of anaphylaxis. Curr Opin Allergy Clin Immunol 19(4):393–401

14.

Sheikh A, Shehata YA, Brown SG et al (2009) Adrenaline for the treatment of anaphylaxis: cochrane systematic review. Allergy 64(2):204–212

15.

Franchini S, Marinosci A, Cicenia G (2010) Emergency treatment of asthma. N Engl J Med 363(26):2567 author reply 68-9

16.

Pugel AE, Simianu VV, Flum DR, Patchen Dellinger E (2015) Use of the surgical safety checklist to improve communication and reduce complications. J Infect Public Health 8(3):219–225

17.

Deakin CD, King P, Thompson F (2009) Prehospital advanced airway management by ambulance technicians and paramedics: is clinical practice sufficient to maintain skills? Emerg Med J 26(12):888–891

18.

Patient Safety Incident Reporting (in the NHS). https://www.england.nhs.uk/2015/09/patient-safety-reporting/ Accessed 1st August 2019

19.

Manias E, Williams A, Liew D (2012) Interventions to reduce medication errors in adult intensive care: a systematic review. Br J Clin Pharmacol 74(3):411–423

20.

Bower R, Jackson C, Manning JC (2015) Interruptions and medication administration in critical care. Nurs Crit Care 20(4):183–195

21.

Medication Errors (2016) Technical Series on Safer Primary Care. World Health Organisation. ISBN 978–92–4-151164-3

22.

Lawton R, McEachan RR, Giles SJ et al (2012) Development of an evidence-based framework of factors contributing to patient safety incidents in hospital settings: a systematic review. BMJ Qual Saf 21(5):369–380

23.

Keers RN, Williams SD, Cooke J, Ashcroft DM (2013) Prevalence and nature of medication administration errors in health care settings: a systematic review of direct observational evidence. Ann Pharmacother 47(2):237–256

24.

Kane MP, Fessele K, Gordillis-Perez J et al (2016) Medication safety in cancer clinical trials: An analysis of medication error reports at a comprehensive cancer center. J Clin Oncol 25 no. 18_suppl (June 20 2007):6547

25.

Heneka N, Shaw T, Rowett D, Lapkin S, Phillips JL (2018) Opioid errors in inpatient palliative care services: a retrospective review. BMJ Support Palliat Care 8(2):175–179

26.

NHS England and Medicines and Healthcare Products Regulatory Agency (2014) Patient Safety Alert: Supporting Information. Improving medication error incident reporting and learning. https://www.england.nhs.uk/wp-content/uploads/2014/03/psa-sup-info-med-error.pdf Accessed 30th July 2019
Acknowledgements
We thank all those involved in the original PARAMEDIC2 trial from which this data was extracted. In particular, we thank London Ambulance Service NHS Trust, North East Ambulance Service NHS Trust, South Central Ambulance Service NHS Trust, Welsh Ambulance Service NHS Trust, West Midlands Ambulance Service NHS Trust, members of the Trial Steering Committee and Data Monitoring Committee and the University of Warwick Clinical Trials Unit.
Funding
The original PARAMEDIC2 trial from which this data is extracted was funded the National Institute for Health Research Health Technology Assessment Programme (12/127/126).
Ethics declarations
Conflict of interest
All authors report the grant from National Institute for Health Research related to the PARAMEDIC2 study. All authors declare no other COI.
Additional information
Publisher's note
Springer Nature remains neutral with regard to jurisdictional claims in published maps and institutional affiliations.
About this article
Cite this article
England, E., Deakin, C.D., Nolan, J.P. et al. Patient safety incidents and medication errors during a clinical trial: experience from a pre-hospital randomized controlled trial of emergency medication administration. Eur J Clin Pharmacol 76, 1355–1362 (2020). https://doi.org/10.1007/s00228-020-02887-z
Received:

Accepted:

Published:

Issue Date:
Keywords
Drug errors

Medication errors

Clinical trial

Drug administration