Access options
Buy single article
Instant access to the full article PDF.
US$ 39.95
Tax calculation will be finalised during checkout.
Subscribe to journal
Immediate online access to all issues from 2019. Subscription will auto renew annually.
US$ 119
Tax calculation will be finalised during checkout.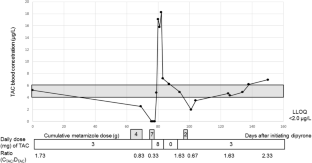 References
1.

Saussele T, Burk O, Blievernicht JK, Klein K, Nussler A, Nussler N, Hengstler JG, Eichelbaum M, Schwab M, Zanger UM. Selective induction of human hepaticcytochromes P450 2B6 and 3A4 by metamizole. Clin Pharmacol Ther 2007;82(3):265-74

2.

Caraco Y, Zylber-Katz E, Fridlander M, Admon D, Levy M (1999) The effect of short-term dipyrone administration on cyclosporin pharmacokinetics. Eur J Clin Pharmacol 55(6):475–478

3.

Hebert MF (1997) Contributions of hepatic and intestinal metabolism and P-glycoprotein to cyclosporine and tacrolimus oral drug delivery. Adv Drug Deliv Rev 27(2–3):201–214

4.

Astellas Pharma AG. Product information Prograf©. Available from www.swissmedicinfo.ch. Accessed 25 July 2018

5.

Tang W, Stearns RA (2001) Heterotropic cooperativity of cytochrome P450 3A4 and potential drug-drug interactions. Curr Drug Metab 2(2):185–198 Review

6.

Kasicka-Jonderko A, Nita A, Jonderko K, Kamińska M (2011) Błońska-Fajfrowska B. C-methacetin breath test reproducibility study reveals persistent CYP1A2 stimulation on repeat examinations. World J Gastroenterol 17(45):4979–4986

7.

Dai Y, Hebert MF, Isoherranen N, Davis CL, Marsh C, Shen DD, Thummel KE (2006) Effect of CYP3A5 polymorphism on tacrolimus metabolic clearance in vitro. Drug Metab Dispos 34(5):836–847

8.

Wang J, Li K, Zhang X, Teng D, Ju M, Jing Y, Zhao Y, Li G (2017) The correlation between the expression of genes involved in drug metabolism and the blood level of tacrolimus in liver transplant receipts. Sci Rep 7(1):3429

9.

Maldonado AQ, Asempa T, Hudson S, Rebellato LM (2017) Prevalence of CYP3A5 genomic variances and their impact on Tacrolimus dosing requirements among kidney transplant recipients in eastern North Carolina. Pharmacotherapy 37(9):1081–1088
Ethics declarations
Conflicts of interest
All authors declare that there are no conflicts of interest.
Additional information
Publisher's note
Springer Nature remains neutral with regard to jurisdictional claims in published maps and institutional affiliations.
Stefan Weiler is also a member of the Pharmacovigilance Risk Assessment Committee (PRAC) of the European Medicines Agency (EMA). The aspects described and the views expressed here are the authors' personal views, and may not be understood or quoted as being made on behalf of the PRAC or reflecting the position of the PRAC
About this article
Cite this article
Sigaroudi, A., Jetter, A., Mueller, T.F. et al. Severe reduction in tacrolimus concentrations with concomitant metamizole (dipyrone) therapy in transplant patients. Eur J Clin Pharmacol 75, 869–872 (2019). https://doi.org/10.1007/s00228-019-02635-y
Received:

Accepted:

Published:

Issue Date: