Abstract
Purpose
Older people with advanced frailty are among the highest consumers of medications. When life expectancy is limited, some of these medications are likely to be inappropriate. The aim of this study was to compare STOPPFrail, a concise, easy-to-use, deprescribing tool based on explicit criteria, with gold standard, systematic geriatrician-led deprescribing.
Methods
One hundred standardized clinical cases involving 1024 medications were prepared. Clinical cases were based on anonymized hospitalized patients aged ≥ 65 years, with advanced frailty (Clinical Frailty Scale ≥ 6), receiving ≥ 5 regular medications, who were selected from a recent observational study. Level of agreement between deprescribing methods was measured by Cohen's kappa coefficient. Sensitivity and positive predictive value of STOPPFrail-guided deprescribing relative to gold standard deprescribing was also measured.
Results
Overall, 524 medications (51.2%) of medications prescribed to this frail, elderly cohort were potentially inappropriate by gold standard criteria. STOPPFrail-guided deprescribing led to the identification of 70.2% of the potentially inappropriate medications. Cohen's kappa was 0.60 (95% confidence interval 0.55–0.65; p < 0.001) indicating moderate agreement between STOPPFrail-guided and gold standard deprescribing. The positive predictive value of STOPPFrail was 89.3% indicating that the great majority of deprescribing decisions aligned with gold standard care.
Conclusions
STOPPFrail removes an important barrier to deprescribing by explicitly highlighting circumstances where commonly used medications can be safely deprescribed in older people with advanced frailty. Our results suggest that in multi-morbid older patients with advanced frailty, the use of STOPPFrail criteria to address inappropriate polypharmacy may be reasonable alternative to specialist medication review.
This is a preview of subscription content, log in to check access.
Access options
Buy single article
Instant access to the full article PDF.
US$ 39.95
Price includes VAT for USA
Subscribe to journal
Immediate online access to all issues from 2019. Subscription will auto renew annually.
US$ 199
This is the net price. Taxes to be calculated in checkout.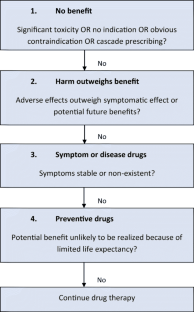 References
1.

Steinman MA, Hanlon JT (2010) Managing medications in clinically complex elders: "There's got to be a happy medium". JAMA 304:1592–1601

2.

Curtin D, O'Mahony D, Gallagher P (2018) Drug consumption and futile medication prescribing in the last year of life: an observational study. Age Ageing 47:749–753

3.

Jansen J, Naganathan V, Carter SM, et al (2016) Too much medicine in older people? Deprescribing through shared decision making. BMJ;353:I2893

4.

Anderson K, Freeman C, Stowasser D, Scott I (2014) Prescriber barriers and enablers to minimising potentially inappropriate medications in adults: a systematic review and thematic synthesis. BMJ Open;4:e006544

5.

Wouters H, Scheper J, Koning H, Brouwer C, Twisk JW, van der Meer H, Boersma F, Zuidema SU, Taxis K (2017) Discontinuing inappropriate medication use in nursing home residents: a cluster randomized controlled trial. Ann Intern Med 167(9):609–617

6.

Potter K, Flicker L, Page A, Etherton-Beer C (2016) Deprescribing in frail older people: a randomised controlled trial. PLoS One 11(3):e0149984

7.

Garfinkel D (2018) Poly-de-prescribing to treat polypharmacy: efficacy and safety. Ther Adv Drug Saf 9(1):25–43

8.

Scott IA, Hilmer SN, Reeve E, Potter K, le Couteur D, Rigby D, Gnjidic D, del Mar CB, Roughead EE, Page A, Jansen J, Martin JH (2015) Reducing inappropriate polypharmacy: the process of deprescribing. JAMA Intern Med 175(5):827–834

9.

Spinewine A, Schmader KE, Barber N, Hughes C, Lapane KL, Swine C, Hanlon JT (2007) Appropriate prescribing in elderly people: how well can it be measured and optimised? Lancet 370(9582):173–184

10.

Scott I, Anderson K, Freeman C (2017) Review of structured guides for deprescribing. Eur J Hosp Pharm 24:51–57

11.

Lavan AH, Gallagher P, Parsons C, O'Mahony D (2017) STOPPFrail (Screening Tool of Older Persons Prescriptions in Frail adults with limited life expectancy): consensus validation. Age Ageing 0:1–8

12.

Lavan AH, Gallagher P, O'Mahony D (2017) Inter-rater reliability of STOPPFrail [Screening Tool of Older Persons Prescriptions in Frail adults with limited life expectancy] criteria amongst 12 physicians. Eur J Clin Pharmacol 74:331–338. https://doi.org/10.1007/s00228-017-2376-2. [Epub ahead of print]

13.

Watson PF, Petrie A (2010) Method agreement analysis: a review of correct methodology. Theriogenology 73(9):1167–1179

14.

Rockwood K, Song X, MacKnight C, Bergman H, Hogan DB, McDowell I, Mitnitski A (2005) A global clinical measure of fitness and frailty in elderly people. CMAJ 173:489–495

15.

Landis JR, Koch GG (1977) The measurement of observer agreement for categorical data. Biometrics 33:159–174

16.

Leventhal H (1965) Effects of fear and specificity of recommendation upon attitudes and behavior. J Pers Soc Psychol 2(1):20–29

17.

Bucher T, Collins C, Rollo ME, McCaffrey TA, de Vlieger N, van der Bend D, Truby H, Perez-Cueto FJA (2016) Nudging consumers towards healthier choices: a systematic review of positional influences on food choice. Br J Nutr 115(12):2252–2263

18.

Bednall TC, Bove LL (2011) Donating blood: a meta-analytic review of self-reported motivators and deterrents. Transfus Med Rev 25(4):317–334

19.

Benetos A, Rossignol P, Cherubini A, et al (2015). Polypharmacy in the aging patient: management of hypertension in octogenarians. JAMA.;14;314(2):170–80

20.

Autier P, Mullie P, Macacu A, Dragomir M, Boniol M, Coppens K, Pizot C, Boniol M (2017) Effect of vitamin D supplementation on non-skeletal disorders: a systematic review of meta-analyses and randomised trials. Lancet Diabetes Endocrinol 5(12):986–1004

21.

Zheng Y, Zhu J, Zhou M, Cui L, Yao W, Liu Y, Bencharit S (2013) Meta-analysis of Long-term vitamin D supplementation on overall mortality. PLoS ONE 8(12):e82109

22.

Hill TR, Aspray TJ (2017) The role of vitamin D in maintaining bone health in older people. Ther Adv Musculoskelet Dis 9(4):89–95

23.

Yourman LC, Lee SJ, Schonberg MA, Widera EW, Smith AK (2012) Prognostic indices for older adults. JAMA 307(2):182

24.

Versi E (1992) "Gold standard" is an appropriate term. BMJ 305(6846):187–187
Funding
Curtin and O'Mahony are supported by the European Union's Horizon 2020 research and innovation programme (grant number 634238).
Ethics declarations
Conflict of interest
O'Mahony and Gallagher were involved in the development of the STOPPFrail criteria.
Disclaimer
The European Union's Horizon 2020 research and innovation programme had no role in the design, conduct, or reporting of this study.
About this article
Cite this article
Curtin, D., Dukelow, T., James, K. et al. Deprescribing in multi-morbid older people with polypharmacy: agreement between STOPPFrail explicit criteria and gold standard deprescribing using 100 standardized clinical cases. Eur J Clin Pharmacol 75, 427–432 (2019). https://doi.org/10.1007/s00228-018-2598-y
Received:

Accepted:

Published:

Issue Date:
Keywords
STOPPFrail

Deprescribing

Frailty

Polypharmacy

Multi-morbidity