Abstract
Purpose
The US Food and Drug Administration (FDA) issued three safety announcements between January 2009 and October 2010 warning against concomitant use of clopidogrel and proton pump inhibitors (PPIs) due to a potential drug-drug interaction that may attenuate clopidogrel's antiplatelet activity. This primary objective of this study was to examine trends in concomitant clopidogrel/PPI use among acute coronary syndrome (ACS) inpatients in the US between 2000 and 2016, in relation to the FDA safety communications.
Methods
Adult inpatients with a primary diagnosis of ACS were identified from the Cerner Health Facts® database. The standardized (age, sex, race, and census region) prevalence of clopidogrel use with PPIs was calculated yearly and quarterly. Findings were stratified by PPIs' potential to inhibit clopidogrel's activity and by age.
Results
A total of 204,533 inpatients were identified. In 2008, the prevalence of concomitant clopidogrel and PPI treatment was 34.9%, decreasing to 24.4 and 16.4% in 2009 and 2010, respectively, with the decline being similar across age groups. Treatment with inhibiting PPIs (omeprazole and esomeprazole) and clopidogrel has continued to decrease since 2010, with a prevalence of 0.8% in 2016. A similar reduction was not observed with clopidogrel and non-inhibiting PPIs (pantoprazole, lansoprazole, rabeprazole, and dexlansoprazole). During the FDA warning period, the combined treatment with clopidogrel and H2 receptor antagonists, an alternative to PPIs suggested by the FDA, temporarily increased from 7.8% in 2008 to 12.8 and 14.5% in 2009 and 2010, respectively.
Conclusions
Findings suggest that clinical practice recommendations made by the FDA were followed. Further research is needed to determine how changes in drug labels and the availability of new drugs may have influenced the observed trends.
Access options
Buy single article
Instant access to the full article PDF.
US$ 39.95
Tax calculation will be finalised during checkout.
Subscribe to journal
Immediate online access to all issues from 2019. Subscription will auto renew annually.
US$ 119
Tax calculation will be finalised during checkout.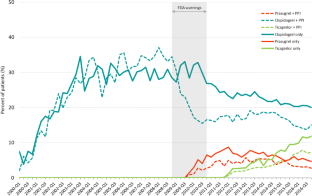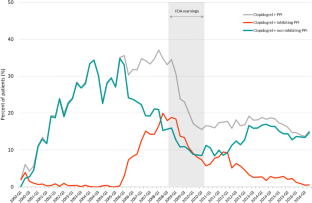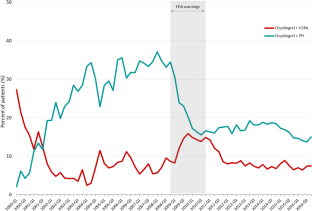 References
1.

Bhatt B, Scheiman J, Abraham N et al (2008) ACCF/ACG/AHA 2008 expert consensus document on reducing the gastrointestinal risks of antiplatelet therapy and NSAID use: a report of the American College of Cardiology Foundation Task Force on Clinical Expert Consensus Documents. J Am Coll Cardiol 52:1502–1517

2.

FDA (2009) Early communication about an ongoing safety review of clopidogrel bisulfate (marketed as Plavix). https://www.fda.gov/Drugs/DrugSafety/PostmarketDrugSafetyInformationforPatientsandProviders/DrugSafetyInformationforHeathcareProfessionals/ucm079520.htm

3.

FDA (2010) information on clopidogrel bisulfate (marketed as Plavix). https://www.fda.gov/Drugs/DrugSafety/PostmarketDrugSafetyInformationforPatientsandProviders/ucm190836.htm

4.

FDA (2009) follow-up to the january 26, 2009, early communication about an ongoing safety review of clopidogrel bisulfate (marketed as Plavix) and omeprazole (marketed as Prilosec and Prilosec OTC). https://www.fda.gov/Drugs/DrugSafety/PostmarketDrugSafetyInformationforPatientsandProviders/DrugSafetyInformationforHeathcareProfessionals/ucm190784.htm

5.

FDA (2010) Drug Safety and Availability - FDA reminder to avoid concomitant use of Plavix (clopidogrel) and omeprazole. https://www.fda.gov/Drugs/DrugSafety/ucm231161.htm. Accessed 4 Dec 2017

6.

European Medicines Agency (2009) Public statement on possible interaction between clopidogrel and proton pump inhibitors. http://www.ema.europa.eu/ema/index.jsp?curl=pages/news_and_events/news/2009/11/news_detail_000194.jsp&mid=WC0b01ac058004d5c1

7.

Health Canada (2009) Potential interaction of proton pump inhibitors (ppis) with plavix (clopidogrel) - For Health Professionals. http://www.healthycanadians.gc.ca/recall-alert-rappel-avis/hc-sc/2009/14567a-eng.php

8.

Siller Matula J, Spiel A, Lang I, et al (2009) Effects of pantoprazole and esomeprazole on platelet inhibition by clopidogrel

9.

Small DS, Farid NA, Payne CD, Weerakkody GJ, Li YG, Brandt JT, Salazar DE, Winters KJ (2008) effects of the proton pump inhibitor lansoprazole on the pharmacokinetics and pharmacodynamics of prasugrel and clopidogrel. J Clin Pharmacol 48:475–484. https://doi.org/10.1177/0091270008315310

10.

Gilard M, Arnaud B, Cornily J-C, le Gal G, Lacut K, le Calvez G, Mansourati J, Mottier D, Abgrall JF, Boschat J (2008) Influence of omeprazole on the antiplatelet action of clopidogrel associated with aspirin: the randomized, double-blind OCLA (Omeprazole CLopidogrel Aspirin) study. J Am Coll Cardiol 51:256–260. https://doi.org/10.1016/j.jacc.2007.06.064

11.

Mackenzie IS, Coughtrie MWH, MacDonald TM, Wei L (2010) Antiplatelet drug interactions. J Intern Med 268:516–529. https://doi.org/10.1111/j.1365-2796.2010.02299.x

12.

Scott SA, Owusu Obeng A, Hulot J-S (2014) Antiplatelet drug interactions with proton pump inhibitors. Expert Opin Drug Metab Toxicol 10:175–189. https://doi.org/10.1517/17425255.2014.856883

13.

Focks J, Brouwer M, Van Oijen M et al (2013) Concomitant use of clopidogrel and proton pump inhibitors: impact on platelet function and clinical outcome- a systematic review. Heart 99:520–527

14.

Siller-Matula JM, Jilma B, Schror K et al (2010) Effect of proton pump inhibitors on clinical outcome in patients treated with clopidogrel: a systematic review and meta-analysis. J Thromb Haemost 8:2624–2641

15.

Kwok CS, Jeevanantham V, Dawn B, Loke YK (2013) No consistent evidence of differential cardiovascular risk amongst proton-pump inhibitors when used with clopidogrel: meta-analysis. Int J Cardiol 167:965–974. https://doi.org/10.1016/j.ijcard.2012.03.085

16.

Dusetzina SB, Higashi AS, Dorsey ER, Conti R, Huskamp HA, Zhu S, Garfield CF, Alexander GC (2012) Impact of FDA drug risk communications on health care utilization and health behaviors: a systematic review. Med Care 50:466–478. https://doi.org/10.1097/MLR.0b013e318245a160

17.

Guerin A, Mody R, Carter V et al (2016) Changes in practice patterns of clopidogrel in combination with proton pump inhibitors after an FDA safety communication. PLoS One 11:e0145504. https://doi.org/10.1371/journal.pone.0145504

18.

Kruik-Kolloffel WJ, van der Palen J, Kruik HJ et al (2016) Prescription behavior for gastroprotective drugs in new users as a result of communications regarding clopidogrel - proton pump inhibitor interaction. Pharmacol Res Perspect 4:e00242. https://doi.org/10.1002/prp2.242

19.

Awaisu A, Hamou F, Mekideche L, Muabby NE, Mahfouz A, Mohammed S, Saad A (2016) Proton pump inhibitor co-prescription with dual antiplatelet therapy among patients with acute coronary syndrome in Qatar. Int J Clin Pharm 38:353–361. https://doi.org/10.1007/s11096-016-0250-4

20.

Juurlink DN, Gomes T, Paterson JM, Hellings C, Mamdani MM (2015) Trends in the coprescription of proton pump inhibitors with clopidogrel: an ecological analysis. C open 3:E428–E431. https://doi.org/10.9778/cmajo.20140078

21.

Crispo JA, Fortin Y, Thibault DP et al (2015) Trends in inpatient antiparkinson drug use in the USA, 2001-2012. Eur J Clin Pharmacol 71:1011–1019. https://doi.org/10.1007/s00228-015-1881-4

22.

Kim K, Lee TA, Touchette DR, DiDomenico R, Ardati AK, Walton SM (2017) Contemporary trends in oral antiplatelet agent use in patients treated with percutaneous coronary intervention for acute coronary syndrome. J Manag Care Spec Pharm 23:57–63

23.

Esteve-Pastor MA, Ruiz-Nodar JM, Orenes-Pinero E et al (2017) Temporal trends in the use of antiplatelet therapy in patients with acute coronary syndromes. J Cardiovasc Pharmacol Ther 1074248417724869:57–65. https://doi.org/10.1177/1074248417724869

24.

O'Gara PT, Kushner FG, Ascheim DD et al (2012) 2013 ACCF/AHA guideline for the management of ST-elevation myocardial infarction: a report of the American College of Cardiology Foundation/American Heart Association Task Force on Practice Guidelines. Circulation 127:e362–e425. https://doi.org/10.1161/CIR.0b013e3182742cf6

25.

Rackham DM, CH M, Stevens IG et al (2014) Evidence behind FDA alerts for drugs with adverse cardiovascular effects: implications for clinical practice. Pharmacotherapy 34:358–372. https://doi.org/10.1002/phar.1381

26.

FDA (2009) Drug Safety Information for Heathcare Professionals - Information for Healthcare Professionals: Update to the labeling of Clopidogrel Bisulfate (marketed as Plavix) to alert healthcare professionals about a drug interaction with omeprazole (marketed as Prilosec and Prilosec OTC). https://www.fda.gov/Drugs/DrugSafety/PostmarketDrugSafetyInformationforPatientsandProviders/DrugSafetyInformationforHeathcareProfessionals/ucm190787.htm. Accessed 4 Dec 2017

27.

Abraham NS, Hlatky MA, Antman EM, Bhatt DL, Bjorkman DJ, Clark CB, Furberg CD, Johnson DA, Kahi CJ, Laine L, Mahaffey KW, Quigley EM, Scheiman J, Sperling LS, Tomaselli GF, ACCF/ACG/AHA (2010) ACCF/ACG/AHA 2010 expert consensus document on the concomitant use of proton pump inhibitors and thienopyridines: a focused update of the ACCF/ACG/AHA 2008 expert consensus document on reducing the gastrointestinal risks of antiplatelet therapy and NSAID. Am J Gastroenterol 105:2533–2549. https://doi.org/10.1038/ajg.2010.445

28.

Rollini F, Franchi F, Angiolillo D (2015) Switching [P2Y.sub.12]-receptor inhibitors in patients with coronary artery disease. Nat Rev Cardiol 13:11

29.

Angiolillo D, Rollini F, Storey R, et al (2017) International expert consensus on switching platelet P2Y12 receptor–inhibiting therapies. Circulation 136:
Electronic supplementary material
About this article
Cite this article
Farhat, N., Haddad, N., Crispo, J. et al. Trends in concomitant clopidogrel and proton pump inhibitor treatment among ACS inpatients, 2000–2016. Eur J Clin Pharmacol 75, 227–235 (2019). https://doi.org/10.1007/s00228-018-2564-8
Received:

Accepted:

Published:

Issue Date:
Keywords
Clopidogrel

Acute coronary syndrome

Proton pump inhibitors

Drug utilization

Medical records