Abstract
Background
Schizophrenia is a common disease which is commonly managed using antipsychotic medications (APS). Inadequate response and lack of adherence often prevent optimal therapeutic effectiveness. Monitoring APS concentrations can be useful to help improve outcomes for the patient.
Aims
The aim of this study was to develop "reference ranges" for oral aripiprazole, olanzapine, and quetiapine to allow clinicians to understand expected variability in patients treated with APS. The reference ranges were constructed to account for different oral doses, sampling times, and variability both between, and within, subjects.
Methods
Population pharmacokinetic models were used to simulate plasma concentrations over time under different doses and population demographics. The references were validated against external data both numerically and graphically.
Results
Reference ranges for oral aripiprazole, olanzapine, and quetiapine were derived and successfully validated against the external data. The 80% reference range for aripiprazole following a 2-mg oral dose was 14.7–41.6 ng/mL 0–4 h post dose and 10.6–37.1 ng/mL 20–24 h post dose. These ranges increased to 221–624 ng/mL 0–4 h post dose following administration of a 30-mg dose, and 159–557 ng/mL 20–24 h post dose. The 80% reference range 0–4 h post dose was 22.5–67.1 ng/mL following a 15-mg dose once daily of oral olanzapine, and 179–768 ng/mL following a 150-mg dose once daily of oral quetiapine.
Conclusions
Comparing individual patients' APS levels with reference ranges, along with a full clinical assessment, could provide important insights to help a clinician optimize APS therapy.
This is a preview of subscription content, log in to check access.
Access options
Buy single article
Instant access to the full article PDF.
US$ 39.95
Price includes VAT for USA
Subscribe to journal
Immediate online access to all issues from 2019. Subscription will auto renew annually.
US$ 199
This is the net price. Taxes to be calculated in checkout.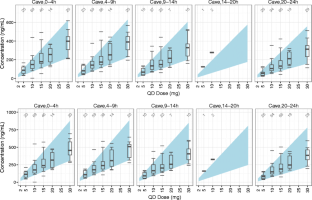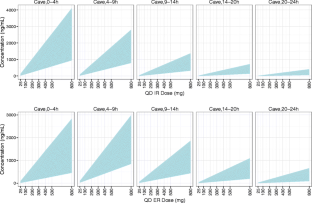 References
1.

World Health Organization. Schizophrenia—fact sheet no. 397. http://www.who.int/mediacentre/factsheets/fs397/en/ Revised April 2016

2.

Hiemke C, Baumann P, Bergemann N, Conca A, Dietmaier O, Egberts K, Fric M, Gerlach M, Greiner C, Gründer G, Haen E, Havemann-Reinecke U, Jaquenoud Sirot E, Kirchherr H, Laux G, Lutz UC, Messer T, Müller MJ, Pfuhlmann B, Rambeck B, Riederer P, Schoppek B, Stingl J, Uhr M, Ulrich S, Waschgler R, Zernig G (2011) AGNP consensus guidelines for therapeutic drug monitoring in psychiatry: update 2011. Pharmacopsychiatry 44(6):195–235

3.

Rostami-Hodjegan A, Amin AM, Spencer EP, Lennard MS, Tucker GT, Flanagan RJ (2004) Influence of dose, cigarette smoking, age, sex, and metabolic activity on plasma clozapine concentrations: a predictive model and nomograms to aid clozapine dose adjustment and to assess compliance in individual patients. J Clin Psychopharmacol 24(1):70–78. https://doi.org/10.1097/01.jcp.0000106221.36344.4d

4.

Patteet L, Morrens M, Maudens KE, Niemegeers P, Sabbe B, Neels H (2012) Therapeutic drug monitoring of common antipsychotics. Ther Drug Monit 34(6):629–651. https://doi.org/10.1097/FTD.0b013e3182708ec5.

5.

Green, B, Korell, J, Remmerie, B et al Optimizing antipsychotic patient management using population pharmacokinetic models and point-of-care testing. CPT Pharmacometrics Syst Pharmacol (In Press)

6.

Korell, J, Green, B, Remmerie, B, Vermeulen, A Determination of plasma concentration reference ranges for risperidone and paliperidone. CPT Pharmacometrics Syst Pharmacol (In Press)

7.

Knights J, Rohatagi S (2015) Development and application of an aggregate adherence metric derived from population pharmacokinetics to inform clinical trial enrichment. J Pharmacokinet Pharmacodyn 42(3):263–273. https://doi.org/10.1007/s10928-015-9414-4

8.

Eli Lilly and Company (1996) Zyprexa (Olanzapine) NDA20–592 APPROVAL PACKAGE Antipsychotic

9.

Bauer RJ (2011) NONMEM users guide—introduction to NONMEM 7.2.0. ICON Development Solutions, Ellicott City, MD, USA

10.

De Meulder M, Waldron MP, Li L et al Development and validation of HILIC-ESI/MS/MS methods for simultaneous quantitation of several antipsychotics in human plasma and blood. Bioanalysis (In Press)

11.

Molden E, Lunde H, Lunder N, Refsum H (2006) Pharmacokinetic variability of aripiprazole and the active metabolite dehydroaripiprazole in psychiatric patients. Ther Drug Monit 28(6):744–749. https://doi.org/10.1097/01.ftd.0000249944.42859.bf

12.

Hiemke C, Bergemann N, Clement HW, et al (2017) Consensus guidelines for therapeutic drug monitoring in neuropsychopharmacology: update 2017. Pharmacopsychiatry
Acknowledgements
The authors acknowledge the help of Mr. Simon Leung for his contributions to materials presented in this manuscript.
Ethics declarations
Conflict of interest
Bruce Green, Julia Korell, and Allan Rae are employees of Model Answers Pty Ltd., which received financial reimbursement from Janssen R&D.
An Vermeulen and Bart Remmerie are employees of Janssen R&D, which sponsored this research.
About this article
Cite this article
Korell, J., Green, B., Rae, A. et al. Determination of plasma concentration reference ranges for oral aripiprazole, olanzapine, and quetiapine. Eur J Clin Pharmacol 74, 593–599 (2018). https://doi.org/10.1007/s00228-018-2419-3
Received:

Accepted:

Published:

Issue Date:
Keywords
Antipsychotics

Routine clinical care

Nonlinear mixed effects models

Reference ranges

Simulations