Abstract
Purpose
The use of potentially inappropriate medications (PIMs) in hospitalized older adults is a complex problem, but the use of computerized alert systems (CAS) has shown some potential. The study's objective is to assess the change in PIM use with a CAS-based pharmacist-physician intervention model compared to usual clinical care.
Methods
Pragmatic single-site randomized controlled trial was conducted at a university teaching hospital. Hospitalizations identified with selected Beers or STOPP criteria were randomized to usual clinical care or to the CAS-based pharmacist-physician intervention. The primary outcome was PIM drug cessation or dosage decrease. Clinical relevance of the CAS alerts was assessed.
Results
Analyses included 231 patients who had 128 and 126 hospitalizations in the control and intervention groups, respectively. Patients had a mean age of 81, and 60% were female. In the intervention compared to the control group, drug cessation or dosage decrease were more frequent at 48 h post-alert (45.8 vs 15.9%; absolute difference 30.0%; 95%CI 13.8 to 46.1%) and at discharge from the hospital (48.1 vs 27.3%; absolute difference 20.8%; 95%CI 4.6 to 37.0%). In a post hoc analysis of all alerts, regardless of their clinical relevance, the absolute difference in drug cessation or dosage decrease between the intervention and control groups was 16.2% (95%CI 2.9 to 29.6%) at 48 h and 8.0% (95%CI −4.0 to 20.0%) at discharge from the hospital.
Conclusions
In hospitalized older adults, a CAS-based pharmacist-physician intervention, compared to usual clinical care, resulted in significant higher number of drug cessation and dosage reductions for targeted PIMs.
This is a preview of subscription content, log in to check access.
Access options
Buy single article
Instant access to the full article PDF.
US$ 39.95
Price includes VAT for USA
Subscribe to journal
Immediate online access to all issues from 2019. Subscription will auto renew annually.
US$ 199
This is the net price. Taxes to be calculated in checkout.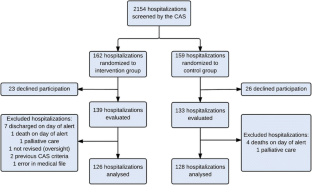 References
1.

Lehnert T, Heider D, Leicht H, Heinrich S, Corrieri S, Luppa M, Riedel-Heller S, Konig HH (2011) Review: health care utilization and costs of elderly persons with multiple chronic conditions. Med Care Res Rev 68(4):387–420

2.

Beijer HJ, de Blaey CJ (2002) Hospitalisations caused by adverse drug reactions (ADR): a meta-analysis of observational studies. Pharm World Sci 24(2):46–54

3.

Bressler R, Bahl JJ (2003) Principles of drug therapy for the elderly patient. Mayo Clin Proc 78(12):1564–1577

4.

Davies EC, Green CF, Taylor S, Williamson PR, Mottram DR, Pirmohamed M (2009) Adverse drug reactions in hospital in-patients: a prospective analysis of 3695 patient-episodes. PLoS One 4(2):e4439

5.

Merle L, Laroche ML, Dantoine T, Charmes JP (2005) Predicting and preventing adverse drug reactions in the very old. Drugs Aging 22(5):375–392

6.

Alhawassi TM, Krass I, Bajorek BV, Pont LG (2014) A systematic review of the prevalence and risk factors for adverse drug reactions in the elderly in the acute care setting. Clin Interv Aging 9:2079–2086

7.

O'Sullivan D, O'Mahony D, O'Connor MN, Gallagher P, Gallagher J, Cullinan S, O'Sullivan R, Eustace J, Byrne S (2016) Prevention of adverse Drug reactions in hospitalised older patients using a software-supported structured pharmacist intervention: a cluster randomised controlled trial. Drugs Aging 33(1):63–73

8.

Klopotowska JE, Wierenga PC, Stuijt CC, Arisz L, Dijkgraaf MG, Kuks PF, Asscheman H, de Rooij SE, Lie AHL, Smorenburg SM (2013) Adverse drug events in older hospitalized patients: results and reliability of a comprehensive and structured identification strategy. PLoS One 8(8):e71045

9.

Tangiisuran B, Davies JG, Wright JE, Rajkumar C (2012) Adverse drug reactions in a population of hospitalized very elderly patients. Drugs Aging 29(8):669–679

10.

Jano E, Aparasu RR (2007) Healthcare outcomes associated with Beers' criteria: a systematic review. Ann Pharmacother 41(3):438–447

11.

Page RL 2nd, Linnebur SA, Bryant LL, Ruscin JM (2010) Inappropriate prescribing in the hospitalized elderly patient: defining the problem, evaluation tools, and possible solutions. Clin Interv Aging 5:75–87

12.

Spinewine A, Schmader KE, Barber N, Hughes C, Lapane KL, Swine C, Hanlon JT (2007) Appropriate prescribing in elderly people: how well can it be measured and optimised? Lancet 370(9582):173–184

13.

Hill-Taylor B, Sketris I, Hayden J, Byrne S, O'Sullivan D, Christie R (2013) Application of the STOPP/START criteria: a systematic review of the prevalence of potentially inappropriate prescribing in older adults, and evidence of clinical, humanistic and economic impact. J Clin Pharm Ther 38(5):360–372

14.

Tosato M, Landi F, Martone AM, Cherubini A, Corsonello A, Volpato S, Bernabei R, Onder G (2014) Potentially inappropriate drug use among hospitalised older adults: results from the CRIME study. Age Ageing 43(6):767–773

15.

American Geriatrics Society 2015 Updated Beers Criteria for Potentially Inappropriate Medication Use in Older Adults. J Am Geriatr Soc. 2015;63(11):2227–46.

16.

O'Mahony D, O'Sullivan D, Byrne S, O'Connor MN, Ryan C, Gallagher P (2015) STOPP/START criteria for potentially inappropriate prescribing in older people: version 2. Age Ageing 44(2):213–218

17.

Duran CE, Azermai M, Vander Stichele RH (2013) Systematic review of anticholinergic risk scales in older adults. Eur J Clin Pharmacol 69(7):1485–1496

18.

Hilmer SN, Mager DE, Simonsick EM, Cao Y, Ling SM, Windham BG, Harris TB, Hanlon JT, Rubin SM, Shorr RI, Bauer DC, Abernethy DR (2007) A drug burden index to define the functional burden of medications in older people. Arch Intern Med 167(8):781–787

19.

Page RL 2nd, Ruscin JM (2006) The risk of adverse drug events and hospital-related morbidity and mortality among older adults with potentially inappropriate medication use. Am J Geriatr Pharmacother 4(4):297–305

20.

Onder G, Landi F, Cesari M, Gambassi G, Carbonin P, Bernabei R (2003) Inappropriate medication use among hospitalized older adults in Italy: results from the Italian Group of Pharmacoepidemiology in the Elderly. Eur J Clin Pharmacol 59(2):157–162

21.

Laroche ML, Charmes JP, Nouaille Y, Fourrier A, Merle L (2006) Impact of hospitalisation in an acute medical geriatric unit on potentially inappropriate medication use. Drugs Aging 23(1):49–59

22.

Liu CL, Peng LN, Chen YT, Lin MH, Liu LK, Chen LK (2012) Potentially inappropriate prescribing (IP) for elderly medical inpatients in Taiwan: a hospital-based study. Arch Gerontol Geriatr 55(1):148–151

23.

Wahab MS, Nyfort-Hansen K, Kowalski SR (2012) Inappropriate prescribing in hospitalised Australian elderly as determined by the STOPP criteria. Int J Clin Pharm 34(6):855–862

24.

Cossette B, Bergeron J, Ricard G, Ethier JF, Joly-Mischlich T, Levine M, Sene M, Mallet L, Lanthier L, Payette H, Rodrigue MC, Brazeau S (2016) Knowledge Translation Strategy to Reduce the Use of Potentially Inappropriate Medications in Hospitalized Elderly Adults. J Am Geriatr Soc.

25.

Approche adaptée à la personne âgée, cadre de référence. MSSS. 2011. http://publications.msss.gouv.qc.ca/acrobat/f/documentation/2010/10-830-03.pdf. Accessed November 7, 2016.

26.

Arvisais K, Bergeron-Wolff S, Bouffard C, Michaud AS, Bergeron J, Mallet L, Brazeau S, Joly-Mischlich T, Bernier-Filion N, Lanthier L, Ricard G, Rodrigue MC, Cossette B (2015) A pharmacist-physician intervention model using a computerized alert system to reduce high-risk medication use in elderly inpatients. Drugs Aging 32(8):663–670

27.

American Geriatrics Society updated Beers Criteria for potentially inappropriate medication use in older adults. J Am Geriatr Soc. 2012;60(4):616–31.

28.

Ghibelli S, Marengoni A, Djade CD, Nobili A, Tettamanti M, Franchi C, Caccia S, Giovarruscio F, Remuzzi A, Pasina L (2013) Prevention of inappropriate prescribing in hospitalized older patients using a computerized prescription support system (INTERcheckR). Drugs Aging 30(10):821–828

29.

Peterson JF, Kripalani S, Danciu I, Harrell D, Marvanova M, Mixon AS, Rodriguez C, Powers JS (2014) Electronic surveillance and pharmacist intervention for vulnerable older inpatients on high-risk medication regimens. J Am Geriatr Soc 62(11):2148–2152

30.

O'Sullivan D, O'Mahony D, O'Connor MN, Gallagher P, Cullinan S, O'Sullivan R, Gallagher J, Eustace J, Byrne S (2014) The impact of a structured pharmacist intervention on the appropriateness of prescribing in older hospitalized patients. Drugs Aging 31(6):471–481

31.

Grion AM, Gallo U, Tinjala DD, Daragjati J, Loreggian M, Cardaci G, Mangoni A, Pilotto A (2016) A new computer-based tool to reduce potentially inappropriate prescriptions in hospitalized geriatric patients. Drugs Aging 33(4):267–275

32.

Cockcroft DW, Gault MH (1976) Prediction of creatinine clearance from serum creatinine. Nephron 16(1):31–41

33.

Quan H, Li B, Couris CM, Fushimi K, Graham P, Hider P, Januel JM, Sundararajan V (2011) Updating and validating the Charlson comorbidity index and score for risk adjustment in hospital discharge abstracts using data from 6 countries. Am J Epidemiol 173(6):676–682

34.

Canadian Institute for Health Informartion. Hospital Standardized Mortality Ratio (HSMR). www.cihi.ca/CIHI-ext-portal/pdf/internet/HSMR_TECH_NOTES_EN. Accessed November 7, 2016.
Acknowledgments
The authors are grateful to Guillaume Joly for his help in developing and structuring the CAS, and to Jean-Michel Gagnon, Philippe Nault, and Philip-André Fillion for their informatics support. The interventions were conducted by four pharmacists: Sabrina Bergeron-Wolff, Nora Bernier-Fillion, Martine Grondin, and Claudia Pelletier-Mayette.
Ethics declarations
Conflict of interest
The authors declare that they have no conflict of interest.
Ethics approval
This study was approved by the CHUS ethics committee. The committee did not request patient consent before randomization but required that each patient be contacted after the hospitalization to determine if their relevant hospitalization information could be included in the analysis.
Funding
This study was funded through a grant received from the Merck funds of the Faculty of Medicine and Health Sciences of the University of Sherbrooke. The funding source had no involvement in the study design, data collection, analysis, or interpretation, the writing of the report, or the decision to submit the report for publication.
Additional information
ClinicalTrials.gov Identifier: NCT02570945
About this article
Cite this article
Cossette, B., Éthier, J., Joly-Mischlich, T. et al. Reduction in targeted potentially inappropriate medication use in elderly inpatients: a pragmatic randomized controlled trial. Eur J Clin Pharmacol 73, 1237–1245 (2017). https://doi.org/10.1007/s00228-017-2293-4
Received:

Accepted:

Published:

Issue Date:
Keywords
Older adults

Computerized alert system

Potentially inappropriate medications

Hospital

Knowledge translation