Abstract
Purpose
This study assessed the effect of providing an enhanced medication plan (EMP) to patients during patient-physician conversation at hospital discharge and evaluated its immediate impact on patient knowledge on pharmacotherapy.
Methods
We observed patient-physician conversations at hospital discharge in three internal medicine wards of the University Hospital Heidelberg before and after the EMP was integrated into the discharge process, and documented how and to what extent physicians provided the patients with drug information. After the conversation, the patients' knowledge was evaluated by three standardized questions about their pharmacotherapy.
Results
We observed 90 conversations (50 before EMP-implementation, 40 after). In both phases, the conversation duration was 5.6–6 min (p = 0.56). However, the time spent on drug information increased significantly by 61.7 % after EMP-implementation (+63 s, p = 0.02). Before implementation, physicians gave at least one drug administration recommendation for 75.1 % of all drugs, compared to 84.6 % after implementation (p = 0.02). The EMP provided information for almost all drugs (98.9 %; p < 0.01) after implementation. Three times more patients answered all questions correctly after EMP-implementation (p < 0.01).
Conclusion
The provision of an EMP improves information transfer and therefore increases the patients' knowledge of their individual drug treatment without prolonging the overall discharge process.
Access options
Buy single article
Instant access to the full article PDF.
US$ 39.95
Tax calculation will be finalised during checkout.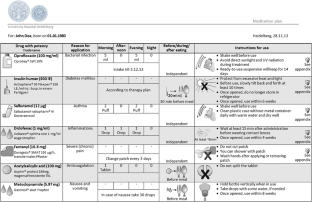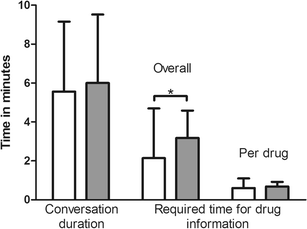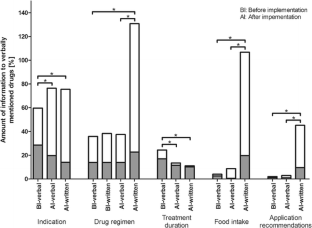 References
1.

Bertsche T, Bertsche A, Krieg EM, Kunz N, Bergmann K, Hanke G, Hoppe-Tichy T, Ebinger F, Haefeli WE (2010) Prospective pilot intervention study to prevent medication errors in drugs administered to children by mouth or gastric tube: a programme for nurses, physicians and parents. Qual Saf Health Care 19:e26

2.

Hussey LC (1994) Minimizing effects of low literacy on medication knowledge and compliance among the elderly. Clin Nurs Res 3:132–45

3.

Okuno J, Yanagi H, Tomura S, Oka M, Hara S, Hirano C, Tsuchiya S (1999) Compliance and medication knowledge among elderly Japanese home-care recipients. Eur J Clin Pharmacol 55:145–9

4.

Esposito L (1995) The effects of medication education on adherence to medication regimens in an elderly population. J Adv Nurs 21:935–43

5.

Himmel W, Kochen MM, Sorns U, Hummers-Pradier E (2004) Drug changes at the interface between primary and secondary care. Int J Clin Pharmacol Ther 42:103–9

6.

Harder S, Fischer P, Krause-Schafer M, Ostermann K, Helms G, Prinz H, Hahmann M, Baas H (2005) Structure and markers of appropriateness, quality and performance of drug treatment over a 1-year period after hospital discharge in a cohort of elderly patients with cardiovascular diseases from Germany. Eur J Clin Pharmacol 60:797–805

7.

Nagendra Naidu DV, Rajavelu P, Rajagopalan A (2008) Pre-formatted written discharge summary-a step towards quality assurance in the emergency department. Int J Emerg Med 1:321–5

8.

van Walraven C, Taljaard M, Bell CM, Etchells E, Stiell IG, Zarnke K, Forster AJ (2010) A prospective cohort study found that provider and information continuity was low after patient discharge from hospital. J Clin Epidemiol 63:1000–10

9.

Forster AJ (2006) Can you prevent adverse drug events after hospital discharge? Can Med Assoc J 174:921–2

10.

Ashbrook L, Mourad M, Sehgal N (2013) Communicating discharge instructions to patients: a survey of nurse, intern, and hospitalist practices. J Hosp Med 8:36–41

11.

Borgsteede SD, Karapinar-Carkit F, Hoffmann E, Zoer J, van den Bemt PM (2011) Information needs about medication according to patients discharged from a general hospital. Patient Educ Couns 83:22–8

12.

Kerzman H, Baron-Epel O, Toren O (2005) What do discharged patients know about their medication? Patient Educ Couns 56:276–82

13.

Selic P, Svab I, Repolusk M, Gucek NK (2011) What factors affect patients' recall of general practitioners' advice? BMC Fam Pract 12:141

14.

Rootmensen GN, van Keimpema AR, Jansen HM, de Haan RJ (2010) Predictors of incorrect inhalation technique in patients with asthma or COPD: a study using a validated videotaped scoring method. J Aerosol Med Pulm Drug Deliv 23:323–8

15.

Tarn DM, Heritage J, Paterniti DA, Hays RD, Kravitz RL, Wenger NS (2006) Physician communication when prescribing new medications. Arch Intern Med 166:1855–62

16.

Murray MD, Morrow DG, Weiner M, Clark DO, Tu W, Deer MM, Brater DC, Weinberger M (2004) A conceptual framework to study medication adherence in older adults. Am J Geriatr Pharmacother 2:36–43

17.

Stammschulte T, Brune K (2010) Drug safety problems in association with the use of opioid containing patches for the management of pain]. Dtsch Med Wochenschr 135:870–3

18.

Benjamin DM (2003) Reducing medication errors and increasing patient safety: case studies in clinical pharmacology. J Clin Pharmacol 43:768–83

19.

Alldred DP, Standage C, Fletcher O, Savage I, Carpenter J, Barber N, Raynor DK (2011) The influence of formulation and medicine delivery system on medication administration errors in care homes for older people. BMJ Qual Saf 20:397–401

20.

Winfield AJ, Jessiman D, Williams A, Esakowitz L (1990) A study of the causes of non-compliance by patients prescribed eyedrops. Br J Ophthalmol 74:477–80

21.

Sorensen L, Stokes JA, Purdie DM, Woodward M, Roberts MS (2005) Medication management at home: medication-related risk factors associated with poor health outcomes. Age Ageing 34:626–32

22.

Williams MV, Davis T, Parker RM, Weiss BD (2002) The role of health literacy in patient-physician communication. Fam Med 34:383–9

23.

Watson PW, McKinstry B (2009) A systematic review of interventions to improve recall of medical advice in healthcare consultations. J R Soc Med 102:235–43

24.

Cumbler E, Wald H, Kutner J (2010) Lack of patient knowledge regarding hospital medications. J Hosp Med 5:83–6

25.

Knapp P, Raynor DK, Jebar AH, Price SJ (2005) Interpretation of medication pictograms by adults in the UK. Ann Pharmacother 39:1227–33

26.

Kharod BV, Johnson PB, Nesti HA, Rhee DJ (2006) Effect of written instructions on accuracy of self-reporting medication regimen in glaucoma patients. J Glaucoma 15:244–7

27.

Send AFJ, Al-Ayyash A, Schecher S, Rudofsky G, Klein U, Schaier M, Pruszydlo MG, Witticke D, Lohmann K, Kaltschmidt J, Haefeli WE, Seidling HM (2013) Development of a standardized knowledge base to generate individualized medication plans automatically with drug administration recommendations. Br J Clin Pharmacol 76(Suppl 1):37–46

28.

Schiele JT, Quinzler R, Klimm HD, Pruszydlo MG, Haefeli WE (2013) Difficulties swallowing solid oral dosage forms in a general practice population: prevalence, causes, and relationship to dosage forms. Eur J Clin Pharmacol 69:937–48

29.

Hamrosi KK, Aslani P, Raynor DK (2014) Beyond needs and expectations: identifying the barriers and facilitators to written medicine information provision and use in Australia. Health Expect 17:220–3

30.

Holloway A (1996) Patient knowledge and information concerning medication on discharge from hospital. J Adv Nurs 24:1169–74

31.

Crane JA (1997) Patient comprehension of doctor-patient communication on discharge from the emergency department. J Emerg Med 15:1–7

32.

Maniaci MJ, Heckman MG, Dawson NL (2008) Functional health literacy and understanding of medications at discharge. Mayo Clin Proc 83:554–8

33.

Johnson A, Sandford J (2005) Written and verbal information versus verbal information only for patients being discharged from acute hospital settings to home: systematic review. Health Educ Res 20:423–9
Acknowledgments
The authors would like to thank all patients and physicians of the University Hospital Heidelberg participating in the study, and Kathrin I. Foerster and Bernadette Graf for assisting in the data acquisition.
Funding
This work was supported by the young scientists' program of the German network 'Health Services Research Baden-Württemberg' of the Ministry of Science, Research and Arts in collaboration with the Ministry of Employment and Social Order, Family, Women and Senior Citizens, Baden-Württemberg.
Conflict of interest
The authors declare that they have no conflict of interest with regard to this paper except as otherwise provided in the funding section.
About this article
Cite this article
Send, A.F.J., Schwab, M., Gauss, A. et al. Pilot study to assess the influence of an enhanced medication plan on patient knowledge at hospital discharge. Eur J Clin Pharmacol 70, 1243–1250 (2014). https://doi.org/10.1007/s00228-014-1723-9
Received:

Accepted:

Published:

Issue Date:
Keywords
Drug information

Patient education

Discharge process

Patient knowledge