Abstract
Purpose
Drug utilization studies have applied different methods to various data types to describe medication use, which hampers comparisons across populations. The aim of this study was to describe the time trends in antidepressant prescribing in the last decade and the variation in the prevalence, calculated in a uniform manner, in seven European electronic healthcare databases.
Methods
Annual prevalence per 10,000 person-years (PYs) was calculated for 2001–2009 in databases from Spain, Germany, Denmark, the United Kingdom (UK), and the Netherlands. Prevalence data were stratified according to age, sex, antidepressant type (selective serotonin re-uptake inhibitors [SSRIs] or tricyclic antidepressants [TCAs]) and major indications.
Results
The age- and sex-standardized prevalence was lowest in the two Dutch (391 and 429 users per 10,000 PYs) and highest in the two UK (913 and 936 users per 10,000 PYs) populations in 2008. The prevalence in the Danish, German, and Spanish populations was 637, 618, and 644 users per 10,000 PY respectively. Antidepressants were prescribed most often in 20- to 60-year-olds in the two UK populations compared with the others. SSRIs were prescribed more often than TCAs in all except the German population. In the majority of countries we observed an increasing trend of antidepressant prescribing over time. Two different methods identifying recorded indications yielded different ranges of proportions of patients recorded with the specific indication (15–57 % and 39–69 % for depression respectively).
Conclusion
Despite applying uniform methods, variations in the prevalence of antidepressant prescribing were obvious in the different populations. Database characteristics and clinical factors may both explain these variations.
This is a preview of subscription content, log in to check access.
Access options
Buy single article
Instant access to the full article PDF.
US$ 39.95
Price includes VAT for USA
Subscribe to journal
Immediate online access to all issues from 2019. Subscription will auto renew annually.
US$ 199
This is the net price. Taxes to be calculated in checkout.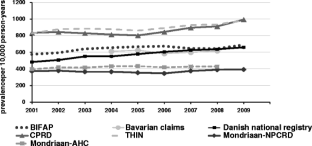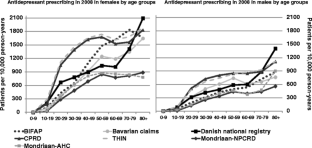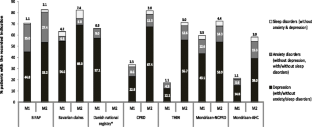 References
1.

Strom B (2005) Pharmacoepidemiology, 4th edn. Wiley, London

2.

Gardarsdottir H, Heerdink ER, van Dijk L, Egberts AC (2007) Indications for antidepressant drug prescribing in general practice in the Netherlands. J Affect Disord 98(1–2):109–115

3.

Rosholm JU, Andersen M, Gram LF (2001) Are there differences in the use of selective serotonin reuptake inhibitors and tricyclic antidepressants? A prescription database study. Eur J Clin Pharmacol 56(12):923–929

4.

Development of Drug Utilization Indicators: A feasibility study using existing aggregated administrative databases 2002. Accessed December 2012. Available from: http://www.cihi.ca/CIHI-ext-portal/pdf/internet/PDF_INDI_DRUG_FINAL_REPORT_EN

5.

Exeter D, Robinson E, Wheeler A (2009) Antidepressant dispensing trends in New Zealand between 2004 and 2007. Aust N Z J Psychiatry 43(12):1131–1140

6.

Aguglia E, Ravasio R, Simonetti M, Pecchioli S, Mazzoleni F (2012) Use and treatment modalities for SSRI and SNRI antidepressants in Italy during the period 2003–2009. Curr Med Res Opin 28(9):1475–1484

7.

Smith AJ, Tett SE (2009) How do different age groups use benzodiazepines and antidepressants? Analysis of an Australian administrative database, 2003–6. Drugs Aging 26(2):113–122

8.

Patten SB, Wang JL, Williams JV, Lavorato DH, Beck CA, Bulloch AG (2010) Frequency of antidepressant use in relation to recent and past major depressive episodes. Can J Psychiatry 55(8):532–535

9.

Sundell KA, Gissler M, Petzold M, Waern M (2011) Antidepressant utilization patterns and mortality in Swedish men and women aged 20–34 years. Eur J Clin Pharmacol 67(2):169–178

10.

Volkers AC, Heerdink ER, van Dijk L (2007) Antidepressant use and off-label prescribing in children and adolescents in Dutch general practice (2001–2005). Pharmacoepidemiol Drug Saf 16(9):1054–1062

11.

Athanasopoulos C, Pitychoutis PM, Messari I, Lionis C, Papadopoulou-Daifoti Z (2012) Is Drug Utilization in Greece Sex dependent? A Population-based Study. Basic Clin Pharmacol Toxicol 112(1):55–62

12.

Parabiaghi A, Franchi C, Tettamanti M, Barbato A, D'Avanzo B, Fortino I et al (2011) Antidepressants utilization among elderly in Lombardy from 2000 to 2007: dispensing trends and appropriateness. Eur J Clin Pharmacol 67(10):1077–1083

13.

Moore M, Yuen HM, Dunn N, Mullee MA, Maskell J, Kendrick T (2009) Explaining the rise in antidepressant prescribing: a descriptive study using the general practice research database. BMJ 339:b3999

14.

Alonso MP, de Abajo FJ, Martinez JJ, Montero D, Martin-Serrano G, Madurga M (1997) [Evolution of antidepressive drug consumption in Spain. The impact of selective serotonin re-uptake inhibitors]. Med Clin (Barc) 108(5):161–166

15.

Lidell E, Luepker R, Baigi A, Lagiou A, Hildingh C (2008) Medication usage among young adult women: a comparison between Sweden, the USA, and Greece. Nurs Health Sci 10(1):4–10

16.

Bauer M, Monz BU, Montejo AL, Quail D, Dantchev N, Demyttenaere K et al (2008) Prescribing patterns of antidepressants in Europe: results from the Factors Influencing Depression Endpoints Research (FINDER) study. Eur Psychiatry 23(1):66–73

17.

Zito JM, Tobi H, de Jong-van den Berg LT, Fegert JM, Safer DJ, Janhsen K et al (2006) Antidepressant prevalence for youths: a multi-national comparison. Pharmacoepidemiol Drug Saf 15(11):793–798

18.

Bowers L, Callaghan P, Clark N, Evers C (2004) Comparisons of psychotropic drug prescribing patterns in acute psychiatric wards across Europe. Eur J Clin Pharmacol 60(1):29–35

19.

Alonso J, Angermeyer MC, Bernert S, Bruffaerts R, Brugha TS, Bryson H et al (2004) Psychotropic drug utilization in Europe: results from the European Study of the Epidemiology of Mental Disorders (ESEMeD) project. Acta Psychiatr Scand Suppl 420:55–64

20.

Abbing-Karahagopian V, Kurz X, de Vries F, van Staa TP, Alvarez Y, Hesse U et al (2014) Bridging differences in findings from observational pharmacoepidemiological studies: PROTECT project. Curr Clin Pharmacol 9(2):130–138

21.

Ohayon MM, Caulet M, Priest RG, Guilleminault C (1998) Psychotropic medication consumption patterns in the UK general population. J Clin Epidemiol 51(3):273–283

22.

Pagura J, Katz LY, Mojtabai R, Druss BG, Cox B, Sareen J (2011) Antidepressant use in the absence of common mental disorders in the general population. J Clin Psychiatry 72(4):494–501

23.

Paulose-Ram R, Safran MA, Jonas BS, Gu Q, Orwig D (2007) Trends in psychotropic medication use among U.S. adults. Pharmacoepidemiol Drug Saf 16(5):560–570

24.

Raymond CB, Morgan SG, Caetano PA (2007) Antidepressant utilization in British Columbia from 1996 to 2004: increasing prevalence but not incidence. Psychiatr Serv 58(1):79–84

25.

Sanyal C, Asbridge M, Kisely S, Sketris I, Andreou P (2011) The utilization of antidepressants and benzodiazepines among people with major depression in Canada. Can J Psychiatry 56(11):667–676

26.

Sihvo S, Isometsa E, Kiviruusu O, Hamalainen J, Suvisaari J, Perala J et al (2008) Antidepressant utilisation patterns and determinants of short-term and non-psychiatric use in the Finnish general adult population. J Affect Disord 110(1–2):94–105

27.

Wittkampf LC, Smeets HM, Knol MJ, Geerlings MI, Braam AW, De Wit NJ (2010) Differences in psychotropic drug prescriptions among ethnic groups in the Netherlands. Soc Psychiatry Psychiatr Epidemiol 45(8):819–826

28.

Ubeda A, Cardo E, Selles N, Broseta R, Trillo JL, Fernandez-Llimos F (2007) Antidepressant utilization in primary care in a Spanish region: impact of generic and reference-based pricing policy (2000–2004). Soc Psychiatry Psychiatr Epidemiol 42(3):181–188

29.

Hansen DG, Sondergaard J, Vach W, Gram LF, Rosholm JU, Kragstrup J (2003) Antidepressant drug use in general practice: inter-practice variation and association with practice characteristics. Eur J Clin Pharmacol 59(2):143–149

30.

Hansen DG, Rosholm JU, Gichangi A, Vach W (2007) Increased use of antidepressants at the end of life: population-based study among people aged 65 years and above. Age Ageing 36(4):449–454

31.

Hsia Y, Maclennan K (2009) Rise in psychotropic drug prescribing in children and adolescents during 1992–2001: a population-based study in the UK. Eur J Epidemiol 24(4):211–216

32.

Murray ML, de Vries CS, Wong IC (2004) A drug utilisation study of antidepressants in children and adolescents using the General Practice Research Database. Arch Dis Child 89(12):1098–1102

33.

Wijlaars LP, Nazareth I, Petersen I (2012) Trends in depression and antidepressant prescribing in children and adolescents: a cohort study in The Health Improvement Network (THIN). PLoS One 7(3):e33181

34.

Reseland S, Bray I, Gunnell D (2006) Relationship between antidepressant sales and secular trends in suicide rates in the Nordic countries. Br J Psychiatry 188:354–358

35.

Bramness JG, Walby FA, Tverdal A (2007) The sales of antidepressants and suicide rates in Norway and its counties 1980–2004. J Affect Disord 102(1–3):1–9

36.

Trifiro G, Barbui C, Spina E, Moretti S, Tari M, Alacqua M et al (2007) Antidepressant drugs: prevalence, incidence and indication of use in general practice of Southern Italy during the years 2003–2004. Pharmacoepidemiol Drug Saf 16(5):552–559

37.

Fegert JM, Kolch M, Zito JM, Glaeske G, Janhsen K (2006) Antidepressant use in children and adolescents in Germany. J Child Adolesc Psychopharmacol 16(1–2):197–206

38.

Ufer M, Meyer SA, Junge O, Selke G, Volz HP, Hedderich J et al (2007) Patterns and prevalence of antidepressant drug use in the German state of Baden-Wuerttemberg: a prescription-based analysis. Pharmacoepidemiol Drug Saf 16(10):1153–1160

39.

Hoffmann F, Glaeske G, Petermann F, Bachmann CJ (2012) Outpatient treatment in German adolescents with depression: an analysis of nationwide health insurance data. Pharmacoepidemiol Drug Saf 21(9):972–979

40.

Lapeyre-Mestre M, Desboeuf K, Aptel I, Chale JJ, Montastruc JL (1998) A comparative survey of antidepressant drug prescribing habits of general practitioners and psychiatrists. Clin Drug Investig 16(1):53–61

41.

Kjosavik SR, Hunskaar S, Aarsland D, Ruths S (2011) Initial prescription of antipsychotics and antidepressants in general practice and specialist care in Norway. Acta Psychiatr Scand 123(6):459–465

42.

Ballenger JC, Davidson JR, Lecrubier Y, Nutt DJ, Goldberg D, Magruder KM et al (1999) Consensus statement on the primary care management of depression from the International Consensus Group on Depression and Anxiety. J Clin Psychiatry 60(Suppl 7):54–61

43.

Roberts RE, Shema SJ, Kaplan GA, Strawbridge WJ (2000) Sleep complaints and depression in an aging cohort: a prospective perspective. Am J Psychiatry 157(1):81–88

44.

Gardarsdottir H, Egberts AC, van Dijk L, Sturkenboom MC, Heerdink ER (2009) An algorithm to identify antidepressant users with a diagnosis of depression from prescription data. Pharmacoepidemiol Drug Saf 18(1):7–15

45.

Van Geffen EC, Gardarsdottir H, van Hulten R, van Dijk L, Egberts AC, Heerdink ER (2009) Initiation of antidepressant therapy: do patients follow the GP's prescription? Br J Gen Pract 59(559):81–87
Acknowledgements
The research leading to these results was conducted as part of the PROTECT consortium (Pharmacoepidemiological Research on Outcomes of Therapeutics by a European ConsorTium, www.imi-protect.eu), which is a public–private partnership coordinated by the European Medicines Agency. Roman Gerlach and Martin Tauscher from the KVB (National Association of Statutory Health Insurance Physicians of Bavaria, Munich, Germany) are acknowledged for their support in data acquisition.
Funding
The PROTECT project has received support from the Innovative Medicine Initiative (IMI) Joint Undertaking (www.imi.europa.eu) under Grant Agreement no. 115004, the resources of which are composed of financial contributions from the European Union's Seventh Framework Programme (FP7/2007-2013) and the kind contribution of the EFPIA companies. In the context of the IMI Joint Undertaking (IMI JU), the Department of Pharmacoepidemiology, Utrecht University, also received a direct financial contribution from Pfizer. The views expressed are those of the authors only and not of their respective institutions or companies.
The Division of Pharmacoepidemiology and Clinical Pharmacology has received unrestricted funding from the Netherlands Organisation for Health Research and Development (ZonMW), the Dutch Health Care Insurance Board (CVZ), the Royal Dutch Pharmacists Association (KNMP), the privately/publically funded Top Institute Pharma (www.tipharma.nl), includes co-funding from universities, government, and industry), the EU Innovative Medicines Initiative (IMI), the EU 7th Framework Program (FP7), the Dutch Ministry of Health, and industry (including GlaxoSmithKline, Pfizer, and others).
Electronic supplementary material
Below is the link to the electronic supplementary material.
About this article
Cite this article
Abbing-Karahagopian, V., Huerta, C., Souverein, P.C. et al. Antidepressant prescribing in five European countries: application of common definitions to assess the prevalence, clinical observations, and methodological implications. Eur J Clin Pharmacol 70, 849–857 (2014). https://doi.org/10.1007/s00228-014-1676-z
Received:

Accepted:

Published:

Issue Date:
Keywords
Antidepressants

Selective serotonin reuptake inhibitors

Tricyclic antidepressants

Prevalence

Electronic healthcare databases

Standardization