Abstract
Purpose
Grape seed extract (GSE) has been shown to inhibit the cytochrome P450 (CYP) 2D6 isoenzyme in vitro. To determine the clinical effect of GSE on CYP2D6, the pharmacokinetic interaction between GSE and the sensitive CYP2D6 probe dextromethorphan in healthy adult volunteers was examined.
Methods
In this open label, randomized, cross-over study, 30 subjects were assigned to cohort A or B. Both cohorts ingested 30 mg dextromethorphan hydrobromide on day 1 and day 10. Cohort A received 100 mg GSE capsules three times daily on days 8, 9 and 10, while cohort B started with GSE on day −1 until day 1. After urine collection (0–8 h) on day 1 and day 10, the urinary dextromethorphan to dextrorphan metabolic ratio was determined.
Results
Among 28 evaluable subjects, an increase of the urinary metabolic ratio was observed in 16 subjects (57 %). The mean metabolic ratio (± standard deviation) before and after GSE supplementation was 0.41 (± 0.56) and 0.48 (± 0.59), respectively. This result was neither statistically (P = 0.342) nor clinically [geometric mean ratio 1.10, 90 % CI (0.93–1.30)] significant. Further, the majority (73 %) of the included subjects did not experience any adverse events after intake of dextromethorphan or GSE.
Conclusions
Supplementation of GSE did not significantly affect the urinary dextromethorphan to dextrorphan metabolic ratio in healthy volunteers. The results of this clinical study indicate that GSE appears to be safe to combine with drugs extensively metabolized by CYP2D6, such as dextromethorphan and tamoxifen.
This is a preview of subscription content, log in to check access.
Access options
Buy single article
Instant access to the full article PDF.
US$ 39.95
Price includes VAT for USA
Subscribe to journal
Immediate online access to all issues from 2019. Subscription will auto renew annually.
US$ 199
This is the net price. Taxes to be calculated in checkout.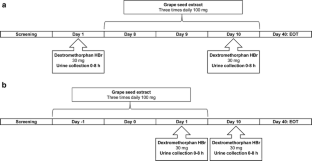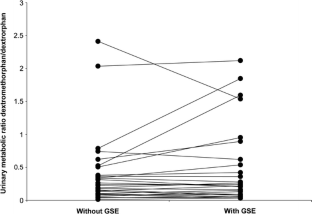 References
1.

Sparreboom A, Cox MC, Acharya MR, Figg WD (2004) Herbal remedies in the United States: potential adverse interactions with anticancer agents. J Clin Oncol 22:2489–2503

2.

Williamson G, Manach C (2005) Bioavailability and bioefficacy of polyphenols in humans. II. Review of 93 intervention studies. Am J Clin Nutr 81:243S–255S

3.

Gabetta B, Fuzzati N, Griffini A, Lolla E, Pace R, Ruffilli T, Peterlongo F (2000) Characterization of proanthocyanidins from grape seeds. Fitoterapia 71:162–175

4.

Feringa HH, Laskey DA, Dickson JE, Coleman CI (2011) The effect of grape seed extract on cardiovascular risk markers: a meta-analysis of randomized controlled trials. J Am Diet Assoc 111:1173–1181

5.

Kaur M, Agarwal C, Agarwal R (2009) Anticancer and cancer chemopreventive potential of grape seed extract and other grape-based products. J Nutr 139:1806S–1812S

6.

Nishikawa M, Ariyoshi N, Kotani A, Ishii I, Nakamura H, Nakasa H, Ida M, Kimura N, Kimura M, Hasegawa A, Kusu F, Ohmori S, Nakazawa K, Kitada M (2004) Effects of continuous ingestion of green tea or grape seed extracts on the pharmacokinetics of midazolam. Drug Metab Pharmacokinet 19:280–289

7.

Etheridge AS, Black SR, Patel PR, So J, Mathews JM (2007) An in vitro evaluation of cytochrome P450 inhibition and P-glycoprotein interaction with goldenseal, Ginkgo biloba, grape seed, milk thistle, and ginseng extracts and their constituents. Planta Med 73:731–741

8.

Desta Z, Ward BA, Soukhova NV, Flockhart DA (2004) Comprehensive evaluation of tamoxifen sequential biotransformation by the human cytochrome P450 system in vitro: prominent roles for CYP3A and CYP2D6. J Pharmacol Exp Ther 310:1062–1075

9.

Stearns V, Johnson MD, Rae JM, Morocho A, Novielli A, Bhargava P, Hayes DF, Desta Z, Flockhart DA (2003) Active tamoxifen metabolite plasma concentrations after coadministration of tamoxifen and the selective serotonin reuptake inhibitor paroxetine. J Natl Cancer Inst 95:1758–1764

10.

de Graan AJ, Teunissen SF, de Vos FY, Loos WJ, van Schaik RH, de Jongh FE, de Vos AI, van Alphen RJ, van der Holt B, Verweij J, Seynaeve C, Beijnen JH, Mathijssen RH (2011) Dextromethorphan as a phenotyping test to predict endoxifen exposure in patients on tamoxifen treatment. J Clin Oncol 29:3240–3246

11.

Gupta NK, Dixit VK (2011) Absorption enhancement of grape seed polyphenols by complexation with phosphatidyl choline. Drug Deliv 18:312–319

12.

van Schaik RH, Van Fessem MAC, Schenk PW, Lindemans J (2006) CYP2D6-genotypen in de Nederlandse populatie, bepaald met de Roche AmpliChip CYP450 Ned Tijdschr. Klin Chem Labgeneesk 31:234–235

13.

Streetman DS, Bertino JS Jr, Nafziger AN (2000) Phenotyping of drug-metabolizing enzymes in adults: a review of in-vivo cytochrome P450 phenotyping probes. Pharmacogenetics 10:187–216

14.

U.S. Department of Health and Human Services, Food and Drug Administration, Center for Drug Evaluation and Research (CDER), Center for Biologics Evaluation and Research (CBER) (2001) Guidance for Industry: Bioanalytical Method Validation.

15.

Zhou H, Tong Z, McLeod JF (2004) "Cocktail" approaches and strategies in drug development: valuable tool or flawed science? J Clin Pharmacol 44:120–134

16.

Boehringer Ingelheim bv (2006) Summary of Product Characteristics Bisoltussin

17.

Serra A, Macia A, Romero MP, Valls J, Blade C, Arola L, Motilva MJ (2010) Bioavailability of procyanidin dimers and trimers and matrix food effects in in vitro and in vivo models. Br J Nutr 103:944–952

18.

Goey AK, Meijerman I, Rosing H, Burgers JA, Mergui-Roelvink M, Keessen M, Marchetti S, Beijnen JH, Schellens JH (2013) The effect of Echinacea purpurea on the pharmacokinetics of docetaxel. Br J Clin Pharmacol

19.

Samer CF, Daali Y, Wagner M, Hopfgartner G, Eap CB, Rebsamen MC, Rossier MF, Hochstrasser D, Dayer P, Desmeules JA (2010) The effects of CYP2D6 and CYP3A activities on the pharmacokinetics of immediate release oxycodone. Br J Pharmacol 160:907–918

20.

Frank D, Jaehde U, Fuhr U (2007) Evaluation of probe drugs and pharmacokinetic metrics for CYP2D6 phenotyping. Eur J Clin Pharmacol 63:321–333

21.

Kupfer A, Schmid B, Pfaff G (1986) Pharmacogenetics of dextromethorphan O-demethylation in man. Xenobiotica 16:421–433

22.

Hu OY, Tang HS, Lane HY, Chang WH, Hu TM (1998) Novel single-point plasma or saliva dextromethorphan method for determining CYP2D6 activity. J Pharmacol Exp Ther 285:955–960

23.

Chladek J, Zimova G, Martinkova J, Tuma I (1999) Intra-individual variability and influence of urine collection period on dextromethorphan metabolic ratios in healthy subjects. Fundam Clin Pharmacol 13:508–515

24.

Alfaro CL, Lam YW, Simpson J, Ereshefsky L (2000) CYP2D6 inhibition by fluoxetine, paroxetine, sertraline, and venlafaxine in a crossover study: intraindividual variability and plasma concentration correlations. J Clin Pharmacol 40:58–66

25.

Kelly CM, Juurlink DN, Gomes T, Duong-Hua M, Pritchard KI, Austin PC, Paszat LF (2010) Selective serotonin reuptake inhibitors and breast cancer mortality in women receiving tamoxifen: a population based cohort study. BMJ 340:c693

26.

U.S. Department of Health and Human Services, Food and Drug Administration, Center for Drug Evaluation and Research (CDER), Center for Biologics Evaluation and Research (CBER) (2006) Guidance for Industry: Drug Interaction Studies - Study Design, Data Analysis, and Implications for Dosing and Labeling

27.

Midha KK, Rawson MJ, Hubbard JW (2005) The bioequivalence of highly variable drugs and drug products. Int J Clin Pharmacol Ther 43:485–498

28.

Johnson BM, Song IH, Adkison KK, Borland J, Fang L, Lou Y, Berrey MM, Nafziger AN, Piscitelli SC, Bertino JS Jr (2006) Evaluation of the drug interaction potential of aplaviroc, a novel human immunodeficiency virus entry inhibitor, using a modified cooperstown 5 + 1 cocktail. J Clin Pharmacol 46:577–587

29.

Rani S, Pargal A (2004) Bioequivalence: An overview of statistical concepts. Indian Journal of Pharmacology 36:209–216

30.

Doroshyenko O, Rokitta D, Zadoyan G, Klement S, Schlafke S, Dienel A, Gramatte T, Luck H, Fuhr U (2013) Drug cocktail interaction study on the effect of the orally administered lavender oil preparation silexan on cytochrome P450 enzymes in healthy volunteers. Drug Metab Dispos 41:987–993

31.

Ring BJ, Patterson BE, Mitchell MI, Vandenbranden M, Gillespie J, Bedding AW, Jewell H, Payne CD, Forgue ST, Eckstein J, Wrighton SA, Phillips DL (2005) Effect of tadalafil on cytochrome P450 3A4-mediated clearance: studies in vitro and in vivo. Clin Pharmacol Ther 77:63–75

32.

Zadoyan G, Rokitta D, Klement S, Dienel A, Hoerr R, Gramatte T, Fuhr U (2012) Effect of Ginkgo biloba special extract EGb 761(R) on human cytochrome P450 activity: a cocktail interaction study in healthy volunteers. Eur J Clin Pharmacol 68:553–560

33.

European Medicines Agency (2010) Guideline on the Investigation of Bioequivalence.

34.

Dreiseitel A, Schreier P, Oehme A, Locher S, Rogler G, Piberger H, Hajak G, Sand PG (2009) Anthocyanins and anthocyanidins are poor inhibitors of CYP2D6. Methods Find Exp Clin Pharmacol 31:3–9

35.

Holt RR, Lazarus SA, Sullards MC, Zhu QY, Schramm DD, Hammerstone JF, Fraga CG, Schmitz HH, Keen CL (2002) Procyanidin dimer B2 [epicatechin-(4beta-8)-epicatechin] in human plasma after the consumption of a flavanol-rich cocoa. Am J Clin Nutr 76:798–804

36.

Sano A, Yamakoshi J, Tokutake S, Tobe K, Kubota Y, Kikuchi M (2003) Procyanidin B1 is detected in human serum after intake of proanthocyanidin-rich grape seed extract. Biosci Biotechnol Biochem 67:1140–1143

37.

Mauri P, Simonetti P, Gardana C, Minoggio M, Morazzoni P, Bombardelli E, Pietta P (2001) Liquid chromatography/atmospheric pressure chemical ionization mass spectrometry of terpene lactones in plasma of volunteers dosed with Ginkgo biloba L. extracts. Rapid Commun Mass Spectrom 15:929–934

38.

Pietta P, Simonetti P, Gardana C, Brusamolino A, Morazzoni P, Bombardelli E (1998) Relationship between rate and extent of catechin absorption and plasma antioxidant status. Biochem Mol Biol Int 46:895–903

39.

Barzaghi N, Crema F, Gatti G, Pifferi G, Perucca E (1990) Pharmacokinetic studies on IdB 1016, a silybin- phosphatidylcholine complex, in healthy human subjects. Eur J Drug Metab Pharmacokinet 15:333–338

40.

Goosen TC, Cillie D, Bailey DG, Yu C, He K, Hollenberg PF, Woster PM, Cohen L, Williams JA, Rheeders M, Dijkstra HP (2004) Bergamottin contribution to the grapefruit juice-felodipine interaction and disposition in humans. Clin Pharmacol Ther 76:607–617
Acknowledgments
This study was supported by a project grant (UU 2007–3795) of the Dutch Cancer Society (KWF Kankerbestrijding). Furthermore, we would like to thank Miriam Warnier, MD and Talitha Verhoef, MD (Department of Pharmaceutical Sciences, Division of Pharmacoepidemiology & Clinical Pharmacology, Utrecht University) for executing the venipunctures.
Conflicts of interest
The authors declare that they have no conflict of interest.
About this article
Cite this article
Goey, A.K.L., Meijerman, I., Beijnen, J.H. et al. The effect of grape seed extract on the pharmacokinetics of dextromethorphan in healthy volunteers. Eur J Clin Pharmacol 69, 1883–1890 (2013). https://doi.org/10.1007/s00228-013-1558-9
Received:

Accepted:

Published:

Issue Date:
Keywords
Pharmacokinetics

Dextromethorphan

Grape seed extract

CYP2D6

Herb-drug interactions

Clinical trial