Abstract
Purpose
Zolpidem and zopiclone are two widely used non-benzodiazepine hypnotics whose usage seems to be associated to pharmacodependence. However, to our knowledge, there has as yet been no published epidemiological study which has compared their abuse or dependence potential. We used a pharmacoepidemiological approach to identify and characterise zolpidem and zopiclone users in real life situations.
Methods
Regular users of zolpidem or zopiclone were identified in the database of a French regional health insurance organisation. A latent class analysis (LCA) was used to identify different subgroups of users of these two hypnotics.
Results
The study cohort comprised 25,168 patients who regularly used zolpidem and 21,860 who regularly used zopiclone. The results of the latent class analysis, which enables subgroups with similar patterns of response to be identified, revealed four clinical subtypes of users of zolpidem: non-problematic users, users with associations with hypnotics/anxiolytics or with associated mental disorders, and problematic users. Only three subgroups were identified for zopiclone, and LCA did not discriminate a special class of problematic users for this drug.
Conclusion
Our analysis indicates that there is a subclass of zolpidem user suggestive of abuse; this was not the case for zopiclone. This methodology is very interesting because it allows analysis of databases and determination of a specific signature of drugs potentially leading to abuse or dependence.
This is a preview of subscription content, log in to check access.
Access options
Buy single article
Instant access to the full article PDF.
US$ 39.95
Price includes VAT for USA
Subscribe to journal
Immediate online access to all issues from 2019. Subscription will auto renew annually.
US$ 199
This is the net price. Taxes to be calculated in checkout.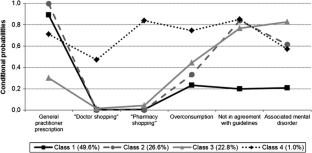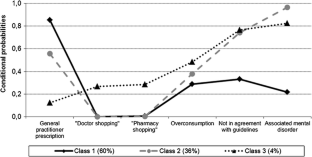 References
1.

Holm KJ, Goa KL (2000) Zolpidem: an update of its pharmacology, therapeutic efficacy and tolerability in the treatment of insomnia. Drugs 59(4):865–889

2.

LRP (2002) Dependance aux hypnotiques: zolpidem et zopiclone aussi. Rev Prescr 20:675–676

3.

LRP (2002) Zolpidem : classé comme psychotrope à risque d'abus. Rev Prescr 22:819

4.

Briot M (2006) Report on the appropriate use of psychotropic drugs in France. Assemblée Nationale, ISSN 1249-3872; no. 3187. Office Parlementaire d'Evaluation des Politiques de Santé, Assemblée Nationale, Paris

5.

Frauger E, Pauly V, Natali F et al (2011) Patterns of methylphenidate use and assessment of its abuse and diversion in two French administrative areas using a proxy of deviant behaviour determined from a reimbursement database: main trends from 2005 to 2008. CNS Drugs 25(5):415–424

6.

Frauger E, Pauly V, Thirion X et al (2009) Estimation of clonazepam abuse liability: a new method using a reimbursed drug database. Int Clin Psychopharmacol 24(6):318–324

7.

Micaleff J, Jolliet P, Victorri-Vigneau C et al (2008) First meeting of the French CEIP (centres d'evaluation et d'information sur la pharmacodependance). Assessment of the abuse and pharmacodependence potential during drug development. Therapie 63(1):55–65

8.

Pauly V, Pradel V, Frauger E et al (2011) Evolution of opioids reimbursement since 2004 from the National Database of the General Health Insurance System. Therapie 66(4):369–372

9.

Pradel V, Frauger E, Thirion X et al (2009) Impact of a prescription monitoring program on doctor-shopping for high dosage buprenorphine. Pharmacoepidemiol Drug Saf 18(1):36–43

10.

Victorri-Vigneau C, Larour K, Simon D et al (2009) Creating and validating a tool able to detect fraud by prescription falsification from health insurance administration databases. Therapie 64(1):27–31

11.

Victorri-Vigneau C, Sebille V, Gerardin M et al (2011) Epidemiological characterization of drug overconsumption: the example of antidepressants. J Addict Dis 30(4):342–350

12.

Wainstein L, Victorri-Vigneau C, Sebille V et al (2011) Pharmacoepidemiological characterization of psychotropic drugs consumption using a latent class analysis. Int Clin Psychopharmacol 26(1):54–62

13.

McCutcheon (1987) Latent class analysis. Sage university paper series on quantitative applications in the social sciences. Series no. 07-064. Sage, Newbury Park

14.

Moss HB, Chen CM, Yi HY (2007) Subtypes of alcohol dependence in a nationally representative sample. Drug Alcohol Depend 91(2–3):149–158

15.

Reboussin BA, Song EY, Shrestha A et al (2006) A latent class analysis of underage problem drinking: evidence from a community sample of 16–20 year olds. Drug Alcohol Depend 83(3):199–209

16.

Agrawal A, Lynskey MT, Madden PA et al (2007) A latent class analysis of illicit drug abuse/dependence: results from the National Epidemiological Survey on Alcohol and Related Conditions. Addiction 102(1):94–104

17.

Martin-Latry K, Begaud B (2010) Pharmacoepidemiological research using French reimbursement databases: yes we can! Pharmacoepidemiol Drug Saf 19(3):256–265

18.

Latry P, Molimard M, Begaud B et al (2010) How reimbursement databases can be used to support drug utilisation studies: example using the main French national health insurance system database. Eur J Clin Pharmacol 66(7):743–748

19.

Victorri-Vigneau C, Dailly E, Veyrac G et al (2007) Evidence of zolpidem abuse and dependence: results of the French Centre for Evaluation and Information on Pharmacodependence (CEIP) network survey. Br J Clin Pharmacol 64(2):198–209

20.

Krueger TH, Kropp S, Huber TJ (2005) High-dose zolpidem dependence in a patient with chronic facial pain. Ann Pharmacother 39(4):773–774

21.

Sethi PK, Khandelwal DC (2005) Zolpidem at supratherapeutic doses can cause drug abuse, dependence and withdrawal seizure. J Assoc Physicians India 53:139–140

22.

Quaglio G, Lugoboni F, Fornasiero A et al (2005) Dependence on zolpidem: two case reports of detoxification with flumazenil infusion. Int Clin Psychopharmacol 20(5):285–287

23.

Brunelle E, Rotily M, Lancon C et al (2005) Zolpidem: intravenous misuse in drug abusers. Addiction 100(9):1377–1378

24.

Liappas IA, Papageorgiou CC, Rabavilas AD (2006) Abnormal auditory N400 in a case of zolpidem dependence, during a working memory test. Eur Psychiatry 21(2):135–137

25.

Djezzar S, Dugarin J, Dally S (2006) Zolpidem and dextromoramide abuse with increased metabolism. Am J Addict 15(5):405–406

26.

Cubala WJ, Landowski J (2007) Seizure following sudden zolpidem withdrawal. Prog Neuropsychopharmacol Biol Psychiatry 31(2):539–540

27.

Askew JP (2007) Zolpidem addiction in a pregnant woman with a history of second-trimester bleeding. Pharmacotherapy 27(2):306–308

28.

Huang MC, Lin HY, Chen CH (2007) Dependence on zolpidem. Psychiatry Clin Neurosci 61(2):207–208

29.

Mariani JJ, Levin FR (2007) Quetiapine treatment of zolpidem dependence. Am J Addict 16(5):426

30.

Benyamina A, Dublanchet O, Karila L et al (2007) Intravenous zolpidem abuse: a case for serotonin depletion. Am J Addict 16(6):534

31.

Svitek J, Heberlein A, Bleich S et al (2008) Extensive craving in high dose zolpidem dependency. Prog Neuropsychopharmacol Biol Psychiatry 32(2):591–592

32.

Sharan P, Bharadwaj R, Grover S et al (2007) Dependence syndrome and intoxication delirium associated with zolpidem. Natl Med J India 20(4):180–181

33.

Jana AK, Arora M, Khess CR et al (2008) A case of zolpidem dependence successfully detoxified with clonazepam. Am J Addict 17(4):343–344

34.

Boucher A, Assaad S, Pariset C et al (2008) Digital ischemia following injection of a crushed tablet of zolpidem: tardive improvement with iloprost. Therapie 63(6):463–467

35.

Pitchot W, Ansseau M (2009) Zolpidem dependence and withdrawal seizure. Rev Med Liege 64(7–8):407–408

36.

Chen CY, Shiah IS, Lee WK et al (2009) Dependence on quetiapine in combination with zolpidem and clonazepam in bipolar depression. Psychiatry Clin Neurosci 63(3):427–428

37.

Spyridi S, Diakogiannis I, Nimatoudis J et al (2009) Zolpidem dependence in a geriatric patient: a case report. J Am Geriatr Soc 57(10):1962–1963

38.

Damm J, Eser D, Moeller HJ et al (2010) Severe dependency on zolpidem in a patient with multiple sclerosis suffering from paraspasticity. World J Biol Psychiatry 11(2 Pt 2):516–518

39.

Aggarwal A, Sharma DD (2010) Zolpidem withdrawal delirium: a case report. J Neuropsychiatry Clin Neurosci 22(4):451-o.e27–451.e28

40.

Wang LJ, Ree SC, Chu CL et al (2011) Zolpidem dependence and withdrawal seizure—report of two cases. Psychiatr Danub 23(1):76–78

41.

Oulis P, Nakkas G, Masdrakis VG (2011) Pregabalin in zolpidem dependence and withdrawal. Clin Neuropharmacol 34(2):90–91

42.

Cimolai N (2007) Zopiclone: is it a pharmacologic agent for abuse? Can Fam Physician 53(12):2124–2129

43.

Hajak G, Muller WE, Wittchen HU et al (2003) Abuse and dependence potential for the non-benzodiazepine hypnotics zolpidem and zopiclone: a review of case reports and epidemiological data. Addiction 98(10):1371–1378

44.

Fung HT, Lai CH, Wong OF et al (2009) Hemolytic anemia after zopiclone overdose. Clin Toxicol (Phila) 47(9):902–903

45.

Wong CP, Chiu PK, Chu LW (2005) Zopiclone withdrawal: an unusual cause of delirium in the elderly. Age Ageing 34(5):526–527

46.

Haasen C, Mueller-Thomsen T, Fink T et al (2005) Zopiclone dependence after insomnia related to torticollis. Int J Neuropsychopharmacol 8(2):309–310
Conflict of interest
Pascale Jolliet declares consulting fees. Other authors declare that they have no conflict of interest.
About this article
Cite this article
Victorri-Vigneau, C., Feuillet, F., Wainstein, L. et al. Pharmacoepidemiological characterisation of zolpidem and zopiclone usage. Eur J Clin Pharmacol 69, 1965–1972 (2013). https://doi.org/10.1007/s00228-013-1557-x
Received:

Accepted:

Published:

Issue Date:
Keywords
Zolpidem

Zopiclone

Pharmacodependence

Abuse

Pharmacoepidemiology