Abstract
Background
A growing number of countries are providing pharmaceutical grade cannabis to chronically ill patients. However, little published data is known about the extent of medicinal cannabis use and the characteristics of patients using cannabis on doctor's prescription. This study describes a retrospective database study of The Netherlands.
Methods
Complete dispensing histories were obtained of all patients with at least one medicinal cannabis prescription gathered at pharmacies in The Netherlands in the period 2003–2010. Data revealed prevalence and incidence of use of prescription cannabis as well as characteristics of patients using different cannabis varieties.
Results
Five thousand five hundred forty patients were identified. After an initial incidence of about 6/100,000 inhabitants/year in 2003 and 2004, the incidence remained stable at 3/100,000/year in 2005–2010. The prevalence rate ranged from 5 to 8 per 100,000 inhabitants. Virtually all patients used some form of prescription medication in the 6 months preceding start of cannabis use, most particularly psycholeptics (45.5 %), analgesics (44.3 %), anti-ulcer agents (35.9 %) and NSAIDs (30.7 %). We found no significant association between use of medication of common indications for cannabis (pain, HIV/AIDS, cancer, nausea, glaucoma) and variety of cannabis used.
Conclusions
This is the first nationwide study into the extent of prescription of medicinal cannabis. Although the cannabis varieties studied are believed to possess different therapeutic effects based on their different content of tetrahydrocannabinol (THC) and cannabidiol (CBD), no differences in choice of variety was found associated with indication.
Access options
Buy single article
Instant access to the full article PDF.
USD 39.95
Price includes VAT (USA)
Tax calculation will be finalised during checkout.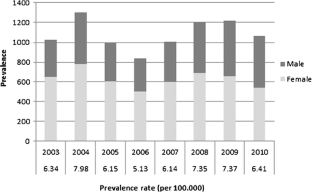 References
1.

Office of Medicinal Cannabis (OMC), Department of Health, official website http://www.cannabisbureau.nl (accessed Sep 2012)

2.

Health Canada: Canadian department of Health, Marijuana Medical Access Program:http://hc-sc.gc.ca/dhp-mps/marihuana/index-eng.php (accessed Sep 2012)

3.

Americans for Safe Access (ASA). Connecticut Becomes 17th Medical Marijuana State in the Face of Ongoing Federal Intimidation. Press release of 01 June 2012. http://www.safeaccessnow.org/article.php?id=7174 (accessed Sep 2012)

4.

Hazekamp A, Mueller-Vahl K, Ware M et al The medicinal use of cannabis and cannabinoids; an international cross-sectional survey on methods of intake. J Psychoactive Drugs. in press

5.

Reiman AE (2007) Medical cannabis patients: patient profiles and health care utilization patterns. Complement Heal Pract Rev 12(1):31–50

6.

O'Connell TJ, Bou-Matar CB (2007) Long term marijuana users seeking medical cannabis in California (2001–2007): demographics, social characteristics, patterns of cannabis and other drug use of 4117 applicants. Harm Reduct J 4:16

7.

Ware MA, Adams H, Guy GW (2005) The medicinal use of cannabis in the UK: results of a nationwide Survey. Int J Clin Pract 59(3):291–295

8.

Page SA, Verhoef MJ, Stebbins RA et al (2003) Cannabis use as described by people with multiple sclerosis. Can J Neurol Sci 30(3):201–205

9.

Ogborne AC, Smart RG, Adlaf EM (2000) Self-reported medical use of marijuana: a survey of the general population. CMAJ 162(12):1685–1686

10.

Hazekamp A, Ruhaak R, Zuurman L et al (2006) Evaluation of a vaporizing device (Volcano) for the pulmonary delivery of tetrahydrocannabinol. J Pharm Sci 95(6):1308–1317

11.

Hazekamp A, Bastola K, Rashidi H et al (2007) Cannabis tea revisited: a systematic evaluation of the cannabinoid composition of cannabis tea. J Ethnopharm 113:85–90

12.

NCSM: Dutch foundation for legal cannabis and its constituents as medicine. Survey among major health insurance companies [report in Dutch]. 2012 http://www.ncsm.nl/cfsystem/userData/pdf/1342695429__document__ncsm-vergoeding-medicinale-cannabis-2012.pdf (accessed Sep 2012)

13.

Buurma H, Bouvy ML, De Smet PA et al (2008) Prevalence and determinants of pharmacy shopping behaviour. J Clin Pharm Ther 33(1):17–23

14.

WHO: World Health Organization Collaborating Centre for Drug Statistics Methodology. http://www.whocc.no/atc_ddd_index/ (accessed Sep 2012)

15.

Bedrocan BV Supplier of medicinal cannabis, official website: http://www.bedrocan.nl (accessed Sep 2012)

16.

Hazekamp A (2006) An evaluation of medicinal grade cannabis in The Netherlands. Cannabinoids 1(1):1–9

17.

Lynch ME, Young J, Clark AJ (2006) A case series of patients using medicinal marihuana for management of chronic pain under the Canadian Marihuana Medical Access Regulations. J Pain Symptom Manag 32(5):497–501

18.

Anichek JL, Reiman A (2012) Clinical service desires of medical cannabis patients. Harm Reduct J 9:12–17

19.

Woolridge E, Barton S, Samuel J et al (2005) Cannabis use in HIV for pain and other medical symptoms. J Pain Symptom Manag 29(4):358–367

20.

Braitstein P, Kendall T, Chan K et al (2001) Mary-Jane and her patients: sociodemographic and clinical characteristics of HIVpositive individuals using medical marijuana and antiretroviral agents. AIDS 15(4):532–533

21.

International Association for Cannabinoid Medicine (IACM). Increasing numbers of patients use cannabis for medicinal purposes. Electronic newsletter of 08 April 2012. http://blog.norml.org/2012/04/11/estimate-worldwide-population-of-lawful-medical-marijuana-patients/ (accessed Sep 2012)

22.

Van der Pol P, Liebregts N, De graaf R et al (2013) Validation of self-reported cannabis dose and potency: an ecological study. Addiction, submitted

23.

Narang S, Gibson D, Wasan AD et al (2008) Efficacy of dronabinol as an adjuvant treatment for chronic pain patients on opioid therapy. J Pain 9(3):254–264

24.

Wilsey B, Marcotte T, Tsodikov A et al (2008) A randomized, placebo-controlled, crossover trial of cannabis cigarettes in neuropathic pain. J Pain 9(6):506–521

25.

Holdcroft A, Maze M, Doré C et al (2006) A multicenter dose-escalation study of the analgesic and adverse effects of an oral cannabis extract (Cannador) for postoperative pain management. Anesthesiology 104(5):1040–1046

26.

Zajicek JP, Hobart JC, Slade A et al (2012) Multiple sclerosis and extract of cannabis: results of the MUSEC trial. J Neurol Neurosurg Psychiatry. Published online first: 12 July 2012. doi:10.1136/jnnp-2012-302468
Acknowledgments
AH is Head of R&D at Bedrocan BV, The Netherlands. The Dutch Association for Legal Cannabis and its Constituents as Medicine (NCSM foundation, Oegstgeest, The Netherlands) is gratefully acknowledged for providing the funds to collect data from the SFK database and providing the data to the authors. No additional funding was received for conducting this study.
Additional information
WHAT THIS PAPER ADDS
What is already known on this subject
• As clinical support for the therapeutic use of cannabis or its isolated components such as THC is mounting, several countries are now providing herbal cannabis of pharmaceutical grade to chronically ill patients.
• Many other patients obtain cannabis from illicit sources and experiment with self-medication, without the supervision of a medical professional.
• Other than surveys based on self-selected participation, not much is known about characteristics or preferences of medicinal cannabis users,
What this study adds
• This study is the first one using objective data to study national medicinal cannabis consumption patterns, providing accurate data on the incidence, prevalence and characteristics of users of prescribed medicinal cannabis in The Netherlands.
• Understanding the background and preferences of cannabis patients may help medical professionals to decide about the role of medicinal cannabis in their own practice.
About this article
Cite this article
Hazekamp, A., Heerdink, E.R. The prevalence and incidence of medicinal cannabis on prescription in The Netherlands. Eur J Clin Pharmacol 69, 1575–1580 (2013). https://doi.org/10.1007/s00228-013-1503-y
Received:

Accepted:

Published:

Issue Date:
Keywords
Cannabis

Therapeutic use

Prevalence

Incidence

The Netherlands