Summary
Aim
To test the ability a new Spanish primary care research database (BIFAP) to capture the association between upper gastrointestinal bleeding (UGIB) and NSAIDs and other drugs and compare the results with previous studies.
Methods
We performed a nested case–control study in persons aged 40–90 years old included in the period 2001–2005. Potential cases were selected through a computer search followed by an individual blinded review. Controls matched for age, sex and calendar year were randomly selected. The exposure window was defined as 0–30 days before the index date. Adjusted odds ratios were obtained through unconditional logistic regression models.
Results
In a study cohort of 669,115 subjects (1,576,442 person-years) we retrieved 1,193 valid incident cases. Increased risks were found with current use of NSAIDs (RR = 1.72; 95 %CI: 1.41–2.09), metamizole (1.52; 1.09–2.13), low-dose aspirin (1.74; 1.37–2.21), other antiplatelet drugs (1.73; 1.27–2.36), and oral anticoagulants (2.00; 1.44–2.77). We did not find an increased risk with current use of oral corticosteroids (1.11; 0.66–1.86), SSRIs (1.05; 0.77–1.42), or paracetamol (1.00; 0.82–1.23). Acid-suppressing drugs reduced the risk among users of NSAIDs (0.58; 0.39–0.85), particularly in users with antecedents of peptic ulcer (0.16; 0.05–0.58). We detected a decreasing time-trend in the relative risk and the population attributable proportion associated with NSAIDs over the study period.
Conclusions
The increased risk of UGIB associated with NSAIDs was lower than previously reported, which could partly be explained by methodological differences, but a decreasing burden over time of this drug safety problem is suggested. BIFAP has shown to be a valuable tool for pharmacoepidemiological research.
This is a preview of subscription content, log in to check access.
Access options
Buy single article
Instant access to the full article PDF.
US$ 39.95
Price includes VAT for USA
Subscribe to journal
Immediate online access to all issues from 2019. Subscription will auto renew annually.
US$ 199
This is the net price. Taxes to be calculated in checkout.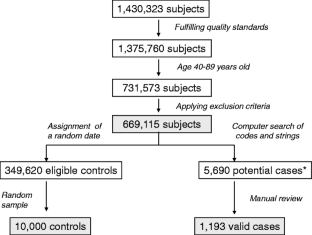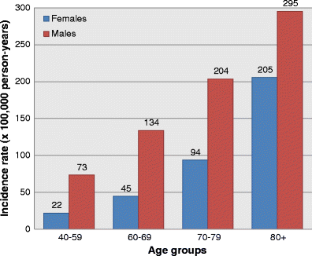 References
1.

De Abajo FJ (2005) Improving pharmacovigilance practice beyond spontaneous reporting. Int J Pharm Med 19:209–218

2.

Schneeweiss S, Avorn J (2005) A review of uses of healthcare utilization databases for epidemiological research on therapeutics. J Clin Epidemiol 58:323–337

3.

Hall GC, Sauer B, Bourke A, Brown JS, Reynolds MW, Casale RL (2012) Guidelines for good database selection and use in pharmacoepidemiology research. Pharmacoepidemiol Drug Saf 21:1–10

4.

Salvador A, Moreno JC, Sonego D, Garcia-Rodriguez LA, de Abajo FJ (2002) El proyecto BIFAP: Base de datos para la Investigación Farmacoepidemiológica en Atención Primaria. Aten Primaria 30:655–661

5.

BIFAP, Base de datos para la investigación farmacoeopidemiológica en atención primaria. Available at: http://www.bifap.org

6.

World Health Organization. International Classification of Primary Care, second edition (ICPC-2). Available at: http://www.who.int/classifications/icd/adaptations/icpc2/en/index.html

7.

WHO Collaborating Centre for Drug Statistics Methodology. ATC/DDD index. Available at: http://www.whocc.no/atc_ddd_index/

8.

García-Rodríguez LA, Barreales Tolosa L (2007) Risk of upper gastrointestinal complication among users of traditional NSAIDs and COXIBs in the general population. Gastroenterology 132:498–506

9.

De Abajo FJ, García-Rodríguez LA (2008) Risk of upper gastrointestinal tract bleeding associated with selective serotonin reuptake inhibitors and venlafaxine therapy. Arch Gen Psychiatry 65:795–803

10.

Walker A (1991) Observation and inference—An introduction to the methods of epidemiology. Epidemiology Resources Inc., Newton Lower Falls

11.

Rothman K (1986) Interaction between causes. Modern epidemiology. Little, Brown and Company, Boston, pp 311–326

12.

Rockhill B, Newman B, Weinberg C (1998) Use and misuse of population attributable fractions. Am J Public Health 88:15–19

13.

Massó E, Patrignani P, Tacconelli S, García-Rodríguez LA (2010) Variability among nonsteroidal anti-inflammatory drugs in risk of upper gastrointestinal bleeding. Arthritis Rheum 62:1592–1601

14.

García-Rodríguez LA, Lin KJ, Hernández-Díaz S, Johansson S (2011) Risk of upper gastrointestinal bleeding with low-dose acetylsalicylic acid alone and in combination with clopidogrel and other medications. Circulation 123:1108–1115

15.

Lanas A, Bajador E, Serrano P, Fuentes J, Carreño S, Guardia J et al (2000) Nitrovasodilators, low-dose aspirin, other non-steroidal anti-inflammatory drugs and the risk of upper gastrointestinal bleeding. N Engl J Med 343:834–839

16.

Laporte JR, Ibañez L, Vidal X, Vendrell L, Leone R (2004) Upper gastrointestinal bleeding associated with the use of NSAIDs—newer vs. older agents. Drug Saf 27:411–420

17.

Lanas A, García-Rodríguez LA, Arroyo MT, Gomollón F, Feu F, González-Pérez A et al (2006) Risk of upper gastrointestinal ulcer bleeding associated with selective cyclo-oxygenase-2 inhibitors, traditional non-aspirin non-steroidal anti-inflammatory drugs, aspirin and combinations. Gut 55:1731–1738

18.

Ulcickas-Yood M, Campbell UB, Rothman KL, Jick SS, Lang J, Wells KE, Jick H, Johnson CC (2007) Using prescription claims data for drugs available over-the counter (OTC). Pharmacoepidemiol Drug Saf 16:961–968

19.

De Abajo FJ, Garcia del Pozo J, del Pino A (2005) Evolución de la utilización de anti-inflamatorios no esteroideos en España desde 1990 a 2003. Aten Primaria 36:424–433

20.

Vergara M, Catalán M, Gisbert JP, Calvet X (2005) Meta-analysis: role of Helicobacter pylori eradication in the prevention of peptic ulcer in NSAID users. Aliment Pharmacol Ther 21:1411–1418

21.

Lanas A et al (2009) Time trends and impact of upper and lower gastrointestinal bleeding and perforation in clinical practice. Am J Gatroenterol 104:1633–1641

22.

Moride Y, Abenhaim L (1994) Evidence of the depletion of susceptibles effect in non-experimental pharmacoepidemiologic research. J Clin Epidemiol 47:731–737

23.

Graham DY, Smith JL, Spjut HJ, Torres E (1988) Gastric adaptation. Studies in humans during continuous aspirin administration. Gastroenterology 95:327–333

24.

Ibáñez L, Vidal X, Vendrell L, Moretti U, Laporte JR, on behalf of the Spanish-Italian Collaborative Group for the Epidemiology of Gastrointestinal Bleeding (2006) Upper gastrointestinal bleeding associated with antiplatelet drugs. Aliment Pharmacol Ther 23:235–242

25.

De Abajo FJ (2011) Effects of selective serotonin reuptake inhibitors on platelet function: mechanisms, clinical outcomes and implications for use in elderly patients. Drugs Aging 28:345–367

26.

García Rodríguez LA, Ruigómez A (1999) Secondary prevention of upper gastrointestinal bleeding associated with maintenance acid-suppressing treatment in patients with peptic ulcer bleed. Epidemiology 10:228–232

27.

Lanas A, García-Rodríguez LA, Arroyo MT, Bujanda L, Gomollón F, Forné M et al (2007) Effect of antisecretory drugs and nitrates on the risk of ulcer bleeding associated with nonsteroidal anti-inflammatory drugs, antiplatelet agents, and anticoagulants. Am J Gastroenterol 102:507–515

28.

Vonkeman HE, Fernandes RW, van der Palen J, van Roon EN, van de Laar MAFJ (2007) Proton-pump inhibitors are associated with a reduced risk for bleeding and perforated gastrodudenal ulcers attributable to non-steroidal anti-inflammatory drugs: a nested case–control study. Arthritis Res Ther 9:R52. doi:10.1186/ar2207

29.

Hippisley-Cox, Coupland C, Logan R (2005) Risk of adverse gastrointestinal outcomes in patients taking cyclo-oxygenase-2 inhibitors or conventional non-steroidal anti-inflammatory drugs: population based nested case–control analysis. BMJ 331:1310–1316

30.

Ibáñez L, Vidal X, Laporte JR (2008) Proton pump inhibitors and risk of upper gastrointestinal bleeding in NSAID users. Am J Gastroenterol 103:2658–2659

31.

Targownik LE, Metge CJ, Leung S et al (2008) The relative efficacies of gastroprotective strategies in chronic users of non-steroidal anti-inflammatory drugs. Gastroenterology 134:937–944

32.

Taha AS, Hudson N, Hawkey CJ et al (1996) Famotidine for the prevention of gastric and duodenal ulcers caused by non-steroidal anti-inflammatory drugs. N Engl J Med 334:1435–1439

33.

Chan FK, Hung LC, Suen BY et al (2002) Celecoxib versus diclofenac and omeprazole in reducing the risk of recurrent ulcer bleeding in patients with arthritis. N Engl J Med 347:2104–2110

34.

Scheiman JM, Yeomans ND, Talley NJ et al (2006) Prevention of ulcers by esomeprazole in at-risk patients using non-selective NSAIDs and COX-2 inhibitors. Am J Gastroenterol 101:701–710

35.

Hawkey CJ (2009) NSAIDs and aspirin: notorious or FAMOUS? Lancet 374:93–94
Acknowledgments
Authors would like to acknowledge the excellent collaboration of general practitioners taking part in BIFAP.
Funding
BIFAP is funded by the Spanish Agency for Medicines and Medical Devices. This specific study was supported by a research grant from Fondo de Investigaciones Sanitarias (# PI040083).
Conflicts of interest
LAGR received unrestricted research grants from AstraZeneca and Bayer.
Electronic supplementary material
Below is the link to the electronic supplementary material.
About this article
Cite this article
de Abajo, F.J., Gil, M.J., Bryant, V. et al. Upper gastrointestinal bleeding associated with NSAIDs, other drugs and interactions: a nested case–control study in a new general practice database. Eur J Clin Pharmacol 69, 691–701 (2013). https://doi.org/10.1007/s00228-012-1386-3
Received:

Accepted:

Published:

Issue Date:
Keywords
NSAIDs

Upper gastrointestinal bleeding

Adverse drug reactions

Acid-suppressing drugs