Abstract
Purpose
The aim of this study was to determine the prevalence and pattern of unlicensed and off-label drugs prescribed to hospitalized children at the Department of Paediatrics, University Hospital Rijeka, Croatia.
Methods
A prospective cross-sectional study was performed on 1 day each month during a 12 month period and included all hospitalized children and adolescents.
Results
A total of 1,643 prescriptions for 198 different drugs were prescribed to 531 out of 691 (77%) hospitalized patients. Forty-six percent of the different drugs were prescribed in an unlicensed or off-label manner. Of all drug prescriptions, 25% were either unlicensed or off-label. Forty-eight percent of the patients received either an unlicensed or off-label drug. The most frequently prescribed off-label drugs were proton pump inhibitors.
Conclusion
Unlicensed and off-label drug use is common. It is not illegal and may be clinically appropriate but is associated with a number of clinical, safety, and ethical issues. Regulatory authorities should use existing clinical evidence on the use of off-label and unlicensed drugs in decision making. Marketing authorization holders and national regulatory authorities should monitor for any safety concerns associated with unlicensed and off-label drug use and take appropriate measures as well as identify research priorities and mandate clinical studies to resolve important questions.
Access options
Buy single article
Instant access to the full article PDF.
US$ 39.95
Tax calculation will be finalised during checkout.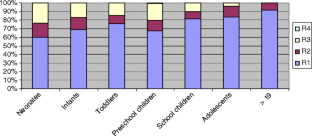 References
1.

Turner S, Longworth A, Nunn AJ, Choonara I (1998) Unlicensed and off-label drug use in paediatric wards: prospective study. BMJ 316:343–345

2.

Pandolfini C, Bonati M (2005) A literature review on off-label drug use in children. Eur J Pediatr 164:552–558

3.

Grégoire MC, Finley A (2007) Why were we abandoned? Orphan drugs in paediatric pain. Paediatr Child Health 12(2):95–96

4.

Conroy S, Choonara I, Impicciatore et al (2000) Survey on unlicensed and off label drug use in paediatric wards in European countries. BMJ 320:79–82

5.

Schirm E, Tobi H, de Jong-van den Berg TW (2002) Unlicensed and off label drug use by children in the community: cross sectional study. BMJ 324:1312–1313

6.

Hsien L, Breddemann A, Frobel AK, Heusch A, Schmidt KG, Läer S (2008) Off-label drug use among hospitalized children. Identifying areas with the highest need for research. Pharm World Sci 30:497–502

7.

Di Paolo ER, Stoetter H, Cotting J, Frey P, Gebri M, Beck-Popović M, Tolsa JF, Fanconi S, Pannatier A (2006) Unlicensed and off-label drug use in a Swiss paediatric university hospital. Swiss Med Wkly 136:218–222

8.

t Jong GW, van der Linden PD, Bakker EM, van der lely N, Eland IA, Stricker BHC, van der Anker JN (2002) Unlicensed and off-label drug use in a paediatric ward of a general hospital in the Netherlands. Eur J Clin Pharmacol 58:293–297

9.

O'Donnell CP, Stone RJ, Morley CJ (2002) Unlicensed and off-label drug use in an Australian intensive care unit. Paediatrics 110:e52

10.

Tafuri G, Trotta F, Leufkens HGM, Martini N, Sagliocca L, Traversa G (2009) Off-label use of medicines in children: can available evidence avoid useless paediatric clinical trials? The case of proton pump inhibitors for the treatment of gastroesophageal reflux disease. Eur J Clin Pharmacol 65:209–216

11.

Gazarian M, Kella M, McPhee JR, Graudins LV, Ward RL, Campbell TJ (2006) Off-label use of medicines: consensus recommendations for evaluating appropriateness. MJA 185:544–548

12.

EC (2006) Regulation (EC) No 1901/2006 of 12 December 2006on medicinal products for paediatric use and amending Regulation (EEC) No 1768/92, Directive 2001/20/EC, Directive 2001/83/EC and Regulation (EC) No 726/2004.http://ec.europa.eu/health/files/eudralex/vol-1/reg_2006_1901/reg_2006_1901_en.pdf . Accessed 26 August 2011
Acknowledgments
The authors would like to thank Vesna Rosović-Bazijanac, hospital pharmacist, for the assistance in determiningf the licensing status of drugs by reviewing SPCs and Davorka Gudac Mađarević, MD, for assistance in data collection.
Competing interests
None
About this article
Cite this article
Palčevski, G., Skočibušić, N. & Vlahović-Palčevski, V. Unlicensed and off-label drug use in hospitalized children in Croatia: a cross-sectional survey. Eur J Clin Pharmacol 68, 1073–1077 (2012). https://doi.org/10.1007/s00228-012-1221-x
Received:

Accepted:

Published:

Issue Date:
Keywords
Children

Drug prescribing

Unlicensed

Off-label