Abstract
Purpose
To conduct a mechanistic investigation of the interaction between aliskiren and grapefruit juice in healthy subjects.
Methods
Twenty-eight subjects received an oral dose of aliskiren 300 mg (highest recommended clinical dose) with 300 mL of either water or grapefruit juice in a two-way crossover design. Safety and pharmacokinetic analyses were performed. In vitro studies were performed in HEK293 cells to investigate the role of organic anion transporting polypeptide (OATP) transporter-mediated uptake of aliskiren.
Results
Co-administration of a single dose of aliskiren with grapefruit juice decreased the plasma concentration of aliskiren, with mean decreases in the AUCinf, AUClast, and Cmax of 38, 37, and 61%, respectively. The uptake of [14C]aliskiren into OATP2B1-expressing cells was essentially the same as that into control cells, and the inhibitor combination atorvastatin and rifamycin had no effect on [14C]aliskiren accumulation in either cell type. The uptake of [14C]aliskiren and [3H]fexofenadine was linear in OATP1A2-expressing cells and was reduced by naringin, with IC50 values of 75.5 ± 11.6 and 24.2 ± 2.0 μM, respectively.
Conclusions
Grapefruit juice decreases exposure of aliskiren partially via inhibition of intestinal OATP1A2.
Access options
Buy single article
Instant access to the full article PDF.
USD 39.95
Price excludes VAT (USA)
Tax calculation will be finalised during checkout.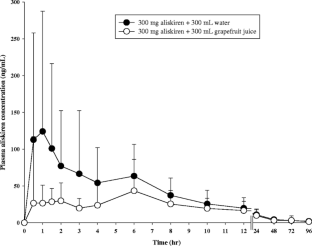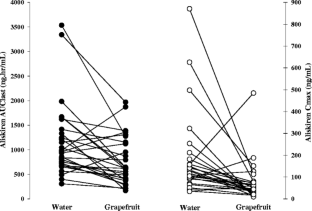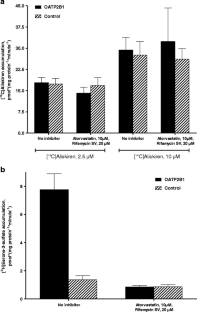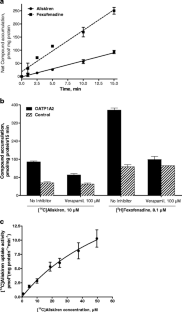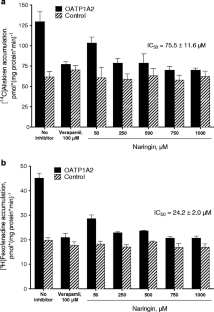 References
Rasilez® (2008) (aliskiren hemifumarate) Tablets [Summary of Product Characteristics]. Novartis Pharmaceuticals, Basel

Wood JM, Maibaum J, Rahuel J, et al (2003) Structure-based design of aliskiren, a novel orally effective renin inhibitor. Biochem Biophys Res Commun 308:698–705

Oh BH, Mitchell J, Herron JR, Chung J, Khan M, Keefe D (2007) Aliskiren, an oral renin inhibitor, provides dose-dependent efficacy and sustained 24-hour blood pressure control in patients with hypertension. J Am Coll Cardiol 49:1157–1163

Villamil A, Chrysant SG, Calhoun D et al (2007) Renin inhibition with aliskiren provides additive antihypertensive efficacy when used in combination with hydrochlorothiazide. J Hypertens 25:217–226

Kilo C, Taylor A, Tschoepe D, Ibram G, Fang H, Prescott MF (2007) Efficacy and safety of the direct renin inhibitor aliskiren and ramipril alone or in combination in patients with diabetes and hypertension. J Renin Angiotensin Aldosterone Syst 8:190–198

Azizi M, Menard J, Bissery A, Guyene T, Bura-Riviere A (2007) Hormonal and hemodynamic effects of aliskiren and valsartan and their combination in sodium-replete normotensive individuals. Clin J Am Soc Nephrol 2:947–955

Vaidyanathan S, Camenisch G, Schuetz H et al (2008) Pharmacokinetics of the oral direct renin inhibitor aliskiren in combination with digoxin, atorvastatin, and ketoconazole in healthy subjects: The role of P-glycoprotein in the disposition of aliskiren. J Clin Pharmacol 48:1323–1338

Bailey DG (2010) Fruit juice inhibition of uptake transport: a new type of food–drug interaction. Br J Clin Pharmacol 70(5):645–655

Becquemont L, Verstuyft C, Kerb R et al (2001) Effect of grapefruit juice on digoxin pharmacokinetics in humans. Clin Pharmacol Ther 70:311–316

Parker RB, Yates CR, Soberman JE, Laizure SC (2003) Effects of grapefruit juice on intestinal P-glycoprotein: evaluation using digoxin in humans. Pharmacotherapy 23:979–987

Hanley MJ, Cancalon P, Widmer WW, Greenblatt DJ (2011) The effect of grapefruit juice on drug disposition. Expert Opin Drug Metab Toxicol 7(3):267–286

Banfield C, Gupta S, Marino M, Lim J, Affrime M (2002) Grapefruit juice reduces the oral biavailability of fexofenadine but not desloratidine. Clin Pharmacokinetics 41:311–318

Dresser G, Kim R, Bailey DG (2005) Effect of grapefruit juice volume on the reduction of fexofenadine bioavailability: possible role of organic anion transporting polypeptides. Clin Pharmacol Ther 77:170–177

Bailey DG, Dresser GK, Leake BF, Kim RB (2007) Narinjin is a major and selective clinical inhibitor of organic anion-transporting polypeptide 1A2 (OATP1A2) in grapefruit juice. Clin Pharmacol Ther 81:495–502

Kullak-Ublick GA, Ismair MG, Stieger B, Landmann L, Huber R, Pizzagalli F, Fattinger K, Meier PJ, Hagenbuch B (2001) Organic anion-transporting polypeptide B (OATP-B) and its functional comparison with three other OATPs of human liver. Gastroenterology 120(2):525–533

Vavricka SR, Van Montfoort J, Ha HR, Meier PJ, Fattinger K (2002) Interactions of rifamycin SV and rifampicin with organic anion uptake systems of human liver. Hepatology 36(1):164–172

Groves CE, Evans KK, Dantzler WH, Wright SH (1994) Peritubular organic cation transport in isolated rabbit proximal tubules. Am J Physiol 266(3(2)):F450–F458

Vaidyanathan S, Jarugula V, Dieterich HA, Howard D, Dole WP (2008) Clinical pharmacokinetics and pharmacodynamics of aliskiren. Clin Pharmacokinet 47:515–531

Tapaninen T, Neuvonen PJ, Niemi M (2010) Grapefruit juice greatly reduces the plasma concentrations of the OATP2B1 and CYP3A4 substrate aliskiren. Clin Pharm Ther 88:339–342

Tapaninen T, Neuvonen PJ, Niemi M (2011) Orange and apple juice greatly reduce the plasma concentrations of the OATP2B1 substrate aliskiren. Br J Clin Pharm 71:718–726

Dresser GK, Bailey DG, Leake BF et al (2002) Fruit juices inhibit organic anion transporting polypeptide-mediated drug uptake to decrease the oral availability of fexofenadine. Clin Pharmacol Ther 71:11–20

Allegra® package insert. Available at: http://www.rxlist.com/allegra-drug.htm

Tekturna® package insert. Available at: http://www.rxlist.com/tekturna-drug.htm

Feldman DL, Persohn E, Schutz H et al (2006) Renal localization of the renin inhibitor aliskiren (abst). J Clin Hypertens 8(Suppl A):A80

Feldman DL, Jin L, Xuan H et al (2008) Effects of aliskiren on blood pressure, albuminuria, and (pro)renin receptor expression in diabetic TG(mRen-2)27 rats. Hypertension 52:130–136

Krop M, Garrelds IM, de Bruin RJ et al (2008) Aliskiren accumulates in renin secretory granules and binds plasma prorenin. Hypertension 52:1076–1083

Sica D, Gradman A, Lederballe I, Meyers M et al (2006) Aliskiren, an oral renin inhibitor, provides long-term antihypertensive efficacy and safety in patients with hypertension. Eur Heart J 27(Suppl):P797

Herron J, Mitchell J, Oh B et al (2006) The novel renin inhibitor aliskiren is not associated with rebound effects on blood pressure or plasma renin activity following treatment withdrawal (abst). J Clin Hypertens 8(Suppl A):A86

Andersen K, Weinberger M, Constance C et al (2009) Comparative effects of aliskiren-based and ramipril-based therapy on the renin system during long-term (6 months) treatment and withdrawal in patients with hypertension. J Renin-Angiotensin-Aldosterone System 10(3):157–167
Declaration of interests
All authors are employees of Novartis Pharmaceuticals and are eligible for Novartis stock and stock options.
Role of the funding source
This study was supported by Novartis Pharma AG.
About this article
Cite this article
Rebello, S., Zhao, S., Hariry, S. et al. Intestinal OATP1A2 inhibition as a potential mechanism for the effect of grapefruit juice on aliskiren pharmacokinetics in healthy subjects. Eur J Clin Pharmacol 68, 697–708 (2012). https://doi.org/10.1007/s00228-011-1167-4
Received:

Accepted:

Published:

Issue Date:

DOI: https://doi.org/10.1007/s00228-011-1167-4
Keywords
Aliskiren

Grapefruit juice

Apple juice

Orange juice

Organic anion transporting polypeptide transporter