Abstract
Objective
We describe clinical trials conducted in pregnant women.
Methods
We searched PubMed database for articles related to clinical trials between 01/01/2000 and 31/12/2009 involving pregnant women by using the preferred terms "pregnancy", "human", and "clinical trials".
Results
Of 1,264 retrieved publications, 762 (60%) were excluded, leaving 502 for analysis: 53% were preventive studies in maternal or fetal conditions; 47% were therapeutic trials, mostly focused on acute obstetric diseases; 66% were assigned a pharmacological intervention. The studied drugs were 16% for labour induction and 15% for abortive procedures, followed by multivitamins and micronutrients, labour analgesia and anesthesia, antibiotics, tocolytics, and antimalarial drugs. The main objectives of the studies were focused on efficacy (54%) and efficacy and safety (26%); 81% of the studies were controlled, randomized and parallel-design trials; 19% were blinded.
Conclusion
Clinical trials in pregnant women are mainly conducted with an efficacy objective regarding maternal–fetal prevention and in obstetric diseases to study labor induction and abortive measures. This is in line with the type of intervention and drugs involved.
This is a preview of subscription content,
to check access.
Access this article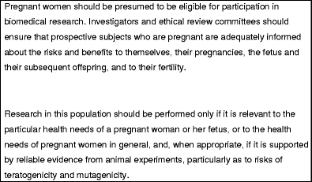 References
European Medicines Agency. "EMEA 2010 Priorities for Drug Safety Research: Medicine use in pregnancy". EMEA/493724/2009. London; 2009

US FDA. Proposed rule: Requirements for Pregnancy and Lactation labelling. Federal Register. Vol 73, Nº104. Maryland; 2008

Dipiro Joseph T. Pharmacotherapy. A pathophysiologic Approach. 7th edition. USA: Mc Graw Hill; 2008

Haas DM, Hebert MF, Soldin OP et al (2009) Pharmacotherapy and pregnancy: highlights from the second international conference for individualized pharmacotherapy in pregnancy. Clin Transl Sci 2(6):439–443

US FDA. Guidance for Industry: Establishing pregnancy exposure registries. Guidances /UCM133332. Maryland; 2002

Lacroix I, Damase-Michel C et al (2000) Prescription of drugs during pregnancy in France. Lancet 356:1735–1736

Begg EJ (2008) Prescribing in pregnancy and lactation. Br J Clin Pharmacol 65:627–528

Macklin R (2010) Enrolling pregnant women in biomedical research. Lancet 375:632–633

US FDA. Reviewer Guidance: Evaluating the Risk of Drug Exposure in Human Pregnancies. Guidances/UCM715445. Maryland; 2005

European Medicines Agency. "Guidelines on the exposure to medicinal products during pregnancy: need for post-authorisation data." EMEA/CHMP/313666/2005. London; 2005

Hutcheon JA, Lisonkova S, Joseph KS. Epidemiology of pre-eclampsia and the other hypertensive disorders of pregnancy. Best Pract Res Clin Obstet Gynaecol 2011. [Epub ahead to print]

Centers for disease control and prevention (CDC) Diabetes Public Health Resources, 2010. http://www.cdc.gov/diabetes/pubs/estimates11.htm#8

Goldkind SF, Sahin L et al (2010) Enrolling pregnant women in research - lessons from the H1N1 influenza pandemic. N Engl J Med 362:2241–2243
Conflict of interest
The authors declare that they have no conflict of interest.
About this article
Cite this article
Domínguez, V., Ramos, N., Torrents, A. et al. Clinical trials during pregnancy: what has been done. Eur J Clin Pharmacol 68, 455–458 (2012). https://doi.org/10.1007/s00228-011-1145-x
Received:

Accepted:

Published:

Issue Date:

DOI: https://doi.org/10.1007/s00228-011-1145-x
Keywords