Abstract
Objectives
To investigate the knowledge and views of a range of healthcare professionals (consultant paediatricians, general practitioners (GPs), community pharmacists and paediatric nurses) regarding the use of unlicensed/off-label medicines in children and the participation of children in clinical trials.
Methods
A regional study in which a survey instrument with 39 items was issued to 500 randomly selected GPs, all community pharmacists (n = 512), 50 hospital consultants and 150 paediatric nurses in Northern Ireland.
Results
Approximately half (46.5%) of the 1,212 healthcare professionals approached responded to the questionnaire. The majority of respondents indicated their familiarity with the term unlicensed (82.9%) or off-label (58.6%) prescribing with the most frequently quoted reason for such prescribing being younger age (33.6%). Apart from community pharmacists, most respondents reported having gained their knowledge through personal experience. Even though a large percentage of respondents expressed concerns about the safety (77.8%) or efficacy (87.9%) of unlicensed/off-label prescribing in children, only 30.7% reported informing parents/guardians of these concerns on the use of such medicines in children. In addition, only 56% of respondents believed that unlicensed/off-label medicines should undergo clinical trials in children. Overall, 28.4% of respondents (20.1% of GPs, 41.4% of community pharmacists, 27.7% of paediatric nurses and 94% of consultant paediatricians) indicated their willingness to be actively involved in, and recruit their patients for paediatric clinical research.
Conclusion
The use of unlicensed and off-label medicines remains a major issue in paediatric medicine. Until such times as more licensed medicines are available for children, clear guidance should be developed to allow consistency in practice across the spectrum of healthcare professionals who are involved with such medicines in their routine practice.
Access options
Buy single article
Instant access to the full article PDF.
USD 39.95
Price excludes VAT (USA)
Tax calculation will be finalised during checkout.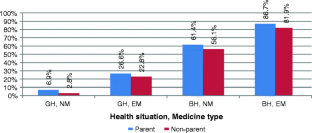 References
De Wildt SA, Johnson TN, Choonara I (2003) The effect of age on drug metabolism. Paediatr Perinat Drug Ther 5:101–106

Sammons HM. Ethical considerations for clinical trials on medicinal products conducted in the paediatric population. Recommendations of the ad hoc group for the development of implementing guidelines for Directive 2001/20/EC relating to good clinical practice in the conduct of clinical trials on medicinal products for human use. Available at: https://ec.europa.eu/health/files/eudralex/vol-10/ethical_considerations_en.pdf. Accessed 7 Dec 2010

Budetti PP (2003) Ensuring safe and effective medications for children. JAMA 290:950–951

Steinbrook R (2002) Testing medications in children. N Engl J Med 347:1462–1470

Collier J (1999) Paediatric prescribing: using unlicensed drugs and medicines outside their licensed indications. J Clin Pharmacol 48:5–8

Pandolfini C, Bonati M (2005) A literature review on off-label drug use in children. Eur J Pediatr 164:552–558

Ekins-Daukes S, Taylor M, Helms PJ, McLay JS (2005) Off label prescribing to children: attitudes and experience of general practitioners. Br J Clin Pharmacol 60:145–149

Chalumeau M, Tréluyer JM, Salanave B et al (2000) Off label and unlicensed drug use among French office based paediatricians. Arch Dis Child 83:502–505

Marchetti F, Bua J, Ventura A, Notarangelo LD, Di Maio S, Migliore G, Bonati M (2007) The awareness among paediatricians of off-label prescribing in children: a survey of Italian hospitals. Eur J Clin Pharmacol 63:81–85

Hoppu K (2008) Paediatric clinical pharmacology: at the beginning of a new era. Eur J Clin Pharmacol 64:201–205

Impicciatore P, Choonaara I, Clarkson A, Provasi D, Pandolfini C, Bonati M (2002) Incidence of adverse drug reactions in paediatric in/out-patients: a systematic review and meta-analysis of prospective studies. Lancet 359:1373–1378

Choonara I, Conroy S (2002) Unlicensed and off label drug use in children: implications for safety. Drug Saf 25:1–5

Turner S, Nunn AJ, Fielding K, Choonara I (1999) Adverse drug reactions to unlicensed and off label drugs on paediatric wards: a prospective study. Acta Paediatr 88:965–968

Sammons H (2009) Ethical issues of clinical trials in children: a European perspective. Arch Dis Child 94:474–477

Stewart D, Rouf A, Snaith A et al (2007) Attitudes and experiences of community pharmacists towards paediatric off-label prescribing: a prospective survey. Br J Clin Pharmacol 64:90–95

Turner S, Longworth A, Nunn A et al (1998) Unlicensed and off label drug use in paediatric wards: prospective study. Br Med J 316:343–345

Ekins-Daukes S, Simpson C, Helms PJ et al (2004) Paediatric off label prescribing in general practice. Eur J Clin Pharmacol 60:349–353

Lenk C, Koch P, Zappel H, Wiesemann C (2009) Off-label, off-limits? Parental awareness and attitudes towards off-label use in paediatrics. Eur J Pediatr 168:1473–1478

Mukattash TL, Millership JS, Collier PS, McElnay JC (2008) Public awareness and views on unlicensed use of medicines in children. Br J Clin Pharmacol 66(6):838–845

Fortescue EB, Kaushal R, Landrigan PC et al (2003) Prioritizing strategies for preventing medication errors and adverse drug events in pediatric inpatients. Pediatrics 111:722–729

McLay JS, Tanaka M, Ekins-Daukes S, Helms PJ (2006) A prospective questionnaire assessment of attitudes and experiences of off label prescribing among hospital based paediatricians. Arch Dis Child 91:584–587
Conflict of interests
The authors declare that they have no conflict of interest.
Appendix 1: The use of unlicensed and off-label medicines in children
Appendix 1: The use of unlicensed and off-label medicines in children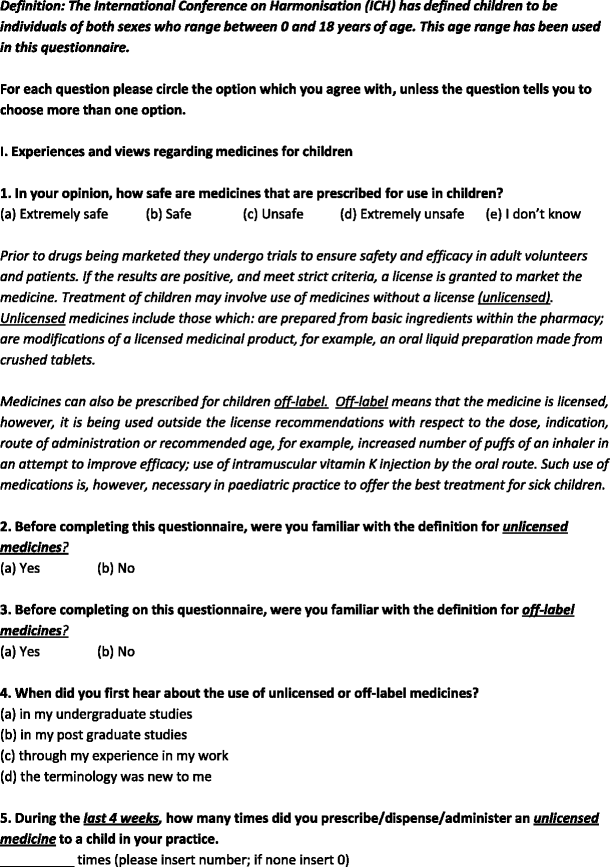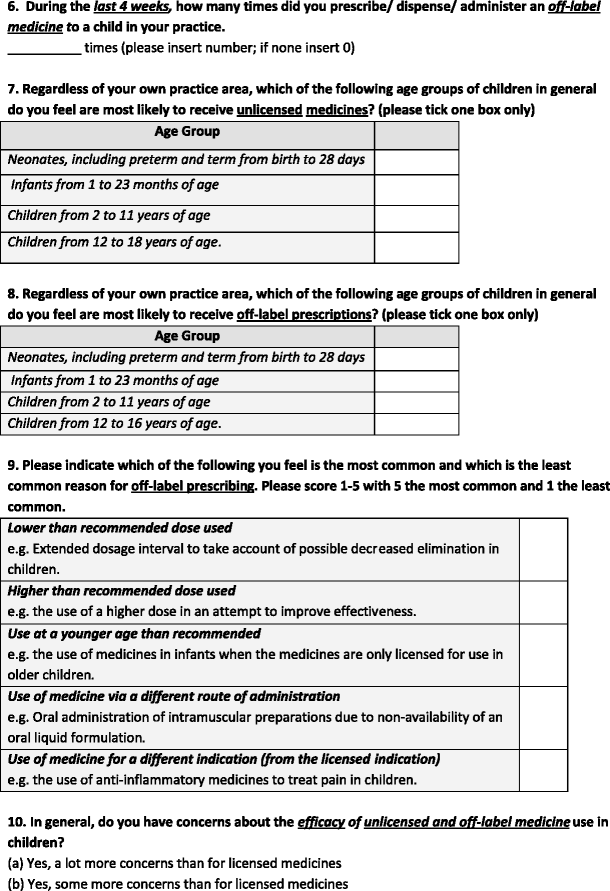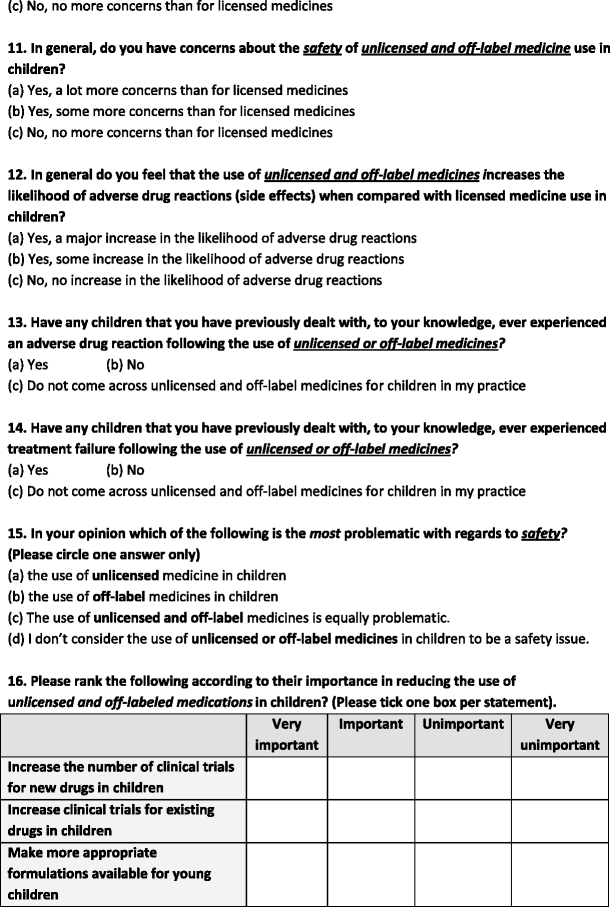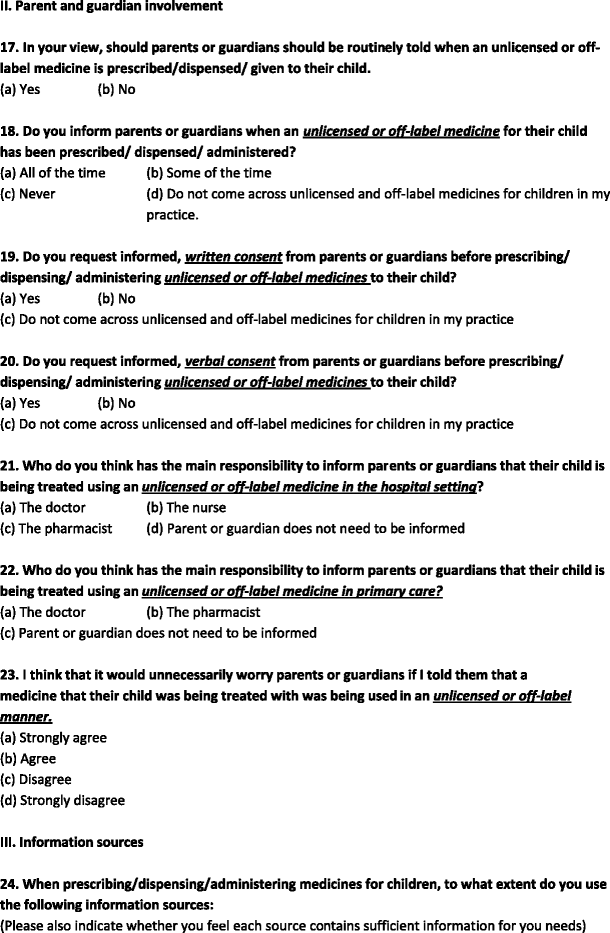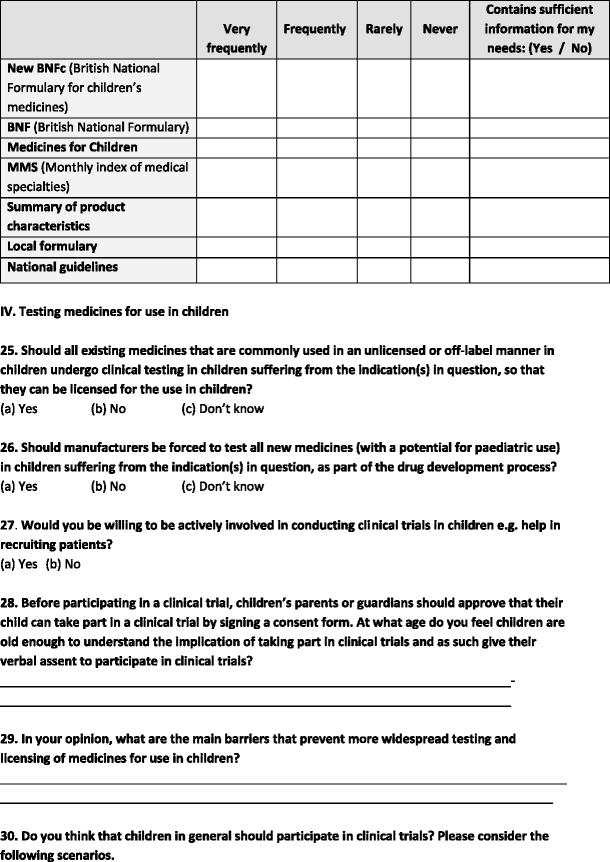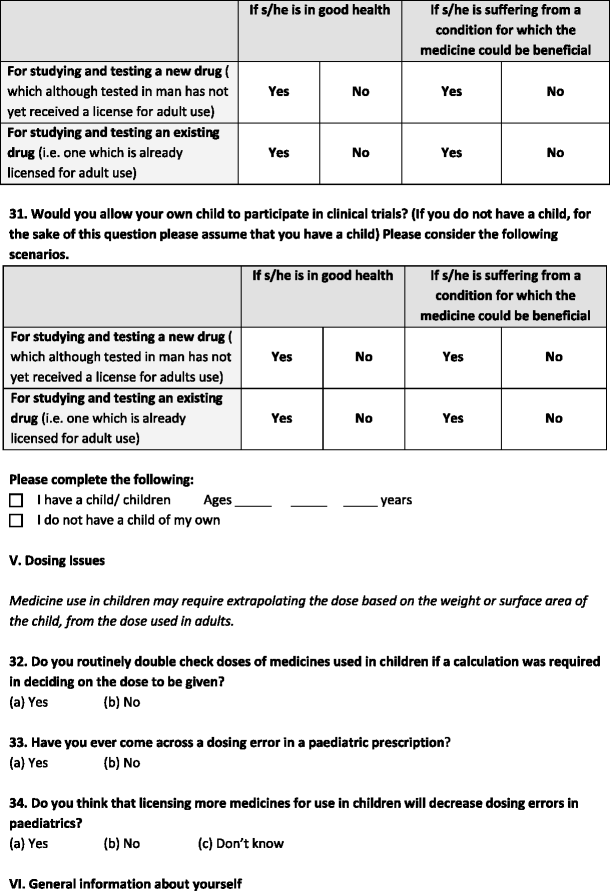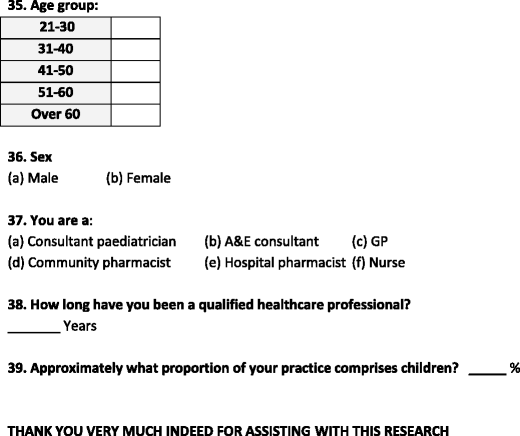 About this article
Cite this article
Mukattash, T., Hawwa, A.F., Trew, K. et al. Healthcare professional experiences and attitudes on unlicensed/off-label paediatric prescribing and paediatric clinical trials. Eur J Clin Pharmacol 67, 449–461 (2011). https://doi.org/10.1007/s00228-010-0978-z
Received:

Accepted:

Published:

Issue Date:

DOI: https://doi.org/10.1007/s00228-010-0978-z
Keywords
Unlicensed medicines

Off-label medicines

Clinical trials

Children