Abstract
Purpose
The aim of this study was to describe elderly patients' knowledge about and attitudes towards their medicines in Swedish primary care.
Methods
Thirty-four patients aged 65 years and above with multiple illnesses were included. Medication knowledge was assessed with a questionnaire measuring knowledge about indication and possible adverse effects for each medicine. Attitudes were investigated with the Beliefs about Medicines Questionnaire.
Results
The indication of at least 75% of their medicines was known to 71% of the patients. Patients with polypharmacy and multi-dose drug distribution respectively had significantly less knowledge. Eighty-four percent had no knowledge about possible adverse effects. For 93% of the patients, the benefits of the medication outweighed the costs (concerns). No correlation was found between attitudes and knowledge.
Conclusions
The knowledge about indication was higher than previously seen, but the knowledge about possible adverse effects was poor. The patients had strong beliefs in the benefits of their medication.
Access options
Buy single article
Instant access to the full article PDF.
US$ 39.95
Tax calculation will be finalised during checkout.
Subscribe to journal
Immediate online access to all issues from 2019. Subscription will auto renew annually.
US$ 119
Tax calculation will be finalised during checkout.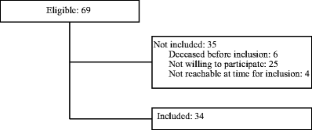 References
1.

Okuno J, Yanagi H, Tomura S et al (1999) Compliance and medication knowledge among elderly Japanese home-care recipients. Eur J Clin Pharmacol 55:145–149

2.

Balkrishnan R (1998) Predictors of medication adherence in the elderly. Clin Ther 20:764–771

3.

Barat I, Andreasen F, Damsgaard EM (2001) Drug therapy in the elderly: what doctors believe and patients actually do. Br J Clin Pharmacol 51:615–622

4.

Kerzman H, Baron-Epel O, Toren O (2005) What do discharged patients know about their medication? Patient Educ Couns 56:276–282

5.

Horne R, Weinmann J (1999) Patients' beliefs about prescribed medicines and their role in adherence in chronic physical illness. J Psychosom Res 47:555–567

6.

Burge S, White D, Bajorek E et al (2005) Correlates of medication knowledge and adherence: findings from the residency research network of South Texas. Fam Med 37:712–718

7.

Granas AG, Bates I (2005) Patients' understanding and management of their illnesses and prescribed medicines–a descriptive study. Pharm World Sci 27:321–328

8.

Jaye C, Hope J, Martin IR (2002) What do general practice patients know about their prescription medications? N Z Med J 115:U183

9.

Griffith S (1990) A review of the factors associated with patient compliance and the taking of prescribed medicines. Br J Gen Pract 40:114–116

10.

Clifford S, Barber N, Horne R (2008) Understanding different beliefs held by adherers, unintentional nonadherers, and intentional nonadherers: application of the necessity-concerns framework. J Psychosom Res 64:41–46

11.

Menckeberg TT, Bouvy ML, Bracke M et al (2008) Beliefs about medicines predict refill adherence to inhaled corticosteroids. J Psychosom Res 64:47–54

12.

Horne R, Weinmann J, Hankins M (1998) The Beliefs about Medicines Questionaire (BMQ): the development and evaluation of a new method for assessing the cognitive representation of medication. Psychol Health 14:1–24

13.

Jorgensen TM, Andersson KA, Mardby AC (2006) Beliefs about medicines among Swedish pharmacy employees. Pharm World Sci 28:233–238

14.

Bergman A, Olsson J, Carlsten A et al (2007) Evaluation of the quality of drug therapy among elderly patients in nursing homes. Scand J Prim Health Care 25:9–14

15.

Midlov P, Bergkvist A, Bondesson A et al (2005) Medication errors when transferring elderly patients between primary health care and hospital care. Pharm World Sci 27:116–120
Acknowledgements
The authors are grateful to the Case Managers Marie-Louise Olofsson and Jeanette Hellberg who have conducted fundamental and important work on this project and to the medical faculty at Lund University, The Vardal Institute, Lund University Hospital, the primary health care staff in Eslöv and the Municipality of Eslöv. The Swedish Research Council and the Governmental Funding of Clinical Research within the NHS (ALF) funded this study.
Conflict of interest
There are no conflicts of interest.
About this article
Cite this article
Modig, S., Kristensson, J., Kristensson Ekwall, A. et al. Frail elderly patients in primary care—their medication knowledge and beliefs about prescribed medicines. Eur J Clin Pharmacol 65, 151–155 (2009). https://doi.org/10.1007/s00228-008-0581-8
Received:

Accepted:

Published:

Issue Date:
Keywords
Medication knowledge

Beliefs about medicines

BMQ

Elderly

Primary care

Polypharmacy