Abstract
Aim
Homotoxicology is a form of therapy that uses homoeopathically diluted remedies with a view of eliminating toxins from the body. It is not a therapeutic method based on accepted scientific principles or biological plausibility. Yet numerous clinical studies have claimed efficacy. The aim of this systematic review is to summarise and critically evaluate the evidence from rigorous clinical trials of this form of therapy.
Methods
Seven electronic databases were searched for all studies of homotoxicological medicines for any human condition. To be included, trials had to be randomised and placebo-controlled. Data from such studies were validated and extracted according to pre-defined criteria. Their methodological quality was formally assessed using the Jadad score. Key data of all included trials were tabulated and summarised in narrative form.
Results
Seven trials met our inclusion criteria. Their Jadad scores indicated mostly a high methodological standard. The trials tested the efficacy of seven different medicines for seven different indications. The results were positive in all but one study. Important flaws were found in all trials. These render the results of the primary studies less reliable than their high Jadad scores might suggest.
Conclusion
Despite mostly positive findings and high ratings on the Jadad score, the placebo-controlled, randomised clinical trials of homotoxicology fail to demonstrate the efficacy of this therapeutic approach.
This is a preview of subscription content, log in to check access.
Access options
Buy single article
Instant access to the full article PDF.
US$ 39.95
Price includes VAT for USA
Subscribe to journal
Immediate online access to all issues from 2019. Subscription will auto renew annually.
US$ 199
This is the net price. Taxes to be calculated in checkout.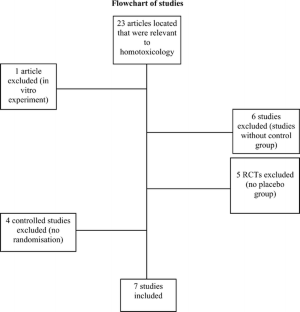 References
1.

Reckeweg HH (1986) Homotoxikologie, Ganzschau einer Synthese der Medizin, 6th edn. Aurelia Verlag, Stuttgart

2.

Linde K, Clausius N, Ramirez G et al (1997) Are the clinical effects of homoeopathy placebo effects? A meta-analysis of placebo-controlled trials. Lancet 350:834–843

3.

Ernst E (2002) A systematic review of systematic reviews of homeopathy. Br J Clin Pharmacol 54:577–582

4.

Mathie RT (2003) The research evidence base for homeopathy: a fresh assessment of the literature. Homeopathy 92:84–91

5.

Jadad AR, Moore RA, Carrol D et al (1996) Assessing the quality of reports of randomized clinical trials—is blinding necessary? Control Clin Trials 17:1–12

6.

Zell VJ, Connert W-D, Mau J, Feuerstake G (1988) Behandlung von akuten Sprunggelenksdistorsionen. Fortschr Med Suppl 5:62–70

7.

Maiwald L, Weinfurtner T, Mau J, Connert WD (1988) Therapie des grippalen Infekts mit einem homöopathischen Kombinationspräparat im Vergleich zu Acetylsalicylsäure. Arzneimittelforschung 38:578–582

8.

Thiel W, Borho B (1991) Die Therapie von frischen, traumatischen Blutergüssen der Kniegelenke (Hämarthros) mit Traumeel N Injektionslösung. Biol Med 2:506–515

9.

Zenner S, Metelmann H (1991) Die Behandlung der vegetativen Dystonie mit Ypsiloheel. Ärztezeitschrift Naturheilverfahren 8:646–652

10.

Zenner BS, Metelmann H (1991) Schwindel und seine Beeinflußbarkeit durch ein homöopathisches Kombinationspräparat. Erfahrungsheilk 6:422–429

11.

Heilmann A (1992) Ein injizierbares Kombinationspräparat (Engystol N) als Prophylaktikum des grippalen Infekts. Biol Med 3:225–229

12.

Böhmer D, Ambrus P (1992) Behandlung von Sportverletzungen mit Traumeel-Salbe. Kontrollierte Doppelblindstudie. Biol Med 21:260–268

13.

Weiser M, Clasen BP (1994) Randomisierte plazebokontrollierte Doppelblindstudie zur Untersuchung der klinischen Wirksamkeit der homopathischen Euphorbium compositum-Nasen-Tropfen S bei chronischer Sinusitis. Forsch Komplementarmed 1:251–259

14.

Weiser M, Gegenheimer LH, Klein P (1996) A randomized equivalence trial comparing the efficacy and safety of Luffa comp.-heel nasal spray with Cromolyn sodium spray in the treatment of seasonal allergic rhinitis. Forsch Komplementarmed 6:142–148

15.

Weiser M, Strosser W, Klein P (1998) Homeopathic vs conventional treatment of vertigo—a randomised double-blind controlled clinical study. Arch Otolaryngol Head Neck Surg 124:879–885

16.

Nahler G, Metelmann H, Sperber H (1998) Treating osteoarthritis of the knee with a homeopathic preparation. Results of a randomized, controlled, clinical trial in comparison to hyalauric acid. Biomed Ther 16:186–191

17.

Matusiewicz R, Wasniewski J, Sterna-Bazanska A, Hülsberg M (1999) Behandlung des chronischen Asthma bronchiale mit einem homöopathischen Komplexmittel. Erfahrungsheilk 6:367–374

18.

Reus V, Weiser M (1999) Homeopathic therapy of gynaecological disorders. Biol Med 28:233–236

19.

Maronna U, Weiser M, Klein P (2000) Orale Behandlung der Gonarthrose mit Zeel comp. Ortopädische Praxis 36:285–291

20.

Dietz A-R (2000) Möglichkeiten einer Lymphtherapie bei diabetischer Polyneuropathie. Biol Med 29:4–9

21.

Weiser M, Strösser W (2000) Behandlung des Schwindels. Vergleichsstudie Homöopathikum vs. Betahistin. Allgemeinarzt 13:962–964

22.

Oberbaum M, Yaniv I, Ben-Gal Y et al (2001) A randomized, controlled clinical trial of the homeopathic medication Traumeel S in the treatment of chemotherapy-induced stomatitis in children undergoing stem cell transplantation. Cancer 92:684–690

23.

Glatthaar-Saalmüller B, Fallier-Becker P (2001) Antiviral action of Euphorbium compositum and its components. Forsch Komplementarmed 8:207–212

24.

Hülsberg M (2001) Wirksamkeit einses homöopathischen Komplexmittels im Rahmen einer Amalgam-Eliminierungstherapie in der zahnärztlichen Praxis. Erfahrungsheilk 1:32–39

25.

Wolschner U, Strösser W, Weiser M, Klein P (2001) Behandlung des Schwindels mit einem modernen Homöopathikum. Biol Med 30:184–190

26.

Heine H, Andrä F (2002) Zum antiinflammatorischen Wirkmechanismus eines Antihomotoxikum compositum. Ärztezeitschrift Naturheilverfahren 43:96–104

27.

Müller-Krampe B, Gottwald R, Weiser M (2002) Symptomatische Behandlung von akuten fieberhaften Infekten mit einem modernen Homöopathikum. Biol Med 31:79–85

28.

Zell J, Connert WD, Mau J, Feuerstake G (1989) Treatment of acute sprains of the ankle: a controlled double-blind trial to test the effectiveness of a homeopathic ointment. Biol Ther 7:1–6

29.

Betz W (2002) The memory of water revisited. Sci Rev Altern Med 6:68–72

30.

Weiser M. E-mail to Professor Edzard Ernst, dated 27th Feb 2003
Acknowledgements
Conflict of interest: we asked one manufacturer for funding but were not successful. Support: E.E.'s work was financed from his unit's core funding. K.S. was supported by the 'Pilkington Family Trusts'.
About this article
Cite this article
Ernst, E., Schmidt, K. Homotoxicology—a review of randomised clinical trials. Eur J Clin Pharmacol 60, 299–306 (2004). https://doi.org/10.1007/s00228-004-0776-6
Received:

Accepted:

Published:

Issue Date:
Keywords
Homotoxicology

Homoeopathy

Clinical trials