Abstract
Individuals of different sex or age can vary in their prey and habitat resource use due to differences in behaviour, life history, energetic need, or size. Harbour porpoises are small cetaceans that need to feed constantly to meet their high metabolic demands. In West Greenland, the species has a unique offshore, deep-water ecology. Here, we use bone collagen carbon (δ13C) and nitrogen (δ15N) isotope compositions to elucidate sex and size differences in the foraging ecology of harbour porpoises from this region. Female harbour porpoises are larger than males; we find females have a higher trophic level, and δ15N significantly positively correlates with size for females. This indicates that size may matter in the ability of females to handle larger prey and/or dive deeper to catch higher trophic level prey. The results suggest that females, which also nurse their calves, may be under different ecological constraints than males. We also analysed the harbour porpoise data with available stable isotope data from Greenland populations of belugas and narwhals. We find that harbour porpoises have a lower trophic level than the other species, which is consistent with their smaller body size, and their diet consisting primarily of capelin. Furthermore, harbour porpoises have the largest ecological niche of the three species, in accordance with tagging studies indicating they have a wider range than belugas and narwhals and occur in shelf and deep offshore waters of the sub-arctic and North Atlantic.
This is a preview of subscription content,
to check access.
Access this article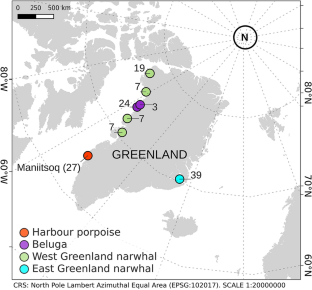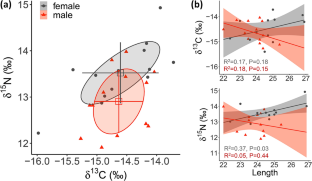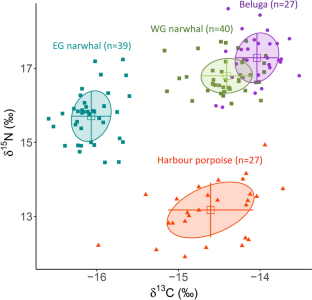 Similar content being viewed by others
Data availability
Data are available in Table S1.
References
Angerbjörn A, Börjesson P, Brandberg K (2006) Stable isotope analysis of harbour porpoises and their prey from the Baltic and Kattegat/Skagerrak Seas. Mar Biol Res 2:411–419

Bailleul F, Authier M, Ducatez S, Roquet F, Charrassin J-B, Cherel Y, Guinet C (2010) Looking at the unseen: combining animal bio-logging and stable isotopes to reveal a shift in the ecological niche of a deep diving predator. Ecography 33:709–719

Bearhop S, Adams CE, Waldron S, Fuller RA, Macleod H (2004a) Determining trophic niche width: a novel approach using stable isotope analysis. J Anim Ecol 73:1007–1012

Bjorkland RH, Pearson SF, Jeffries SJ, Lance MM, Acevedo-Gutiérrez A, Ward EJ (2015) Stable isotope mixing models elucidate sex and size effects on the diet of a generalist marine predator. Mar Ecol Prog Ser 526:213–225

Bolnick DI, Svanbäck R, Fordyce JA, Yang LH, Davis JM, Hulsey CD, Forister ML (2003) The ecology of individuals: incidence and implications of individual specialization. Am Nat 161:1–28

Browning NE, Dold C, I-Fan J, Worthy GAJ (2014) Isotope turnover rates and diet–tissue discrimination in skin of ex situ bottlenose dolphins (Tursiops truncatus). J Exp Biol 217:214–221

Christensen JT, Richardson K (2008) Stable isotope evidence of long-term changes in the North Sea food web structure. Mar Ecol Prog Ser 368:1–8

Clutton-Brock TH, Iason GR, Albon SD, Guinness FE (1982) Effects of lactation on feeding behaviour and habitat use in wild red deer hinds. J Zool 198:227–236

Costa DP, Kuhn CE, Weise MJ, Shaffer SA, Arnould JPY (2004) When does physiology limit the foraging behaviour of freely diving mammals? Int Congr Ser 1275:359–366

Das K, Lepoint G, Leroy Y, Bouquegneau JM (2003) Marine mammals from the southern North Sea: feeding ecology data from δ13C and δ15N measurements. Mar Ecol Prog Ser 263:287–298

Das K, Holsbeek L, Browning J, Siebert U, Birkun A, Bouquegneau J-M (2004) Trace metal and stable isotope measurements (δ13C and δ15N) in the harbour porpoise Phocoena phocoena relicta from the Black Sea. Environ Pollut 131:197–204

de Lima RC, de Lima RC, Franco-Trecu V, Vales DG, Inchausti P, Secchi ER, Botta S (2019) Individual foraging specialization and sexual niche segregation in South American fur seals. Mar Biol 166:32

Dinno A (2017) dunn.test: Dunn's test of multiple comparisons using rank sums. R package version 1.3.5. https://CRAN.R-project.org/package=dunn.test

France R, Loret J, Mathews R, Springer J (1998) Longitudinal variation in zooplankton δ13C through the northwest passage: inference for incorporation of sea-ice POM into pelagic foodwebs. Polar Biol 20:335–341

Galatius A, Gol'din PE (2011) Geographic variation of skeletal ontogeny and skull shape in the harbour porpoise (Phocoena phocoena). Can J Zool 89:869–879

Giménez J, Ramírez F, Almunia J, Forero GM, de Stephanis R (2016) From the pool to the sea: applicable isotope turnover rates and diet to skin discrimination factors for bottlenose dolphins (Tursiops truncatus). J Exp Mar Bio Ecol 475:54–61

Giménez J, Cañadas A, Ramírez F, Afán I, García-Tiscar S, Fernández-Maldonado C, Castillo JJ, de Stephanis R (2017) Intra-and interspecific niche partitioning in striped and common dolphins inhabiting the southwestern Mediterranean Sea. Mar Ecol Prog Ser 567:199–210

Hansen JH, Hedeholm RB, Sünksen K, Christensen JT, Grønkjær P (2012) Spatial variability of carbon (δ13C) and nitrogen (δ15N) stable isotope ratios in an Arctic marine food web. Mar Ecol Prog Ser 467:47–59

Hedges REM, Clement JG, Thomas CDL, O'connell TC (2007) Collagen turnover in the adult femoral mid-shaft: modeled from anthropogenic radiocarbon tracer measurements. Am J Phys Anthropol 133:808–816

Heide-Jørgensen MP, Teilmann J (1994) Growth, reproduction, age structure and feeding habits of white whales (Delphinapterus leucas) in West Greenland waters. Studies of white whales (Delphinapterus leucas) and narwhals (Monodon monoceros) in Greenland and adjacent waters 39:195–212

Heide-Jørgensen MP, Iversen M, Nielsen NH, Lockyer C, Stern H, Ribergaard MH (2011) Harbour porpoises respond to climate change. Ecol Evol 1:579–585

Heide-Jørgensen MP, Richard PR, Dietz R, Laidre KL (2013) A metapopulation model for Canadian and West Greenland narwhals. Anim Conserv 16:331–343

Heide-Jørgensen MP, Nielsen NH, Hansen RG, Schmidt HC, Blackwell SB, Jørgensen OA (2015) The predictable narwhal: satellite tracking shows behavioural similarities between isolated subpopulations. J Zool 297:54–65

Hobbs RC, Reeves RR, Prewitt JS, Desportes G, Breton-Honeyman K, Christensen T, Citta JJ, Ferguson SH, Frost KJ, Garde E, Gavrilo M, Ghazal M, Glazov DM, Gosselin J-F, Hammill M, Hansen RG, Harwood L, Heide-Jorgensen MP, Inglangasuk G, Kovacs KM, Krasnova VV, Kuznetsova DM, Lee DS, Lesage V, Litovka DI, Lorenzen ED, Lowry LF, Lydersen C, Matthews CJD, Meschersky IG, Mosnier A, O'corry-Crowe G, Postma L, Quakenbush LT, Shpak OV, Skovrind M, Suydam RS, Watt CA (2019) Global review of the conservation status of Monodontid stocks. Mar Fish Rev 81:1+

Hobson KA, Ambrose WG Jr, Renaud PE (1995) Sources of primary production, benthic-pelagic coupling, and trophic relationships within the Northeast Water Polynya: insights from δ13C and δ15N analysis. Mar Ecol Prog Ser 128:1–10

Hutchinson GE (1957) Concluding remarks. Cold Spring Harb Symp Quant Biol 22(2):415–427. https://doi.org/10.1101/SQB.1957.022.01.039

IPCC (2022) The ocean and cryosphere in a changing climate: special report of the intergovernmental panel on climate change. Cambridge University Press

Jackson AL, Inger R, Parnell AC, Bearhop S (2011) Comparing isotopic niche widths among and within communities: SIBER-Stable Isotope Bayesian Ellipses in R. J Anim Ecol 80:595–602

Jansen OE, Aarts GM, Das K, Lepoint G, Michel L, Reijnders PJH (2012) Feeding ecology of harbour porpoises: stable isotope analysis of carbon and nitrogen in muscle and bone. Mar Biol Res 8:829–841

Keeling CD, Mook WG, Tans PP (1979) Recent trends in the 13C/12C ratio of atmospheric carbon dioxide. Nature 277:121–123

Kernaléguen L, Arnould JPY, Guinet C, Cazelles B, Richard P, Cherel Y (2016) Early-life sexual segregation: ontogeny of isotopic niche differentiation in the Antarctic fur seal. Sci Rep 6:33211

Kinze CC (1990) Marsvineundersøgelser i Vestrønland 1989. Afsluttende rapport.

Koopman HN (1998) Topographical distribution of the blubber of harbor porpoises (Phocoena phocoena). J Mammal 79:260–270

Laidre KL, Heide-Jorgensen MP (2005) Winter feeding intensity of narwhals (Monodon monoceros). Mar Mamm Sci 21:45–57

Lockyer C (2003) Harbour porpoises (Phocoena phocoena) in the North Atlantic: biological parameters. NAMMCO Sci Pub 5:71

Lockyer C, Heide-Jørgensen MP, Jensen J, Kinze CC, Sørensen TB (2001) Age, length and reproductive parameters of harbour porpoises Phocoena phocoena (L.) from West Greenland. ICES J Mar Sci 58:154–162

Lockyer C, Heide-Jørgensen MP, Jensen J, Walton MJ (2003) Life history and ecology of harbour porpoises (Phocoena phocoena) from West Greenland. NAMMCO Sci Publ 5:177

Louis M, Skovrind M, Garde E, Heide-Jørgensen MP, Szpak P, Lorenzen ED (2021) Population-specific sex and size variation in long-term foraging ecology of belugas and narwhals. R Soc Open Sci 8:202226

Marcoux M, McMeans BC, Fisk AT, Ferguson SH (2012) Composition and temporal variation in the diet of beluga whales, derived from stable isotopes. Mar Ecol Prog Ser 471:283–291

Mellon SA (2018) Investigating the 13C Suess effect in the northwestern North Atlantic. Master thesis, Dalhousie University

Mesnick S, Ralls K (2008) Mating systems. In: Perrin WF, Wursig B, Thewissen JGM (eds) Encyclopedia of marine mammals. Academic Press, Cambridge, pp 726–733

NAMMCO (2019) Report of the NAMMCO Scientific Committee Working Group on Harbour Porpoise.

Newsome SD, Martinez del Rio C, Bearhop S, Phillips DL (2007) A niche for isotopic ecology. Front Ecol Environ 5:429–436

Newsome SD, Etnier MA, Monson DH, Fogel ML (2009) Retrospective characterization of ontogenetic shifts in killer whale diets via δ13C and δ15N analysis of teeth. Mar Ecol Prog Ser 374:229–242

Newsome SD, Clementz MT, Koch PL (2010) Using stable isotope biogeochemistry to study marine mammal ecology. Mar Mamm Sci. https://doi.org/10.1111/j.1748-7692.2009.00354.x

Nielsen NH, Teilmann J, Sveegaard S, Hansen RG, Sinding MHS, Dietz R, Heide-Jørgensen MP (2018) Oceanic movements, site fidelity and deep diving in harbour porpoises from Greenland show limited similarities to animals from the North Sea. Mar Ecol Prog Ser 597:259–272

Nielsen NH, Teilmann J, Heide-Jørgensen MP (2019) Indications of mesopelagic foraging by a small odontocete. Mar Biol 166:78

Olsen MT, Nielsen NH, Biard V, Teilmann J, Ngô MC, Víkingsson G, Gunnlaugsson T, Stenson G, Lawson J, Lah L, Tiedemann R, Heide-Jørgensen MP (2022) Genetic and behavioural data confirm the existence of a distinct harbour porpoise ecotype in West Greenland. Ecol Genet Genom 22:100108

Peterson BJ, Fry B (1987) Stable isotopes in ecosystem studies. Annu Rev Ecol Syst 18:293–320

Pirotta E, Vighi M, Brotons JM, Dillane E, Cerdà M, Rendell L (2020) Stable isotopes suggest fine-scale sexual segregation in an isolated, endangered sperm whale population. Mar Ecol Prog Ser 654:209–218

Plummer M (2022) rjags: Bayesian Graphical Models using MCMC. R package version 4-13. https://CRAN.R-project.org/package=rjags

Quay PD, Tilbrook B, Wong CS (1992) Oceanic uptake of fossil fuel CO2: carbon-13 evidence. Science 256:74–79

R Core Team (2019) R: a language and environment for statistical computing. R foundation for statistical computing, Vienna, Austria. URL https://www.R-project.org/

Read AJ (1999) Harbour porpoise Phocoena Phocoena. In: Harrison R (ed) Handbook of marine mammals Ridgeway SH. Academic Press, San Diego, pp 323–355

Reisinger RR, Gröcke DR, Lübcker N, McClymont EL, Hoelzel AR, de Bruyn PJN (2016) Variation in the diet of killer whales Orcinus orca at Marion Island, Southern Ocean. Mar Ecol Prog Ser 549:263–274

Riccialdelli L, Goodall N (2015) Intra-specific trophic variation in false killer whales (Pseudorca crassidens) from the southwestern South Atlantic Ocean through stable isotopes analysis. Mamm Biol 80:298–302

Rojano-Doñate L, McDonald BI, Wisniewska DM, Johnson M, Teilmann J, Wahlberg M, Højer-Kristensen J, Madsen PT (2018) High field metabolic rates of wild harbour porpoises. J Exp Biol. https://doi.org/10.1242/jeb.185827

Santos M, Pierce G (2003) The diet of harbour porpoise (Phocoena phocoena) in the northeast Atlantic: a review. Oceanogr Mar Biol Annu Rev 41:363–369

Schoener TW (1974) Resource partitioning in ecological communities. Science 185:27–39

Skovrind M, Castruita JAS, Haile J, Treadaway EC, Gopalakrishnan S, Westbury MV, Heide-Jørgensen MP, Szpak P, Lorenzen ED (2019) Hybridization between two high Arctic cetaceans confirmed by genomic analysis. Sci Rep. https://doi.org/10.1038/s41598-019-44038-0

Spitz J, Trites AW, Becquet V, Brind'Amour A, Cherel Y, Galois R, Ridoux V (2012) Cost of living dictates what whales, dolphins and porpoises eat: the importance of prey quality on predator foraging strategies. PLoS ONE 7:e50096

Szpak P, Orchard TJ, McKechnie I, Gröcke DR (2012) Historical ecology of late Holocene sea otters (Enhydra lutris) from northern British Columbia: isotopic and zooarchaeological perspectives. J Archaeol Sci 39:1553–1571

Szpak P, Julien MH, Royle TCA (2020) Sexual differences in the foraging ecology of 19th century beluga whales (Delphinapterus leucas) from the Canadian High Arctic. Marine Mammal Sci 36:451–471

Watt CA, Ferguson SH (2015) Fatty acids and stable isotopes (δ13C and δ15N) reveal temporal changes in narwhal (Monodon monoceros) diet linked to migration patterns. Mar Mamm Sci 31:21–44

Watt CA, Heide-Jørgensen MP, Ferguson SH (2013) How adaptable are narwhal? A comparison of foraging patterns among the world's three narwhal populations. Ecosphere 4:1–15

Westgate AJ (2007) Geographic variation in cranial morphology of short-beaked common dolphins (Delphinus delphis) from the North Atlantic. J Mammal 88:678–688

Wild EM, Arlamovsky KA, Golser R, Kutschera W, Priller A, Puchegger S, Rom W, Steier P, Vycudilik W (2000) 14C dating with the bomb peak: an application to forensic medicine. Nucl Instrum Methods Phys Res Sect B 172:944–950

Wilson T, Szpak P (2022) Acidification does not alter the stable isotope composition of bone collagen. PeerJ 10:e13593

Wisniewska DM, Johnson M, Teilmann J, Rojano-Doñate L, Shearer J, Sveegaard S, Miller LA, Siebert U, Madsen PT (2016) Ultra-high foraging rates of harbor porpoises make them vulnerable to anthropogenic disturbance. Curr Biol 26:1441–1446
Acknowledgements
We thank Peter Rask Moller and Daniel Klingberg Johansson for access to the harbour porpoise collections of the Natural History Museum of Denmark, University of Copenhagen, and in locating the specimens. We also thank the hunters who collected the specimens in Maniitsoq, Greenland. We thank René Swift for making the map for Fig. 1. We also thank the reviewers for their input. ML was supported by a postdoctoral fellowship from the Greenland Research Council.
Funding
ML was supported by a postdoctoral fellowship from the Greenland Research Council.
Ethics declarations
Conflict of interest
We declare we have no conflict of interest. We declare that all applicable international, national and/or institutional guidelines for sampling, care and experimental use of organisms for the study have been followed and all necessary approvals have been obtained. Our work is based on skull specimens already hosted at the National History Museum Denmark.
Ethical approval
Our study is based on specimens already hosted at the Natural History Museum Denmark and did not require ethics approval.
Additional information
Responsible Editor: C. Harrod.
Publisher's Note
Springer Nature remains neutral with regard to jurisdictional claims in published maps and institutional affiliations.
Supplementary Information
Below is the link to the electronic supplementary material.
Rights and permissions
Springer Nature or its licensor holds exclusive rights to this article under a publishing agreement with the author(s) or other rightsholder(s); author self-archiving of the accepted manuscript version of this article is solely governed by the terms of such publishing agreement and applicable law.
About this article
Cite this article
Louis, M., Routledge, J., Heide-Jørgensen, M.P. et al. Sex and size matter: foraging ecology of offshore harbour porpoises in waters around Greenland. Mar Biol 169, 140 (2022). https://doi.org/10.1007/s00227-022-04123-x
Received:

Accepted:

Published:

DOI: https://doi.org/10.1007/s00227-022-04123-x
Keywords