Abstract
The Kuroshio Extension (KE) is a natural boundary region characterized by complex hydrodynamic processes in the western North Pacific Ocean that fuel spring phytoplankton blooms in high latitudes. This study looked at the spatial patterns and diversity of phytoplankton community and biomass associated with oceanographic profiles across the KE from the north to south in June 2011. Results showed that upper-ocean gradients were strongly correlated with observed spatial variability in phytoplankton communities (> 10 μm). Phytoplankton abundance, species richness, and Chl a biomass were generally higher in the Kuroshio–Oyashio transition region than in the KE axis and the southern KE. No bloom event was recorded in late spring. A total of 81 phytoplankton taxa belonging to 45 genera of four phyla were identified. Dominant taxa in both abundance and occurrence included the diatoms Chaetoceros radicans, C. curvisetus, C. convolutes, C. deblis, C. peruvianus, Pseudonitzchia delicatissima, Coscinodiscus asteromphalus, Thalassionema nitzschioides, T. frauenfeldii, Thalassiothrix longissima, the dinoflagellates Protoperidinium pyrifoprmus, and the Cyanobacterium Trichodesmium thiebautii. Depth-averaged abundance and Chl a were 2076 ± 3,615 cells L−1 and 0.20 ± 0.10 mg m−3, respectively. Subsurface Chl a maxima (SCM) was mainly found at 50 m, while the abundance maximum differed regionally in the water column. A cluster analysis grouped phytoplankton communities into three assemblages related to geographic locations influenced by Oyashio and Kuroshio currents. Nutrient limitation rather than light led to low Chl a and abundance during late spring. Redundancy correspondence and spearman's correlation further suggest that dissolved inorganic nitrogen was the major factor regulating phytoplankton distribution north of KE, while phosphate limitation was more prominent in the KE axis and the southern KE. The Oyashio and Kuroshio interaction caused evident variability in the hydrodynamic environment including the MLD and Zeu of the region, and changes in chemical profiles such as nutrients, pH, and DO. The observed distributional shift in the spatial pattern of phytoplankton was attributed to upper-ocean environmental gradients within the KE axis and its northern and southern sections.
Access options
Buy single article
Instant access to the full article PDF.
US$ 39.95
Tax calculation will be finalised during checkout.
Subscribe to journal
Immediate online access to all issues from 2019. Subscription will auto renew annually.
US$ 119
Tax calculation will be finalised during checkout.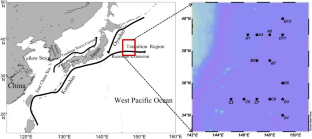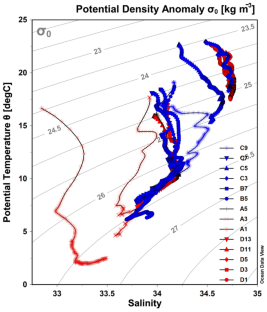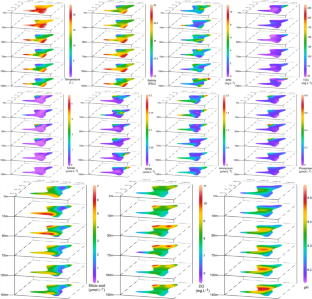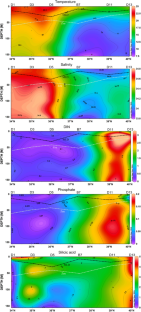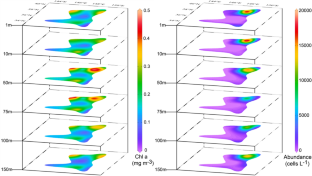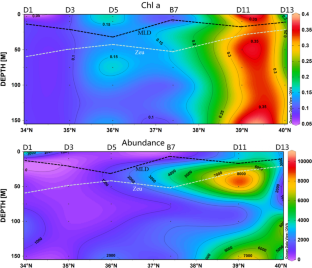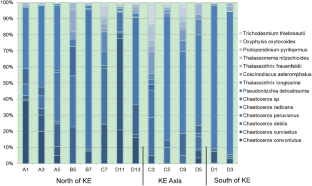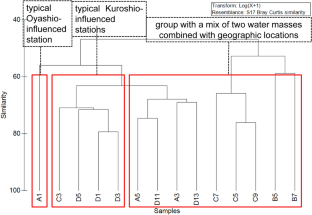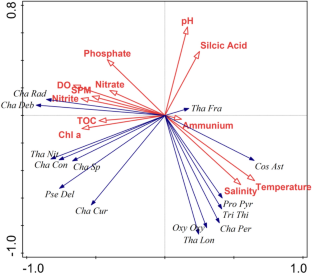 Availability of data and materials
The datasets generated during and/or analyzed during the current study are available from the corresponding author on reasonable request.
References
Aita MN, Yamanaka Y, Kishi MJ (2007) Interdecadal variation of the lower trophic ecosystem in the northern pacific between 1948 and 2002, in a 3-D implementation of the NEMURO model. Ecol Model 202:81–94. https://doi.org/10.1016/j.ecolmodel.2006.07.045

Akitomo K, Awaji T, Imasato N (1991) Kuroshio path variation south of Japan I. Barotropic inflow-outflow model. J Geophys Res Oceans 96:2549–2560. https://doi.org/10.1029/90JC02030

Andreev AG, Watanabe S (2002) Temporal changes in dissolved oxygen of the intermediate water in the subarctic north pacific. Geophysl Res Lett 29:1680. https://doi.org/10.1029/2002GL015021

Ayers JM, Lozier MS (2010) Physical controls on the seasonal migration of the North Pacific transition zone chlorophyll front. J Geophys Res Oceans 115:C05001. https://doi.org/10.1029/2009JC005596

Behrenfeld MJ (2010) Abandoning Sverdrup's critical depth hypothesis on phytoplankton blooms. Ecology 91:977–989. https://doi.org/10.1890/09-1207.1

Chen YLL, Chen HY, Lin II, Lee MA, Chang J (2007) Effects of cold eddy on phytoplankton production and assemblages in Luzon Strait bordering the South China Sea. J Oceanogr 63:671–683. https://doi.org/10.1007/s10872-007-0059-9

Chu PC, Kuo YH (2010) Nutrient pumping/advection by propagating Rossby Waves in the Kuroshio Extension. Deep-Sea Res II 57:1809–1819. https://doi.org/10.1016/j.dsr2.2010.04.007

Cullen JJ (1982) The deep chlorophyll maximum: comparing vertical profiles of chlorophyll a. Can J Fish Aquat Sci 39:791–803. https://doi.org/10.1139/f82-108

Dortch Q, Whitledge TE (1992) Does nitrogen or silicon limit phytoplankton production in the Mississippi River plume and nearby regions? Cont Shelf Res 12:1293–1309. https://doi.org/10.1016/0278-4343(92)90065-R

Falkowski PG, Woodhead AD, Vivirito K (1992) Primary productivity and biogeochemical cycles in the sea. Plenum Press, New York

Fisher TR, Peele ER, Ammerman JW, Harding LW (1992) Nutrient limitation of phytoplankton in Chesapeake Bay. Mar Ecol Prog Ser 82:51–63. https://doi.org/10.3354/meps082051

Furuya K, Marumo R (1983) The structure of the phytoplankton community in the subsurface chlorophyll maxima in the western North Pacific Ocean. J Plankton Res 5:393–406. https://doi.org/10.1093/plankt/5.3.393

General Administration of Quality Supervision, Inspection and Quarantine of the People's Republic of China (2008) GB/T 12763.4–2007: specifications for oceanographic survey-part 4: survey of chemical parameters in sea water. China Standard Press, Beijing

Harada N, Ahagon N, Uchida M, Murayama M (2004) Northward and southward migrations of frontal zones during the past 40 kyr in the Kuroshio-Oyashio transition area. Geochem Geophy Geosy 5:Q09004. https://doi.org/10.1029/2004gc000740

Hidetaka H, Kawamura R, Kato M, Shinoda T (2017) A positive feedback process related to the rapid development of an extratropical cyclone over the Kuroshio/Kuroshio extension. Mon Weather Rev 146:417–433. https://doi.org/10.1175/MWR-D-17-0063.1

Holmes JD, Ziegler KJ, Audriani M Jr, Lee CT, Johnston KP (1999) Buffering the aqueous phase pH in water-in-CO2 micro-emulsions. J Phys Chem B 103:5703–5711. https://doi.org/10.1021/jp990745v

Hu DX, Wu LX, Cai WJ, Gupa AS, Ganachaud A, Qiu B, Gordon AL, Lin XP, Chen ZH, Hu SJ, Wang GJ, Wang QY, Sprintall J, Qu TD, Kashino Y, Wang F, Kessler WS (2015) Pacific western boundary currents and their roles in climate. Nature 522:299–308. https://doi.org/10.1038/nature14504

Hurlburt HE, Wallcraft AJ, Schmitz WJ, Hogan PJ, Metzger EJ (1996) Dynamics of the Kuroshio/Oyashio current system using eddy-resolving models of the North Pacific Ocean. J Geophys Res Atmos 101:941–976. https://doi.org/10.1029/95JC01674

Isada T, Kuwata A, Saito H, Ono T, Ishii M, Inoue HY, Suzuki K (2009) Photosynthetic features and primary productivity of phytoplankton in the Oyashio and Kuroshio-Oyashio transition regions of the Northwest Pacific. J Plankton Res 31:1005–1025. https://doi.org/10.1093/plankt/fbp050

Ito S, Matsuo Y, Yokouchi K, Inagake D (2000) Cross frontal flow associated with meanders of the Kuroshio Extension and distribution of chlorophyll-a: Observational results from the Wakataka-Maru cruise in May 1997. Bull Tohoku Natl Fish Res Inst 63:125–134

Itoh S, Yasuda I, Saito H, Tsuda A, Komatsu K (2015) Mixed layer depth and chlorophyll a: profiling float observations in the Kuroshio-Oyashio Extension region. J Marine Syst 151:1–14. https://doi.org/10.1016/j.jmarsys.2015.06.004

Johnson ZI, Shyam R, Ritchie AE, Mioni C, Lance VP, Murray JW, Zinser ER (2010) The effect of iron- and light-limitation on phytoplankton communities of deep chlorophyll maxima of the western pacific ocean. J Mar Res 68:283–308. https://doi.org/10.1357/002224010793721433

Justić D, Rabalais NN, Turner RE, Dortch Q (1995) Changes in nutrient structure of river-dominated coastal waters: stoichiometric nutrient balance and its consequences. Estuar Coast Shelf Sci 40:339–356. https://doi.org/10.1016/S0272-7714(05)80014-9

Kimura S, Nakata H, Okazaki Y (2000) Biological production in meso-scale eddies caused by frontal disturbances of the Kuroshio Extension. Ices J Mar Sci 57:133–142. https://doi.org/10.1006/jmsc.1999.0564

Kono T, Sato M (2010) A mixing analysis of surface water in the Oyashio region: its implications and application to variations of the spring bloom. Deep-Sea Res II 57:1595–1607. https://doi.org/10.1016/j.dsr2.2010.03.004

Kouketsu S, Kaneko H, Okunishi T, Sasaoka K, Itoh S, Inoue R, Ueno H (2015) Mesoscale eddy effects on temporal variability of surface chlorophyll a in the Kuroshio Extension. J Oceanogr 72:439–451. https://doi.org/10.1007/s10872-015-0286-4

Lin II (2012) Typhoon-induced phytoplankton blooms and primary productivity increase in the western north pacific subtropical ocean. J Geophys Res Oceans 117:3039. https://doi.org/10.1029/2011JC007626

Lin P, Chai F, Xiu H, Xiu P (2014) Modulation of decadal oscillation on surface chlorophyll in the Kuroshio Extension. J Geophys Res Oceans 119:187–199. https://doi.org/10.1002/2013JC009359

Liu H, Suzuki K, Saito H (2004) Community structure and dynamics of phytoplankton in the western subarctic Pacific Ocean: a synthesis. J Oceanogr 60:119–137. https://doi.org/10.1023/B:JOCE.0000038322.79644.36

Longhurst AR (2007) Ecological geography of the sea (Second Edition). Academic Press, Oxford, UK, pp 1–527

Nagai T, Clayton S (2017) Nutrient interleaving below the mixed layer of the Kuroshio extension front. Ocean Dynam 67:1027–1046. https://doi.org/10.1007/s10236-017-1070-3

Nishibe Y, Takahashi K, Shiozaki T, Kakehi S, Saito H, Furuya K (2015) Size-fractionated primary production in the Kuroshio Extension and adjacent regions in spring. J Oceanogr 71:27–40. https://doi.org/10.1007/s10872-014-0258-0

Qiu B (2002) The Kuroshio extension system: its large-scale variability and role in the midlatitude ocean-atmosphere interaction. J Oceanogr 58:57–75. https://doi.org/10.1023/A:1015824717293

Qiu B (2003) Kuroshio extension variability and forcing of the Pacific decadal oscillations: responses and potential feedback. J Phys Oceanogr 33:2465–2482. https://doi.org/10.1175/2459.1

Qiu B, Chen S (2005) Variability of the Kuroshio Extension jet, recirculation gyre, and mesoscale eddies on decadal time scales. J Phys Oceanogr 35:2090–2103. https://doi.org/10.1175/JPO2807.1

Round FE, Crawford RM, Mann DG (1990) The diatoms: biology and morphology of the genera. Cambridge University Press, Cambridge, pp 1–747

Sasai Y, Richards KJ, Ishida A, Sasaki H (2010) Effects of cyclonic mesoscale eddies on the marine ecosystem in the Kuroshio extension region using an eddy-resolving coupled physical-biological model. Ocean Dynam 60:693–704. https://doi.org/10.1007/s10236-010-0264-8

Schlundt C, Marandino CA, Tegtmeier S, Lennartz ST, Bracher A, Cheah W, Krüger K, Quack B (2017) Oxygenated volatile organic carbon in the western Pacific convective center: ocean cycling, air-sea gas exchange and atmospheric transport. Atmos Chem and Phys 17:10837–10854. https://doi.org/10.5194/acp-17-10837-2017

Shiomoto A (2000) Chlorophyll-a and primary production during spring in the oceanic region of the Oyashio Water, the North-western Pacific. J Mar Biol Assoc UK 80:343–354. https://doi.org/10.1017/s0025315499001927

Shiozaki T, Ito S, Takahashi K, Saito H, Nagata T, Furuya K (2014) Regional variability of factors controlling the onset timing and magnitude of spring algal blooms in the northwestern North Pacific. J Geophys Res Oceans 119:253–265. https://doi.org/10.1002/2013JC009187

Sugie K, Kuma K, Fujita S, Nakayama Y, Ikeda T (2010) Nutrient and diatom dynamics during late winter and spring in the Oyashio region of the western subarctic Pacific Ocean. Deep-Sea Res II 57:1630–1642. https://doi.org/10.1016/j.dsr2.2010.03.007

Sun J, Liu DY (2002) The preliminary notion on nomenclature of common phytoplankton in China seas waters. Oceanol Limnol Sinica 33:271–286. https://doi.org/10.1088/1009-1963/11/5/313

Taguchi B, Xie S, Mitsudera H, Kubokawa A (2005) Response of the Kuroshio Extension to Rossby waves associated with the 1970s climate regime shift in a high-resolution ocean model. J Climate 18:2979–2995. https://doi.org/10.1175/JCLI3449.1

Takahashi T, Sutherland SC, Sweeney C, Poisson A, Metzl N, Tilbrook B, Bates N, Wanninkhof R, Felly RA, Sabine C, Olafsson J, Nojiri Y (2002) Global sea-air CO2 flux based on climatological surface ocean pCO2 and seasonal biological and temperature effects. Deep-Sea Res II 49:1601–1622. https://doi.org/10.1016/S0967-0645(02)00003-6

Taniguchi A (1999) Differences in the structure of the lower trophic levels of pelagic ecosystems in the eastern and western subarctic Pacific. Prog Oceanogr 43:289–315. https://doi.org/10.1016/S0079-6611(99)00011-7

Taniguchi A, Kawamura T (1972) Primary production in the Oyashio region with special reference to the subsurface chlorophyll maximum layer and phytoplankton-zooplankton relationships. In: Takenouti A (ed) Biological oceanography of the Northern North Pacific Ocean. Idemitsu Shoten, Tokyo, pp 419–431

Tomas CR (1997) Identifying marine phytoplankton. Academic Press, San Diego, pp 1–858

Watanabe Y (2007) Latitudinal variation in the recruitment dynamics of the small pelagic fishes in the western North Pacific. J Sea Res 58:46–58. https://doi.org/10.1016/j.seares.2007.02.002

Wills SM, Thompson DWJ (2018) On the observed relationships between wintertime variability in Kuroshio-Oyashio Extension sea surface temperatures and the atmospheric circulation over the North Pacific. J Climate 31:4669–4681. https://doi.org/10.1175/JCLI-D-17-0343.1

Xiao MA, Sun C (2015) Water mass characteristics in the western North Pacific based on a stream function projection. Sci China Earth Sci 58:2067–2077. https://doi.org/10.1007/s11430-015-5100-z

Yamamoto T, Nishizawa S, Taniguchi A (1988) Formation and retention mechanisms of phytoplankton peak abundance in the Kuroshio front. J Plankton Res 10:1113–1130. https://doi.org/10.1093/plankt/10.6.1113

Yamazaki H, Iwamatsu I, Hasegawa D, Nagai T (2009) Chlorophyll patches observed during summer in the main stream of the Kuroshio. Atmos Ocean 47:299–307. https://doi.org/10.3137/OC306.2009

Yasuda I, Watanabe T (2007) Chlorophyll a variation in the Kuroshio extension revealed with a mixed-layer tracking float: implication on the long-term change of Pacific saury (Cololabis saira). Fish Oceanogr 16:482–488. https://doi.org/10.1111/j.1365-2419.2007.00457.x

Yasuda I, Okuda K, Hirai M (1992) Evolution of a Kuroshio warm-core ring-variability of the hydrographic structure. Deep-Sea Res I 39:131–161. https://doi.org/10.1016/S0198-0149(11)80009-9

Yentsch CS, Menzel DW (1963) A method for the determination of phytoplankton chlorophyll and phaeophytin by fluorescence. Deep-Sea Res II 10:221–231. https://doi.org/10.1016/0011-7471(63)90358-9
Acknowledgements
The authors wish to thank Dr. Senming Tang from Hongkong University for fruitful discussion and for helping to revise the manuscript, Mr. Xiuwu Sun of TIO for nutrients measurements, Mr. Jiang Huang of TIO for satellite data. We thank MogoEdit (www.mogoedit.com) for its linguistic assistance during the preparation of this manuscript.
Funding
This study was partially supported by the National Natural Science Foundation of China (Project nos. 41506217, 41506136 and 41306115) and the Project of Ministry of Science and Technology (Project no. GASI-01–02-04). This work was also supported by Fisheries Institute of South China Sea and the R/V "Nanfeng" survey team.
Ethics declarations
Conflict of interest
The authors declare there is no conflict of interest.
Open Access
This article is licensed under a Creative Commons Attribution 4.0 International License, which permits use, sharing, adaptation, distribution and reproduction in any medium or format, as long as you give appropriate credit to the original author(s) and the source, provide a link to the Creative Commons licence, and indicate if changes were made. The images or other third party material in this article are included in the article's Creative Commons licence, unless indicated otherwise in a credit line to the material. If material is not included in the article's Creative Commons licence and your intended use is not permitted by statutory regulation or exceeds the permitted use, you will need to obtain permission directly from the copyright holder. To view a copy of this licence, visit http://creativecmmons.org/licenses/by/4.0/.
Additional information
Publisher's Note
Springer Nature remains neutral with regard to jurisdictional claims in published maps and institutional affiliations.
Reviewers: D. Baird and S. Chiswell.
Responsible Editor: U. Sommer.
About this article
Cite this article
Wang, Y., Kang, J., Sun, X. et al. Spatial patterns of phytoplankton community and biomass along the Kuroshio Extension and adjacent waters in late spring. Mar Biol 168, 40 (2021). https://doi.org/10.1007/s00227-021-03846-7
Received:

Accepted:

Published: