Abstract
Seabirds are one of the most threatened of all bird groups, with a marked community-wide decline across the last decades. Yet, some seabird species are more resilient than others, and it is essential to study under which conditions even these highly resilient organisms are affected by global changes. Here, we report such a case in northern gannets (Morus bassanus). Using global location sensors (GLS), demographic and stable isotope analyses, we performed a long-term study of the migration biology and inter-annual survival of gannets breeding on Rouzic Island in Brittany, France. Across 2006–2015, our analyses showed that the birds spent the inter-breeding period off Western Europe, in the Mediterranean or off West Africa. There were no inter-annual trends in the use of these different areas, but isotopic analyses suggested food competition between gannets and industrial-scale fisheries. Crucially, we found a precipitous decline in the return rates of birds equipped with GLS, from 100% in 2006–2007 to less than 30% after 2015. This decline was consistent with a marked decrease in inter-annual survival probabilities for ringed adult gannets, from > 90% in 2014–2015 to < 60% in 2018–2019, and with a population decline of the Rouzic gannet breeding colony in recent years. Strong ecological signals provided by northern gannets point to critical marine ecosystem perturbation in the Eastern Atlantic, and the decline of this resilient and emblematic species should lead to the urgently needed transformation of marine policies.
This is a preview of subscription content, log in to check access.
Access options
Buy single article
Instant access to the full article PDF.
US$ 39.95
Tax calculation will be finalised during checkout.
Subscribe to journal
Immediate online access to all issues from 2019. Subscription will auto renew annually.
US$ 119
Tax calculation will be finalised during checkout.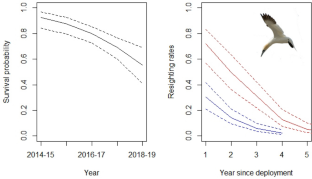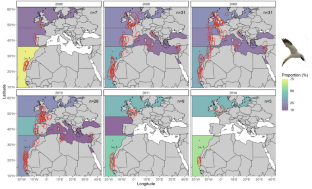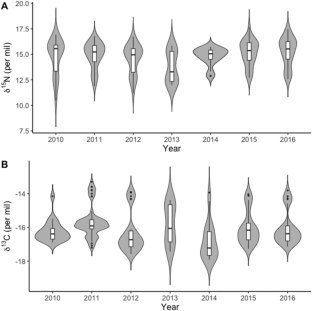 Data availability
Data used in this study are available from the authors upon request.
References
Afán I, Navarro J, Grémillet D, Coll M, Forero MG (2019) Maiden voyage into death: are fisheries affecting seabird juvenile survival during the first days at sea? R Soc Open Sci 6:181151

Bicknell AW, Oro D, Camphuysen K, Votier SC (2013) Potential consequences of discard reform for seabird communities. J Appl Ecol 50:649–658

Bruge A, Alvarez P, Fontán A, Cotano U, Chust G (2016) Thermal niche tracking and future distribution of Atlantic mackerel spawning in response to ocean warming. Front Mar Sci 3:86

Burnham KP, Anderson DR (2002) Model selection and multi-model inference: a practical information-theoretic approach, 2nd edn. Springer, New York

Cabral RB, Mayorga J, Clemence M, Lynham J, Koeshendrajana S, Muawanah U, Nugroho D, Anna Z, Ghofar A, Zulbainarni N et al (2018) Rapid and lasting gains from solving illegal fishing. Nat Ecol Evol 2:650–658

Calenge C (2006) The package "adehabitat" for the R software: a tool for the analysis of space and habitat use by animals. Ecol Model 197:516–519

Choquet R, Lebreton J-D, Gimenez O, Reboulet A-M, Pradel R (2009) U-CARE: utilities for performing goodness of fit tests and manipulating CApture–REcapture data. Ecography 32:1071–1074

Cortés V, Arcos JM, González-Solís J (2017) Seabirds and demersal longliners in the northwestern Mediterranean: factors driving their interactions and bycatch rates. Mar Ecol Prog Ser 565:1–16

Deakin Z, Hamer KC, Sherley RB, Bearhop S, Bodey TW, Clark BL, Grecian WJ, Gummery M, Lane J, Morgan G et al (2019) Sex differences in migration and demography of a wide-ranging seabird, the northern gannet. Mar Ecol Prog Ser 622:191–201

Delord K, Barbraud C, Bost C-A, Deceuninck B, Lefebvre T, Lutz R, Micol T, Phillips RA, Trathan PN, Weimerskirch H (2014) Areas of importance for seabirds tracked from French southern territories, and recommendations for conservation. Mar Policy 48:1–13

Dias MP, Martin R, Pearmain EJ, Burfield IJ, Small C, Phillips RA, Yates O, Lascelles B, Borboroglu PG, Croxall JP (2019) Threats to seabirds: a global assessment. Biol Conserv 237:525–537

Fort J, Pettex E, Tremblay Y, Lorentsen S-H, Garthe S, Votier S, Pons JB, Siorat F, Furness RW, Grecian WJ et al (2012) Meta-population evidence of oriented chain migration in northern gannets (Morus bassanus). Front Ecol Environ 10:237–242

Franci CD, Vézina F, Grégoire F, Rail J-F, Verreault J (2015) Nutritional stress in Northern gannets during an unprecedented low reproductive success year: can extreme sea surface temperature event and dietary change be the cause? Comp Biochem Physiol A Mol Integr Physiol 181:1–8

Gamble A, Bazire R, Delord K, Barbraud C, Jaeger A, Gantelet H, Thibault E, Lebarbenchon C, Lagadec E, Tortosa P et al (2020) Predator and scavenger movements among and within endangered seabird colonies: opportunities for pathogen spread. J Appl Ecol 57:367–378

Garthe S, Hüppop O (1994) Distribution of ship-following seabirds and their utilization of discards in the North Sea in summer. Mar Ecol Prog Ser 106:1–9

Garthe S, Benvenuti S, Montevecchi WA (2000) Pursuit plunging by northern gannets (Sulabassana)" feeding on capelin (Mallotusvillosus)". Proc R Soc Lond B Biol Sci 267:1717–1722

Grandgeorge M, Wanless S, Dunn TE, Maumy M, Beaugrand G, Grémillet D (2008) Resilience of the British and Irish seabird community in the twentieth century. Aquat Biol 4:187–199

Grémillet D, Pichegru L, Siorat F, Georges J-Y (2006) Conservation implications of the apparent mismatch between population dynamics and foraging effort in French northern gannets from the English Channel. Mar Ecol Prog Ser 319:15–25

Grémillet D, Péron C, Provost P, Lescroël A (2015) Adult and juvenile European seabirds at risk from marine plundering off West Africa. Biol Conserv 182:143–147

Grémillet D, Péron C, Kato A, Amélineau F, Ropert-Coudert Y, Ryan PG, Pichegru L (2016) Starving seabirds: unprofitable foraging and its fitness consequences in Cape gannets competing with fisheries in the Benguela upwelling ecosystem. Mar Biol 163:35

Grémillet D, Ponchon A, Paleczny M, Palomares M-LD, Karpouzi V, Pauly D (2018) Persisting worldwide seabird-fishery competition despite seabird community decline. Curr Biol 28:4009–4013

Hamer K, Phillips R, Wanless S, Harris M, Wood A (2000) Foraging ranges, diets and feeding locations of gannets Morus bassanus in the North Sea: evidence from satellite telemetry. Mar Ecol Prog Ser 200:257–264

Hughes KM, Dransfeld L, Johnson MP (2014) Changes in the spatial distribution of spawning activity by north-east Atlantic mackerel in warming seas: 1977–2010. Mar Biol 161:2563–2576

ICES (2018) Report of the working group on widely distributed stocks (WGWIDE). Torshavn, Faroe Islands, ICES CM 2018/ACOM: 23, pp 488

Kelly JF (2000) Stable isotopes of carbon and nitrogen in the study of avian and mammalian trophic ecology. Can J Zool 78:1–27

Le Bot T, Lescroël A, Grémillet D (2018) A toolkit to study seabird–fishery interactions. ICES J Mar Sci 75:1513–1525

Le Bot T, Lescroël A, Fort J, Péron C, Gimenez O, Provost P, Gremillet D (2019) Fishery discards do not compensate natural prey shortage in Northern gannets from the English channel. Biol Conserv 236:375–384

Lebreton J-D, Burnham KP, Clobert J, Anderson DR (1992) Modeling survival and testing biological hypotheses using marked animals: a unified approach with case studies. Ecol Monogr 62:67–118

Lescroël A, Mathevet R, Péron C, Authier M, Provost P, Takahashi A, Grémillet D (2016) Seeing the ocean through the eyes of seabirds: a new path for marine conservation? Mar Policy 68:212–220

Lozán JL, Lenz W, Rachor E, Watermann B, von Westernhagen H (1990) Warnsignale aus der nordsee: wissenschaftliche fakten. Paul Parey, Berlin

Mitchell PI, Newton SF, Ratcliffe N, Dunn TE (2004) Seabird populations of Britain and Ireland. T. & AD Poyser, London

Montevecchi W, Fifield D, Burke C, Garthe S, Hedd A, Rail J-F, Robertson G (2011) Tracking long-distance migration to assess marine pollution impact. Biol Lett 8:218–221

Montevecchi B, Chardine J, Rail J, Garthe S, Pelletier D, Regular P, Burke C, Hedd A, McFarlane Tranquilla L, Bennett S et al (2013) Extreme event in a changing ocean climate: warm-water perturbation of 2012 influences breeding gannets and other marine animals in the Northwest Atlantic and Gulf of St Lawrence. Osprey 44:14–19

Murray S, Harris M, Wanless S (2015) The status of the gannet in Scotland in 2013–14. Scott Birds 35:3–18

Nelson B (1978) The Gannet. T. & A. D. Poyser, Hertfordshire

Paleczny M, Hammill E, Karpouzi V, Pauly D (2015) Population trend of the world's monitored seabirds, 1950–2010. PLoS ONE 10:e0129342

Pauly D, Belhabib D, Blomeyer R, Cheung WW, Cisneros-Montemayor AM, Copeland D, Harper S, Lam VW, Mai Y, Le Manach F et al (2014) China's distant-water fisheries in the 21st century. Fish Fish 15:474–488

Pebesma E (2018) Simple features for R: standardized support for spatial vector data. R J 10:439–446

Ramos R, Grémillet D (2013) Overfishing in west Africa by EU vessels. Nature 496:300–300

R Core Team (2020) R: a language and environment for statistical computing. R Foundation for Statistical Computing, Vienna, Austria. https://www.R-project.org/

Sherley RB, Crawford RJ, Dyer BM, Kemper J, Makhado AB, Masotla M, Pichegru L, Pistorius PA, Roux J-P, Ryan PG et al (2019) The status and conservation of the Cape Gannet Morus capensis. Ostrich 1–12

Soanes L, Atkinson P, Gauvain R, Green J (2013) Individual consistency in the foraging behaviour of Northern Gannets: Implications for interactions with offshore renewable energy developments. Mar Policy 38:507–514

Spalding MG, Yowell CA, Lindsay DS, Greiner EC, Dame JB (2002) Sarcocystis meningoencephalitis in a northern gannet (Morus bassanus). J Wildl Dis 38:432–437

Tuck GN, Polacheck T, Bulman CM (2003) Spatio-temporal trends of longline fishing effort in the Southern Ocean and implications for seabird bycatch. Biol Conserv 114:1–27

Veron P, Lawlor M (2009) The dispersal and migration of the Northern Gannet Morus bassanus from Channel Islands breeding colonies. Seabird 22:37–47

Vieites DR, Nieto-Román S, Palanca A, Ferrer X, Vences M (2004) European Atlantic: the hottest oil spill hotspot worldwide. Naturwissenschaften 91:535–538

Warwick-Evans V, Green JA, Atkinson PW (2016) Survival estimates of Northern Gannets Morus bassanus in Alderney: big data but low confidence. Bird Study 63:380–386

White GC, Burnham KP (1999) Program MARK: survival estimation from populations of marked animals. Bird Study 46:S120–S139

Wickham H, Averick M, Bryan J, Chang W, McGowan L, François R, Grolemund G, Hayes A, Henry L, Hester J et al (2019) Welcome to the Tidyverse. J Open Source Softw 4:1686

Wiese FK, Robertson GJ (2004) Assessing seabird mortality from chronic oil discharges at sea. J Wildl Manag 68:627–638

Williams HJ (2013) The Causes and Consequences of Individual Over-Wintering Strategies in Northern Gannets. Masters Thesis, University of Exeter

Wilson JE (1950) Newcastle disease in a gannet (Sula bassana). Prelim Note Vet Record 62:33–34

Wilson RP, Ducamp J, Rees WG, Culik B, Niekamp K (1992) Estimation of location: global coverage using light intensity. Wildlife telemetry: remote monitoring and tracking of animals. Ellis Horward, Chichester, pp 131–134

Wood AG, Naef-Daenzer B, Prince PA, Croxall JP (2000) Quantifying habitat use in satellite-tracked pelagic seabirds: application of kernel estimation to albatross locations. J Avian Biol 31:278–286
Acknowledgements
Field studies greatly benefited from the help of all staff at the Station Ornithologique de l'Ile Grande, under the leadership of François Siorat, Mélanie Le Nuz and Pascal Provost. We are also grateful for the participation of Tangi le Bot, Armel Deniau, Julie Grousseau, Vincent Bretille, Régis Perdriat, Samuel Perret, Françoise Amélineau, Alice Bernard, Thierry Boulinier and Nory El Ksabi. We thank Steve Votier for supporting GLS deployment in 2008–2010, and G. Guillou & B. Lebreton from the plateforme 'Isotopic Spectrometry' (La Rochelle University-LIENSs) for their assistance with isotopic analyses.
Funding
This study was funded by CNRS, the MAVA Foundation through the ALCYON Project administered by Justine Dossa, and through the INTERREG program FAME administered by LPO.
Ethics declarations
Conflict of interest
The authors declare no conflicts of interests.
Permits
Birds were handled under permits of the Direction des Services Vétérinaires (N° 34-369) and of the Comité d'Ethique Régional Languedoc-Roussillon (N°1110).
Additional information
Publisher's Note
Springer Nature remains neutral with regard to jurisdictional claims in published maps and institutional affiliations.
Reviewed by V. Pujol and an undisclosed expert.
Responsible Editor: V. Paiva.
Electronic supplementary material
Below is the link to the electronic supplementary material.
About this article
Cite this article
Grémillet, D., Péron, C., Lescroël, A. et al. No way home: collapse in northern gannet survival rates point to critical marine ecosystem perturbation. Mar Biol 167, 189 (2020). https://doi.org/10.1007/s00227-020-03801-y
Received:

Accepted:

Published: