Abstract
Mulloway (Argyrosomus japonicus) are an iconic recreational, indigenous, and commercial fishery species with declining numbers across some parts of their range, with relatively little known about their movements. During the Austral summers and autumns from 2011 to 2014, we deployed 19 pop-up satellite archival tags (PSATs) on mature mulloway at an aggregation site within the Great Australian Bight Marine Park (GABMP), to examine their movement patterns. Twelve tags provided data from deployments ranging from 8 to 110 days including five tags that gathered data over autumn and seven over summer. Five of the seven mulloway tagged during summer likely remained in the vicinity of the tagging location and hence within or in close proximity to marine-protected areas (MPAs) over summer; however, relatively large horizontal movements were observed over autumn for most fish, including a maximum net displacement of ~ 550 km. The median pop-up distance from deployment was 51 and 212 km for summer-and autumn-tagged fish, respectively. Depths encountered by the tagged mulloway ranged from the surface to 56.5 m deep. Our study provides new information on the dispersal of a poorly understood fish species which could aid their conservation.
Access options
Buy single article
Instant access to the full article PDF.
US$ 39.95
Tax calculation will be finalised during checkout.
Subscribe to journal
Immediate online access to all issues from 2019. Subscription will auto renew annually.
US$ 119
Tax calculation will be finalised during checkout.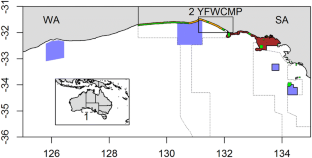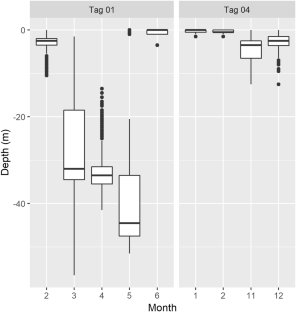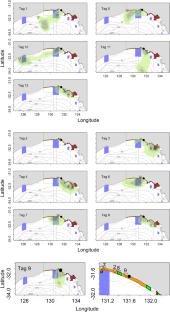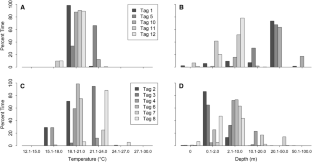 References
Armsworthy SL, Trzcinski MK, Campana SE (2014) Movements, environmental associations, and presumed spawning locations of Atlantic halibut (Hippoglossus hippoglossus) in the northwest Atlantic determined using archival satellite pop-up tags. Mar Biol 161:645–656

Barnes TC, Junge C, Myers SA, Taylor MD, Rogers PJ, Ferguson GJ, Lieschke JA, Donnellan SC, Gillanders BM (2016) Population structure in a wide-ranging coastal teleost (Argyrosomus japonicus, Sciaenidae) reflects marine biogeography across southern Australia. Mar Freshw Res 67:1103–1113

Block BA, Jonsen I, Jorgensen S, Winship A, Shaffer SA, Bograd S, Hazen E, Foley D, Breed G, Harrison A-L (2011) Tracking apex marine predator movements in a dynamic ocean. Nature 475:86–90

Darnaude AM, Hunter E (2018) Validation of otolith δ18O values as effective natural tags for shelf-scale geolocation of migrating fish. Mar Ecol Prog Ser 598:167–185

Erisman E, Heyman W, Kobara S, Ezer T, Pittman S, Aburto-Oropeza O, Nemeth RS (2017) Fish spawning aggregations: where well-placed management actions can yield big benefits for fisheries and conservation. Fish Fish 18:128–144

Farmer BM (2008) Comparisons of the biological and genetic characteristics of the Mulloway Argyosomus japonicus (Sciaenidae) in different regions of Western Australia. Dissertation, Murdoch University, Perth

Ferguson GJ (2010) Impacts of river regulation, drought and exploitation on the fish in a degraded Australian estuary, with particular reference to the life-history of the Sciaenid, Argyrosomus japonicus. Dissertation, University of Adelaide, Adelaide

Ferguson G, Ward T (2003) Mulloway (Argyrosomus japonicus) fishery. Fishery Stock Status Report for PIRSA Fisheries. SARDI Aquatic Sciences RD03/0040, pp 1–55

Ferguson GJ, Ward TM, Geddes MC (2008) Do recent age structures and historical catches of mulloway, Argyrosomus japonicus (Sciaenidae), reflect freshwater inflows in the remnant estuary of the Murray River, South Australia? Aquat Living Resour 21:145–152

Ferguson GJ, Ward TM, Gillanders BM (2011) Otolith shape and elemental composition: Complementary tools for stock discrimination of mulloway (Argyrosomus japonicus) in southern Australia. Fish Res 110:75–83

Ferguson GJ, Ward TM, Ivey A, Barnes T (2014) Life history of Argyrosomus japonicus, a large sciaenid at the southern part of its global distribution: implications for fisheries management. Fish Res 151:148–157

Gillanders BM (2005) Using elemental chemistry of fish otoliths to determine connectivity between estuarine and coastal habitats. Estuar Coast Shelf Sci 64:47–57

Gold J, Turner T (2002) Population structure of red drum (Sciaenops ocellatus) in the northern Gulf of Mexico, as inferred from variation in nuclear-encoded microsatellites. Mar Biol 140:249–265

Gray C, McDonall V (1993) Distribution and growth of juvenile mulloway, Argyrosomus hololepidotus (Pisces: Sciaenidae), in the Hawkesbury River, south-eastern Australia. Mar Freshw Res 44:401–409

Griffiths M (1996) Life history of the dusky kob Argyrosomus japonicus (Sciaenidae) off the east coast of South Africa. S Afr J Mar Sci 17:135–154

Griffiths M (1997) Management of South African dusky kob Argyrosomus japonicus (Sciaenidae) based on per-recruit models. S Afr J Mar Sci 18:213–228

Hall D (1986) An assessment of the mulloway (Argyrosomus hololepidotus) fishery in South Australia with particular reference to the Coorong Lagoon: discussion paper. Department of Fisheries, South Australia

Hunter E, Berry F, Buckley AA, Stewart C, Metcalfe JD (2006) Seasonal migration of thornback rays and implications for closure management. J Appl Ecol 43:710–720

Hutchings K, Griffiths M (2010) Life-history strategies of Umbrina robinsoni (Sciaenidae) in warm-temperate and subtropical South African marine reserves. Afr J Mar Sci 32(1):37–53

Le Port A, Sippel T, Montgomery JC (2008) Observations of mesoscale movements in the short-tailed stingray, Dasyatis brevicaudata from New Zealand using a novel PSAT tag attachment method. J Exp Mar Biol Ecol 359:110–117

Lenanton R (1982) Alternative non-estuarine nursery habitats for some commercially and recreationally important fish species of south-western Australia. Mar Freshw Res 33:881–900

Liu C, Cowles GW, Zemeckis DR, Cadrin SX, Dean MJ (2017) Validation of a hidden Markov model for the geolocation of Atlantic cod. Can J Fish Aquat Sci 74:1862–1877

Loher T (2008) Homing and summer feeding site fidelity of Pacific halibut (Hippoglossus stenolepis) in the Gulf of Alaska, established using satellite-transmitting archival tags. Fish Res 92:63–69

Miller M, Able K (2002) Movements and growth of tagged young-of-the-year Atlantic croaker (Micropogonias undulatus L.) in restored and reference marsh creeks in Delaware Bay, USA. J Exp Mar Biol Ecol 267:15–33

Mirimin L, Macey B, Kerwath S, Laberth S, Bester-van der Merwe A, Cowley P, Bloomer P, Roodt-Wilding R (2016) Genetic analyses reveal declining trends and low effective population size in an overfished South African sciaenid species, the dusky kob (Argyrosomus japonicus). Mar Freshw Res 67:266–276

Myers RA, Worm B (2003) Rapid worldwide depletion of predatory fish communities. Nature 423:280–283

Næsje TF, Cowley PD, Diserud OH, Childs A-R, Kerwath SE, Thorstad EB (2012) Riding the tide: estuarine movements of a sciaenid fish, Argyrosomus japonicus. Mar Ecol Prog Ser 460:221–232

Palmer RM, Snowball JD (2009) The willingness to pay for dusky kob (Argyrosomus japonicus) restocking: using recreational linefishing licence fees to fund stock enhancement in South Africa. ICES J Mar Sci 66:839–843

Palumbi SR (2004) Marine reserves and ocean neighborhoods: the spatial scale of marine populations and their management. Annu Rev Environ Resour 29:31–68

Parsons MJ, McCauley RD, Mackie MC, Siwabessy P, Duncan AJ (2009) Localization of individual mulloway (Argyrosomus japonicus) within a spawning aggregation and their behaviour throughout a diel spawning period. ICES J Mar Sci 66:1007–1014

Pedersen MW, Patterson TA, Thygesen UH, Madsen H (2011) Estimating animal behavior and residency from movement data. Oikos 120:1281–1290

Potts WM, Sauer WHH, Henriques R, Sequesseque S, Santos CV, Shaw PW (2010) The biology, life history and management needs of a large sciaenid fish, Argyrosomus coronus, in Angola. Afr J Mar Sci 32:247–258

R Core Team (2013) R: a language and environment for statistical computing. R Foundation for Statistical Computing, Vienna

Rogers P, Barnes T, Wolf Y, Gregory P, Williams N, Madonna A, Loisier A (2014) On-site recreational fishery survey and research of mulloway (Argyrosomus japonicus) in the Yalata Indigenous Protected Area and Far West Coast Marine Park between 2009 and 2013. SARDI Research Report Series-South Australian Research and Development Institute, South Australia, p 759

Semmens JM, Buxton C, Forbes E, Phelan M (2010) Spatial and temporal use of spawning aggregation sites by the tropical sciaenid Protonibea diacanthus. Mar Ecol Prog Ser 403:193–203

Silberschneider V, Gray CA (2008) Synopsis of biological, fisheries and aquaculture-related information on mulloway Argyrosomus japonicus (Pisces: Sciaenidae), with particular reference to Australia. J Appl Ichthyol 24:7–17

Stewart JD, Beale CS, Fernando D, Sianipar AB, Burton RS, Semmens BX, Aburto-Oropeza O (2016) Spatial ecology and conservation of Manta birostris in the Indo-Pacific. Biol Cons 200:178–183

Svedäng H, Righton D, Jonsson P (2007) Migratory behaviour of Atlantic cod Gadus morhua: natal homing is the prime stock-separating mechanism. Mar Ecol Prog Ser 345:1–12

Taylor M, Laffan S, Fielder D, Suthers I (2006) Key habitat and home range of mulloway Argyrosomus japonicus in a south-east Australian estuary: finding the estuarine niche to optimise stocking. Mar Ecol Prog Ser 328:237–247

Thorrold SR, Latkoczy C, Swart PK, Jones CM (2001) Natal homing in a marine fish metapopulation. Science 291:297–299

Weinstein M, Litvin S, Guida V, Chambers R (2009) Is global climate change influencing the overwintering distribution of weakfish Cynoscion regalis? J Fish Biol 75:693–698
Acknowledgements
We thank the following for their support during this project: Teddy Edwards, Brian Quema, Bubbles and other members of Yalata Land Management and the Yalata community, Blair Middlemiss, Wayne Ragless, Amanda Woods, Geoff Rogers, Andrew Brooks, Cindy Strachan, Darren Hoad, Kris Ellis, Danielle Manetti, Harley Donnithorne, Paul Lehmann, Colin Bailey, Hall Print and Wildlife Computers.
Ethics declarations
Conflict of interest
This study has no potential conflict of interest.
Ethical approval
Animal ethics approval was via: Primary Industries and Regions South Australia Animal Ethics Application 19/11 and the University of Adelaide S-2009-129. This project was funded by Yalata Land Management, Department for Environment, Water and Natural Resources—Alinytjara Wilurara, the University of Adelaide, the Australian Research Council (FT100100767) (awarded to BMG) and the Nature Foundation.
Additional information
Publisher's Note
Springer Nature remains neutral with regard to jurisdictional claims in published maps and institutional affiliations.
Reviewed by undisclosed experts.
Responsible Editor: E. Hunter.
Electronic supplementary material
Below is the link to the electronic supplementary material.
About this article
Cite this article
Barnes, T.C., Rogers, P.J., Wolf, Y. et al. Dispersal of an exploited demersal fish species (Argyrosomus japonicus, Sciaenidae) inferred from satellite telemetry. Mar Biol 166, 125 (2019). https://doi.org/10.1007/s00227-019-3575-4
Received:

Accepted:

Published: