Abstract
Detached and floating macrophytes are commonly found along beaches in Southern Australia, but few studies have investigated their associations with animals along the drift pathway, particularly in the southern hemisphere. This study investigated the colonisation by macroinvertebrates and fish of natural and artificial tagged seagrass within 6 h of release and compared this to fauna found with in situ floating macrophyte clumps netted at different distances from shore in Southern Australia. We found some evidence that more macroinvertebrates may colonise floating macrophytes at distances closer to shore (i.e., 0.25 km) potentially due to shallower depths and increased proximity of source habitats. Particular fauna may stay with macrophytes as they arrive and accumulate as wrack in the surf-zone, while others may leave for more suitable habitats. Colonisation by fish to floating macrophytes was judged more likely to be for habitat and shelter rather than food resources. This study provides some further evidence for rapid colonisation of fauna and hence an important habitat function of detached and floating macrophytes along nearshore coastlines in Southern Australia.
This is a preview of subscription content, log in to check access.
Access options
Buy single article
Instant access to the full article PDF.
US$ 39.95
Price includes VAT for USA
Subscribe to journal
Immediate online access to all issues from 2019. Subscription will auto renew annually.
US$ 199
This is the net price. Taxes to be calculated in checkout.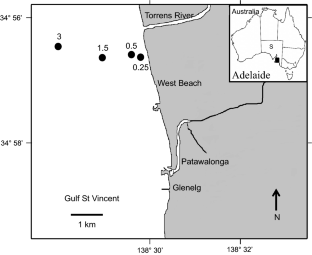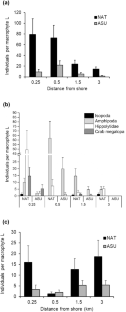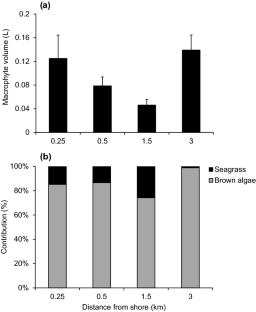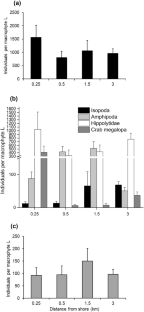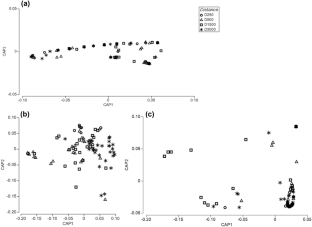 References
Anderson MJ, Willis TJ (2003) Canonical analysis of principal coordinates: a useful method of constrained ordination for ecology. Ecology 84:511–525

Anderson MJ, Gorley RN, Clarke KR (2008) PERMANOVA+ for PRIMER, guide to software and statistical methods. PRIMER-E Ltd, Plymouth

Baring R, Fairweather PG, Lester RE (2014) Storm versus calm: variation in fauna associated with drifting macrophytes in sandy beach surf-zones. J Exp Mar Biol Ecol 461:397–406

Baring RJ, Lester RE, Fairweather PG (2016) Establishing precise estimates of abundance in patchy habitats of the marine nearshore. Mar Environ Res 120:68–77

Baring RJ, Fairweather PG, Lester RE (2018) Nearshore drift dynamics of natural versus artificial seagrass wrack. Estuar Coast Shelf Sci 202:164–171

Bravo M, Astudillo JC, Lancellotti D, Luna-Jorquera G, Valdivia N, Thiel M (2011) Rafting on abiotic substrata: properties of floating items and their influence on community succession. Mar Ecol Prog Ser 439:1–17

Clarkin E, Maggs CA, Arnott G, Briggs S, Houghton JDR (2012a) The colonization of macroalgal rafts by the genus Idotea (sub-phylum Crustacea; order Isopoda): an active or passive process. J Mar Biol Assoc UK 92:1273–1282

Clarkin E, Maggs CA, Allcock AL, Johnson MP (2012b) Environment, not characteristics of individual algal rafts, affects composition of rafting invertebrate assemblages in Irish coastal waters. Mar Ecol Prog Ser 470:31–40

Dempster T, Kingsford MJ (2004) Drifting objects as habitat for pelagic juvenile fish off New South Wales, Australia. Mar Freshw Res 55:675–687

Druce BE, Kingsford MJ (1995) An experimental investigation on the fishes associated with drifting objects in coastal waters of temperate Australia. Bull Mar Sci 57:378–392

Duong SHL (2008) Investigating the ecological implications of wrack removal on South Australian Sandy Beaches. PhD thesis, Flinders University, Adelaide, SA, Australia

Gutow L, Gimenez L, Boos K, Saborowski R (2009) Rapid changes in the epifaunal community after detachment of the buoyant benthic macroalgae. J Mar Biol Assoc UK 89:323–328

Gutow L, Beermann J, Buschbaun C, Rivadeneira MM, Thiel M (2015) Castaways can't be choosers—homogenization of rafting assemblages on floating seaweeds. J Sea Res 95:161–171

Hinojosa IA, Boltaña S, Gonzalez ER, Macaya EC, Thiel M, Ugalde P, Valdivia N (2007) Early developmental stages of crustacean decapods associated with floating seaweed in fjords and channels from southern Chile. Cie Tecnol 30:75–89

Hobday AJ (2000) Persistence and transport of fauna on drifting kelp (Macrocystis pyrifera (L.) C. Agardh) rafts in the Southern California Bight. J Exp Mar Biol Ecol 253:75–96

Ingolfsson A (1995) Floating clumps of seaweed around Iceland: natural microcosms and a means of dispersal for shore fauna. Mar Biol 122:13–21

Ingolfsson A (1998) Dynamics of macrofaunal communities of floating seaweed clumps off western Iceland: a study of patches on the surface of the sea. J Exp Mar Biol Ecol 231:119–137

Kingsford MJ (1990) Linear oceanographic features: a focus for research on recruitment processes. Austral Ecol 15:391–401

Kingsford MJ (1992) Drift algae and small fish in coastal waters of northeastern New Zealand. Mar Ecol Prog Ser 80:41–55

Kingsford MJ (1993) Biotic and abiotic structure in the pelagic environment: importance to small fishes. Bull Mar Sci 53:393–415

Kingsford MJ, Choat JH (1985) The fauna associated with drift algae captured with a plankton-mesh purse seine net. Limnol Oceanogr 30:618–630

Kingsford MJ, Choat JH (1986) Influence of surface slicks on the distribution and onshore movements of small fish. Mar Biol 91:161–171

Macfarlane CBA, Drolet D, Barbeau MA, Hamilton DJ, Ollerhead J (2013) Dispersal of marine benthic invertebrates through ice rafting. Ecology 94:250–256

Miranda L, Thiel M (2008) Active and passive migration in boring isopods Limnoria spp. (Crustacea, Peracarida) from kelp holdfasts. J Sea Res 60:176–183

Norkko J, Bonsdorff E, Norkko A (2000) Drifting algal mats as an alternative habitat for benthic invertebrates: species-specific responses to a transient resource. J Exp Mar Biol Ecol 248:79–104

Olafsson E, Ingolfsson A, Steinarsdottir MB (2001) Harpacticoid copepod communities of floating seaweed: controlling factors and implications for dispersal. Hydrobiologia 453(454):189–200

Safran P, Omori M (1990) Some ecological observations on fishes associated with drifting seaweed off Tohoku coast, Japan. Mar Biol 105:395–402

Salovius S, Nyqvist M, Bonsdorff E (2005) Life in the fast lane: macrobenthos use temporary drifting algal habitats. J Sea Res 53:169–180

Thiel M (2003) Rafting of benthic macrofauna: important factors determining the temporal succession of the assemblage on detached macroalgae. Hydrobiologia 503:49–57

Thiel M, Fraser C (2016) The role of floating plants in dispersal of biota across habitats and ecosystems. In: Olafsson E (ed) Marine macrophytes as foundation species. CRC Press, Boca Raton, pp 76–94

Thiel M, Gutow L (2005) The ecology of rafting in the marine environment. II. The rafting organisms and community. Oceanogr Mar Biol Annu Rev 43:279–418

Vandendriessche S, Vincx M, Degraer S (2006) Floating seaweed in the neustonic environment: a case study from Belgian coastal waters. J Sea Res 55:103–112

Vandendriessche S, Messian M, O'Flynn S, Vinex M, Degraer S (2007) Hiding and feeding in floating seaweed: floating seaweed clumps as possible refuges or feeding grounds for fishes. Estuar Coast Shelf Sci 71:691–703

Wehrtmann IS, Dittel AI (1990) Utilisation of floating mangrove leaves as a transport mechanism of estuarine organisms, with emphasis on decapod Crustacea. Mar Ecol Prog Ser 60:67–73
Acknowledgements
This work was supported by an Australian Postgraduate Award scholarship to R. Baring. Financial assistance for this study was provided by Coast Protection Board of South Australia, Holsworth Wildlife Endowment Fund and Nature Foundation SA. We wish to thank B. Hamilton, J. Lammachia, S. Whitmarsh, and N. Zanardo for assistance in the field and laboratory. Many thanks also to S. Murray-Jones for seeing the ecological value in this project. We would also like to thank the advice of two anonymous reviewers and the Associate Editor for improving the manuscript.
Ethics declarations
Ethical standards
This study followed the guidelines of Flinders University Animal Ethics Approval E336 and PIRSA Ministerial Exemption for scientific research (Permit no: 9902454/9902462).
Conflict of interest
The authors declare that they have no conflict of interest.
Additional information
Publisher's Note
Springer Nature remains neutral with regard to jurisdictional claims in published maps and institutional affiliations.
Reviewed by Undisclosed experts.
Responsible Editor: M. Thiel.
Electronic supplementary material
Below is the link to the electronic supplementary material.
About this article
Cite this article
Baring, R.J., Lester, R.E. & Fairweather, P.G. Short-term accumulation of fauna colonising natural versus artificial seagrass floating near to shore. Mar Biol 166, 57 (2019). https://doi.org/10.1007/s00227-019-3505-5
Received:

Accepted:

Published: