Abstract
The present study details the effects of basin-scale hydrographic characteristics of the Red Sea on the macroecology of Chaetognatha, a major plankton component in the pelagic realm. The hydrographic attributes and circulation of the Red Sea as a result of its limited connection with the northern Indian Ocean make it a unique ecohydrographic region in the world ocean. Here, we aimed to identify the prime determinants governing the community structure and vertical distribution of the Cheatognatha in this ecologically significant world ocean basin. The intrusion of Gulf of Aden Water influenced the Chaetognatha community composition in the south, whereas the overturning circulation altered their vertical distribution in the north. The existence of hypoxic waters (< 100 µmol kg−1) at mid-depth also influenced their vertical distribution. The detailed evaluation of the responses of the different life stages of Chaetognatha revealed an increased susceptibility of adult individuals to hypoxic waters compared to immature stages. Higher oxygen demands of the adults for the egg and sperm production might have prevented them from inhabiting the oxygen-deficient mid-depth zones. The carbon and nitrogen content of the Copepoda and Chaetognatha communities and the quantification of the predation impact of Chaetognatha on Copepoda based on the feeding rate helped in corroborating the significant trophic link between these two prey–predator taxa. The observed influences of physical and chemical attributes on the distribution of Chaetognatha can be used as a model example for the role of the hydrography on the zooplankton community of the Red Sea.
Access options
Buy single article
Instant access to the full article PDF.
USD 39.95
Price excludes VAT (USA)
Tax calculation will be finalised during checkout.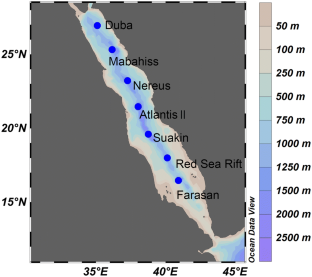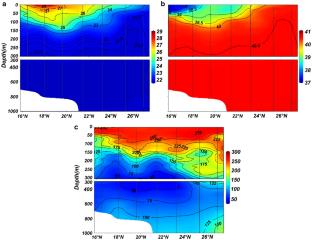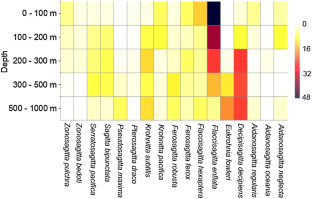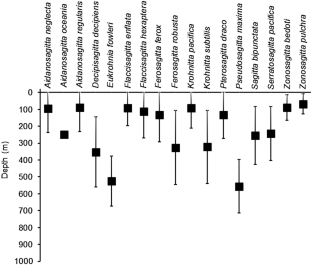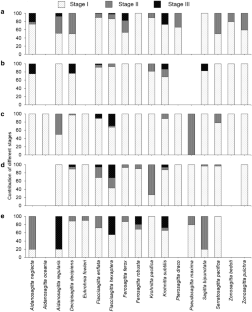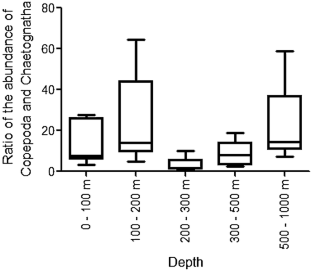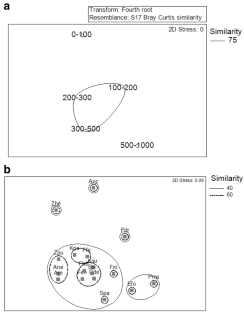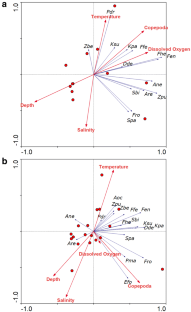 References
Abdulla CP, Alsaafani MA, Alraddadi TM, Albarakati AM (2018) Mixed layer depth variability in the Red Sea. Ocean Sci 14:563–573

Al-Aidaroos AM, Salama AJ, El-Sherbiny MM (2016) New record and redescription of Calanopia thompsoni A. Scott, 1909 (Copepoda, Calanoida, Pontellidae) from the Red Sea, with notes on the taxonomic status of C. parathompsoni Gaudy, 1969 and a key to species. ZooKeys 552:17–32. https://doi.org/10.3897/zookeys.552.6180

Al-Aidaroos AM, Karati KK, El-Sherbiny MM, Devassy RP, Kürten B (2017) Latitudinal environmental gradients and diel variability influence abundance and community structure of Chaetognatha in Red Sea coral reefs. Syst Biodivers 15:35–48

Alvariño A (1964) Bathymetric distribution of chaetognaths. Pac Sci 18:64–82

Anderson MJ, Crist TO, Chase JM, Vellend M, Inouye BD, Freestone AL, Sanders NJ, Cornell HV, Comita LS, Davies KF, Harrison SP (2011) Navigating the multiple meanings of β diversity: a roadmap for the practicing ecologist. Ecol Lett 14:19–28

Bohata K, Koppelmann R (2013) Chaetognatha of the Namibian upwelling region: taxonomy, distribution and trophic position. PLoS One 8:e53839

Buchanan PJ, Beckley LE (2016) Chaetognatha of the Leeuwin Current system: oceanographic conditions drive epi-pelagic zoogeography in the south-east Indian Ocean. Hydrobiologia 763:81–96

Capitanio FL, Esnal GB (1998) Vertical distribution of maturity stages of Oikopleura dioica (Tunicata, Appendicularia) in the frontal system off Valdés Peninsula, Argentina. B Mar Sci 63:531–539

Casanova JP (1985) Les Chaetognathes de la Mer Rouge. Rapp. P.-v. Reun Commn Int Explor Scient Mer Mediterr 29:269274

Casanova JP (1986) Similarity of plankton distribution patterns in two nearly land-locked seas: the Mediterranean and the Red Sea. UNESCO Technical paper Mar Sci 49:42–46

Churchill JH, Bower AS, McCorkle DC, Abualnaja Y (2014) The transport of nutrient-rich Indian Ocean water through the Red Sea and into coastal reef systems. J Mar Res 72:165–181

Clarke KR, Gorley RN (2006) PRIMER v6: user manual/tutorial. PRIMER-E Ltd, Plymouth

Devassy RP, El-Sherbiny MM, Al-Sofyani AM, Al-Aidaroos AM (2017) Spatial variation in the phytoplankton standing stock and diversity in relation to the prevailing environmental conditions along the Saudi Arabian coast of the northern Red Sea. Mar Biodivers 47:995–1008

Ducret F (1973) Contribution à l'étude des chaetognathes de la Mer Rouge. Beaufortia 20:135–153

Dupont N, Aksnes DL (2011) Effects of bottom depth and water clarity on the vertical distribution of Calanus spp. J Plank Res 34:263–266

Echelman T, Fishelson L (1990) Surface zooplankton dynamics and community structure in the Gulf of Aqaba (Eilat), Red Sea. Mar Biol 107:179–190

Edwards FJ (1987) Climate and oceanography. In: Edwards AJ, Head SM (eds) Key environments - Red Sea. Pergamon Press, Oxford, pp 45–69

El-Sherbiny MM, Al-Aidaroos AM (2017) A new species of Calanopia (Copepoda, Calanoida, Pontellidae) from the plankton of the central Red Sea. Mar Biodivers 47:1137–1145

El-Sherbiny MM, Hanafy MH, Aamer MA (2007) Monthly variations in abundance and species composition of the epipelagic zooplankton off Sharm El-Sheikh, Northern Red Sea. Res J Environ Sci 1:200–210

Fenton M, Geiselhart S, Rohling EJ, Hemleben C (2000) Aplanktonic zones in the Red Sea. Mar Micropaleontol 40:277–294

Furnestin ML, Codaccioni JC (1968) Chaetognathes du Nord-Ouest de l'Océan Indien (golfe d'Aden, Mer d'Arabie, golfe d'Oman, golfe Persique). Cah ORSTOM Sér Océanogr 6:143–171

Giesecke R, González HE (2004) Feeding of Sagitta enflata and vertical distribution of Chaetognatha in relation to low oxygen concentrations. J Plankton Res 26:475–486

Giesecke R, González HE (2012) Distribution and feeding of chaetognaths in the epipelagic zone of the Lazarev Sea (Antarctica) during austral summer. Polar Biol 35:689–703

Gotsis-Skretas O, Pagou K, Moraitou-Apostolopoulou M, Ignatiades L (1999) Seasonal horizontal and vertical variability in primary production and standing stocks of phytoplankton and zooplankton in the Cretan Sea and the Straits of the Cretan Arc (March 1994–January 1995). Prog Oceanogr 44:625–649

Grasshoff K (1969) Zur Chemie des Roten Meeres und des Inneren Golfs von Aden nach Beobachtungen von FS "Meteor" während der Indischen Ozean Expedition 1964/65 Meteor Forschungsergebnisse, Deutsche Forschungsgemeinschaft, Reihe A Allgemeines. Physik und Chemie des Meeres. Gebrüder Bornträger, Berlin, pp 1–76

Haghi M, Savari A, Madiseh SD, Zakeri M (2010) Abundance of pelagic chaetognaths in northwestern Persian Gulf. Plankton Benthos Res 5:44–48

Halim Y (1984) Plankton of the Red Sea and the Arabian Gulf. Deep Sea Res I 31:969–982

Harris R, Wiebe P, Lenz J, Skjoldal HR, Huntley ME (eds) (2000) ICES zooplankton methodology manual. Academic Press, London

Kehayias G (2003) Quantitative aspects of feeding of chaetognaths in the eastern Mediterranean pelagic waters. J Mar Biol Ass UK 83:559–569

Kimmerer WJ (1984) Selective predation and its impact on prey of Sagitta enflata (Chaetognatha). Mar Ecol Prog Ser 15:55–62

Kürten B, Khomayis HS, Devassy R, Audritz S, Sommer U, Struck U, El-Sherbiny MM, Al-Aidaroos AM (2014) Ecohydrographic constraints on biodiversity and distribution of phytoplankton and zooplankton in coral reefs of the Red Sea, Saudi Arabia. Mar Ecol 36:1195–1214

Kürten B, Khomayis HS, Devassy R, Audritz S, Sommer U, Struck U, El-Sherbiny MM, Al-Aidaroos AM (2015) Ecohydrographic constraints on biodiversity and distribution of phytoplankton and zooplankton in coral reefs of the Red Sea, Saudi Arabia. Mar Ecol 36:1195–1214

Kürten B, Al-Aidaroos AM, Kürten S, El-Sherbiny MM, Devassy RP, Struck U, Zarokanellos N, Jones BH, Hansen T, Bruss G, Sommer U (2016) Carbon and nitrogen stable isotope ratios of pelagic zooplankton elucidate ecohydrographic features in the oligotrophic Red Sea. Prog Oceanogr 140:69–90

Kusum KK, Vineetha G, Raveendran TV, Muraleedharan KR, Nair M, Achuthankutty CT (2011) Impact of oxygen-depleted water on the vertical distribution of Chaetognatha in the northeastern Arabian Sea. Deep Sea Res Part I 58:1163–1174

Kusum KK, Vineetha G, Raveendran TV, Muraleedharan KR, Biju A, Achuthankutty CT (2014) Influence of upwelling on distribution of Chaetognatha (zooplankton) in the oxygen deficient zone of the eastern Arabian Sea. Cont Shelf Res 78:16–28

Lima ME (2014) Characterization of zooplankton communities associated with an anticyclonic Eddy in the northeast of the islands of Cabo Verde. Doctoral Dissertation, Universidade de Cabo Verde

Maillard C, Soliman G (1986) Hydrography of the Red-Sea and exchanges with the Indian-Ocean in summer. Oceanol Acta 9:249–269

McLaren IA (1969) Population and production ecology of zooplankton in Ogac Lake, a landlocked fiord on Baffin Island. J Fish Res Board Canada 26:1485–1559

Miller AR (1964) Highest salinity in the world ocean. Nature 203:590–591

Nagai N, Tadokoro K, Kuroda K, Sugimoto T (2006) Occurrence characteristics of Chaetognatha species along the PM transect in the Japan Sea during 1972–2002. J Oceanogr 62:597–606

Nair VR (1978) Bathymetric distribution of Chaetognatha in the Indian Ocean. Indian J Mar Sci 7:276–282

Nair VR (2003) Digitized inventory of marine bioresources. Chaetognatha. National institute of oceanography. http://www.nio.org/index/option/com_nomenu/task/show/tid/2/sid/18/id/6. Accessed 31 Jan 2018

Nair VR, Kusum KK, Gireesh R, Nair M (2015) The distribution of the Chaetognatha population and its interaction with environmental characteristics in the Bay of Bengal and the Arabian Sea. Mar Biol Res 11:269–282

Øresland V (2000) Diel feeding of the chaetognath Sagitta enflata in the Zanzibar Channel, western Indian Ocean. Mar Ecol Prog Ser 193:117–123

Pierrot-Bults AC, Nair VR (1991) Distribution patterns in Chaetognatha. In: Bone Q, Kapp H, Pierrot-Bults AC (eds) The biology of Chaetognatha. Oxford University, Oxford, pp 86–116

Reeve MR (1980) Comparative experimental studies on the feeding of chaetognaths and ctenophores. J Plank Res 2:381–393

Saltzman J, Wishner KF (1997) Zooplankton ecology in the eastern tropical Pacific oxygen minimum zone above a sea- mount: 1. General trends. Deep-Sea Res I 44:907–930

Siccha M, Trommer G, Schulz H, Christoph H, Kucera M (2009) Factors controlling the distribution of planktonic foraminifera in the Red Sea and implications for the development of transfer functions. Mar Micropaleontol 72:146–156

Sofianos SS, Johns WE (2003) An oceanic general circulation model (OGCM) investigation of the Red Sea circulation: 2. Three dimensional circulation in the Red Sea. J Geophys Res Oceans 108(C3):3066. https://doi.org/10.1029/2001JC001185

Sofianos SS, Johns WE (2007) Observations of the summer Red Sea circulation. J Geophys Res 112(C6):C06025. https://doi.org/10.1029/2006jc003886

Terazaki M (2004) Life history strategy of the chaetognath Sagitta elegans in the World Oceans. Coast Mar Sci 29:1–12

Terazaki M (2013) Feeding of Carnivorous Zooplankton, Chaetognatha. Dyn Charact Ma Org Matter 2:257

Thiriot A (1978) Zooplankton communities in the West African upwelling area. In: Boje R, Tomczak M (eds) Upwelling ecosystems. Springer-Verlag, Berlin, pp 32–61

Vanden Wollenberg AL (1977) Redundancy analysis. An alternative for canonical correlation analysis. Psychometrika 42:207–219

Warwick RM, Clarke KR (1993) Taxonomic distinctness and environmental assessment. J Appl Ecol 35:532–543

Wiebe PH, Allison D, Kennedy M, Moncoiffé G (2014) A vocabulary for the configuration of net tows for collecting plankton and micronekton. J Plank Res 37:21–27

Wishner KF, Ashjian CJ, Gelfman C, Gowing MM, Kann L, Levin LA, Mullineaux LS, Saltzman J (1995) Pelagic and benthic ecology of the Eastern Tropical Pacific oxygen minimum zone. Deep-Sea Res I 42:93–115

Wishner KF, Gowing MM, Gelfman C (2000) Living in suboxia: ecology of an Arabian Sea oxygen minimum zone copepod. Limnol Oceanogr 45:1576–1593

Zarokanellos ND, Jones BH (2018) Winter mixing, mesoscale eddies and eastern boundary current: engines for biogeochemical variability of the central Red Sea during winter/early spring period. Biogeosci Discuss 2018: 1–44 https://doi.org/10.5194/bg-2017-544

Yoon H, Ko AR, Kang JH, Choi JK, Ju SJ (2016) Diet of chaetognatha Sagitta crassa and S. nagae in the yellow sea inferred from Gut content and fatty acid analyses. Ocean Polar Res 38:5–46

Zhai P, Bower A (2013) The response of the Red Sea to a strong wind jet near the Tokar Gap in summer. J Geophys Res Oceans 118:422–434

Zo Z (1973) Breeding and growth of the Chaetognatha Sagitta elegans in Bedford basin. Limnol Oceanogr 18:750–756
Acknowledgements
This project was funded by the Deanship of Scientific Research (DSR) at King Abdulaziz University, Jeddah, under grant no. RG-1-150-35. The authors, therefore, acknowledge with thanks DSR technical and financial support. We further extend our gratitude towards the Helmholtz-Center for Ocean Research GEOMAR for the successful collaboration (Jeddah Transect Project) with the King Abdulaziz University. The authors also thank the Master and crew of RV Pelagia (cruise 64PE351) for their help in the field. During the writing phase of this manuscript, BK was supported through baseline funds of BHJ (KAUST).
Ethics declarations
Conflict of interest
The authors declare that they have no conflict of interest.
Ethical approval
All applicable international, national and/or institutional guidelines for the care and use of animals were followed.
Additional information
Responsible Editor: X. Irigoien.
Publisher's Note
Springer Nature remains neutral with regard to jurisdictional claims in published maps and institutional affiliations.
Reviewed by J. Grigor and A.C. Pierrot-Bults.
Electronic supplementary material
Below is the link to the electronic supplementary material.
About this article
Cite this article
Karati, K.K., Al-Aidaroos, A.M., Devassy, R.P. et al. Ecohydrographic control on the community structure and vertical distribution of pelagic Chaetognatha in the Red Sea. Mar Biol 166, 30 (2019). https://doi.org/10.1007/s00227-019-3472-x
Received:

Accepted:

Published:

DOI: https://doi.org/10.1007/s00227-019-3472-x