Abstract
Coastal lobsters support important fisheries all over the world, but there is evidence that climate-induced changes may jeopardize some stocks. Here we present the first global forecasts of changes in coastal lobster species distribution under climate change, using an ensemble of ecological niche models (ENMs). Global changes in richness were projected for 125 coastal lobster species for the end of the century, using a stabilization scenario (4.5 RCP). We compared projected changes in diversity with lobster fisheries data and found that losses in suitable habitat for coastal lobster species were mainly projected in areas with high commercial fishing interest, with species projected to contract their climatic envelope between 40 and 100%. Higher losses of spiny lobsters are projected in the coasts of wider Caribbean/Brazil, eastern Africa and Indo-Pacific region, areas with several directed fisheries and aquacultures, while clawed lobsters are projected to shifts their envelope to northern latitudes likely affecting the North European, North American and Canadian fisheries. Fisheries represent an important resource for local and global economies and understanding how they might be affected by climate change scenarios is paramount when developing specific or regional management strategies.
This is a preview of subscription content,
to check access.
Access this article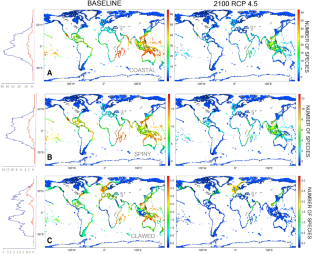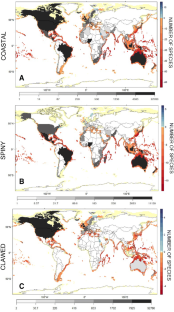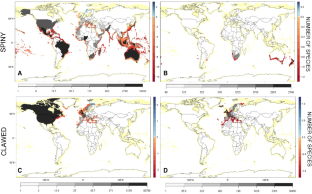 References
Albouy C, Guilhaumon F, Leprieur F, Lasram FBR, Somot S, Aznar R, Velez L, Loch F, Mouillot D (2012) Projected climate change and the changing biogeography of coastal Mediterranean fishes. J Biogeogr 40:534–547. https://doi.org/10.1111/jbi.12013

Allouche O, Tsoar A, Kadmon R (2006) Assessing the accuracy of species distribution models: prevalence, kappa and the true skill statistic (TSS). J Appl Ecol 43:1223–1232. https://doi.org/10.1111/j.1365-2664.2006.01214.x

Araújo MB, New M (2007) Ensemble forecasting of species distributions. Trends Ecol Evol 22:42–47. https://doi.org/10.1016/j.tree.2006.09.010

Araújo MB, Thuiller W, Yoccoz NG (2009) Reopening the climate envelope reveals macroscale associations with climate in European birds. PNAS 106:45–46. https://doi.org/10.1073/pnas.0813294106

Caputi N, Melville-Smith R, de Lestang S, Pearce A, Feng M (2010) The effect of climate change on the western rock lobster (Panulirus cygnus) fishery of Western Australia. Can J Fish Aquat Sci 67:85–96. https://doi.org/10.1139/F09-167

Caputi N, Lestang S, Frusher S, Wahle RA (2013) The impact of climate change on exploited lobster stocks. In: Phillips BF (ed) Lobsters: biology, management, aquaculture and fisheries. Wiley-Blackwell, Oxford, pp 84–112

Cheung WWL, Lam VWY, Sarmiento JL, Kearney K, Watson R, Pauly D (2009) Projecting global marine biodiversity impacts under climate change scenarios. Fish Fish 10:235–251. https://doi.org/10.1111/j.1467-2979.2008.00315.x

Cockcroft AC, van Zyl D, Hutchings L (2008) Large-scale changes in the spatial distribution of South African West Coast rock lobsters: an overview. Afr J Mar Sci 30:149–159. https://doi.org/10.2989/AJMS.2008.30.1.15.465

Diniz-Filho JAF, Bini LM, Rangel TF, Loyola RD, Hof C, Nogués-Bravo D, Araújo MB (2009) Partitioning and mapping uncertainties in ensembles of forecasts of species turnover under climate change. Ecography 32:897–906. https://doi.org/10.1111/j.1600-0587.2009.06196.x

Dulvy NK, Rogers SI, Jennings S, Stelzenmueller V, Dye SR, Skjoldal HR (2008) Climate change and deepening of the North Sea fish assemblage: a biotic indicator of warming seas. J Appl Ecol 45:1029–1039. https://doi.org/10.1111/j.1365-2664.2008.01488.x

ESRI (2006) ArcGIS. Environmental Systems Research Institute (ESRI), Redlands

FAO (2016) Capture production 1950–2016. FishStat—Universal software for fishery statistical time series. http://www.fao.org/fishery/statistics/software/fishstatj/en. Accessed 6 Jun 2018

Harley CDG, Hughes AR, Hultgren KM, Miner BG, Sorte CJB, Thornber CS, Rodriguez LF, Tomanek L, Williams SL (2006) The impacts of climate change in coastal marine systems. Ecol Lett 9:228–241. https://doi.org/10.1111/j.1461-0248.2005.00871.x

Hoffmann AA, Sgrò CM (2011) Climate change and evolutionary adaptation. Nature 470:479–485. https://doi.org/10.1038/nature09670

IUCN (2013) The IUCN red list of threatened species. version 2013–11. http://www.iucnredlist.org.Accessed 12 Nov 2013

Jones CM (2010) Tropical rock lobster aquaculture development in Vietnam, Indonesia and Australia. J Mar Biol Assoc India 52:304–315

Jones MC, Cheung WWL (2015) Multi-model ensemble projections of climate change effects on global marine biodiversity. ICES J Mar Sci 72:741–752. https://doi.org/10.1093/icesjms/fsu172

Landis JR, Koch GG (1977) The measurement of observer agreement for categorical data. Biometrics 33:159–174. https://doi.org/10.2307/2529310

Le Bris A, Mills KE, Wahle RA, Chen Y, Alexander MA, Allyn AJ, Schuetz JG, Scott JD, Pershing AJ (2018) Climate vulnerability and resilience in fisheries. PNAS. https://doi.org/10.1073/pnas.1711122115

Li B, Cao J, Guan L, Mazur M, Chen Y, Wahle R (2018) Estimating spatial non-stationary environmental effects on the distribution of species: a case study from American lobster in the Gulf of Maine. ICES J Mar Sci 75:1473–1482. https://doi.org/10.1093/icesjms/fsy024

Marmion M, Parviainen M, Luoto M, Heikkinen RK, Thuiller W (2009) Evaluation of consensus methods in predictive species distribution modelling. Divers Distrib 15:59–69. https://doi.org/10.1111/j.1472-4642

Mora C, Wei CL, Rollo A, Amaro T, Baco A, Billet D, Bopp L, Chen Q, Collier M, Danovaro R, Gooday AJ, Grupe BM, Halloran PR, Ingels J, Jones DOB, Levin LA, Nakano H, Norling K, Ramirez-Llodra E, Rex M, Ruhl HÁ, Smith CR, Sweetman AK, Thurber AR, Tjiputra JF, Usseglio P, Watling L, Wu T, Yasuhara M (2013) Biotic and human vulnerability to projected changes in ocean biogeochemistry over the 21st century. PLoS Biol 11:e1001682. https://doi.org/10.1371/journal.pbio.1001682

Pecl G, Frusher S, Gardner C, Haward M, Hobday A, Jennings S, Nursey-Bray M (2009) The east coast Tasmanian rock lobster fishery—vulnerability to climate change impacts and adaptation response options. Report to the Department of Climate Change, Australia

Peterson AT, Soberón J, Pearson RG, Anderson RP, Martínez-Meyer E, Nakamura M, Araújo MB (2011) Ecological niches and geographic distributions. Princeton University Press, Princeton

Phillips BF (2013) Lobsters: biology, management, aquaculture and fisheries. Wiley-Blackwell, Oxford

Pinsky ML, Worm B, Fogarty MJ, Sarmiento JL, Levin SA (2013) Marine taxa track local climate velocities. Science 341:1239–1242. https://doi.org/10.1126/science.1239352

R Development Core Team (2010) R: a language and environment for statistical computing. R Foundation for Statistical Computing, Vienna

Rheuban JE, Kavanaugh MT, Doney SC (2017) Implications of future northwest Atlantic bottom temperatures on the American Lobster (Homarus americanus) fishery. J Geophys Res Oceans 122:9387–9398. https://doi.org/10.1002/2017JC012949

Saba VS, Griffies SM, Anderson WG, Winton M, Alexander MA, Delworth TL, Hare JA, Harrison MJ, Rosati A, Vecchi GA, Zhang R (2016) Enhanced warming of the Northwest Atlantic Ocean under climate change. J Geophys Res Oceans 121:118–132. https://doi.org/10.1002/2015JC011346

Steneck RS, Wahle RA (2013) American lobster dynamics in a brave new ocean. Can J Fish Aquat Sci 70:1612–1624. https://doi.org/10.1139/cjfas-2013-0094

Stock CA, Alexander MA, Bond NA, Brander KM, Cheung WWL, Curchitser EN, Delworth TL, Dunne JP, Griffies SM, Haltuch MA, Hare JA, Holowed AB, Lehodey P, Levin SA, Link JA, Rose KA, Rykaczewski RR, Sarmiento JL, Stouffer RJ, Schwing FB, Vecchi GA, Werner FE (2011) On the use of IPCC-class models to assess the impact of climate on living marine resources. Prog Oceanogr 88:1–27. https://doi.org/10.1016/j.pocean.2010.09.001

Taylor JRA, Gilleard JM, Allem MC, Deheyn DD (2015) Effects of CO2-induced pH reduction on the exoskeleton structure and biophotonic properties of the shrimp Lysmata californica. Sci Rep 5:10608. https://doi.org/10.1038/srep10608

Tebaldi C, Knutti R (2007) The use of the multi-model ensemble in probabilistic climate projections. Philos Trans R Soc A 365:2053–2075. https://doi.org/10.1098/rsta.2007.2076

Thuiller W, Lafourcade B, Engler R, Araújo MB (2009) BIOMOD—a platform for ensemble forecasting of species distributions. Ecography 32:369–373. https://doi.org/10.1111/j.1600-0587.2008.05742.x

United Nations (2016) Paris agreement. United Nations, Paris, pp 1–27

Vuuren DP, Edmonds J, Kainuma M, Riahi K, Thomson A, Hibbard K, Hurtt G, Kram T, Krey V, Lamarque J, Masui T, Meinshausen M, Nakicenovic N, Smith S, Rose S (2011) The representative concentration pathways: an overview. Clim Change 109:5–31. https://doi.org/10.1007/s10584-011-0148-z

Wahle RA, Dellinger L, Olszewski S, Jekielek P (2015) American lobster nurseries of southern New England receding in the face of climate change. ICES J Mar Sci 72:69–78. https://doi.org/10.1093/icesjms/fsv093

Wisz MS, Hijmans RJ, Li J, Peterson AT, Graham CH, Guisan A, Group NPSDW (2008) Effects of sample size on the performance of species distribution models. Divers Distrib 14:763–773. https://doi.org/10.1111/j.1472-4642.2008.00482.x

WWF (2015) Living blue planet report. Species, habitats and human well-being. Gland, Switzerland
Acknowledgements
The authors would like to thank the IUCN Red List and its partners, namely Prof. Kent Carpenter, Dr. Ben Collen and Dr. Monika Bohm for collecting and sharing the data on lobster's distribution. We acknowledge the World Climate Research Programme's Working Group on Coupled Modelling, which is responsible for CMIP, and we thank the climate modelling groups (listed in Table S02) and also Dr. Richard Wahle and other anonymous referees for useful comments. The Portuguese Foundation for Science and Technology (FCT) supported this study through a PhD grant (SFRH/BD/51514/2011) to JBP and a Senior Research Position (FCT Development Grant 2013) to RR. MBA acknowledges the Integrated Program of IC&DT Call no. 1/SAESCTN/ALENT-07-0224-FEDER-001755 for support of his research.
Ethics declarations
Conflict of interest
All authors declare they have no conflict of interest.
Ethical approval
This article does not contain any studies with animals performed by any of the authors.
Additional information
Responsible Editor: F. Bulleri.
Reviewed by Undisclosed experts.
Electronic supplementary material
Below is the link to the electronic supplementary material.
About this article
Cite this article
Boavida-Portugal, J., Rosa, R., Calado, R. et al. Climate change impacts on the distribution of coastal lobsters. Mar Biol 165, 186 (2018). https://doi.org/10.1007/s00227-018-3441-9
Received:

Accepted:

Published:

DOI: https://doi.org/10.1007/s00227-018-3441-9