Abstract
Increasing seawater temperatures (SWT) resulting from climate change have greatly reduced coral cover world-wide; however, disease has also greatly reduced coral cover in many regions and is especially apparent for offshore bank reefs of the Florida Reef Tract (FRT). The deleterious capacity of future stressors is often dependent upon previous stress. Chronic microbial-related stress has received less attention despite documented links between chronic activation of the innate immune system and the diminished capacity to respond to simultaneously acting stressors. Therefore, differential response of corals to bacterial stress may contribute to decreased coral cover indirectly. To identify differences in bacterial stress response between coral populations, Porites astreoides colonies (n = 6) were collected from an adjacent inshore patch reef and offshore bank-reef of the FRT. Coral were affixed to a concrete substrate at the collection site, and remained there for 2 years to diminish reef environment interspecific effects. Coral were collected after 2 years and subjected to one of three conditions for 8 h: a control condition (28 °C), a thermal stress treatment (32 °C), and thermal and bacterial stress treatment (5 µg mL−1 Serratia marcescens lipopolysaccharide). Offshore reef colonies displayed two- to fourfold increase in innate immune system-related gene expression following temperature stress and LPS, but not with temperature stress alone. Inshore P. astreoides maintained lower levels of expression independent of treatment. These results provide evidence for site-specific sensitivity to bacterial stress and indicate that bacterial stress may indirectly contribute to decreased resistance to climate-related stressors such as SWT.
Access options
Buy single article
Instant access to the full article PDF.
USD 39.95
Price includes VAT (USA)
Tax calculation will be finalised during checkout.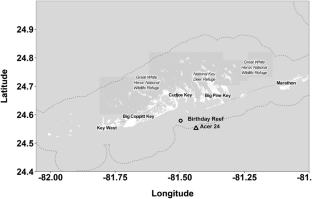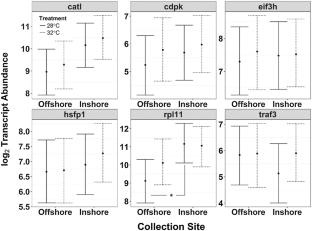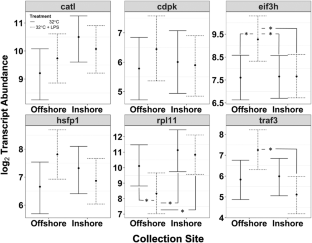 References
Anderson DA, Walz ME, Weil E, Smith MC (2016) RNA-Seq of the Caribbean reef-building coral Orbicella faveolata (Scleractinia-Merulinidae) under bleaching and disease stress expands models of coral innate immunity. PeerJ. https://doi.org/10.7717/peerj.1616

Arts RJW, Joosten LAB, Netea MG (2016) Immunometabolic circuits in trained immunity. Semin Immunol 28:425–430

Bagchi A, Herrup EA, Warren HS, Trigilio J, Shin H-S, Valentine C, Hellman J (2007) MyD88-dependent and MyD88-independent pathways in synergy, priming, and tolerance between TLR agonists. J Immunol 178:1164–1171. https://doi.org/10.4049/jimmunol.178.2.1164

Bally M, Garrabou J (2007) Thermodependent bacterial pathogens and mass mortalities in temperate benthic communities: a new case of emerging disease linked to climate change. Glob Chang Biol 13:2078–2088. https://doi.org/10.1111/j.1365-2486.2007.01423.x

Barott KL, Rohwer FL (2012) Unseen players shape benthic competition on coral reefs. Trends Microbiol 20:621–628

Barshis DJ, Ladner JT, Oliver TA, Seneca FO, Traylor-Knowles N, Palumbi SR (2013) Genomic basis for coral resilience to climate change. Proc Natl Acad Sci USA 110:1387–1392. https://doi.org/10.1073/pnas.1210224110

Bellantuono AJ, Granados-Cifuentes C, Miller DJ, Hoegh-Guldberg O, Rodriguez-Lanetty M (2012) Coral thermal tolerance: tuning gene expression to resist thermal stress. PLoS One 7:1–14. https://doi.org/10.1371/journal.pone.0050685

Burge CA, Mark Eakin C, Friedman CS, Froelich B, Hershberger PK, Hofmann EE, Petes LE, Prager KC, Weil E, Willis BL, Ford SE, Harvell CD (2014) Climate change influences on marine infectious diseases: implications for management and society. Ann Rev Mar Sci 6:249–277. https://doi.org/10.1146/annurev-marine-010213-135029

Cervino JM, Hayes RL, Polson SW, Polson SC, Goreau TJ, Martinez RJ, Smith GW (2004) Relationship of vibrio species infection and elevated temperatures to yellow blotch/band disease in Caribbean Corals. Appl Environ Microbiol 70:6855–6864. https://doi.org/10.1128/AEM.70.11.6855-6864.2004

Cervino JM, Thompson FL, Gomez-Gil B, Lorence EA, Goreau TJ, Hayes RL, Winiarski-Cervino KB, Smith GW, Hughen K, Bartels E (2008) The Vibrio core group induces yellow band disease in Caribbean and Indo-Pacific reef-building corals. J Appl Microbiol 105:1658–1671. https://doi.org/10.1111/j.1365-2672.2008.03871.x

Closek CJ, Sunagawa S, Desalvo MK, Piceno YM, Desantis TZ, Brodie EL, Weber MX, Voolstra CR (2014) Coral transcriptome and bacterial community profiles reveal distinct Yellow Band Disease states in Orbicella faveolata. ISME J 8:2411–2422. https://doi.org/10.1038/ismej.2014.85

Derveaux S, Vandesompele J, Hellemans J (2010) How to do successful gene expression analysis using real-time PCR. Methods 50:227–230. https://doi.org/10.1016/j.ymeth.2009.11.001

DeSalvo MK, Voolstra CR, Sunagawa S, Schwarz JA, Stillman JH, Coffroth MA, Szmant AM, Medina M (2008) Differential gene expression during thermal stress and bleaching in the Caribbean coral Montastraea faveolata. Mol Ecol 17:3952–3971. https://doi.org/10.1111/j.1365-294X.2008.03879.x

Desalvo MK, Sunagawa S, Voolstra CR, Medina M (2010) Transcriptomic responses to heat stress and bleaching in the elkhorn coral Acropora palmata. Mar Ecol Prog Ser 402:97–113. https://doi.org/10.3354/meps08372

Fleige S, Pfaffl MW (2006) RNA integrity and the effect on real-time qRT-PCR performance. Mol Aspects Med 27:126–139

Garzón-Ferreira J, Gil-Agudelo DL, Barrios LM, Zea S (2001) Stony coral diseases observed in southwestern Caribbean reefs. Hydrobiologia 460:65–69. https://doi.org/10.1023/A:1013133818360

Gates RD, Baghdasarian G, Muscatine L (1992) Temperature stress causes host cell detachment in symbiotic cnidarians: implications for coral bleaching. Biol Bull 182:324–332

Gladfelter WB (1982) White-band disease in Acropora palmata: implications for the structure and growth of shallow reefs. Bull Mar Sci 32:639–643

Gleason MW, Strong AE (1995) Applying mcsst to coral-reef bleaching. Adv Sp Res 16:151–154

Goreau TJ, Hayes RL (1994) Coral bleaching and ocean "Hot Spots". Ambio 23:176–180. https://doi.org/10.2307/4314195

Haapkyla J (2015) The association between coral communities and disease assemblages in the Wakatobi Marine National Park, south-eastern Sulawesi, Indonesia. Mar Freshw Res 66:948–955

Häcker H, Tseng P-H, Karin M (2011) Expanding TRAF function: tRAF3 as a tri-faced immune regulator. Nat Rev Immunol 11:457–468. https://doi.org/10.1038/nri2998

Hamada M, Shoguchi E, Shinzato C, Kawashima T, Miller DJ (2013) The complex NOD-like receptor repertoire of the coral Acropora digitifera includes novel domain combinations. Mol Biol Evol 30:167–176. https://doi.org/10.1093/molbev/mss213

Harvell CD, Kim K, Burkholder JM, Colwell RR, Epstein PR, Grimes DJ, Hofmann EE, Lipp EK, Osterhaus AD, Overstreet RM, Porter JW, Smith GW, Vasta GR (1999) Emerging marine diseases-climate links and anthropogenic factors. Science 285(80–):1505–1510. doi: 10.1126/science.285.5433.1505

Haslun JA, Strychar KB, Buck G, Sammarco PW (2011) Coral bleaching susceptibility is decreased following short-term (1–3 Year) prior temperature exposure and evolutionary history. J Mar Biol 2011:1–13. https://doi.org/10.1155/2011/406812

Haslun J, Hauff B, Strychar K, Cervino J (2016) Decoupled seasonal stress as an indication of chronic stress in Montastraea cavernosa and Porites astreoides inhabiting the Florida reef tract. Int J Mar Sci 6:1–20. https://doi.org/10.5376/ijms.2016.06.0021

Hauff B, Haslun JA, Strychar KB, Ostrom PH, Cervino JM (2016) Symbiont diversity of Zooxanthellae (Symbiodinium spp.) in Porites astreoides and Montastraea cavernosa from a reciprocal transplant in the Lower Florida Keys. Int. J Biol 8:9. https://doi.org/10.5539/ijb.v8n2p9

Hayes RL, Goreau NI (1998) The significance of emerging diseases in the tropical coral reef ecosystem. Rev Biol Trop 46:173–185

Hewson I, Button JB, Gudenkauf BM, Miner B, Newton AL, Gaydos JK, Wynne J, Groves CL, Hendler G, Murray M, Fradkin S, Breitbart M, Fahsbender E, Lafferty KD, Kilpatrick AM, Miner CM, Raimondi P, Lahner L, Friedman CS, Daniels S, Haulena M, Marliave J, Burge CA, Eisenlord ME, Harvell CD (2014) Densovirus associated with sea-star wasting disease and mass mortality. Proc Natl Acad Sci. https://doi.org/10.1073/pnas.1416625111

Kenkel CD, Aglyamova G, Alamaru A, Bhagooli R, Capper R, Cunning R, deVillers A, Haslun JA, Hédouin L, Keshavmurthy S, Kuehl KA, Mahmoud H, McGinty ES, Montoya-Maya PH, Palmer CV, Pantile R, Sánchez JA, Schils T, Silverstein RN, Squiers LB, Tang P-C, Goulet TL, Matz MV (2011) Development of gene expression markers of acute heat-light stress in reef-building corals of the genus Porites. PLoS One 6:e26914. https://doi.org/10.1371/journal.pone.0026914

Kenkel CD, Meyer E, Matz MV (2013) Gene expression under chronic heat stress in populations of the mustard hill coral (Porites astreoides) from different thermal environments. Mol Ecol 22:4322–4334. https://doi.org/10.1111/mec.12390

Knowlton N, Rohwer F (2003) Multispecies microbial mutualisms on coral reefs: the host as a habitat. Am Nat 162:S51–S62. https://doi.org/10.1086/378684

Kushmaro A, Loya Y, Fine M, Rosenberg E (1996) Bacterial infection and coral bleaching. Nature 380:396

Kushmaro A, Rosenberg E, Fine M, Ben Haim Y, Loya Y (1998) Effect of temperature on bleaching of the coral Oculina patagonica by Vibrio AK-1. Mar Ecol Prog Ser 171:131–137. https://doi.org/10.3354/meps171131

Lirman D, Fong P (2007) Is proximity to land-based sources of coral stressors an appropriate measure of risk to coral reefs? An example from the Florida Reef Tract. Mar Pollut Bull 54:779–791. https://doi.org/10.1016/j.marpolbul.2006.12.014

Livak KJ, Schmittgen TD (2001) Analysis of relative gene expression data using real-time quantitative PCR and. Methods 25:402–408. https://doi.org/10.1006/meth.2001.1262

Maliao RJ, Turingan RG, Lin J (2008) Phase-shift in coral reef communities in the Florida Keys National Marine Sanctuary (FKNMS), USA. Mar Biol 154:841–853. https://doi.org/10.1007/s00227-008-0977-0

Manzello DP, Enochs IC, Kolodziej G, Carlton R (2015) Coral growth patterns of Montastraea cavernosa and Porites astreoides in the Florida Keys: the importance of thermal stress and inimical waters. J Exp Mar Bio Ecol 471:198–207. https://doi.org/10.1016/j.jembe.2015.06.010

Matz MV, Wright RM, Scott JG (2013) No control genes required: bayesian analysis of qRT-PCR data. PLoS One 8:e71448. https://doi.org/10.1371/journal.pone.0071448

Maynard J, van Hooidonk R, Eakin CM, Puotinen M, Garren M, Williams G, Heron SF, Lamb J, Weil E, Willis B, Harvell CD (2015) Projections of climate conditions that increase coral disease susceptibility and pathogen abundance and virulence. Nat Clim Chang 5:688–694. https://doi.org/10.1038/nclimate2625

McClanahan TR, Maina J, Ateweberhan M (2015) Regional coral responses to climate disturbances and warming is predicted by multivariate stress model and not temperature threshold metrics. Clim Change 131:607–620. https://doi.org/10.1007/s10584-015-1399-x

Medzhitov R, Janeway CA Jr. (2002) Decoding the patterns of self and nonself by the innate immune system. Science 296:298–300. https://doi.org/10.1126/science.1068883

Middlebrook R, Hoegh-Guldberg O, Leggat W (2008) The effect of thermal history on the susceptibility of reef-building corals to thermal stress. J Exp Biol 211:1050–1056. https://doi.org/10.1242/jeb.013284

Mumby PJ, Skirving W, Strong AE, Hardy JT, Ledrew EF, Hochberg EJ, Stumpf RP, David LT (2004) Remote sensing of coral reefs and their physical environment. Mar Pollut Bull 48:219–228. https://doi.org/10.1016/j.marpolbul.2003.10.031

Muñoz A, Castellano MM (2012) Regulation of translation initiation under abiotic stress conditions in plants: is it a conserved or not so conserved process among Eukaryotes? Comp Funct Genomics 2012:406357. https://doi.org/10.1155/2012/406357

Netea MG, Quintin J, van der Meer JWM (2011) Trained immunity: a memory for innate host defense. Cell Host Microbe 9:355–361. https://doi.org/10.1016/j.chom.2011.04.006

Oren M, Amar KO, Douek J, Rosenzweig T, Paz G, Rinkevich B (2010) Assembled catalog of immune-related genes from allogeneic challenged corals that unveils the participation of vWF-like transcript. Dev Comp Immunol 34:630–637. https://doi.org/10.1016/j.dci.2010.01.007

Palmer CV, McGinty ES, Cummings DJ, Smith SM, Bartels E, Mydlarz LD (2011) Patterns of coral ecological immunology: variation in the responses of Caribbean corals to elevated temperature and a pathogen elicitor. J Exp Biol 214:4240–4249. https://doi.org/10.1242/jeb.061267

Patterson KL, Porter JW, Ritchie KB, Polson SW, Mueller E, Peters EC, Santavy DL, Smith GW (2002) The etiology of white pox, a lethal disease of the Caribbean elkhorn coral, Acropora palmata. Proc Natl Acad Sci USA 99:8725–8730. https://doi.org/10.1073/pnas.092260099

Porter JW, Dustan P, Jaap WC, Patterson KL, Kosmynin V, Meier OW, Patterson ME, Parsons M (2001) Patterns of spread of coral disease in the Florida Keys. Hydrobiologia 460:1–24. https://doi.org/10.1023/A:1013177617800

Precht WF, Gintert BE, Robbart ML, Fura R, van Woesik R (2016) Unprecedented disease-related coral mortality in Southeastern Florida. Sci Rep 6:31374. https://doi.org/10.1038/srep31374

Reitzel AM, Sullivan JC, Traylor-Knowles N, Finnerty JR (2008) Genomic survey of candidate stress-response genes in the estuarine anemone Nematostella vectensis. Biol Bull 214:233–254. https://doi.org/10.2307/25470666

Rowley AF, Powell A (2007) Invertebrate immune systems specific, quasi-specific, or nonspecific? J Immunol 179:7209–7214. https://doi.org/10.4049/jimmunol.179.11.7209

Rutzler K, Santavy DL, Antonius A (1983) The black band disease of Atlantic reef corals. Mar Ecol 4:329–358. https://doi.org/10.1111/j.1439-0485.1983.tb00118.x

Ruzicka RR, Colella MA, Porter JW, Morrison JM, Kidney JA, Brinkhuis V, Lunz KS, MacAulay KA, Bartlett LA, Meyers MK, Colee J (2013) Temporal changes in benthic assemblages on Florida Keys reefs 11 years after the 1997/1998 El Niño. Mar Ecol Prog Ser 489:125–141. https://doi.org/10.3354/meps10427

Rypien KL, Ward JR, Azam F (2010) Antagonistic interactions among coral-associated bacteria. Environ Microbiol 12:28–39. https://doi.org/10.1111/j.1462-2920.2009.02027.x

Salas BH, Haslun JA, Strychar KB, Ostrom PH, Cervino JM (2017) Site-specific variation in gene expression from Symbiodinium spp. associated with offshore and inshore Porites astreoides in the lower Florida keys is lost with bleaching and disease stress. PLoS One 12:1–19. https://doi.org/10.1371/journal.pone.0173350

Seneca FO, Forêt S, Ball EE, Smith-Keune C, Miller DJ, van Oppen MJH (2010) Patterns of gene expression in a Scleractinian coral undergoing natural bleaching. Mar Biotechnol 12:594–604. https://doi.org/10.1007/s10126-009-9247-5

Shinzato C, Shoguchi E, Kawashima T, Hamada M, Hisata K, Tanaka M, Fujie M (2011) Coral responses to environmental change. Nature 476:320–323. https://doi.org/10.1038/nature10249

Shinzato C, Mungpakdee S, Satoh N, Shoguchi E, Thornhill DJ (2014) A genomic approach to coral-dinoflagellate symbiosis: studies of Acropora digitifera and Symbiodinium minutum. Front Microbiol 5:1–17. https://doi.org/10.3389/fmicb.2014.00336

Singh B, Chauhan H, Khurana JP, Khurana P, Singh P (2013) Evidence for the role of wheat eukaryotic translation initiation factor 3 subunit g (TaeIF3 g) in abiotic stress tolerance. Gene 532:177–185. https://doi.org/10.1016/j.gene.2013.09.078

Soto IM, Muller Karger FE, Hallock P, Hu C (2011) Sea surface temperature variability in the Florida Keys and its relationship to coral cover. J Mar Biol 2011:1–10. https://doi.org/10.1155/2011/981723

van de Water JAJM, Lamb JB, van Oppen MJH, Willis BL, Bourne DG (2015) Comparative immune responses of corals to stressors associated with offshore reef-based tourist platforms. Conserv Physiol 3:1–13. https://doi.org/10.1093/conphys/cov032

Vega Thurber RL, Burkepile DE, Fuchs C, Shantz AA, McMinds R, Zaneveld JR (2014) Chronic nutrient enrichment increases prevalence and severity of coral disease and bleaching. Glob Chang Biol 20:544–554. https://doi.org/10.1111/gcb.12450

Vollmer SV, Kline DI (2008) Natural disease resistance in threatened staghorn corals. PLoS One 3:e3718. https://doi.org/10.1371/journal.pone.0003718

Ward J, Kiho K, Harvell DC (2007) Temperature affects coral disease resistance and pathogen growth. Mar Ecol Prog Ser 329:115–121. https://doi.org/10.3354/meps329115

Weil E, Rogers CS (2011) Coral reefs: an ecosystem. Transition. https://doi.org/10.1007/978-94-007-0114-4

Williams EH, Bunkley-Williams L (1990) The world-wide coral reef bleaching cycle and related sources of coral mortality. Atoll Res Bull 335:330–338

Wright RM, Aglyamova GV, Meyer E, Matz MV (2015) Gene expression associated with white syndromes in a reef building coral, Acropora hyacinthus. BMC Genom. https://doi.org/10.1186/s12864-015-1540-2
Acknowledgements
We would like to thank Erich Bartels and the Mote Marine Tropical Research Laboratory staff for their help during the field and experimental components of this study. We would also like to thank the Michigan State University RTSF and in particular Jeff Landgraf for helping with qRT-PCR.
Funding
This work was supported by a grant provided by the Coastal Preservation Network (Grant 250542) and student support by the Integrative Biology Department at Michigan State University.
Ethics declarations
Conflict of interest
All authors declare that they have no conflict of interest.
Ethical statement
All national and institutional guidelines concerning the care and use of animals were followed.
Additional information
Reviewed by R. Wright and an undisclosed expert.
Responsible Editor: L.D. Mydlarz.
Electronic supplementary material
Below is the link to the electronic supplementary material.
About this article
Cite this article
Haslun, J.A., Hauff-Salas, B., Strychar, K.B. et al. Biotic stress contributes to seawater temperature induced stress in a site-specific manner for Porites astreoides. Mar Biol 165, 160 (2018). https://doi.org/10.1007/s00227-018-3414-z
Received:

Accepted:

Published: