Abstract
Acoustic tracking is a commonly used method to study the movement ecology of marine species. The characteristics of the data collected are not simply functions of the location of the tagged animal as they are also influenced by the method of data collection and its sampling frequency. In particular, since the data are acoustically driven, the significance of any result hinges not only on the accuracy of the equipment but also on the reliability of the information received. While passive acoustic telemetry requires an evaluation of the detection efficiency of receivers moored in different habitats (or sites) to obtain reliable data, active acoustic telemetry requires more field-related information on how to best track tagged animals without impacting on their natural behaviour. This study aimed to evaluate the reliability of active acoustic telemetry data in a temperate coastal environment. This was achieved by conducting a series of field experiments to assess (i) the use of signal strength-to-infer distance to the tracked animal under different tracking conditions, (ii) what signal strength threshold can be used to obtain reliable bio-telemetered data, (iii) whether the behaviour of a tracked animal would be a main concern in terms of data reliability, and (iv) the best filtering option to reduce the data to be analysed. The findings yielded a signal strength-to-distance relationship to improve the accuracy of the positional fixes of actively tracked animals, which can be used as a practical reference for future tracking studies on pelagic species in temperate coastal environments.
This is a preview of subscription content, log in to check access.
Access options
Buy single article
Instant access to the full article PDF.
US$ 39.95
Price includes VAT for USA
Subscribe to journal
Immediate online access to all issues from 2019. Subscription will auto renew annually.
US$ 199
This is the net price. Taxes to be calculated in checkout.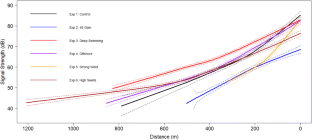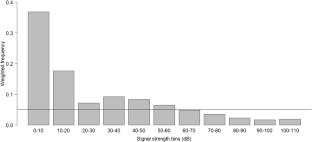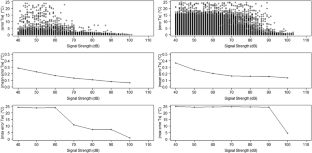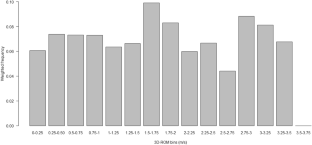 References
Block BA, Booth DT, Carey FC (1992) Depth and temperature of the blue marlin, Makaira nigricans, observed by acoustic telemetry. Mar Biol 114:175–183

Bonfil R, Meÿer M, Scholl MC, Johnson R, O'Brien S, Oosthuizen H, Swanson S, Kotze D, Paterson M (2005) Transoceanic migration, spatial dynamics and population linkages of white shark. Science 310(5745):100–103

Brill RW, Block BA, Boggs CH, Bigelow KA, Freund EV, Marcinek DJ (1999) Horizontal movements and depth distribution of large adult yellowfin tuna (Thunnus albacares) near the Hawaiian Islands, recorded using ultrasonic telemetry: implications for the physiological ecology of pelagic fishes. Mar Biol 133(3):395–408

Carey FG, Kanwisher JW, Brazier O, Gabrielson G, Casey JG, Pratt Jr HL (1982) Temperature and activities of a white shark, Carcharodon carcharias. Copeia 254–260

Caruthers JW (1977) Fundamentals of marine acoustics. Elsevier Scientific Publishing Company, Amsterdam

Cooke SJ, Hinch SG, Wikelski M, Andrews RD, Kuchel LJ, Wolcott TG, Butler PJ (2004) Biotelemetry: a mechanistic approach to ecology. Trends Ecol Evol 19(6):334–343

Demšar U, Buchin K, Cagnacci F, Safi K, Speckmann B, Van de Weghe N, Weiskopf D, Weibel R (2015) Analysis and visualisation of movement: an interdisciplinary review. Mov Ecol. https://doi.org/10.1186/s40462-015-0032-y

Edrén SMC, Gruber SH (2005) Homing ability of young lemon sharks, Negaprion brevirostris. Environ Biol Fish 72:267–281

Gennari E (2015) Thermal physiology and behavioural ecology of the white shark, Carcharodon carcharias. PhD Dissertation, Rhodes University, Grahamstown

Gjelland K, Hedger R (2013) Environmental influence on transmitter detection probability in biotelemetry: developing a general model of acoustic transmission. Methods Ecol Evol 4:665–674

Goldman KJ, Anderson SD (1999) Space utilisation and swimming depth of white sharks, Carcharodon carcharias, at the South Farallon Islands, central California. Environ Biol Fish 56:351–364

Gruber SH, Nelson DR, Morrisey JF (1988) Patterns of activity and space utilisation of lemon sharks in a shallow Bahamian lagoon. Bull Mar Sci 43(1):61–76

Gunn JS, Stevens JD, Davis TLO, Norman BM (1999) Observations on the short-term movements and behaviour of whale sharks (Rhincodon typus) at Ningaloo Reef, Western Australia. Mar Biol 135:553–559

Heupel MR, Webber DM (2012) Trends in acoustic tracking: where are the fish going and how will we follow them. Am Fish Soc Symp 76:219–231

Heupel MR, Simpfendorfer C, Lowe C (2005) Passive acoustic telemetry technology: current applications and future directions. In: Results of the VR2 workshop held on Catalina Island

Holland KM, Brill R, Ferguson S, Chang R, Yost R (1985) A small vessel technique for tracking pelagic fish. Mar Fish Rev 47(4):26–32

Hussey NE, Kessel ST, Aarestrup K, Cooke SJ, Cowley PD, Fisk AT, Harcourt RG, Holland KN, Iverson SJ, Kocik JF, Mills Flemming JE, Whoriskey FG (2015) Aquatic animal telemetry: a panoramic window into the underwater world. Science 348(6240):1255642

Huveneers C, Simpfendorfer CA, Kim S, Semmens JM, Hobday AJ, Pederson H, Stieglitz T, Vallee R, Webber D, Heupel MR, Peddemors V, Harcourt RG (2016) The influence of environmental parameters on the performance and detection range of acoustic receivers. Methods Ecol Evol. https://doi.org/10.1111/2041-210X.12520

James DA, Fischer JL, Laube JD, Spindler ME (2014) An accuracy assessment of ultrasonic transmitter locations determined by mobile telemetry in aquatic systems. Fish Manag Ecol 21(5):421–425

Johnson R, Bester MN, Dudley SFJ, Oosthuizen HW, Meÿer M, Hancke L, Gennari E (2009) Coastal swimming patterns of white sharks (Carcharodon carcharias) at Mossel Bay, South Africa. Environ Biol Fish 85:189–200

Kessel ST, Cooke SJ, Heupel MR, Hussey NE, Simpfendorfer CA, Vagle S, Fisk AT (2014) A review of detection range testing in aquatic passive acoustic telemetry studies. Rev Fish Biol Fisher 24:199–218

Kessel ST, Hussey NE, Webber DM, Gruber SH, Young JM, Smale MJ, Fisk AT (2015) Close proximity detection interference with acoustic telemetry: the importance of considering tag power output in low ambient noise environments. Anim Biotelem 3(1):5

Klimley AP, Le Boeuf BJ, Cantara KM, Richert JE, Davis SF, Van Sommeran S (2001) Radio-acoustic positioning as a tool for studying site-specific behavior of the white shark and other large marine species. Mar Biol 138:429–446

Klimley AP, Beavers SC, Curtis TH, Jorgensen SJ (2002) Movements and swimming behaviour of three species of sharks in La Jolla Canyon, California. Environ Biol Fish 63:117–135

Klimley AP, Kihslinger RL, Kelly JT (2005) Directional and non-directional movements of bat rays, Myliobatis californica, in Tomales Bay, California. Environ Biol Fish 74:79–88

Kock A, Johnson R, Bester MN, Compagno L, Cliff G, Dudley S, Gennari E, Griffiths CL, Kotze D, Laroche K, Meyer MA, Oosthuizen WH, Swanson S (2006) White shark abundance: not a causative factor in numbers of shark bite incidents. In: Finding a balance—white shark conservation and recreational safety in the inshore waters of Cape Town, South Africa. WWF South Africa Report Series—2006/Marine/001, pp 1–19

Kohler NE, Turner PA (2001) Shark tagging: a review of conventional methods and studies. Environ Biol Fish 60:191–223

Lowe CG, Goldman KJ (2001) Thermal and bioenergetics of elasmobranchs: bridging the gap. Environ Biol Fish 60:251–266

Lutcavage ME, Brill RW, Skomal GB, Chase BC, Goldstein JL, Tutein J (2000) Tracking adult north Atlantic bluefin tuna (Thunnus thynnus) in the northwestern Atlantic using ultrasonic telemetry. Mar Biol 137:347–358

Marcinek DJ, Blackwell SB, Dewar H, Freund EV, Farwell C, Dau D, Seitz AC, Block BA (2001) Depth and muscle temperature of Pacific bluefin tuna examined with acoustic and pop-up satellite archival tags. Mar Biol 138:869–885

McCosker JE (1987) The white shark, Carcharodon carcharias, has a warm stomach. Copeia 1987(1):195

Medwin H, Clay CS (1997) Fundamentals of acoustical oceanography. Academic, New York

Ormiston BJ (1985) Effects of a subminiature radio-collar on activity of free-living white-footed mice, Peromyscus leucopus. Can J Zool 63:733–735

Payne N, Gillanders B, Webber D, Semmens J (2010) Interpreting diel activity patterns from acoustic telemetry: the need for controls. Mar Ecol Prog Ser 419:295–301

Pincock DG, Voegeli FA (2002) Quick course in underwater telemetry systems. VEMCO Limited, Shad Bay

Pita P, Freire J (2011) Movements of three large coastal predatory fishes in the northeast Atlantic: a preliminary telemetry study. Sci Mar 75(4):759–770

QGIS Development Team (2012) QGIS geographic information system. Open source geospatial foundation. http://qgis.osgeo.org

R Development Core Team (2014) R: a language and environment for statistical computing. R Foundation for Statistical Computing, Vienna. http://www.R-project.org

Ross MJ, McCormick JH (1981) Effects of external radio transmitters on fish. Prog Fish Cult 43(2):67–72

Schaller SY, Chabot CC, Watson WH (2010) Seasonal movements of American horseshoe crabs Limulus polyphemus in the Great Bay Estuary, New Hampshire (USA). Curr Zool 56(5):587–598

Sciarrotta TC, Nelson DR (1977) Diel behaviour of the blue shark near Santa Catalina Island, California. Fish Bull 75:519–528

Simpfendorfer CA, Heupel MR, Collins AB (2008) Variation in the performance of acoustic receivers and its implication for positioning algorithms in a riverine setting. Can J Fish Aquat Sci 65(3):482–492

Simpfendorfer CA, Huveneers C, Steckenreuter A, Tattersall K, Hoenner X, Harcourt R, Heupel MR (2015) Ghosts in the data: false detections in VEMCO pulse position modulation acoustic telemetry monitoring equipment. Anim Biotelem 3(1):55

Sundström LF, Gruber SH, Clermont SM, Correia JPS, de Marignac JRC, Morrisey JF, Lowrance CR, Thomassen L, Oliveira MT (2001) Review of elasmobranch behavioural studies using ultrasonic telemetry with special reference to the lemon shark around Bimini Islands, Bahamas. Environ Biol Fish 60:225–250

Taylor JR (1997) An introduction to error analysis: the study of uncertainties in physical measurements. University Science Books, New York

Tricas TC, Taylor LR, Naftel G (1981) Diel behaviour of the tiger shark, Galeocerdo cuvier, at French Frigate Shoals, Hawaiian islands. Copeia 4:904–908

Udyawer V, Chin A, Knip DM, Simpfendorfer CA, Heupel MR (2013) Variable response of coastal sharks to severe tropical storms: environmental cues and changes in space use. Mar Ecol Prog Ser 480:171–183

Voegeli FA, Smale MJ, Webber DM, Andrade Y, O'Dor RK (2001) Ultrasonic telemetry, tracking and automated monitoring technology for sharks. The behavior and sensory biology of elasmobranch fishes: an anthology in memory of Donald Richard Nelson 200. Springer, Dordrecht, pp 267–282

Weng KC, Boustany AM, Pyle P, Anderson SD, Brown A, Block BA (2007) Migration and habitat of white sharks (Carcharodon carcharias) in the eastern Pacific Ocean. Mar Biol 152(4):877–894
Acknowledgements
Oceans Research provided logistic and field support for the research. The South African Institute for Aquatic Biodiversity and PADI Aware provided funds for the transmitters. The White Shark Trust helped in financing the tracking support vessel. Dylan Irion and Rob Lewis helped in the field work. VEMCO, and in particular Dana Allen, made it possible to produce the β version of the muscle transmitters.
Funding
Funding for this research was provided by the South African Institute for Aquatic Biodiversity (SAIAB), VEMCO, the PADI Project AWARE, Avnic-Cameogroup-Garmin, Evolushark, GIMS (Pty) Ltd., and the White Shark Trust.
Ethics declarations
Conflict of interest
The authors declare that they had no conflict of interest during the duration of the study. Oceans Research is, at the moment, the official distributor of VEMCO products in Africa.
Ethical standards
All applicable international, national, and institutional guidelines for the care and use of animals were followed. All procedures performed in studies involving animals were in accordance with the ethical standards of the institutions at which the studies were conducted. Furthermore, the tagging and tracking of white sharks was authorised by the South African Department of Environmental Affairs: permit RES2009 to RES2012.
Additional information
Reviewed by Undisclosed experts.
Responsible Editor: J. Carlson.
Electronic supplementary material
Below is the link to the electronic supplementary material.
About this article
Cite this article
Gennari, E., Cowley, P.D. & Johnson, R.L. Performance and reliability of active acoustic biotelemetry to best track marine pelagic species in temperate coastal waters. Mar Biol 165, 128 (2018). https://doi.org/10.1007/s00227-018-3384-1
Received:

Accepted:

Published: