Abstract
The incidence of cetacean strandings is expected to depend on a combination of factors, including the distribution and abundance of the cetaceans, their prey, and causes of mortality (e.g. natural, fishery bycatch), as well as currents and winds which affect whether carcasses reach the shore. We investigated spatiotemporal patterns and trends in the numbers of strandings of three species of small cetacean in Galicia (NW Spain) and their relationships with meteorological, oceanographic, prey abundance and fishing-related variables, aiming to disentangle the relationship that may exist between these factors, cetacean abundance and mortality off the coast. Strandings of 1166 common dolphins (Delphinus delphis), 118 bottlenose dolphins (Tursiops truncatus) and 90 harbour porpoises (Phocoena phocoena) during 2000–2013 were analysed. Generalised additive and generalised additive-mixed model results showed that the variables which best explained the pattern of strandings of the three cetacean species were those related with local ocean meteorology (strength and direction of the North–South component of the winds and the number of days with South-West winds) and the winter North Atlantic Oscillation Index. There were no significant relationships with indices of fishing effort or landings. Only bottlenose dolphin showed possible fluctuations in local abundance over the study period. There was no evidence of long-term trends in number of strandings in any of the species and their abundances were, therefore, considered to have been relatively stable during the study period.
Access options
Buy single article
Instant access to the full article PDF.
US$ 39.95
Tax calculation will be finalised during checkout.
Subscribe to journal
Immediate online access to all issues from 2019. Subscription will auto renew annually.
US$ 119
Tax calculation will be finalised during checkout.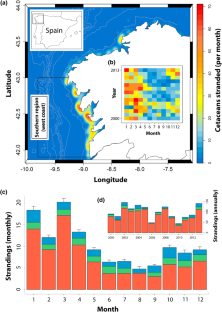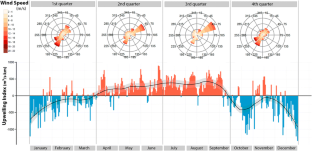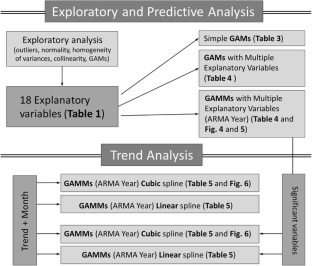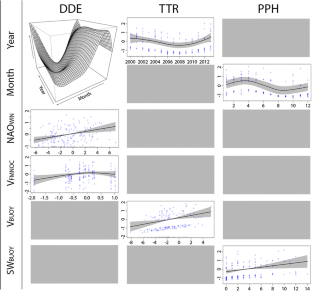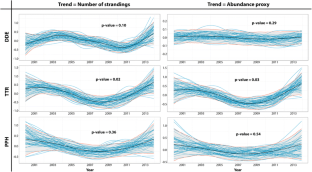 References
Amandè MJ, Ariz J, Chassot E et al (2010) Bycatch of the European purse seine tuna fishery in the Atlantic Ocean for the 2003–2007 period. Aquat Living Resour 23:353–362. doi:10.1051/alr/2011003

Anderson GS, Hobischak NR (2004) Decomposition of carrion in the marine environment in British Columbia, Canada. Int J Legal Med 118:206–209. doi:10.1007/s00414-004-0447-2

Caughlan L, Oakley KL (2001) Cost considerations for long-term ecological monitoring. Ecol Indic 1:123–134. doi:10.1016/S1470-160X(01)00015-2

CODA Final Report (2009) Cetacean offshore distribution and abundance in the European Atlantic (CODA) (No. WC04016). Sea Mammal Research Unit

Council Directive 92/43/EEC of 21 May 1992 on the conservation of natural habitats and of wild fauna and flora. OJ L 206/7

Danil K, Chivers SJ, Henshaw MD et al (2010) Cetacean strandings in San Diego Country, California, USA: 1851-2008. J Cetacean Res Manag 11:163–184

Directive 2008/56/EC of the European Parliament and of the Council of 17 June 2008 establishing a framework for community action in the field of marine environmental policy (Marine Strategy Framework Directive). OJ L 164/19

Elzinga C, Salzer D, Willoughby JW, Gibbs JP (2001) Monitoring plant and animal populations. Blackwell Science, United States of America

Evans K, Thresher R, Warneke RMM et al (2005) Periodic variability in cetacean strandings: links to large-scale climate events. Biol Lett 1:147–150. doi:10.1098/rsbl.2005.0313

Fernández R, García-Tiscar S, Santos MB et al (2011) Stable isotope analysis in two sympatric populations of bottlenose dolphins Tursiops truncatus: evidence of resource partitioning? Mar Biol 158:1043–1055

Fernández-Contreras MM, Cardona L, Lockyer CH, Aguilar A (2010) Incidental bycatch of short-beaked common dolphins (Delphinus delphis) by pairtrawlers off northwestern Spain. ICES J Mar Sci 67:1732–1738. doi:10.1093/icesjms/fsq077

Fontaine MC, Tolley KA, Michaux JR et al (2010) Genetic and historic evidence for climate-driven population fragmentation in a top cetacean predator: the harbour porpoises in European water. Proc R Soc Biol Sci 277:2829–2837. doi:10.1098/rspb.2010.0412

Friedlaender AS, Halpin PN, Qian SS et al (2006) Whale distribution in relation to prey abundance and oceanographic processes in shelf waters of the Western Antarctic Peninsula. Mar Ecol Prog Ser 317:297–310

Fruet PF, Kinas PG, da Silva KG et al (2010) Temporal trends in mortality and effects of by-catch on common bottlenose dolphins, Tursiops truncatus, in southern Brazil. J Mar Biol Assoc UK 92:1–12. doi:10.1017/S0025315410001888

Goetz S, Read FL, Ferreira M et al (2014a) Cetacean occurrence, habitat preferences and potential for cetacean–fishery interactions in Iberian Atlantic waters: results from cooperative research involving local stakeholders. Aquat Conserv Mar Freshw Ecosyst 25:138–154. doi:10.1002/aqc.2481

Goetz S, Read FL, Santos MB et al (2014b) Cetacean–fishery interactions in Galicia (NW Spain): results and management implications of a face-to-face interview survey of local fishers. ICES J Mar Sci 71:604–617. doi:10.1093/icesjms/fst149

González-Nuevo G, Gago J, Cabanas JM (2014) Upwelling index: a powerful tool for marine research in the NW Iberian upwelling system. J Oper Oceanogr 7:47–57. doi:10.1080/1755876X.2014.11020152

Kuiken T (1994) Review of the criteria for the diagnosis of by-catch in cetaceans. In: Kuiken T (ed) Proceedings of the 2nd annual conference of the European Cetacean Society, ECS Newsle. Montpellier, France, 2 March 1994, pp 38–43

Kuiken T, Hartmann M (1991) Proceedings of the first ECS workshop on cetacean pathology: dissection techniques and tissue sampling. In: Kuiken T, Hartmann MG (eds). European Cetacean Society, Leiden, the Netherlands, 13–14 September 1991, p 43

Leeney RH, Amies R, Broderick AC et al (2008) Spatio-temporal analysis of cetacean strandings and bycatch in a UK fisheries hotspot. Biodivers Conserv 17:2323–2338

López A (2003) Estatus dos pequenos cetáceos da plataforma de Galicia. PhD Thesis, University of Santiago de Compostela, Spain

López A, Santos MB, Pierce GJ et al (2002) Trends in strandings and by-catch of marine mammals in north-west Spain during the 1990s. J Mar Biol Assoc UK 82:513–521

López A, Pierce GJ, Santos MB et al (2003) Fishery by-catches of marine mammals in Galician waters: results from on-board observations and an interview survey of fishermen. Biol Conserv 111:25–40. doi:10.1016/S0006-3207(02)00244-6

López-Jamar E, Cal RM, González G et al (1992) Upwelling and outwelling effects on the benthic regime of the continental-shelf off Galicia, NW Spain. J Mar Res 50:465–488

Maldini D, Mazzuca L, Atkinson S (2005) Odontocete stranding patterns in the main Hawaiian Islands (1937–2002): how do they compare with live animal surveys? Pac Sci 59:55–67

Martínez-Cedeira J, Morales X, Garcia JA, et al (2011) How many strand? Offshore marking and coastal recapture of cetacean carcasses. In: Proceedings of the 25th annual conference of the European Cetacean Society. Cádiz, Spain, 21-23 May 2011,

Méndez-Fernandez P, Webster L, Chouvelon T et al (2014) An assessment of contaminant concentrations in toothed whale species of the NW Iberian Peninsula: part I. Persistent organic pollutants. Sci Total Environ 484:196–205. doi:10.1016/j.scitotenv.2014.02.045

Meynier L, Pusineri C, Spitz J et al (2008) Intraspecific dietary variation in the short-beaked common dolphin textit Delphinus delphis in the Bay of Biscay: importance of fat fish. Mar Ecol Prog Ser 354:277–287. doi:10.3354/meps07246

Murphy S, Pinn EH, Jepson PD (2013) The short-beaked common dolphin (Delphinus delphis) in the North-East Atlantic: distribution, ecology, management and conservation status. Oceanogr Mar Biol An Annu Rev 51:193–280

Northridge SP (1984) World review of interactions between marine mammals and fisheries. FAO Fisheries Technical Paper. No. 251, Rome

Northridge SP (1991) An updated world review of interactions between marine mammals and fisheries. FAO Fisheries Technical Paper. No. 251, Rome

Peltier H, Dabin W, Daniel P et al (2012) The significance of stranding data as indicators of cetacean populations at sea: modelling the drift of cetacean carcasses. Ecol Indic 18:278–290

Peltier H, Jepson PD, Dabin W et al (2014) The contribution of stranding data to monitoring and conservation strategies for cetaceans: developing spatially explicit mortality indicators for common dolphins (Delphinus delphis) in the eastern North-Atlantic. Ecol Indic 39:203–214. doi:10.1016/j.ecolind.2013.12.019

Peltier H, Authier M, Deaville R et al (2016) Small cetacean bycatch as estimated from stranding schemes: the common dolphin case in the northeast Atlantic. Environ Sci Policy 63:7–18. doi:10.1016/j.envsci.2016.05.004

Pierce GJ, Santos MB, Murphy S et al (2008) Bioaccumulation of persistent organic pollutants in female common dolphins (Delphinus delphis) and harbour porpoises (Phocoena phocoena) from western European seas: geographical trends, causal factors and effects on reproduction and mortalit. Environ Pollut 153:401–415. doi:10.1016/j.envpol.2007.08.019

Pierce GJ, Caldas M, Cedeira J et al (2010) Trends in cetacean sigths along the Galician coast, north-west Spain, 2003-2007, and inferences about cetacean habitat preferences. J Mar Biol Assoc UK 90:1547–1560

Pikesley SK, Witt MJ, Hardy T et al (2011) Cetacean sightings and strandings: evidence for spatial and temporal trends? J Mar Biol Assoc UK. doi:10.1017/S0025315411001470

Pyenson ND (2011) The high fidelity of the cetacean stranding record: insights into measuring diversity by integrating taphonomy and macroecology. Proc R Soc B Biol Sci 278:3608–3616. doi:10.1098/rspb.2011.0441

Read AJ, Drinker P, Northridge S (2006) Bycatch of marine mammals in U.S. and global fisheries. Conserv Biol 20:163–169. doi:10.1111/j.1523-1739.2006.00338.x

R Core Team (2016) R: a language and environment for statistical computing

Santos MB, German I, Correia D et al (2013) Long-term variation in common dolphin diet in relation to prey abundance. Mar Ecol Prog Ser 481:249–268. doi:10.3354/meps10233

Santos MB, Saavedra C, Pierce GJ (2014) Quantifying the predation on sardine and hake by cetaceans in the Atlantic waters of the Iberian peninsula. Deep Sea Res Part II Top Stud Oceanogr 106:232–244. doi:10.1016/j.dsr2.2013.09.040

SCANS-II (2006) Design-based abundance estimates from SCANS-II. In: Burt M, Borchers D, Paxton C (eds) Small cetaceans in the European Atlantic and North Sea. Final Report to the European Commission under project LIFE04NAT/GB/000245, St. Andrews, p 31

Siebert U, Gilles A, Lucke K et al (2006) A decade of harbour porpoise occurrence in German waters-analyses of aerial surveys, incidental sightings and strandings. J Sea Res 56:65–80. doi:10.1016/j.seares.2006.01.003

Silva MA, Sequeira M (2003) Patterns in the mortality of common dolphins (Delphinus delphis) on the Portuguese coast, using stranding records, 1975-1998. Aquat Mamm 29:88–98. doi:10.1578/016754203101023924

Spitz J, Mourocq E, Leauté J-P et al (2010) Prey selection by the common dolphin: fulfilling high energy requirements with high quality food. J Exp Mar Bio Ecol 390:73–77

Spitz J, Trites AW, Becquet V et al (2012) Cost of living dictates what whales, dolphins and porpoises eat: the importance of prey quality on predator foraging strategies. PLoS ONE 7:e50096

Spitz J, Chouvelon T, Cardinaud M et al (2013) Prey preferences of adult sea bass Dicentrarchus labrax in the northeastern Atlantic: implications for bycatch of common dolphin Delphinus delphis. ICES J Mar Sci 70:452–461

Spyrakos E, Santos-Diniz T, Martínez-Iglesias G et al (2011) Spatiotemporal patterns of marine mammal distribution in coastal waters of Galicia, NW Spain. Hydrobiologia 670:87–109

Stolen M, Barlow J (2003) A model life table for bottlenose dolphins (Tursiops truncatus) from the Indian River Lagoon System, Florida, USA. Mar mammal Sci 19:630–649. doi:10.1111/j.1748-7692.2003.tb01121.x

Truchon M-H, L'Hérault V, Brêthes J-C et al (2013) Marine mammal strandings and environmental changes: a 15-year study in the St. Lawrence Ecosystem. PLoS ONE 8:59311

Vishnyakova K, Gol'din P (2014) Cetacean stranding rate correlates with fish stock dynamics: research of harbour porpoises in the Sea of Azov. Mar Biol 162:359–366. doi:10.1007/s00227-014-2600-x

Wood SN (2011) Fast stable restricted maximum likelihood and marginal likelihood estimation of semiparametric generalized linear models. J R Stat Soc Ser B 73:3–36

Wooster WS, Bakun A, McLain DR (1976) Seasonal upwelling cycle along eastern boundary of North-Atlantic. J Mar Res 34:131–141

Xunta de Galicia (2016) Pesca de Galicia. http://www.pescadegalicia.com/rexbuque.html. Accessed 25 Jun 2016

Zuur AF, Ieno EN, Elphick CS (2010) A protocol for data exploration to avoid common statistical problems. Methods Ecol Evol 1:3–14. doi:10.1111/j.2041-210X.2009.00001.x
Acknowledgements
The authors wish to thank all the volunteers and members of CEMMA who attended the strandings, as well as the researchers who contributed, through different studies and projects, to the improvement of the cetacean database. The standing network was partially funded by the "Dirección Xeral de Conservación da Natureza da Xunta de Galicia" in Spain and by the "Fundação para a Ciência e Tecnologia" in Portugal. The research leading to these results has received funding from the European Union's Seventh Framework Programme (FP7/2007–2013) under Grant Agreement No 613571—MareFrame. The main author (C.S.) received a pre-doctoral grant from the Spanish Institute of Oceanography (BOE-A-2011-2541). We thank the editor and two anonymous reviewers for their valuable comments on the manuscript.
Ethics declarations
Conflict of interest
The authors declare that they have no conflict of interest.
Additional information
Reviewed by P. Evans and H. Peltier.
Responsible Editor: T. L. Rogers.
About this article
Cite this article
Saavedra, C., Pierce, G.J., Gago, J. et al. Factors driving patterns and trends in strandings of small cetaceans. Mar Biol 164, 165 (2017). https://doi.org/10.1007/s00227-017-3200-3
Received:

Accepted:

Published: