Abstract
Predators specialising on migratory prey that frequently change migration route face the challenge of finding prey with an unpredictable distribution. Here, we used photo-identification data to investigate whether killer whales observed in herring overwintering and spawning grounds off Iceland follow herring year-round, as previously proposed, and have the ability to adapt to long-term changes in herring distribution. Of 327 identified whales seen more than once, 45% were seen in both grounds, and were thus presumed herring-specialists, likely following herring year-round, while others were only seen on one of the grounds, possibly following herring to unsampled grounds or moving to other locations and exploiting different prey. High seasonal site fidelity to herring grounds, long-term site fidelity to herring spawning grounds, and matches of individual whales between past and recently occupied herring overwintering grounds showed an ability to adapt to long-term changes in prey distribution as well as diversity of movement patterns which are maintained over time, likely as socially-learnt traditions. Such population structuring shows that the movement patterns and foraging ecology of herring-eating killer whales are more complex than previously assumed and must be taken into account in future population assessments. Identifying the factors driving these differences in movements and resource use will be relevant towards our understanding of how prey predictability may drive specialization in this and other top predator species.
Access options
Buy single article
Instant access to the full article PDF.
US$ 39.95
Tax calculation will be finalised during checkout.
Subscribe to journal
Immediate online access to all issues from 2019. Subscription will auto renew annually.
US$ 119
Tax calculation will be finalised during checkout.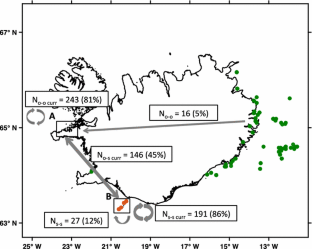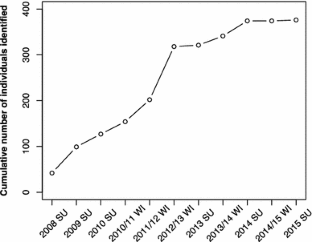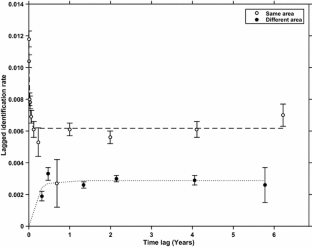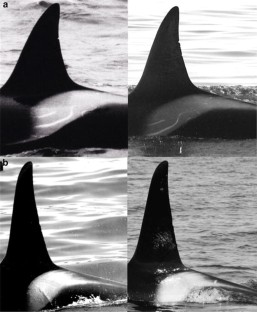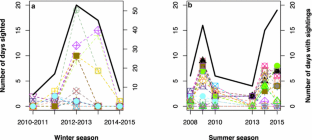 References
Andrews RD, Pitman RL, Balance LT (2008) Satellite tracking reveals distinct movement patterns for Type B and Type C killer whales in the southern Ross Sea, Antarctica. Polar Biol 31:1461–1468

Bigg M (1982) An assessment of killer whale (Orcinus orca) stocks off Vancouver Island, British Columbia. Rep Int Whal Comm 32:655–666

Bloch D, Lockyer C (1988) Killer whales (Orcinus orca) in Faroese waters. Rit Fisk 11:55–64

Calambokidis J, Steiger GH, Straley JM, Herman LM, Cerchio S, Salden DR, Urbán JR, Jacobsen JK, von Ziegesar O, Balcomb KC, Gabriele CM, Dahlheim ME, Uchida S, Ellis G, Miyamura Y, de Guevara PLP, Yamaguchi M, Sato F, Mizroch SA, Schlender L, Rasmussen K, Barlow J, Quinn TJ II (2001) Movements and population structure of humpback whales in the North Pacific. Mar Mamm Sci 17:769–794

Corten A (2001) Northern distribution of North Sea herring as a response to high water temperatures and/or low food abundance. Fish Res 50:189–204

Corten A (2002) The role of "conservatism" in herring migrations. Rev Fish Biol Fish 11:339–361

Dahlheim ME, Schulman-Janiger A, Black N, Ternullo R, Ellifrit D, Balcomb KC (2008) Eastern temperate North Pacific offshore killer whales (Orcinus orca): occurrence, movements, and insights into feeding ecology. Mar Mamm Sci 24:719–729

Deecke VB, Nykänen M, Foote AD, Janik VM (2011) Vocal behaviour and feeding ecology of killer whales Orcinus orca around Shetland, UK. Aquat Biol 13:79–88

Dommasnes A, Rey F, Røttingen I (1994) Reduced oxygen concentrations in herring wintering areas. ICES J Mar Sci 51:63–69

Dragesund O, Johannessen A, Ulltang Ø (1997) Variation in migration and abundance of Norwegian spring-spawning herring (Clupea harengus L.). Sarsia 82:97–105

Dufault S, Whitehead H, Dillon M (1999) An examination of the current knowledge on the stock structure of sperm whales (Physeter macrocephalus) worldwide. J Cetacean Res Manage 1:1–10

Durban JW, Pitman RL (2012) Antarctic killer whales make rapid, round-trip movements to subtropical waters: evidence for physiological maintenance migrations? Biol Lett 8:274–277

Eisert R, Ovsyanikova E, Visser I, Ensor P, Currey R, Sharp B (2015) Seasonal site fidelity and movement of type-C killer whales between Antarctica and New Zealand. Rep Int Whal Comm [SC/66a/SM/9]

Esteban R, Verborgh P, Gauffier P, Giménez J, Foote AD, de Stephanis R (2016a) Maternal kinship and fisheries interaction influence killer whale social structure. Behav Ecol Sociobiol 70:111–122

Esteban R, Verborgh P, Gauffier P, Giménez J, Martín V, Pérez-Gil M, Tejedor M, Almunia J, Jepson PD, García-Tiscar S, Barrett-Lennard LG, Guinet C, Foote AD, de Stephanis R (2016b) Using a multi-disciplinary approach to identify a critically endangered killer whale management unit. Ecol Ind 66:291–300

Fearnbach H, Durban JW, Ellifrit DK, Waite JM, Matkin CO, Lunsford CR, Peterson MJ, Barlow J, Wade PR (2014) Spatial and social connectivity of fish-eating "Resident" killer whales (Orcinus orca) in the northern North Pacific. Mar Biol 161:459–472

Fernö A, Pitcher TJ, Melle W, Nøttestad L, Mackinson S, Hollingworth C, Misund OA (1998) The challenge of the herring in the Norwegian Sea: making optimal collective spatial decisions. Sarsia 83:149–167

Foote AD, Similä T, Víkingsson GA, Stevick PT (2010) Movement, site fidelity and connectivity in a top marine predator, the killer whale. Evol Ecol 24:803–814

Ford JKB, Ellis GM, Olesiuk PF, Balcomb KC (2010) Linking killer whale survival and prey abundance: food limitation in the oceans' apex predator? Biol Lett 6:139–142

Forney KA, Wade P (2006) Worldwide distribution and abundance of killer whales. In: Estes JA, Brownell RL, DeMaster DP, Doak DF, Williams TM (eds) Whales, whaling, and ecosystems. University of California Press, Berkeley, pp 145–162

Friday N, Smith TD, Stevick PT, Allen J (2000) Measurement of photographic quality and individual distinctiveness for the photographic identification of humpback whales, Megaptera novaeangliae. Mar Mamm Sci 16:355–374

Goley PD, Straley JM (1994) Attack on gray whales (Eschrichtius robustus) in Monterey Bay, California, by killer whales (Orcinus orca) previously identified in Glacier Bay, Alaska. Can J Zool 72:1528–1530

Gunnlaugsson T, Sigurjónsson J (1990) NASS-87: estimation of abundance of large cetaceans from observations made onboard Icelandic and Faroese survey vessels. Rep Int Whal Comm 40:571–580

Hauser DDW, Logsdon MG, Holmes EE, VanBlaricom GR, Osborne RW (2007) Summer distribution patterns of southern resident killer whales Orcinus orca: core areas and spatial segregation of social groups. Mar Ecol Prog Ser 351:301–310

Heimlich-Boran JR (1986) Photogrammetric analysis of growth in Puget Sound Orcinus orca. In: Kirkevold BC, Lockard JS (eds) Behavioral biology of killer whales. Alan R Liss, New York, pp 97–111

Holst JC, Røttingen I, Melle W (2004) The herring. In: Skjoldal HR (ed) The Norwegian sea ecosystem. Tapir Academic Press, Trondheim, pp 203–226

Huse G, Fernö A, Holst JC (2010) Establishment of new wintering areas in herring co-occurs with peaks in the 'first time/repeat spawner' ratio. Mar Ecol Prog Ser 409:189–198

ICES (International Council for the Exploration of the Sea) (2014) Report of the North-Western Working Group (NWWG), 24 April–1 May 2014. ICES CM 2014/ACOM: 07. ICES Headquarters, Copenhagen

ICES (International Council for the Exploration of the Sea) (2015) Report of the Working Group on Widely Distributed Species (WGWIDE), 25 August–31 August 2015. ICES CM2015/ACOM: 15, Pasaia, Spain

ICES (International Council for the Exploration of the Sea) (2016) Report of the North-Western Working Group (NWWG), 27 April–4 May 2016. ICES CM 2016/ACOM: 08, ICES Headquarters, Copenhagen

Jakobsson J, Stefánsson G (1999) Management of summer-spawning herring off Iceland. ICES J Mar Sci 56:827–833

Jakobsson J, Vilhjálmsson H, Schopka SA (1969) On the biology of the Icelandic herring stocks. Rit Fisk 4:1–16

Jaquet N, Whitehead H (1999) Movements, distribution and feeding success of sperm whales in the Pacific Ocean, over scales of days and tens of kilometers. Aquat Mamm 25:1–13

Kacelnik A, Krebs JR, Bernstein C (1992) The ideal free distribution and predator prey populations. Trends Ecol Evol 7:50–55

Kuningas S, Kvadsheim PH, Lam F-PA, Miller PJO (2013) Killer whale presence in relation to naval sonar activity and prey abundance in northern Norway. ICES J Mar Sci 70:1287–1293

Kuningas S, Similä T, Hammond PS (2014) Population size, survival and reproductive rates of northern Norwegian killer whales (Orcinus orca) in 1986–2003. J Mar Biol Assoc UK 94:1277–1291

Luque PL, Davis CG, Reid DG, Wang J, Pierce GJ (2006) Opportunistic sightings of killer whales from Scottish pelagic trawlers fishing for mackerel and herring off North Scotland (UK) between 2000 and 2006. Aquat Living Resour 19:403–410

Lusseau D, Wilson B, Hammond PS, Grellier K, Durban JW, Parsons KM, Barton TR, Thompson PM (2006) Quantifying the influence of sociality on population structure in bottlenose dolphins. J Anim Ecol 75:14–24

Matkin CO, Matkin DR, Ellis GM, Saulitis E, McSweeney D (1997) Movements of resident killer whales in Southeastern Alaska and Prince William Sound, Alaska. Mar Mamm Sci 13:469–475

Matkin CO, Durban JW, Saulitis EL, Andrews RD, Straley JM, Matkin DR, Ellis GM (2012) Contrasting abundance and residency patterns of two sympatric populations of transient killer whales (Orcinus orca) in the northern Gulf of Alaska. Fish Bull 110:143–155

Matthews CJD, Luque SP, Petersen SD, Andrews RD, Ferguson SH (2011) Satellite tracking of a killer whale (Orcinus orca) in the eastern Canadian Arctic documents ice avoidance and rapid, long-distance movement into the North Atlantic. Polar Biol 34:1091–1096

Musiani M, Leonard JA, Cluff HD, Gates CC, Mariani S, Paquet PC, Vilà C, Wayne RK (2007) Differentiation of tundra/taiga and boreal coniferous forest wolves: genetics, coat colour and association with migratory caribou. Mol Ecol 16:4149–4170

Myers RA, Baum JK, Shepherd TD, Powers SP, Peterson CH (2007) Cascading effects of the loss of apex predatory sharks from a coastal ocean. Science 315:1846–1850

Nichol LM, Shackleton DM (1996) Seasonal movements and foraging behaviour of northern resident killer whales (Orcinus orca) in relation to the inshore distribution of salmon (Oncorhynchus spp.) in British Columbia. Can J Zool 74:983–991

Óskarsson GJ, Gudmundsdottir A, Sigurdsson T (2009) Variation in spatial distribution and migration of Icelandic summer-spawning herring. ICES J Mar Sci 66:1762–1767

Perry AL, Low PJ, Ellis JR, Reynolds JD (2005) Climate change and distribution shifts in marine fishes. Science 308:1912–1915

Sæmundsson B (1939) Mammalia. The Zoology of Iceland, vol IV: 1–37

Samarra FIP, Foote AD (2015) Seasonal movements of killer whales between Iceland and Scotland. Aquat Biol 24:75–79

Samarra FIP, Miller PJO (2015) Prey-induced behavioural plasticity of herring-eating killer whales. Mar Biol 162:809–821

Samarra FIP, Tavares S, Miller PJO, Víkingsson GA (2017a) Killer whales of Iceland 2006–2015. Report of the Marine and Freshwater Research Institute HV 2017-005 (ISSN 2298-9137)

Samarra FIP, Vighi M, Aguilar A, Víkingsson G (2017b) Intra-population variation in isotopic niche in herring-eating killer whales. Mar Ecol Prog Ser 564:199–210

Sigurjónsson J (1984) Killer whale census off Iceland during October 1982. Rep Int Whal Comm 34:609–612

Sigurjónsson J, Gunnlaugsson T (1989) NASS-87: shipboard sightings surveys in Icelandic and adjacent waters June-July 1987. Rep Int Whal Comm 39:392–409

Sigurjónsson J, Lyrholm T, Leatherwood S, Jónsson E, Víkingsson G (1988) Photo-identification of killer whales, Orcinus orca, off Iceland, 1981 through 1986. Rit Fisk 11:99–114

Similä T, Holst JC, Christensen I (1996) Occurrence and diet of killer whales in northern Norway: seasonal patterns relative to the distribution and abundance of Norwegian spring-spawning herring. Can J Fish Aquat Sci 53:769–779

Stenersen J, Similä T (2004) Norwegian killer whales. Tringa forlag, Henningsvær

Stevick PT, Allen J, Clapham PJ, Katona SK, Larsen F, Lien J, Mattila DK, Palsbøll PJ, Sears R, Sigurjónsson J, Smith TD, Víkingsson G, Øien N, Hammond PS (2006) Population spatial structuring on the feeding grounds in North Atlantic humpback whales (Megaptera novaeangliae). J Zool 270:244–255

Sveegaard S, Andreasen H, Mouritsen KN, Jeppesen JP, Teilmann J, Kinze CC (2012) Correlation between the seasonal distribution of harbour porpoises and their prey in the Sound, Baltic Sea. Mar Biol 159:1029–1037

Tavares SB, Samarra FIP, Miller PJO (2017) A multilevel society of herring-eating killer whales indicates adaptation to prey characteristics. Behav Ecol 28:500–514

Toresen R, Østvedt OJ (2000) Variation in abundance of Norwegian spring-spawning herring (Clupea harengus, Clupeidae) throughout the 20th century and the influence of climatic fluctuations. Fish Fish 1:231–256

Valenzuela LO, Sironi M, Rowntree VJ, Seger J (2009) Isotopic and genetic evidence for culturally inherited site fidelity to feeding grounds in southern right whales (Eubalaena australis). Mol Ecol 18:782–791

Víkingsson GA (2004) Háhyrningur. In: Hersteinsson P (ed) Íslensk spendýr. Vaka-Helgafell, Reykjavík, pp 166–171

Vongraven D, Anna B (2014) Prey switching by killer whales in the north-east Atlantic: observational evidence and experimental insights. J Mar Biol Assoc UK 94(6):1357–1365

Ward EJ, Holmes EE, Balcomb KC (2009) Quantifying the effects of prey abundance on killer whale reproduction. J Appl Ecol 46:632–640

Weinrich M, Martin M, Griffiths R, Bove J, Schilling M (1997) A shift in distribution of humpback whales, Megaptera novaeangliae, in response to prey in the southern Gulf of Maine. Fish Bull 95:826–836

Whitehead H (2001) Analysis of animal movement using opportunistic individual identifications: application to sperm whales. Ecology 82:1417–1432

Whitehead H (2003) Sperm whales: social evolution in the ocean. University of Chicago Press, Chicago, p 431

Whitehead H (2007) Selection of models of lagged identification rates and lagged association rates using AIC and QAIC. Commun Stat B Simul 36:1233–1246

Whitehead H (2009) SOCPROG programs: analysing animal social structures. Behav Ecol Sociobiol 63:765–778

Whitehead H, Rendell L (2004) Movements, habitat use and feeding success of cultural clans of South Pacific sperm whales. J Anim Ecol 73:190–196
Acknowledgements
We thank all volunteers, colleagues and students who helped with data collection throughout the many field seasons, Annika Firmenich for help processing the photographic data from 2008, and the Vestmannaeyjar Research Centre, particularly Páll M. Jónsson, for logistical support. We are grateful to Láki Tours, particularly Gísli Ólafsson, for allowing research assistants to join whale-watch trips to collect photo-identification data and sharing sightings information in Grundarfjörður and Kolgrafafjörður. Thanks are also due to Viking Tours and RibSafari for sharing sightings information and allowing us to go onboard to collect data in Vestmannaeyjar. We are grateful to Cathy Harlow and Alexa Kershaw from Discover the World, as well Rob Lott, Baldur Thorvaldsson, Róbert Stefánsson, Stefán Á. Ragnarsson, Vassili Papastavrou, Mike Hatcher, Dave Gibson, Kevin Tappenden, Neil Woodward and other members of the public for kindly providing additional photographs, Malene Simon for providing pictures collected in Vestmannaeyjar during earlier efforts as well as Eyþór Þórðarson, Birgir Stefánsson and Tiu Similä. We thank Dr. Andrew Foote for very helpful guidance on the previously collected data in Iceland, as well as providing useful comments on a previous version of this manuscript. The manuscript furthermore benefited from helpful comments by 3 reviewers. Funding was provided by a Fundação para a Ciência e a Tecnologia doctoral scholarship (Grant No. SFRH/BD/30303/2006), an Icelandic Research Fund (i. Rannsóknasjóður) START Postdoctoral Fellowship (Grant No. 120248042), the National Geographic Society Science and Exploration Europe (Grant No. GEFNE65-12) and a Russell Trust Award (University of St. Andrews) to FIPS, the Office of Naval Research (Grant No. N00014-08-10984) to PJOM, a Fundação para a Ciência e a Tecnologia doctoral scholarship (Grant No. SFRH/BD/84714/2012) to SBT and support from the BBC Natural History Unit and funding from a Full Doctorate Fellowship from CNPq/Capes through the Science Without Borders Program, Marie-Curie Intra-European Fellowship and Research and Scholarship Development Fund (University of Cumbria) to VBD. All applicable international, national, and/or institutional guidelines for the care and use of animals were followed.
Ethics declarations
Conflict of interest
The authors declare that they have no conflict of interest.
Additional information
Reviewed by J. Towers, B. Hanson and an undisclosed expert.
Responsible Editor: T. L. Rogers.
About this article
Cite this article
Samarra, F.I.P., Tavares, S.B., Béesau, J. et al. Movements and site fidelity of killer whales (Orcinus orca) relative to seasonal and long-term shifts in herring (Clupea harengus) distribution. Mar Biol 164, 159 (2017). https://doi.org/10.1007/s00227-017-3187-9
Received:

Accepted:

Published: