Abstract
Studies of pre-spawning crown-of-thorns starfish Acanthaster (COTS) collected from the Great Barrier Reef showed average female gonad mass of 16 % (±8 s.d.) and for males 12 % (±6 s.d.). In females up to 34 % of the body mass could be devoted to gonad. Based on these data, we also derived relationships between diameter gonad weight and reproductive output for both male and female starfish. Due to the large average size of individuals in this study (39.2 ± 0.3 cm diameter), the potential oocyte production of females was between 29 and 38 million eggs per season for average size starfish. The highest oocyte production was estimated to be >100 million oocytes, which is the highest ever recorded for an individual female starfish. These relationships imply that the largest Acanthaster reported may have fecundities greater than 200 million eggs per season. The gonad mass of male starfish is similarly high, and in combination with measured concentrations of sperm exuded from the gonopore (5.2 × 1010 ml−1) the sperm output of an average sized male is estimated to be 1.1 × 1013 sperm. This high level of sperm production may be a key factor allowing this species to sustain itself and even initiate outbreaks at low population densities. We suggest that management targets for maintaining COTS at pre-outbreak thresholds should take account of starfish size as well as starfish density, especially given extreme reproductive potential of large starfish in pre-outbreak populations.
Access options
Buy single article
Instant access to the full article PDF.
USD 39.95
Price includes VAT (USA)
Tax calculation will be finalised during checkout.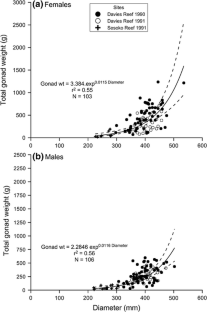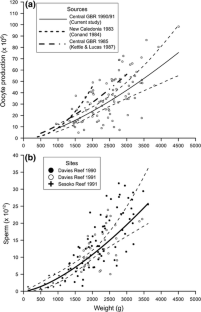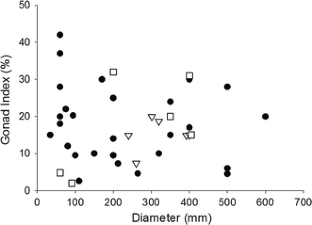 References
Babcock RC, Mundy CN (1992) Reproductive biology, spawning and field fertilization rates of Acanthaster planci. Aust J Mar Freshw Res 43:525–534

Babcock RC, Mundy CN (1993) Seasonal changes in fertility and fecundity in Acanthaster planci. In: The possible causes and consequences of outbreaks of the crown-of-thorns starfish—Proceedings of a workshop. Proc 7th Int Coral Reef Symp Guam, vol 2, pp 757–761

Babcock RC, Mundy CN, Whitehead D (1994) Sperm diffusion models and in situ confirmation of long-distance fertilization in the free-spawning asteroid Acanthaster planci. Biol Bull 186:17–28

Baird AH, Pratchett MS, Hoey AS, Herdiana Y, Campbell SJ (2013) Acanthaster planci is a major cause of coral mortality in Indonesia. Coral Reefs 32:803–812

Benítez-Villalobos F, Díaz-Martínez JP (2010) Reproductive patterns of the abyssal asteroid Styracaster elongatus from the N.E. Atlantic Ocean. Deep Sea Res Part I: Oceanogr Res Pap 57 (1):157–161

Benítez-Villalobos F, Martínez-García M (2012) Reproductive biology of the starfish Pharia pyramidatus (Echinodermata: Asteroidea) from the Mexican tropical Pacific. J Mar Biol Assoc U.K. 92(6):1409–1418

Benzie JAH, Dixon P (1994) The effect of sperm concentration, sperm:egg ratio, and gamete age on fertilisation success in crown-of-thorns starfish (Acanthaster planci) in the laboratory. Biol Bull 186:139–152

Birkeland C (1989) The Faustian traits of the crown-of-thorns starfish. Am Sci 77:154–163

Bradbury RH, van der Laan JD, Macdonald B (1990) Modelling the effects of predation and dispersal on the generation of waves of starfish outbreaks. Math Comput Mod 13:61–67

Caballes CF, Pratchett MS, Kerr AM, Rivera-Posada JA (2016) The role of maternal nutrition on oocyte size and quality, with respect to early larval development in the coral-eating starfish, Acanthaster planci. PLoS ONE 11(6):e0158007. doi:10.1371/journal.pone.0158007

Carpenter KE, Abrar M, Aeby G, Aronson RB, Banks S, Bruckner A, Chiriboga A, Cortes J, Delbeek JC, DeVantier L, Edgar GJ, Edwards AJ, Fenner D, Guzman HM, Hoeksema BW, Hodgson G, Johan O, Licuanan WY, Livingstone SR, Lovell ER, Moore JA, Obura DO, Ochavillo D, Polidoro BA, Precht WF, Quibilan MC, Reboton C, Richards ZT, Rogers AD, Sanciangco J, Sheppard A, Sheppard C, Smith J, Stuart S, Turak E, Veron JEN, Wallace C, Weil E, Wood E (2008) One-third of reef-building corals face elevated extinction risk from climate change and local impacts. Science 321:560–563

Conand C (1985) Distribution, reproductive cycle and morphometric relationships of Acanthaster planci (Echinodermata, Asteriodea) in New Caledonia, western tropical Pacific. In: Keegan BF, O'Connor BDS (eds) Echindermata: proceedings of the fifth international echinoderm conference, Galway. Balkema, Rotterdam, pp 499–506

De'ath G, Fabricius KE, Sweatman H, Puotinen M (2012) The 27-year decline of coral cover on the Great Barrier Reef and its causes. PNAS 109:17995–17999

Haszprunar G, Spies M (2014) An integrative approach to the taxonomy of the crown-of-thorns starfish species group (Asteroidea: Acanthaster): a review of names and comparison to recent molecular data. Zootaxa 3841:271–284

Hoey J, Campbell ML, Hewitt CL, Gould B, Bird R (2016) Acanthaster planci invasions: applying biosecurity practices to manage a native boom and bust coral pest in Australia. Manag Biol Invasion 7:213–220

Hughes TP, Graham NA, Jackson JB, Mumby PJ, Steneck RS (2010) Rising to the challenge of sustaining coral reef resilience. Trends Ecol Evol 25 (11):633–642

Jangoux M, Lawrence JM (1983) Echinoderm nutrition. AA Balkema, Rotterdam

Katoh M, Hashimoto K (2003) Genetic similarity of outbreak populations of crown-of-thorns starfish (Acanthaster planci) that were 15 years apart in Okinawa, Japan. Coral Reefs 22:178–180

Keesing JK, Lucas JS (1992) Field measurement of feeding and movement rates of the crown-of-thorns starfish Acanthaster planci (L.). J Exp Mar Biol Ecol 156:8994–91104

Kettle BT (1990) Variations in biometric and physiological parameters of Acanthaster planci (L.) (Echinodermata; Asteroidea) during the course of a high density outbreak. PhD Thesis, James Cook University, Townsville

Kettle BT, Lucas JS (1987) Biometric relationships between organ indices, fecundity, oxygen consumption and body size in Acanthaster planci (L.) (Echinodermata; Asteroidea). Bull Mar Sci 41:541–551

Levitan DR (1998) Sperm limitation, gamete competition, and sexual selection in external fertilizers. In: Birkhead TR, Møller AP (eds) Sperm competition and sexual selection. Academic Press, San Diego, pp 175–217

Liggins L, Gleeson L, Riginos C (2014) Evaluating edge-of-range genetic patterns for tropical echinoderms, Acanthaster planci and Tripneustes gratilla, of the Kermadec Islands, southwest Pacific. Bull Mar Sci 90:379–397

Llodra ER (2002) Fecundity and life-history strategies in marine invertebrates. Adv Mar Biol 43:87–170

Montalto V, Rinaldi A, Sara G (2015) Life history traits predict biogeographic species distributions in bivalves. Sci Nat 102:1–12

Moran PJ (1986) The Acanthaster phenomenon. Oceanogr Mar Biol Annu Rev 24:379–480

Morello EB, Plaganyi EE, Babcock RC, Sweatman H, Hillary R, Punt AE (2014) Model to manage and reduce crown-of-thorns starfish outbreaks. Mar Ecol Prog Ser 512:167–183

Nakamura M, Okaji K, Higa Y, Yamakawa E, Mitari S (2014) Spatial and temporal population dynamics of the crown-of-thorns starfish, Acanthaster planci, over a 24-year period along the central west coast of Okinawa Island, Japan. Mar Biol 161:2521–2530

Pratchett MS (2005) Dynamics of an outbreak population of Acanthaster planci at Lizard Island, northern Great Barrier Reef (1995–1999). Coral Reefs 24:453–462

Pratchett MS, Caballes CF, Rivera-Posada JA, Sweatman HPA (2014) Limits to understanding and managing outbreaks of crown-of-thorns starfish (Acanthaster spp.). Ocean Mar Biol Annu Rev 52:133–200

Reichelt RE, Bradbury RH, Moran PJ (1990) Distribution of Acanthaster planci outbreaks on the Great Barrier Reef between 1966 and 1989. Coral Reefs 9:97–103

Scandol JP (1999) CotSim—an interactive Acanthaster planci metapopulation model for the central Great Barrier Reef. Mar Mod 1:39–81

Tremblay RL, Raventos J, Ackerman JD (2015) When stable-stage equilibrium is unlikely: integrating transient population dynamics improves asymptotic methods. Ann Bot 116:381–390

Tyler A, Monroy A, Metz CB (1956) Fertilization of fertilized sea urchin eggs. Biol Bull 110:184–195

Uthicke S, Schaffelke B, Byrne M (2009) A boom–bust phylum? Ecological and evolutionary consequences of density variations in echinoderms. Ecol Monogr 79:3–24

Vogler C, Benzie JAH, Tenggardjaja K, Ambariyanto Barber PH, Worheide G (2013) Phylogeography of the crown-of-thorns starfish: genetic structure within the Pacific species. Coral Reefs 32:515–525

Yamazato K, Kiyan T (1973) Reproduction of Acanthaster planci in Okinawa. Micronesica 9:185–195

Yasuda N, Taquet C, Nagai S, Yoshida T, Adjeroud M (2015) Genetic connectivity of the coral-eating sea star Acanthaster planci during the severe outbreak of 2006–2009 in the Society Islands, French Polynesia. Mar Ecol Evol Perspect 36:668–678
Acknowledgments
We would like to thank numerous people for assistance in the field, particularly David Whitehead and Craig Mundy, as well as the crews of the AIMS vessels who supported us over the course of this work. This research was funded by a Grant from the Great Barrier Reef Marine Park Authority's Crown-of-thorns Research Committee to RB and funds from Australia's National Environmental Science Program to MP. All applicable international, national, and/or institutional guidelines for the care and use of animals were followed during the conduct of this research. Authors RB, DM and MP declare that they have no conflicts of interest relating to this work. We thank John Keesing and two anonymous reviewers for comments on earlier versions of the manuscript and the editorial team at Marine Biology.
Additional information
Reviewed by Undisclosed experts.
Responsible Editor: M. Byrne.
Electronic supplementary material
Below is the link to the electronic supplementary material.
About this article
Cite this article
Babcock, R.C., Milton, D.A. & Pratchett, M.S. Relationships between size and reproductive output in the crown-of-thorns starfish. Mar Biol 163, 234 (2016). https://doi.org/10.1007/s00227-016-3009-5
Received:

Accepted:

Published:
Keywords
Reproductive Output

Great Barrier Reef

Coral Cover

Sperm Production

Gonad Index