Abstract
Microfouling in temperate seas underlies seasonal variations. Thus, perennial macroalgae are exposed to fluctuating levels of fouling pressure. Only few studies have examined the link between fouling pressure and algal fouling control. We assessed whether microfouling control of F. vesiculosus and F. serratus against prokaryotes and pennate diatoms fluctuates with season and correlates with microfouling pressure in a 1-year field survey. Microfouler recruitment on glass (reference surface) and on Fucus, microfouling control strength of Fucus surface metabolites (tested by an in situ bioassay approach) and Fucus tissue mannitol content (used as proxy for energy availability) were determined monthly. Microfouling pressure (settled cells per unit time and area) and microfouling control of Fucus varied seasonally. Both Fucus species exhibited cuticula shedding in all seasons. We conclude that microfouling control in both Fucus species showed a lagged or synchronized relationship with mannitol or microfouling pressure.
This is a preview of subscription content, log in to check access.
Access options
Buy single article
Instant access to the full article PDF.
US$ 39.95
Price includes VAT for USA
Subscribe to journal
Immediate online access to all issues from 2019. Subscription will auto renew annually.
US$ 199
This is the net price. Taxes to be calculated in checkout.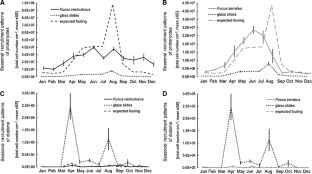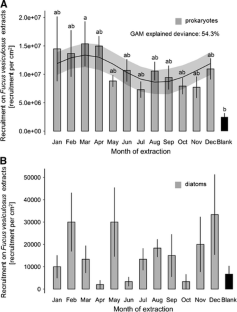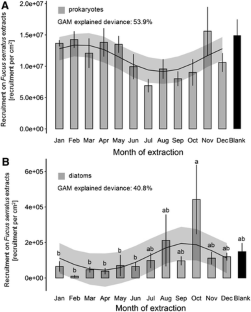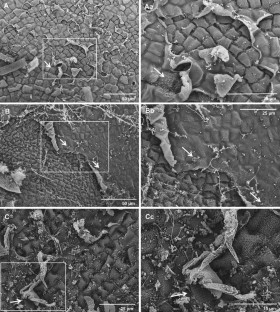 References
Becker K, Wahl M (1991) Influence of substratum surface tension on biofouling of artificial substrata in Kiel bay (Western Baltic): in situ studies. Biofouling 4:275–291

Bengtsson MM, Sjotun K, Ovreas L (2010) Seasonal dynamics of bacterial biofilms on the kelp Laminaria hyperborea. Aquat Microb Ecol 60:71–83. doi:10.3354/ame01409

Borum J (1987) Dynamics of epiphyton on eelgrass (Zostera marina) leaves: relative roles of algal growth, herbivory and substratum turnover. Limnol Oceanogr 32:986–992

Brylinsky M (1977) Release of dissolved organic matter by some marine macrophytes. Mar Biol 39:213–220. doi:10.1007/bf00390995

Campbell et al (2015) Spatial variability of microbial assemblages associated with a dominant habitat-forming seaweed. Front Microbiol 6:230. doi:10.3389/fmicb.2015.00230

Castenholz RW (1961) The effect of grazing on marine littoral diatom populations. Ecology 42:783–794

Coley PD, Bryant JP, Chapin FS (1985) Resource availability and plant antiherbivore defense. Science 230:895–899. doi:10.1126/science.230.4728.895

da Gama BAP, Plouguerné E, Pereira RC (2014) The antifouling defence mechanisms of marine macroalgae. Adv Bot Res 71:413–440

Dct R (2010) R: a language and environment for statistical computing. R Foundation for Statistical Computing, Vienna

de Nys R, Dworjanyn SA, Steinberg PD (1998) A new method for determining surface concentrations of marine natural products on seaweeds. Mar Ecol Prog Ser 162:79–87. doi:10.3354/meps162079

Dobretsov S, Dahms HU, Qian PY (2006) Inhibition of biofouling by marine microorganisms and their metabolites. Biofouling 22:43–54. doi:10.1080/08927010500504784

Dunn OJ (1961) Multiple comparisons among means. J Am Stat Assoc 56:52–64. doi:10.1080/01621459.1961.10482090

Dworjanyn SA, de Nys R, Steinberg PD (2006) Chemically mediated antifouling in the red alga Delisea pulchra. Mar Ecol Prog Ser 318:153–163. doi:10.3354/meps318153

Egan S, James S, Holmstrom C, Kjelleberg S (2001) Inhibition of algal spore germination by the marine bacterium Pseudoalteromonas tunicata. FEMS Microbiol Ecol 35:67–73. doi:10.1016/s0168-6496(00)00112-4

Filion-Myklebust C, Norton TA (1981) Epidermis shedding in the brown seaweed Ascophyllum nodosum (L.) Le Jolis, and its ecological significance. Mar Biol Lett 2:45–51

Goecke F, Labes A, Wiese J, Imhoff JF (2010) Chemical interactions between marine macroalgae and bacteria. Mar Ecol Prog Ser 409:267–299. doi:10.3354/meps08607

Grossart HP (2010) Ecological consequences of bacterioplankton lifestyles: changes in concepts are needed. Environ Microbiol Rep 2:706–714. doi:10.1111/j.1758-2229.2010.00179.x

Grosser K, Zedler L, Schmitt M, Dietzek B, Popp J, Pohnert G (2012) Disruption-free imaging by Raman spectroscopy reveals a chemical sphere with antifouling metabolites around macroalgae. Biofouling 28:687–696. doi:10.1080/08927014.2012.700306

Harder T (2008) Marine epibiosis: concepts, ecological consequences and host defence. In: Flemming HC, Murthy PS, Venkatesan R, Cooksey K (eds) Marine and industrial biofouling, vol 4. Springer, Berlin, pp 219–231. doi:10.1007/7142_2008_16

HELCOM (2009) Eutrophication in the Baltic Sea – an integrated thematic assessment of the effects of nutrient enrichment and eutrophication in the Baltic Sea region. In: Anderson JH, Laamanen M (eds) Baltic Sea Environmental Proceedings 115B, pp 148

Hellio C, Marechal JP, Veron B, Bremer G, Clare AS, Le Gal Y (2004) Seasonal variation of antifouling activities of marine algae from the Brittany coast (France). Mar Biotechnol 6:67–82. doi:10.1007/s10126-003-0020-x

Khailov KM, Burlakov ZP (1969) Release of dissolved organic matter by marine seaweeds and distribution of their total organic production to inshore communities. Limnol Oceanogr 14:521–527

Kumar V, Rao D, Thomas T, Kjelleberg S, Egan S (2011) Antidiatom and antibacterial activity of epiphytic bacteria isolated from Ulva lactuca in tropical waters. World J Microbiol Biotechnol 27:1543–1549. doi:10.1007/s11274-010-0606-1

Lachnit T, Blumel M, Imhoff JF, Wahl M (2009) Specific epibacterial communities on macroalgae: phylogeny matters more than habitat. Aquat Biol 5:181–186. doi:10.3354/ab00149

Lachnit T, Fischer M, Kunzel S, Baines JF, Harder T (2013) Compounds associated with algal surfaces mediate epiphytic colonization of the marine macroalga Fucus vesiculosus. FEMS Microbiol Ecol 84:411–420. doi:10.1111/1574-6941.12071

Lehvo A, Bäck S, Kürikki M (2001) Growth of Fucus vesiculosus L. (Phaeophyta) in the northern Baltic proper: energy and nitrogen storage in seasonal environment. Bot Mar 44:345–350

Michel G, Tonon T, Scornet D, Cock JM, Kloareg B (2010) Central and storage carbon metabolism of the brown alga Ectocarpus siliculosus: insights into the origin and evolution of storage carbohydrates in Eukaryotes. New Phytol 188:67–81. doi:10.1111/j.1469-8137.2010.03345.x

Munda IM (2005) Seasonal fouling by diatoms on artificial substrata at different depths near Piran (Gulf of Trieste, Northern Adriatic). Acta Adriat 46:137–157

Nasrolahi A, Stratil SB, Jacob KJ, Wahl M (2012) A protective coat of microorganisms on macroalgae: inhibitory effects of bacterial biofilms and epibiotic microbial assemblages on barnacle attachment. FEMS Microbiol Ecol 81:583–595. doi:10.1111/j.1574-6941.2012.01384.x

Nylund GM, Cervin G, Persson F, Hermansson M, Steinberg PD, Pavia H (2008) Seaweed defence against bacteria: a poly-brominated 2-heptanone from the red alga Bonnemaisonia hamifera inhibits bacterial colonisation. Mar Ecol Prog Ser 369:39–50. doi:10.3354/meps07577

Pregnall AM (1983) Release of dissolved organic carbon from the estuarine intertidal macroalga Enteromorpha prolifera. Mar Biol 73:37–42. doi:10.1007/bf00396283

Qian PY, Lau SCK, Dahms HU, Dobretsov S, Harder T (2007) Marine biofilms as mediators of colonization by marine macroorganisms: implications for antifouling and aquaculture. Mar Biotechnol 9:399–410. doi:10.1007/s10126-007-9001-9

Rickert E, Karsten U, Pohnert G, Wahl M (2015) Seasonal fluctuations in chemical defenses against macrofouling in Fucus vesiculosus and Fucus serratus from the Baltic Sea. Biofouling 31:363–377. doi:10.1080/08927014.2015.1041020

Rohde S, Hiebenthal C, Wahl M, Karez R, Bischof K (2008) Decreased depth distribution of Fucus vesiculosus (Phaeophyceae) in the western Baltic: effects of light deficiency and epibionts on growth and photosynthesis. Eur J Phycol 43:143–150. doi:10.1080/09670260801901018

Russell G, Veltkamp CJ (1984) Epiphyte survival on skin-shedding macrophytes. Mar Ecol Prog Ser 18:149–153. doi:10.3354/meps018149

Saha M, Wahl M (2013) Seasonal variation in the antifouling defence of the temperate brown alga Fucus vesiculosus. Biofouling 29:661–668. doi:10.1080/08927014.2013.795953

Saha M, Rempt M, Grosser K, Pohnert G, Weinberger F (2011) Surface-associated fucoxanthin mediates settlement of bacterial epiphytes on the rockweed Fucus vesiculosus. Biofouling 27:423–433. doi:10.1080/08927014.2011.580841

Saha M, Rempt M, Gebser B, Grueneberg J, Pohnert G, Weinberger F (2012) Dimethylsulphopropionate (DMSP) and proline from the surface of the brown alga Fucus vesiculosus inhibit bacterial attachment. Biofouling 28:593–604. doi:10.1080/08927014.2012.698615

Saha M, Rempt M, Stratil SB, Wahl M, Pohnert G, Weinberger F (2014) Defence chemistry modulation by light and temperature shifts and the resulting effects on associated epibacteria of Fucus vesiculosus. PLoS One 9:9. doi:10.1371/journal.pone.0105333

Sawabe T et al (1998) Pseudoalteromonas bacteriolytica sp. nov., a marine bacterium that is the causative agent of red spot disease of Laminaria japonica. Int J Syst Bacteriol 48:769–774

Schindelin J et al (2012) Fiji: an open-source platform for biological-image analysis. Nat Methods 9:676–682. doi:10.1038/nmeth.2019

Schneider CA, Rasband WS, Eliceiri KW (2012) NIH image to ImageJ: 25 years of image analysis. Nat Methods 9:671–675. doi:10.1038/nmeth.2089

Sieburth JM, Tootle JL (1981) Seasonality of microbial fouling on Ascophyllum nodosum (L.) Lejol, Fucus vesiculosus (L.), Polysiphonia lanosa (L.) Tandy and Chondrus crispus Stackh. J Phycol 17:57–64. doi:10.1111/j.0022-3646.1981.00057.x

Snoeijs P (1994) Distribution of epiphytic diatom species composition, diversity and biomass on different macroalgal hosts along seasonal and salinity gradients in the Baltic Sea. Diatom Res 9:189–211

Staufenberger T, Thiel V, Wiese J, Imhoff JF (2008) Phylogenetic analysis of bacteria associated with Laminaria saccharina. FEMS Microbiol Ecol 64:65–77. doi:10.1111/j.1574-6941.2008.00445.x

Steinberg PD, de Nys R (2002) Chemical mediation of colonization of seaweed surfaces. J Phycol 38:621–629. doi:10.1046/j.1529-8817.2002.02042.x

Steinberg PD, Schneider R, Kjelleberg S (1997) Chemical defenses of seaweeds against microbial colonization. Biodegradation 8:211–220. doi:10.1023/a:1008236901790

Stratil SB, Neulinger SC, Knecht H, Friedrichs AK, Wahl M (2013) Temperature-driven shifts in the epibiotic bacterial community composition of the brown macroalga Fucus vesiculosus. Microbiologyopen 2:338–349. doi:10.1002/mbo3.79

Strauss SY, Rudgers JA, Lau JA, Irwin RE (2002) Direct and ecological costs of resistance to herbivory. Trends Ecol Evol 17:278–285. doi:10.1016/s0169-5347(02)02483-7

Wahl M (1989) Marine epibiosis. 1. Fouling and antifouling—some basic aspects. Mar Ecol Prog Ser 58:175–189. doi:10.3354/meps058175

Wahl M (2008) Ecological lever and interface ecology: epibiosis modulates the interactions between host and environment. Biofouling 24:427–438. doi:10.1080/08927010802339772

Wahl M et al (2010) Ecology of antifouling resistance in the bladder wrack Fucus vesiculosus: patterns of microfouling and antimicrobial protection. Mar Ecol Prog Ser 411:U33–U61. doi:10.3354/meps08644

Wahl M, Goecke F, Labes A, Dobretsov S, Weinberger F (2012) The second skin: ecological role of epibiotic biofilms on marine organisms. Front Microbiol. doi:10.3389/fmicb.2012.00292

Wasmund et al (1998) Phytoplankton spring blooms in the southern Baltic Sea–spatio-temporal development and long-term trends. J Plankton Res 20:1099–1117

Whitman WB, Coleman DC, Wiebe WJ (1998) Prokaryotes: the unseen majority. Proc Natl Acad Sci USA 95:6578–6583. doi:10.1073/pnas.95.12.6578

Wolfstein K, Colijn F, Doerffer R (2000) Seasonal dynamics of microphytobenthos biomass and photosynthetic characteristics in the northern German Wadden Sea, obtained by the photosynthetic light dispensation system. Estuar Coast Shelf Sci 51:651–662. doi:10.1006/ecss.2000.0702

Yamamoto K, Endo H, Yoshikawa S, Ohki K, Kamiya M (2013) Various defense ability of four sargassacean algae against the red algal epiphyte Neosiphonia harveyi in Wakasa Bay. Jpn Aquat Bot 105:11–17. doi:10.1016/j.aquabot.2012.10.008

Yang Y, Wang J, Yu Y, Liu S, Xia C (2014) Seasonal variations in fouling diatom communities on the Yantai coast. Chin J Oceanol Limnol 33:439–446. doi:10.1007/s00343-015-4067-0
Acknowledgments
The authors acknowledge Nadja Stärck for her support and technical advices during fieldwork and extraction procedure, Melanie Schulz for her patiently enumeration of microfoulers and Shasha Wang for creative discussions regarding the in situ bioassay experiment. We thank Dr Rolf Schmaljohann for Fucus sample preparation for electron microscopy and Esther Appel for the introduction into SEM and assistance during our SEM study. The authors thank the Institute of Clinical Molecular Biology (IKMB) at the Kiel University for permission to use the microscope facilities and especially Susanne Billmann for organization and technical assistance regarding epifluorescence microscopy. We thank Dr Yasmin Appelhans for proofreading the final manuscript.
Funding
This study was funded by the German Research Foundation (DFG, project number WA 708/24-1).
Ethics declarations
Conflict of interest
Esther Rickert declares that she has no conflict of interest. Mark Lenz declares that he has no conflict of interest. Francisco R. Barboza declares that he has no conflict of interest. Stanislav N. Gorb declares that he has no conflict of interest. Martin Wahl declares that he has no conflict of interest.
Ethical approval
This article does not contain any studies with animals performed by any of the authors.
Additional information
Reviewed by undisclosed experts.
Responsible Editor: F. Bulleri.
Electronic supplementary material
Below is the link to the electronic supplementary material.
About this article
Cite this article
Rickert, E., Lenz, M., Barboza, F.R. et al. Seasonally fluctuating chemical microfouling control in Fucus vesiculosus and Fucus serratus from the Baltic Sea. Mar Biol 163, 203 (2016). https://doi.org/10.1007/s00227-016-2970-3
Received:

Accepted:

Published:
Keywords
Surface Extract

Control Strength

Antifouling Activity

Solvent Blank

Thallus Surface