Abstract
It was recently demonstrated that oil platforms are among the most productive marine fish habitats (Claisse et al. in Proc Natl Acad Sci USA 111:15462–15467, 2014). Designed artificial reef systems are similar, albeit smaller, modified habitats designed to accommodate fish assemblages. We compared fish production at a large designed reef to reported production at oil platforms. Given the focus in artificial reef research on distinguishing between new and aggregated fish production, we used a different approach to that of Claisse et al. (Proc Natl Acad Sci USA 111:15462–15467, 2014) to calculate production, based on a steady-state assumption. This assumption simplifies the analysis and distinguishes 'local production', 'new production', and 'biomass flux'. Comparing biomass flux with standing stock biomass enables a new approach to address the production versus attraction debate, by revealing how much biomass is exposed to fishing compared to how much has local production. The local fish production at this artificial reef was 384 g m−2 year−1, which is within the 105–887 g m−2 year−1 range reported by Claisse et al., although our study included visitor species not included by Claisse et al. We estimate that the fish production new to the ecosystem may only be 4–5 % of the local production, due to the large abundance of visitor species on this reef. The annual flux of biomass across this reef was very large, ~380 times greater than the standing stock biomass, meaning that this reef is vulnerable to overexploitation from fishing. Our results show that like oil platforms, designed artificial reefs can be very productive marine habitats, but may not greatly increase the net fish production in a system. The method detailed here will allow similar studies to be done relatively simply at other marine habitats, including fish aggregation devices.
Access options
Buy single article
Instant access to the full article PDF.
US$ 39.95
Tax calculation will be finalised during checkout.
Subscribe to journal
Immediate online access to all issues from 2019. Subscription will auto renew annually.
US$ 119
Tax calculation will be finalised during checkout.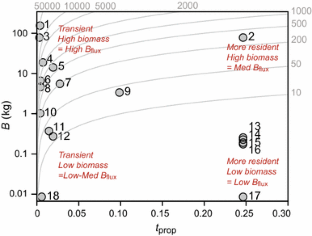 References
Allen LG (1982) Seasonal abundance, composition, and productivity of the littoral fish assemblage in upper Newport Bay, California. Fish Bull 80:769–790

Baine M (2001) Artificial reefs: a review of their design, application, management and performance. Ocean Coast Manag 44:241–259

Bohnsack JA (1989) Are high densities of fishes at artificial reefs the result of habitat limitation or behavioural preference? Bull Mar Sci 44:631–645

Bohnsack JA, Sutherland DL (1985) Artificial reef research: a review with recommendations for future priorities. Bull Mar Sci 37:11–39

Bortone SA (2006) A perspective of artificial reef research: the past, present, and future. Bull Mar Sci 78:1–8

Carlson HR, Haight RE (1972) Evidence for a home site and homing of adult yellowtail rockfish, Sebastes flavidus. J Fish Res Board Can 29:1011–1014

Castro JJ, Santiago JA, Santana-Ortega AT (2002) A general theory on fish aggregation to floating objects: an alternative to the meeting point hypothesis. Rev Fish Biol Fish 11:255–277

Champion C, Suthers IM, Smith JA (2015) Zooplanktivory is a key process for fish production on a coastal artificial reef. Mar Ecol Prog Ser 541:1–14

Christensen V, Pauly D (1992) ECOPATH II—a software for balancing steady-state ecosystem models and calculating network characteristics. Ecol Model 61:169–185

Claisse JT, Pondella DJ, Love M, Zahn LA, Williams CM, Williams JP, Bull AS (2014) Oil platforms off California are among the most productive marine fish habitats globally. Proc Natl Acad Sci USA 111:15462–15467

Claisse JT, Pondella DJ II, Love M, Zahn LA, Williams CM, Bull AS (2015) Impacts from partial removal of decommissioned oil and gas platforms on fish biomass and production on the remaining platform structure and surrounding shell mounds. PLoS ONE 10:e0135812

Cowley PD, Whitfield AK (2002) Biomass and production estimates of a fish community in a small South African estuary. J Fish Biol 61:74–89

Dempster T (2005) Temporal variability of pelagic fish assemblages around fish aggregation devices: biological and physical influences. J Fish Biol 66:1237–1260

Dickie L (1972) Food chains and fish production. ICNAF Spec Publ 8:201–219

Edgar GJ, Stuart-Smith RD (2014) Systematic global assessment of reef fish communities by the Reef Life Survey program. Sci Data 1:140007

Edgar GJ, Stuart-Smith RD, Willis TJ et al (2014) Global conservation outcomes depend on marine protected areas with five key features. Nature 506:216–220

Folpp H, Lowry M (2006) Factors affecting recreational catch rates associated with a fish aggregating device (FAD) off the NSW coast, Australia. Bull Mar Sci 78:185–193

Folpp H, Lowry M, Gregson M, Suthers IM (2011) Colonization and community development of fish assemblages associated with estuarine artificial reefs. Braz J Oceanogr 59:55–67

Fowler AM, Macreadie PI, Jones DOB, Booth DJ (2014) A multi-criteria decision approach to decommissioning of offshore oil and gas infrastructure. Ocean Coast Manag 87:20–29

Fowler AM, Macreadie PI, Booth DJ (2015) Should we "reef" obsolete oil platforms? Proc Natl Acad Sci USA 112:E102

Girard C, Benhamou S, Dagorn L (2004) FAD: fish aggregating device or fish attracting device? A new analysis of yellowfin tuna movements around floating objects. Anim Behav 67:319–326

Harvey E, Shortis M (1995) A system for stereo-video measurement of sub-tidal organisms. Mar Technol Soc J 29:10–22

Kenchington TJ (2013) Natural mortality estimators for information-limited fisheries. Fish Fish 15:533–562

Lindberg WJ (1997) Can science resolve the attraction-production issue? Fisheries 22:10–13

Lowry M, Folpp H, Gregson M, Suthers I (2012) Comparison of baited remote underwater video (BRUV) and underwater visual census (UVC) for assessment of artificial reefs in estuaries. J Exp Mar Biol Ecol 416:243–253

Mertz G, Myers RA (1998) A simplified formulation for fish production. Can J Fish Aquat Sci 55:478–484

Miller MW (2002) Using ecological processes to advance artificial reef goals. ICES J Mar Sci 59:S27–S31

Miller ME, Stewart J (2009) The commercial fishery for ocean leatherjackets (Nelusetta ayraudi, Monacanthidae) in New South Wales, Australia. Asian Fish Sci 22:257–264

Mitamura H et al (2009) Preliminary study on homing, site fidelity, and diel movement of black rockfish Sebastes inermis measured by acoustic telemetry. Fish Sci 75:1133–1140

Peterson CH, Grabowski JH, Powers SP (2003) Estimated enhancement of fish production resulting from restoring oyster reef habitat: quantitative valuation. Mar Ecol Prog Ser 264:249–264

Polovina JJ (1991) Fisheries applications and biological impacts of artificial habitats. In: Seaman W Jr, Sprague LM (eds) Artificial habitats for marine and freshwater fisheries. Academic Press Inc., San Diego, pp 153–176

Powers SP, Grabowski JH, Peterson CH, Lindberg WJ (2003) Estimating enhancement of fish production by offshore artificial reefs: uncertainty exhibited by divergent scenarios. Mar Ecol Prog Ser 264:265–277

Randall RG, Minns CK (2000) Use of fish production per unit biomass ratios for measuring the productive capacity of fish habitats. Can J Fish Aquat Sci 57:1657–1667

Scott ME, Smith JA, Lowry MB, Taylor MD, Suthers IM (2015) The influence of an offshore artificial reef on the abundance of fish in the surrounding pelagic environment. Mar Freshw Res 66:429–437

Shipp RL, Bortone SA (2009) A perspective of the importance of artificial habitat on the management of red snapper in the Gulf of Mexico. Rev Fish Sci 17:41–47

Smith JA, Lowry MB, Suthers IM (2015) Fish attraction to artificial reefs not always harmful: a simulation study. Ecol Evol 5:4590–4602

Stevenson C et al (2007) High apex predator biomass on remote Pacific Islands. Coral Reefs 26:47–51

Stewart J, Hughes JM (2009) Biological and fishery characteristics of rubberlip morwong Nemadactylus douglasii (Hector, 1875) in eastern Australia. Fish Res 96:267–274

Stewart J, Ferrell DJ, van der Walt B, Johnson D, Lowry M (2001) Assessment of length and age composition of commercial kingfish landings. NSW Fisheries Final Report Series No. 36, NSW Fisheries, Cronulla, Australia

Stone RB, Pratt H, Parker R Jr, Davis G (1979) A comparison of fish populations on an artificial and natural reef in the Florida Keys. Mar Fish Rev 41:1–11

Warburton K (1979) Growth and production of some important species of fish in a Mexican coastal lagoon system. J Fish Biol 14:449–464
Acknowledgments
We are grateful to Stephanie Brodie and Krystle Keller for sharing telemetry data. This research was funded by an Australian Research Council Linkage Project (LP120100592). This article is Sydney Institute of Marine Science Contribution #185. All fish observations were carried out ethically, and no biota were collected.
Funding
This research was funded by an Australian Research Council Linkage Project (LP120100592).
Ethics declarations
Conflict of interest
All authors declared that they have no conflict of interest.
Ethical approval
This research was done under University of NSW Animal Care and Ethics Committee (ACEC) approval #10/15B.
Additional information
Reviewed by undisclosed experts.
Responsible Editor: M. Peck.
Electronic supplementary material
Below is the link to the electronic supplementary material.
About this article
Cite this article
Smith, J.A., Lowry, M.B., Champion, C. et al. A designed artificial reef is among the most productive marine fish habitats: new metrics to address 'production versus attraction'. Mar Biol 163, 188 (2016). https://doi.org/10.1007/s00227-016-2967-y
Received:

Accepted:

Published:
Keywords
Fish Assemblage

Local Production

Fish Production

Flux Ratio

Fish Biomass