Abstract
The prevalence of a haremic mating system type with parental care is one of the main characteristics of the modern triggerfish family (Balistidae). In addition, intraspecific modifications of the mating system in relation to environmental conditions have been recognized. Thirteen months of observation of mating units in a natural population of Rhinecanthus aculeatus from Okinawa Island, Japan, revealed that the mating system in this species involved a mixture of polygyny, monogamy, and potential promiscuity in solitary females. Females defended individual, multi-purpose territories, while males engaged in female defence ("female defence polygyny") using displays and overt aggressions that advertised that territories were occupied. Male size was strongly linked to access to multiple females (i.e. polygyny). Plasticity in the mating system was related to male–male competition and the ability of females to reject males. An increase in the proportion of monogamous pair territories over the course of the reproductive season was positively correlated with the adult sex ratio (increased male density relative to females), and facultative monogamy was enhanced under a less female-biased sex ratio. A comparison between female and male mating success (number of matings) and the adjustment of the mating status over time revealed that polygyny was advantageous and the optimal mating system for males. Females achieved higher number of matings when pairing with larger males, but mating success was not negatively affected by the actual mating status, and females did not attempt to escape polygyny. Polygyny is therefore considered as the primary mating system in R. aculeatus.
Access options
Buy single article
Instant access to the full article PDF.
US$ 39.95
Tax calculation will be finalised during checkout.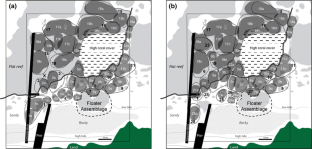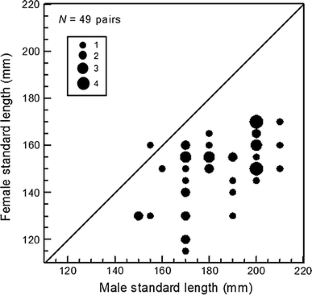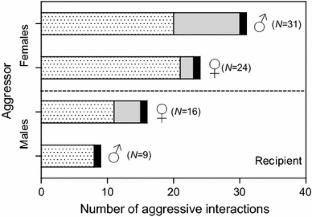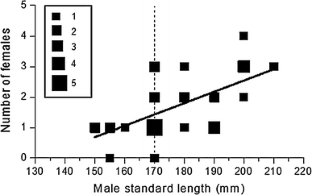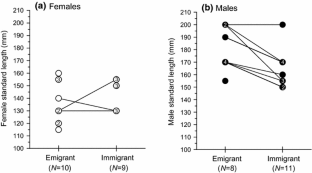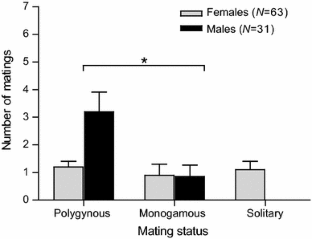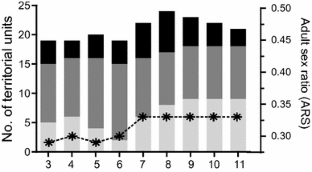 References
Baird TA, Liley N (1989) The evolutionary significance of harem polygyny in the sand tilefish, Malacanthus plumieri: resource or female defence? Anim Behav 38:817–829

Barlow GW (1974) Contrasts in social behavior between Central American cichlid fishes and coral-reef surgeon fishes. Am Zool 14:9–34

Brandl SJ, Bellwood DR (2014) Pair formation in coral reef fishes: an ecological perspective. Oceanogr Mar Biol Annu Rev 52:1–80

Carvalho N, Afonso P, Santos RS (2003) The haremic mating system and mate choice in the wide-eyed flounder, Bothus podas. Environ Biol Fishes 66:249–258

Clutton-Brock TH (1984) Reproductive effort and terminal investment in iteroparous animals. Am Nat 123:212–229

Clutton-Brock TH (1989) Review lecture: mammalian mating systems. Proc R Soc Lond B Biol Sci 236:339–372

Clutton-Brock TH (2007) Sexual selection in males and females. Science 318:1882–1885

Donaldson T (1989) Facultative monogamy in obligate coral-dwelling hawkfishes (Cirrhitidae). Environ Biol Fishes 26:295–302

Emlen S, Oring L (1977) Ecology, sexual selection, and the evolution of mating systems. Science 197:215–223

Fricke HW (1979) Mating system, resource defence and sex change in the anemonefish Amphiprion akallopisos. Zeitschrift für Tierpsychologie 50:313–326

Fricke HW (1980a) Control of different mating systems in a coral reef fish by one environmental factor. Anim Behav 28:561–569

Fricke HW (1980b) Mating systems, maternal and biparental care in triggerfish (Balistidae). Zeitschrift für Tierpsychologie 53:105–122

Fricke HW (1986) Pair swimming and mutual partner guarding in monogamous butterflyfish (Pisces, Chaetodontidae): a joint advertisement for territory. Ethology 73:307–333

Froese R, Pauly D (2010) FishBase. International Center for Living Aquatic Resources Management, Manila

Gladstone W (1987) Role of female territoriality in social and mating systems of Canthigaster valentini (Pisces: Tetraodontidae): evidence from field experiments. Mar Biol 96:185–191

Gross MR, Sargent RC (1985) The evolution of male and female parental care in fishes. Am Zool 25:807–822

Hernaman V, Munday P (2007) Evolution of mating systems in coral reef gobies and constraints on mating system plasticity. Coral Reefs 26:585–595

Hiatt RW, Strasburg DW (1960) Ecological relationships of the fish fauna on coral reefs of the Marshall Islands. Ecol Monogr 30:65–127

Holcroft NI (2005) A molecular analysis of the interrelationships of tetraodontiform fishes (Acanthomorpha: Tetraodontiformes). Mol Phylogenet Evol 34:525–544

Hourigan TF (1989) Environmental determinants of butterflyfish social systems. Environ Biol Fishes 25:61–78

Ishihara M, Kuwamura T (1996) Bigamy or monogamy with maternal egg care in the triggerfish, Sufflamen chrysopterus. Ichthyol Res 43:307–313

Johannes R (1978) Reproductive strategies of coastal marine fishes in the tropics. Environ Biol Fishes 3:65–84

Kadota T, Osato J, Hashimoto H, Sakai Y (2011) Harem structure and female territoriality in the dwarf hawkfish Cirrhitichthys falco (Cirrhitidae). Environ Biol Fishes 92:79–88

Kawase H (2003) Spawning behavior and biparental egg care of the crosshatch triggerfish, Xanthichthys mento (Balistidae). Environ Biol Fishes 66:211–219

Kawase H, Nakazono A (1993) Reproductive behavior of the flagtail triggerfish, Sufflamen chrysopterus. In: Proceedings of the 7th international coral reef symposium, Guam, pp 905–907

Kawase H, Nakazono A (1996) Two alternative female tactics in the polygynous mating system of the threadsail filefish, Stephanolepis cirrhifer (Monacanthidae). Ichthyol Res 43:315–323

Kobayashi DR (1986) Social organization of the spotted sharpnose puffer, Canthigaster punctatissima (Tetraodontidae). Environ Biol Fishes 15:141–145

Kokita T (2002) The role of female behavior in maintaining monogamy of a coral-reef filefish. Ethology 108:157–168

Kokita T, Nakazono A (1998) Plasticity in the mating system of the longnose filefish, Oxymonacanthus longirostris, in relation to mate availability. J Ethol 16:81–89

Kokita T, Nakazono A (2001) Sexual conflict over mating system: the case of a pair-territorial filefish without parental care. Anim Behav 62:147–155

Kokko H, Rankin DJ (2006) Lonely hearts or sex in the city? Density-dependent effects in mating systems. Philos Trans R Soc Lond B Biol Sci 361:319–334

Künzli F, Tachihara K (2012) Validation of age and growth of the Picasso triggerfish (Balistidae: Rhinecanthus aculeatus) from Okinawa Island, Japan, using sectioned vertebrae and dorsal spines. J Oceanogr 68:817–829

Kuwamura T (1991) Habitat segregation, coexistence or interspecific territoriality between two triggerfishes, Rhinecanthus aculeatus and Sufflamen chrysopterus, with notes on distribution of other balistids at Sesoko Island, Okinawa. Galaxea 10:65–78

Kuwamura T (1997) Evolution of female egg care in haremic triggerfish, Rhinecanthus aculeatus. Ethology 103:1015–1023

Kuwamura T, Yogo Y, Nakashima Y (1993) Size-assortative monogamy and paternal egg care in a coral goby Paragobiodon echinocephalus. Ethology 95:65–75

Matsumoto K, Kohda M (2004) Territorial defense against various food competitors in the Tanganyikan benthophagous cichlid Neolamprologus tetracanthus. Ichthyol Res 51:354–359

Matsuura K (1979) Phylogeny of the superfamily Balistoidea (Pisces: Tetraodontiformes). Mem Fac Fish Hokkaido Univ 26:49–169

McClanahan TR, Shafir SH (1990) Causes and consequences of sea urchin abundance and diversity in Kenyan coral reef lagoons. Oecologia 83:362–370

Mobley KB, Jones AG (2009) Environmental, demographic, and genetic mating system variation among five geographically distinct dusky pipefish (Syngnathus floridae) populations. Mol Ecol 18:1476–1490

Morley JI, Balshine S (2002) Faithful fish: territory and mate defence favour monogamy in an African cichlid fish. Behav Ecol Sociobiol 52:326–331

Moyer JT (1984) Social organization and reproductive behavior of ostraciid fishes from Japan and the western Atlantic Ocean. J Ethol 2:85–98

Moyer JT, Nakazono A (1978) Population structure, reproductive behavior and protogynous hermaphroditism in the angelfish Centropyge interruptus at Miyake-jima, Japan. J Ichthyol 25:25–39

Munday Pl, Jones GP (1998) The ecological implications of small body size among coral-reef fishes. Oceanogr Mar Biol Annu Rev 36:373–411

Neudecker S, Lobel PS (1982) Mating systems of chaetodontid and pomacanthid fishes at St. Croix. Zeitschrift für Tierpsychologie 59:299–318

Nilsson Sköld H, Aspengren S, Wallin M (2013) Rapid color change in fish and amphibians—function, regulation, and emerging applications. Pigment Cell Melanoma Res 26:29–38

Petersen CW (1990) The relationships among population density, individual size, mating tactics, and reproductive success in a hermaphroditic fish, Serranus fasciatus. Behaviour 113:57–80

Petersen CW, Warner RR (2002) The ecological context of reproductive behavior. In: Sale P (ed) Coral reef fishes: dynamics and diversity in a complex ecosystem. Academic Press, San Diego, pp 103–118

Robertson DR, Warner RR (1978) Sexual patterns in the labroid fishes of the Western Caribbean, II: the parrotfishes (Scaridae). Smithson Contrib Zool 255:1–25

Seki S, Kohda M, Takamoto G, Karino K, Nakashima Y, Kuwamura T (2009) Female defense polygyny in the territorial triggerfish Sufflamen chrysopterum. J Ethol 27:215–220

Sikkel PC (1990) Social organization and spawning in the Atlantic sharpnose puffer, Canthigaster rostrata (Tetraodontidae). Environ Biol Fishes 27:243–254

Székely T, Weissing FJ, Komdeur J (2014) Adult sex ratio variation: implications for breeding system evolution. J Evol Biol 27:1500–1512

Taylor MI, Morley JI, Rico C, Balshine S (2003) Evidence for genetic monogamy and female-biased dispersal in the biparental mouthbrooding cichlid Eretmodus cyanostictus from Lake Tanganyika. Mol Ecol 12:3173–3177

Thresher RE (1984) Reproduction in reef fishes. TFH Publications, Neptune City

Townshend TJ, Wootton RJ (1985) Variation in the mating system of a biparental cichlid fish, Cichlasoma panamense. 95:181–197

Trivers RL (1972) Parental investment and sexual selection. In: Campbell B (ed) Sexual selection and the descent of man, 1871–1971. Aldine-Atherton, Chicago, pp 136–179

Wittenberger JF, Tilson RL (1980) The evolution of monogamy: hypotheses and evidence. Annu Rev Ecol Syst 11:197–232

Wong MY, Munday PL, Jones GP (2005) Habitat patch size, facultative monogamy and sex change in a coral-dwelling fish, Caracanthus unipinna. Environ Biol Fishes 74:141–150

Wootton RJ, Smith C (2014) Reproductive biology of teleost fishes. Wiley, Hoboken

Yabuta S (1997) Spawning migrations in the monogamous butterflyfish, Chaetodon trifasciatus. Ichthyol Res 44:177–182

Yabuta S, Kawashima M (1997) Spawning behavior and haremic mating system in the corallivorous butterflyfish, Chaetodon trifascialis, at Kuroshima Island, Okinawa. Ichthyol Res 44:183–188
Acknowledgments
We are grateful to the staff of Sesoko Station, Tropical Biosphere Research Center (TBRC), University of the Ryukyus, for providing facilities for the fieldwork. We especially thank M. Iida for critically reading drafts of the manuscript and two anonymous referees for providing helpful comments. J.D. Reimer and J. Parkinson proofread an earlier version of this article. This study was supported in part by a grant for the "Elucidation of the Life History and Genetic Population of Okinawan Commercial Fishes" from the Okinawa Prefectural Government and by a scholarship provided by the Ministry of Education, Culture, Sports, Science and Technology, Japan (MEXT).
Conflict of interest
The authors declare that they have no conflict of interest.
Statement on the welfare of animals
All applicable international, national, and/or institutional guidelines for the care and use of animals were followed.
Informed consent
Informed consent was obtained from all individual participants included in the study.
Additional information
Reviewed by undisclosed experts.
Responsible Editor: O. Puebla.
About this article
Cite this article
Ziadi-Künzli, F., Tachihara, K. Female defence polygyny and plasticity in the mating system of the demersal triggerfish Rhinecanthus aculeatus (Pisces: Balistidae) from Okinawa Island. Mar Biol 163, 27 (2016). https://doi.org/10.1007/s00227-015-2780-z
Received:

Accepted:

Published:
Keywords
Standard Length

Large Male

Territory Unit

Flat Reef

Solitary Female