Abstract
Several sacoglossan sea slugs utilise chloroplasts ingested from algae for photosynthesis (kleptoplasty), a unique trophic strategy unknown in other animals. Its adaptive significance, especially the behavioural adaptations involved in this phenomenon, has not been fully explored. To address this issue, the effects of kleptoplasty on phototaxis were investigated, both across and within species, using sacoglossans collected along Japanese coasts in 2012 and 2013. First, the presence of phototaxis and preferred light intensity was studied in five sacoglossans with various photosynthetic capabilities using an I-maze with a light gradient (4–330 μmol photons m−2 s−1). Each individual was allowed to move for 30 min to choose the optimal light intensity. Elysia hamatanii, E. trisinuata, and Plakobranchus ocellatus, all with high photosynthetic activity (i.e. kleptoplastic), showed positive phototaxis. Among them, E. hamatanii preferred the highest light intensity followed by P. ocellatus and E. trisinuata, and the order corresponded with the shallowness of their habitats. Conversely, Stiliger ornatus and Placida sp., with virtually no photosynthetic activity (non-kleptoplastic), showed neutral and negative phototaxis, respectively. Next, the phototaxis of E. hamatanii individuals with (fed) and without (starved) functional chloroplasts was compared to examine the effects of the presence of kleptoplasts on phototaxis within a species. Both fed and starved individuals showed positive phototaxis, but the preferred light intensity of starved individuals was lower than that of fed individuals. These results suggest that sacoglossans with functional chloroplasts exhibit positive phototaxis towards a preferred light intensity which may benefit photosynthesis efficiency.
This is a preview of subscription content,
to check access.
Access this article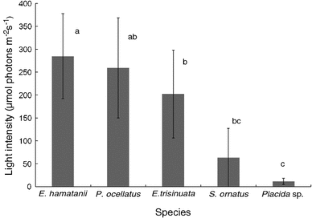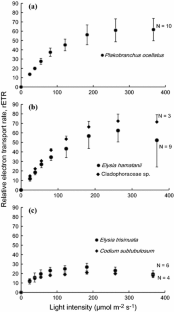 References
Akimoto A, Hirano YM, Sakai A, Yusa Y (2014) Relative importance and interactive effects of photosynthesis and food in two solar-powered sea slugs. Mar Biol 161:1095–1102

Baumgartner FA, Motti CA, de Nys R, Paul NA (2009) Feeding preferences and host association of specialist marine herbivores align with quantitative variation in seaweed secondary metabolites. Mar Ecol Prog Ser 396:1–12

Bhattacharya D, Pelletreau KN, Price DC, Sarver KE, Rumpho ME (2013) Genome analysis of Elysia chlorotica egg DNA provides no evidence for horizontal gene transfer into the germ line of this kleptoplastic mollusc. Mol Biol Evol 30:1843–1852

Cimino G, Ghiselim MT (1998) Chemical defense and evolution in the Sacoglossa (Mollusca Gastropoda: Opisthobanchia). Chemoecology 8:51–60

Clark KB, Jensen KR, Strits HM (1990) Survey of functional kleptoplasty among West Atlantic Ascoglossa (=Sacoglossa) (Mollusca: Opisthobranchia). Veliger 33:339–345

Cruz S, Calado R, Serôdio J, Cartaxana P (2013) Crawling leaves: photosynthesis in sacoglossan sea slugs. J Exp Bot 64:3999–4009

Cummins SF, Nichols AE, Amare A, Hummon AB, Sweedler JV, Nagle GT (2004) Characterization of Aplysia enticin and temptin, two novel water-borne protein pheromones that act in concert with attractin to stimulate mate attraction. J Biol Chem 279:25614–25622

Evertsen J, Burghardt I, Johnsen G, Wägele H (2007) Retention of functional chloroplasts in some sacoglossans from Indo-Pacific and Mediterranean. Mar Biol 151:2159–2166

Gallop A, Bartrop J, Smith DC (1980) The biology of chloroplast acquisition by Elysia viridis. Proc R Soc Lond B Biol Sci 207:335–349

Giménez-Casalduero F, Muniain C (2008) The role of kleptoplasts in the survival rates of Elysia timida (Risso, 1818):(Sacoglossa: Opisthobranchia) during periods of food shortage. J Exp Mar Biol Ecol 357:181–187

Händeler K, Grymbowski YP, Krug PJ, Wägele H (2009) Functional chloroplasts in metazoan cells—A unique evolutionary strategy in animal life. Front Zool 6:1–18

Hinde R, Smith DC (1975) The role of photosynthesis in the nutrition of the mollusc Elysia viridis. Biol J Linn Soc 7:161–171

Krug PJ, Vendetti JE, Rodriguez AK, Retana JN, Hirano YM, Trowbridge CD (2013) Integrative species delimitation in photosynthetic sea slugs reveals twenty candidate species in three nominal taxa studied for drug discovery, plastid symbiosis or biological control. Mol Phylogenet Evol 69:1101–1119

Leonard JL, Lukowiak K (1985) Courtship, copulation, and sperm trading in the sea slug, Navanax inermis (Opisthobranchia: Cephalaspidea). Can J Zool 63:2719–2729

Marín A, Ros J (2004) Chemical defenses in sacoglossan opisthobranchs taxonomic trends and evolutive implications. Sci Mar 68:227–241

Rumpho ME, Worful JM, Lee J, Kannan K, Tyler MS, Bhattacharya D, Moustafa A, Manhart JA (2008) Horizontal gene transfer of the algal nuclear gene psbO to the photosynthetic sea slug Elysia chlorotica. Proc Natl Acad Sci USA 105:17867–17871

Schmitt V, Wägele H (2011) Behavioral adaptations in relation to long-term retention of endosymbiotic chloroplasts in the sea slug Elysia timida (Opisthobranchia, Sacoglossa). Thalassas 27:225–238

Schreiber U, Bilger W, Neubauer C (1995) Chlorophyll fluorescence as a nonintrusive indicator for rapid assessment of in vivo photosynthesis. In: Schulze ED, Caldwell MM (eds) Ecophysiology of photosynthesis. Springer, Heidelberg, pp 49–70

Schwartz JA, Curtis NE, Pierce SK (2010) Using algal transcriptome sequences to identify transferred genes in the sea slug, Elysia chlorotica. Evol Biol 37:29–37

Serôdio J, Silva R, Ezequiel J, Calado R (2011) Photobiology of the symbiotic acoel flatworm Symsagittifera roscoffensis: algal symbiont photoacclimation and host photobehaviour. J Mar Biol Ass UK 90:163–171

Trench RK (1974) Of 'leaves that crawl': functional chloroplasts in animal cells. Symp Soc Exp Biol 29:229–265

Trowbridge CD, Hirano YJ, Hirano YM (2008) Sacoglossan opisthobranchs associated with the green macroalgae Codium spp. on Pacific rocky shores of Japan. Venus 66:175–190

Vieira S, Calado R, Coelho H, Serôdio J (2009) Effects of light exposure on the retention of kleptoplastic photosynthetic activity in the sacoglossan mollusc Elysia viridis. Mar Biol 156:1007–1020

Wägele H, Deusch O, Händeler K, Martin R, Schmitt V, Christa G, Pinzger B, Gould SB, Dagan T, Klussmann-Kolb A, Martin W (2011) Transcriptomic evidence that longevity of acquired plastids in the photosynthetic slugs Elysia timida and Plakobranchus ocellatus does not entail lateral transfer of algal nuclear genes. Mol Biol Evol 28:699–706

Weaver S, Clark KB (1981) Light intensity and colour preferences of five ascoglossan (=sacoglossan) molluscs (Gastropoda: Opisthobranchia): a comparison of chloroplast symbiotic and aposymbiotic species. Mar Behav Physiol 7:297–306

Yamamoto YY, Yusa Y, Yamamoto S, Hirano Y, Hirano Y, Motomura T, Tanemura T, Obokata J (2009) Identification of photosynthetic sacoglossans from Japan. Endocytobiosis Cell Res 19:112–119

Yamamoto S, Hirano YM, Hirano YJ, Trowbridge CD, Akimoto A, Sakai A, Yusa Y (2013) Effects of photosynthesis on the survival and weight retention of two kleptoplastic sacoglossan opisthobranchs. J Mar Biol Ass UK 93:209–215
Acknowledgments
We thank N. Kumagai, M. Yorifuji, N. Yamaguchi, and the members of our laboratory for their support during this study. We also thank K. Wada and S. Tamotsu for their critical reading of the manuscript and constructive comments. This work was partly supported by JSPS KAKENHI (No. 26650132) and Research Institute of Marine Invertebrates (Tokyo).
Electronic supplementary material
Below is the link to the electronic supplementary material.
About this article
Cite this article
Miyamoto, A., Sakai, A., Nakano, R. et al. Phototaxis of sacoglossan sea slugs with different photosynthetic abilities: a test of the 'crawling leaves' hypothesis. Mar Biol 162, 1343–1349 (2015). https://doi.org/10.1007/s00227-015-2673-1
Received:

Accepted:

Published:

Issue Date:

DOI: https://doi.org/10.1007/s00227-015-2673-1
Keywords