Abstract
Seabirds are often proposed as useful indicators of marine ecosystems because of their typically tight response to varying levels of prey abundance. We demonstrate here how this relationship can be modified for Southern Ocean higher-order predators when prey accessibility changes as a consequence of the temporally varying sea-ice environment. We examined within- and between-year fluctuations in breeding success, foraging trip duration, meal mass and fledgling weights of Adélie penguins (Pygoscelis adeliae) at Béchervaise Island (67°35′S, 62°49′E) in east Antarctica to determine the degree of concordance between parameters over a 12-year period and how these varied in relation to sea-ice conditions. The penguins responded to extensive sea-ice (predominantly fast-ice) adjacent to their breeding colony by lengthening their foraging trips, and these years typically had reduced breeding success. Some years indicated good conditions for the penguins across parameters and had relatively high breeding success with heavier fledglings, while others indicated difficult conditions with poorer breeding success and lighter fledglings. In other years, there was discordance in the patterns of breeding success, fledgling mass and early versus late stage foraging trip durations, suggestive of different thresholds for different parameters or within-year changes in resource availability. Our results highlight the importance of accounting for the temporal variability in prey availability as a function of both accessibility and abundance when interpreting predator response curves.
Access options
Buy single article
Instant access to the full article PDF.
US$ 39.95
Tax calculation will be finalised during checkout.
Subscribe to journal
Immediate online access to all issues from 2019. Subscription will auto renew annually.
US$ 119
Tax calculation will be finalised during checkout.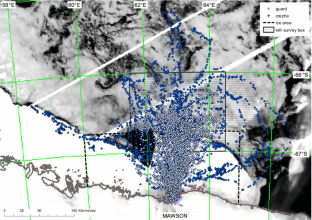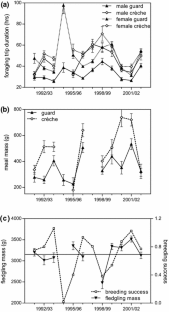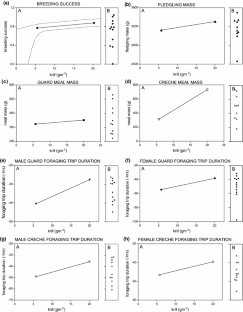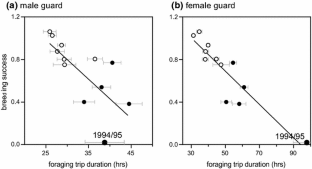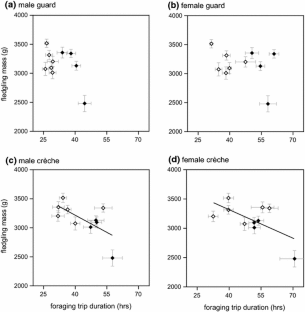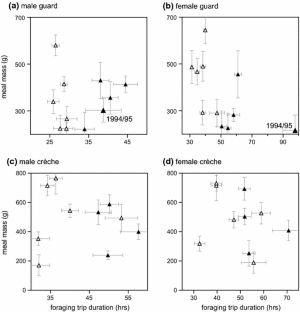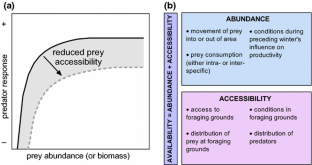 References
Ainley D (2002) The Adélie penguin—bellwether of climate change. Columbia University Press, New York

Ainley D, Ballard G, Barton KJ, Karl B, Rau GH, Ribic CA, Wilson PR (2003) Spatial and temporal variation of diet within a presumed metapopulation of Adelie penguins. Condor 105:95–106

Ainley D, Ballard G, Dugger K (2006) Competition among penguins and cetaceans reveals trophic cascades in the western Ross Sea, Antarctica. Ecology 87:2080–2093

Ainley DG, Ribic CA, Ballard G, Heath S, Gaffney I, Karl BJ, Barton KJ, Wilson PR, Webb S (2004) Geographic structure of Adelie penguin populations: overlap in colony-specific foraging areas. Ecol Monogr 74:159–178

Ballance LT, Ainley DG, Ballard G, Barton K (2009) An energetic correlate between colony size and foraging effort in seabirds, an example of the Adélie penguin Prgocelis adeliae. J Avian Biol 40:279–288

Ballard G, Dugger KM, Nur N, Ainley DG (2010) Foraging strategies of Adélie penguins: adjusting body condition to cope with environmental variability. Mar Ecol Prog Ser 405:287–302

Birt VL, Birt TP, Goulet D, Cairns DK, Montevecchi WA (1987) Ashmoles's halo: direct evidence for prey depletion by a seabird. Mar Ecol Prog Ser 40:205–208

Bunce A, Ward SJ, Norman FI (2005) Are age-related variations in breeding performance greatest when food availability is limited? J Zool London 266:163–169

Cairns DK (1987) Seabirds as indicators of marine food supplies. Biol Oceanogr 5:261–271

Cavalieri D, Parkinson C, Gloersen P, Zwally HJ (1996) Sea ice concentrations from Nimbus-7 SMMR and DMSP SSM/I passive microwave data, [1990–2007]. National Snow and Ice Data Center, Boulder

Clarke J, Kerry K (1998) Implanted transponders in penguins: implantation, reliability, and long term effects. J Field Ornithol 69:149–159

Clarke J, Kerry K, Irvine L, Phillips B (2002) Chick provisioning and breeding success of Adélie penguins at Béchervaise Island over eight successive seasons. Polar Biol 25:201–230

Clarke J, Emmerson L, Otahal P (2006) Environmental conditions and life-history constraints determine foraging range in breeding Adélie penguins. Mar Ecol Prog Ser 310:247–261

Croxall JP, Prince PA (1980) Food, feeding ecology and ecological segregation of seabirds at South Georgia. Biol J Linn Soc 14:103–131

Croxall JP, McCann TS, Prince PA, Rothery P (1988) Reproductive performance of seabirds and seals at South Georgia and Signy Island, South Orkney Islands, 1976–1987: implications for southern ocean monitoring studies. In: Sahrhage D (ed) Antarctic ocean and resources variability. Springer, Berlin

Croxall JP, Reid K, Prince PA (1999) Diet, provisioning and productivity responses of marine predators to differences in availability of Antarctic krill. Mar Ecol Prog Ser 177:115–131

Cury PM, Boyd IL, Bonhommeau S, Anker-Nilssen T, Crawford RJM, Furness RW, Mills JA, Murphy EJ, Österblom H, Paleczny M, Piatt JF, Roux J-P, Shannon L, Sydeman WJ (2011) Global seabird response to forage fish depletion—one-third for the birds. Science 334:1703–1706

de la Mare WK, Constable AJ (2000) Utilising data from ecosystem monitoring for managing fisheries: development of statistical summaries of indices arising from the CCAMLR Ecosystem Monitoring Program. CCAMLR Sci 7:101–117

Einoder LD (2009) A review of the use of seabirds as indicators in fisheries and ecosystem management. Fish Res 95:6–13

Emmerson L, Southwell C (2008) Sea ice cover and its influence on Adélie penguin reproductive performance. Ecology 89:2096–2102

Emmerson LM, Pike R, Southwell CJ (2011) Reproductive consequences of environment-driven variation in Adélie penguin breeding phenology. Mar Ecol Prog Ser 440:203–216

Fraser WR, Hofmann EE (2003) A predator's perspective on causal links between climate change, physical forcing and ecosystem response. Mar Ecol Prog Ser 265:1–15

Hewitt RP, Demer DA, Emery JH (2003) An 8-year cycle in krill biomass density inferred from acoustic surveys conducted in the vicinity of the South Shetland Islands during the Austral summers of 1991/92 through 2001/2002. Aquat Living Resour 16:205–213

Hinke J, Salwicka K, Trivelpiece SG, Watters GM, Trivelpiece WZ (2007) Divergent responses of Pygoscelis penguins reveal a common environmental driver. Oecologia 153:845–855

Irvine L, Clarke JR, Kerry KR (2000) Poor breeding success of the Adélie penguin at Béchervaise Island in the 1998/99 season. CCAMLR Sci 7:151–167

Kerry K, Clarke J, Else G (1993) The use of an automated weighing and recording system for the study of the biology of Adélie penguins (Pygoscelis adeliae). NIPR Symp Polar Biol 6:62–75

Lescroel A, Ballard G, Toniolo V, Barton K, Wilson P, Lyver P, Ainley DG (2010) Working less to gain more: when breeding quality relates to foraging efficiency. Ecology 91:2044–2055

Loeb V, Siegel V, Holm-Hansen O, Hewitt R, Fraser W, Trivelpiece W, Trivelpiece S (1997) Effects of sea-ice extent and krill or salp dominance on the Antarctic food web. Nature 387:897–900

Montevecchi WA (1993) Birds as indicators of change in marine prey stocks. In: Furness RW, Greenwood JJD (eds) Birds as monitors of environmental change. Chapman and Hall, London, pp 217–266

Motulsky H (1999) Analyzing data with GraphPad Prism. GraphPad Software Inc., San Diego

Murphy EJ, Watkins JL, Reid K, Trathan PN, Everson I, Croxall JP, Priddle J, Brandon MA, Brierley AS, Hofmann E (1998) Interannual variability of the South Georgia marine ecosystem: biological and physical sources of variation in the abundance of krill. Fish Oceanogr 7:381–390

Murphy EJ, Trathan PN, Watkins JL, Reid K, Meredith MP, Forcada J, Thorpe SE, Johnston NM, Rothery P (2007) Climatically driven fluctuations in Southern Ocean ecosystems. Proc R Soc B 274:3057–3067

Nicol S (2006) Krill, currents, and sea ice: Euphausia superba and its changing environment. Bioscience 56:111–120

Nicol S, Pauly T, Bindoff NL, Wright S, Thiele D, Hosie GW, Strutton PG, Woehler E (2000) Ocean circulation off east Antarctica affects ecosystem structure and sea-ice extent. Nature 406:504–507

Nicol S, Clarke J, Romaine SJ, Kawaguchi S, Williams G, Hosie GW (2008) Krill (Euphausia superba) abundance and Adélie penguin (Pygoscelis adeliae) breeding performance in the waters off the Béchervaise Island colony, East Antarctica in 2 years with contrasting ecological conditions. Deep Sea Res II 55:540–557

Olmastroni S, Pezzo F, Volpi V, Focardi S (2004) Effects of weather and sea-ice on the reproductive performances of the Adelie penguin at Edmonson Point, Ross Sea. CCAMLR Sci 11:99–104

Parkinson CL (2004) Southern Ocean sea ice and its wider linkages: insights revealed from models and observations. Antarct Sci 16:387–400

Piatt JF, Harding AMA, Schmutz JA, Speckmann SG, van Pelt TI, Drew GS, Kettle AB (2007) Seabirds as indicators of marine food supplies: Cairns revisited. Mar Ecol Prog Ser 352:221–234

Reid K (2003) Ecosystem indicators: factors affecting the choice of predator performance indices for use in monitoring programmes. Document, WG-EMM-03/43. CCAMLR, Hobart

Reid K, Croxall JP, Briggs DR, Murphy EJ (2005) Antarctic ecosystem monitoring: quantifying the response of ecosystem indicators to variability in Antarctic krill. ICES J Mar Sci 62:366–373

SC-CAMLR (1997) CCAMLR ecosystem monitoring program: standard methods for monitoring studies. CCAMLR, Hobart

Simberloff D (1998) Flagships, umbrellas, and keystones: Is single-species management passe in the landscape era? Biol Conserv 83:247–257

Sladen WJL (1958) The pygoscelid penguins I. Methods of study II. The Adélie penguin, 17

Smith RC, Ainley D, Baker K, Domack E, Emslie S, Fraser B, Kennett J, Leventer A, Mosley-Thompson E, Stammerjohn S, Vernet M (1999) Marine ecosystem sensitivity to climate change. Bioscience 40:393–404

Southwell C, Clarke J, Emmerson LM (2006) Assessing the power to detect systematic change in Adélie penguin foraging trip duration. CCAMLR Sci 13:201–215

Stammerjohn S, Smith RC (1997) Opposing Southern Ocean climate patterns as revealed by trends in regional sea ice coverage. Institute for Computational Earth System science, University of California, California, pp 617–639

Tierney M, Emmerson LM, Hindell M (2009) Temporal variation in Adélie penguin diet at Béchervaise Island, east Antarctica and its relationship to reproductive performance. Mar Biol 156:1633–1645

Williams TD, Croxall JP (1990) Is chick fledging weight a good index of food availability in seabird populations. Oikos 59:414–416

Woehler EJ, Johnstone GW, Burton HR (1989) The distribution and abundance of Adélie Penguins Pygoscelis adeliae in the Mawson area and at the Rookery Islands, (Antarctica, Southern Ocean) (specially protected area 2), 1981 and 1988. ANARE (Australian National Antarctic Research Expeditions) Res Notes 71:1–36
Acknowledgments
We thank the many people who formed the Béchervaise Island field teams to monitor the Adélie penguins and the various engineers working on the project. All procedures and the implantation of electronic tags to penguins were with approval from the Australian Antarctic Division's Animal Ethics Committee. This project was supported by the AAS projects #2205, #2722, #4086 and #4087. Steve Nicol and Luke Einoder offered helpful comments on the manuscript.
Additional information
Communicated by Y. Cherel.
About this article
Cite this article
Emmerson, L., Southwell, C., Clarke, J. et al. Adélie penguin response parameters signal reduced prey accessibility: implications for predator–prey response curves. Mar Biol 162, 1187–1200 (2015). https://doi.org/10.1007/s00227-015-2661-5
Received:

Accepted:

Published:

Issue Date:
Keywords
Breeding Season

Breeding Success

Response Parameter

Prey Abundance

Predator Response