Abstract
The marine ecosystems of the Bering Sea and adjacent southern Chukchi Sea are experiencing rapid changes due to recent reductions in sea ice. Short-tailed shearwaters Puffinus tenuirostris visit this region in huge numbers between the boreal summer and autumn during non-breeding season, and represent one of the dominant top predators. To understand the implications for this species of ongoing environmental change in the Pacific sub-Arctic and Arctic seas, we tracked the migratory movements of 19 and 24 birds in 2010 and 2011, respectively, using light-level geolocators. In both years, tracked birds occupied the western (Okhotsk Sea and Kuril Islands) and eastern (southeast Bering Sea) North Pacific from May to July. In August–September of 2010, but not 2011, a substantial proportion (68 % of the tracked individuals in 2010 compared to 38 % in 2011) moved through the Bering Strait to feed in the Chukchi Sea. Based on the correlation with oceanographic variables, the probability of shearwater occurrence was highest in waters with sea surface temperatures (SSTs) of 8–10 °C over shallow depths. Furthermore, shearwaters spent more time flying when SST was warmer than 9 °C, suggesting increased search effort for prey. We hypothesized that the northward shift in the distribution of shearwaters may have been related to temperature-driven changes in the abundance of their dominant prey, krill (Euphausiacea), as the timing of krill spawning coincides with the seasonal increase in water temperature. Our results indicate a flexible response of foraging birds to ongoing changes in the sub-Arctic and Arctic ecosystems.
Access options
Buy single article
Instant access to the full article PDF.
US$ 39.95
Tax calculation will be finalised during checkout.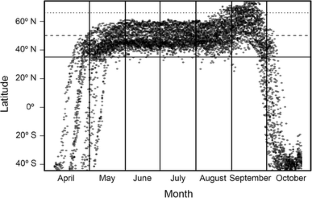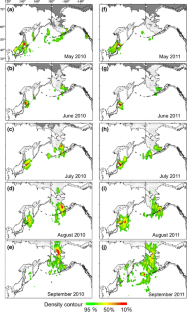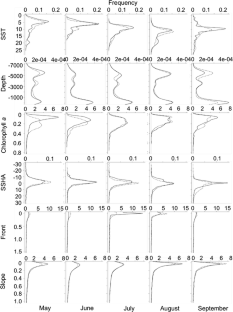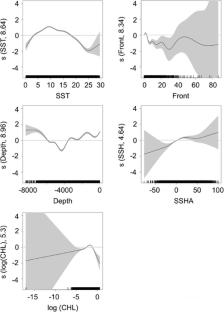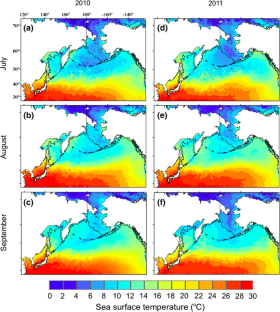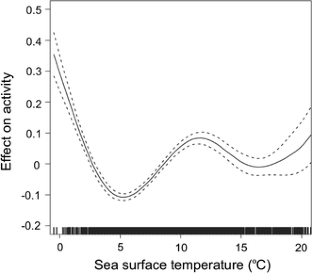 References
Aydin K, Mueter F (2007) The Bering Sea—a dynamic food web perspective. Deep-Sea Res II 54:2501–2525

Baduini CL, Lovvorn JR, Hunt GL Jr (2001) Determining the body condition of short-tailed shearwaters: implications for migratory flight ranges and starvation events. Mar Ecol Prog Ser 222:265–277

Baduini CL, Hunt GL Jr, Pinchuk AI, Coyle KO (2006) Patterns in diet reveal foraging site fidelity of short-tailed shearwaters in the southeastern Bering Sea. Mar Ecol Prog Ser 320:279–292

Bartoń K (2013) MuMIn: multi-model inference. R package version 1.9.0. http://CRAN.R-project.org/package=MuMIn

Berline L, Spitz YH, Ashjian CJ, Campbell RG, Maslowski W, Moore SE (2008) Euphausiid transport in the Western Arctic Ocean. Mar Ecol Prog Ser 360:163–178

BirdLife International (2004) Tracking ocean wanderers: the global distribution of albatrosses and petrels. BirdLife International, Cambridge

Bluhm BA, Coyle KO, Konar B, Highsmith R (2007) High gray whale relative abundances associated with an oceanographic front in the south-central Chukchi Sea. Deep-Sea Res II 54:2919–2933

Brinton E (1962) The distribution of Pacific krill. Bull Scripps Inst Oceanogr Univ Calif 8:51–269

Carey MJ, Meathrel CE, May NA (2009) A new method for the long-term attachment of data-loggers of shearwaters (Procellariidae). Emu 109:310–315

Carey MJ, Phillips RA, Silk JRD, Shaffer SA (2014) Trans-equatorial migration of short-tailed shearwaters revealed by geolocators. Emu 114:352–359

Coyle KO (2005) Zooplankton distribution, abundance and biomass relative to water masses in eastern and central Aleutian Island passes. Fish Oceanogr 14:77–92

Coyle KO, Cooney RT (1993) Water column sound scattering and hydrography around the Pribilof Islands, Bering Sea. Cont Shelf Res 13:803–827

Coyle KO, Pinchuk AI (2002) The abundance and distribution of krill and zero-age pollock on the inner shelf of the southeast Bering Sea near the inner front in 1997–1999. Deep-Sea Res 49:6009–6030

Dalpadado P, Skjoldal HR (1991) Distribution and life history of krill from the Barents Sea. Polar Res 10:443–460

Deibel D, Daly KL (2007) Zooplankton processes in Arctic and Antarctic polynyas. In: Smith WO, Barber D (eds) Polynyas: windows into polar oceans. Elsevier oceanography series, vol 74. Elsevier, Amsterdam, pp 271–322

Egevang C, Stenhouse IJ, Phillips RA, Petersen A, Fox JW, Silk JRD (2010) Tracking of Arctic terns Sterna paradisaea reveals longest animal migration. Proc Natl Acad Sci USA 107:2078–2081

Eisner L, Hillgruber N, Martinson E, Maselko J (2013) Pelagic fish and zooplankton species assemblages in relation to water mass characteristics in the northern Bering and southeast Chukchi seas. Polar Biol 36:87–113

Gall AE, Day RH, Weingartner TJ (2013) Structure and variability of the marine-bird community in the northeastern Chukchi Sea. Cont Shelf Res 67:96–115

Grebmeier JM (2012) Shifting patterns of life in the Pacific Arctic and sub-Arctic Seas. Annu Rev Mar Sci 4:63–78

Grebmeier JM, Cooper LW, Feder HM, Sirenko BI (2006) Ecosystem dynamics of the Pacific-influenced Northern Bering and Chukchi Seas in the Amerasian Arctic. Prog Oceanogr 71:331–361

Guisan A, Edwards TC Jr, Hastie T (2002) Generalized linear and generalized additive models in studies of species distributions: setting the scene. Ecol Model 157:89–100

Hanamura Y, Kotori M, Hamaoka S (1989) Daytime surface swarms of the euphausiid Thysanoessa inermis off the west coast of Hokkaido, northern Japan. Mar Biol 102:369–376

Highsmith RC, Coyle KO (1990) High productivity of northern Bering Sea benthic amphipods. Nature 344:862–864

Hill RD (1994) Theory of geolocation by light levels. In: Le Boeuf BJ, Laws RM (eds) Elephant seals: population ecology, behavior and physiology. University of California Press, Oakland, pp 227–236

Hopcroft RR, Kosobokova KN, Pinchuk AI (2010) Zooplankton community patterns in the Chukchi Sea during summer 2004. Deep-Sea Res II 57:27–39

Hunt GL Jr, Coyle KP, Hoffman S, Decker MB, Flint EN (1996) Foraging ecology of short-tailed shearwaters near the Pribilof Islands, Bering Sea. Mar Ecol Prog Ser 141:1–11

Hunt GL Jr, Russell RW, Coyle KO, Weingartner T (1998) Comparative foraging ecology of planktivorous auklets in relation to ocean physics and prey availability. Mar Ecol Prog Ser 167:241–259

Hunt GL Jr, Stabeno P, Walters G, Sinclair E, Brodeur RD, Napp JM, Bond NA (2002a) Climate change and control of the southeastern Bering Sea pelagic ecosystem. Deep-Sea Res II 49:5821–5853

Hunt GL Jr, Baduini C, Jahncke J (2002b) Diets of short-tailed shearwaters in the southeastern Bering Sea. Deep-Sea Res 49:6147–6156

Hunt GL Jr, Coyle KO, Eisner LB, Farley EV, Heintz RA, Mueter F, Napp JM, Overland JE, Ressler PH, Salo S, Stabeno PJ (2011) Climate impacts on eastern Bering Sea foodwebs: a synthesis of new data and an assessment of the oscillating control hypothesis. ICES J Mar Sci 68:1230–1243

Hunt GL Jr, Blanchard AL, Boveng P, Dalpadado P, Drinkwater KF, Eisner L, Hopcroft RR, Kovacs KM, Norcross BL, Renaud P, Reigstad M, Renner M, Skjoldal HR, Whitehouse A, Woodgate RA (2013) The Barents and Chukchi Seas: comparison of two Arctic shelf ecosystems. J Mar Syst 109–110:43–68

Iguchi N, Ikeda T (2004) Vertical distribution, population structure and life history of Thysanoessa longipes (Crustacea: Euphausiacea) around Yamato Rise, central Japan Sea. J Plankton Res 26:1015–1023

Iverson SJ, Springer AM, Kitaysky AS (2007) Seabirds as indicators of food web structure and ecosystem variability: qualitative and quantitative diet analyses using fatty acids. Mar Ecol Prog Ser 352:235–244

Jahncke J, Coyle KO, Zeeman SI, Kachel NB, Hunt GL Jr (2005) Distribution of foraging shearwaters relative to inner front of SE Bering Sea. Mar Ecol Prog Ser 305:219–233

Jessopp MJ, Cronin M, Doyle TK, Wilson M, McQuatters-Gollop A, Newton S, Phillips RA (2013) Transatlantic migration by post-breeding puffins: a strategy to exploit a temporarily abundant food resource? Mar Biol 160:2755–2762

Kotori M (1994) Krill fishery and biology: krill fishery in the west-coast of Hokkaido. Gekkan Kaiyo 26:248–250

Kurasawa K, Honda S, Watanuki Y (2011) Distribution of migrating short-tailed shearwater and breeding rhinoceros auklet and their prey in the northern Sea of Japan, Hokkaido in spring. Jpn J Ornithol 60:216–227

Ladd C, Jahncke J, Hunt GL Jr, Coyle KO, Stabeno PJ (2005) Hydrographic features and seabird foraging in Aleutian passes. Fish Oceanogr 14:178–195

Le Corre M, Jaeger A, Pinet P, Kappes MA, Weimerskirch H, Catry T, Ramos JA, Russell JC, Shah N, Jaquemet S (2012) Tracking seabirds to identify potential marine protected areas in the tropical western Indian Ocean. Biol Conserv 156:83–93

Lindley JA (1980) Population dynamics and production of krill II. Thysanoessa inermis and T. raschi in the North Sea and American coastal waters. Mar Biol 59:225–233

Lovvorn JR, Baduini CL, Hunt GL Jr (2001) Modeling underwater visual and filter feeding by planktivorous shearwaters in unusual sea conditions. Ecology 82:2342–2356

Lowry LF, Sheffield G, George JC (2004) Bowhead whale feeding in the Alaskan Beaufort Sea, based on stomach contents analyses. J Cetacean Res Manag 6:215–223

Mackley EK, Phillips RA, Silk JRD, Wakefield ED, Afanasyev V, Fox JW, Furness RW (2010) Free as a bird? Activity patterns of albatrosses during the nonbreeding period. Mar Ecol Prog Ser 406:291–303

Matsuno K, Yamaguchi A, Imai I (2012) Biomass size spectra of mesozooplankton in the Chukchi Sea during the summers of 1991/1992 and 2007/2008: an analysis using optical plankton counter data. ICES J Mar Sci 69:1205–1217

Moore SE, George JC, Coyle KO, Weingartner TJ (1995) Bowhead whales along the Chukotka Coast in autumn. Arctic 48:155–160

Moss JH, Murphy JM, Farley EV Jr, Eisner LB, Andrews AG (2009) Juvenile pink and chum salmon distribution, diet, and growth in the Northern Bering and Chukchi Seas. N Pac Anadr Fish Comm Bull 5:191–196

Mueter FJ, Litzow MA (2008) Sea ice retreat alters the biogeography of the Bering Sea continental shelf. Ecol Appl 18:309–320

Nemoto T (1962) Distribution of five main krill in the Bering and the Northern part of the North Pacific. J Oceanogr Soc Jpn (20th Anniversary Volume):615–627

Ogi H, Kubodera T, Nakamura K (1980) The pelagic feeding ecology of the short-tailed shearwaters Puffinus tenuirostris in the Subarctic Pacific Region. J Yamashina Inst Ornithol 12:157–182

Phalan B, Phillips RA, Silk JRD, Afanasyev V, Fukuda A, Fox J, Catry P, Higuchi H, Croxall JP (2007) Foraging behaviour of four albatross species by night and day. Mar Ecol Prog Ser 340:271–286

Phillips RA, Silk JRD, Croxall JP, Afanasyev V, Briggs DR (2004) Accuracy of geolocation estimates for flying seabirds. Mar Ecol Prog Ser 266:265–272

Phillips RA, Silk JRD, Croxall JP, Afanasyev V, Bennett VJ (2005) Summer distribution and migration of nonbreeding albatrosses: individual consistencies and implications for conservation. Ecology 86:2386–2396

Piatt JF, Springer AM (2003) Advection, pelagic food webs and the biogeography of seabirds in Beringia. Mar Ornithol 31:141–154

Piatt JF, Wells JL, MacCharles A, Fadely BS (1991) The distribution of seabirds and fish in relation to ocean currents in the southeastern Chukchi Sea. In: Montevecchi WA, Gaston AJ (eds) Studies of high-latitude seabirds: behavioral, energetic, and oceanographic aspects of seabirds feeding ecology. Canadian Wildlife Service Occasional Paper 34, pp 21–31

Piatt JF, Sydeman WJ, Wiese F (2007) Introduction: a modern role for seabirds as indicators. Mar Ecol Prog Ser 352:199–204

Pinet P, Jaquemet S, Pinaud D, Weimerskirch H, Phillips RA, Le Corre M (2011) Migration, wintering distribution and habitat use of an endangered tropical seabird, Barau's petrel Pterodroma baraui. Mar Ecol Prog Ser 423:291–302

Ponomareva LA (1966) Krill of the North Pacific, their distribution and ecology. In: Israel program for scientific translation

Post E, Bhatt US, Bitz CM, Brodie JF, Fulton TL, Hebblewhite M, Kerby J, Kutz SJ, Stirling I, Walker DA (2013) Ecological consequences of sea-ice decline. Science 341:519–524

R Development Core Team (2008) R: a language and environment for statistical computing. Vienna, Austria: R Foundation for Statistical Computing. http://www.R-project.org

Ressler PH, De Robertis A, Warren JD, Smith JN, Kotwicki S (2012) Developing an acoustic survey of euphausiids to understand trophic interactions in the Bering Sea ecosystem. Deep-Sea Res II 65–70:184–195

Schneider DC (1997) Habitat selection by marine birds in relation to water depth. Ibis 139:175–178

Schneider DC, Shuntov VP (1993) The trophic organization of the marine bird community in the Bering Sea. Rev Fish Sci 1:311–335

Schneider DC, Hunt GL Jr, Harrison NM (1986) Mass and energy transfer to seabirds in the southeastern Bering Sea. Cont Shelf Res 5:241–257

Serreze MC, Holland MM, Stroeve J (2007) Perspectives on the Arctic's shrinking sea-ice cover. Science 315:1533–1536

Serventy DL (1967) Aspects of the population ecology of the short-tailed shearwater Puffinus tenuirostris. In: Proceedings of XIV International Ornithological Congress, pp 165–190

Shaffer SA, Tremblay Y, Weimerskirch H, Scott D, Thompson DR, Sagar PM, Moller H, Taylor GA, Foley DG, Block BA, Costa DP (2006) Migratory shearwaters integrate oceanic resources across the Pacific Ocean in an endless summer. Proc Natl Acad Sci USA 103:12799–12802

Shimada K, Kamoshida T, Itoh M, Nishino S, Carmack E, McLaughlin F, Zimmermann S, Proshutinsky A (2006) Pacific Ocean inflow: influence on catastrophic reduction of sea ice cover in the Arctic Ocean. Geophys Res Lett 33:L08605

Sigler MF, Renner M, Danielson SL, Eisner LB, Lauth RR, Kuletz KJ, Logerwell EA, Hunt GL Jr (2011) Fluxes, fins, and feathers: relationships among the Bering, Chukchi, and Beaufort Seas in a time of climate change. Oceanography 24:250–265

Sigler MF, Kuletz KJ, Ressler PH, Friday NA, Wilson CD, Zerbini AN (2012) Marine predators and persistent prey in the southeast Bering Sea. Deep-Sea Res II 65–70:292–303

Smith SL (1991) Growth, development and distribution of the krill Thysanoessa raschi (M. Sars) and Thysanoessa inermis (Krøyer) in the southeastern Bering Sea. Polar Res 10:461–478

Smith SE, Adams PB (1988) Daytime surface swarms of Thysanoessa spinifera (Euphausiacea) in the Gulf of the Farallones, California. Bull Mar Sci 42:76–84

Spear LB, Ainley DG (1997) Flight speed of seabirds in relation to wind speed and direction. Ibis 139:234–251

Springer AM, McRoy CP, Turco K (1989) The paradox of pelagic food webs in the northern Bering Sea—II. Zooplankton communities. Cont Shelf Res 9:359–386

Stafford KM, Moore SE, Stabeno PJ, Holliday DV, Napp JM, Mellinger DK (2010) Biophysical ocean observation in the southeastern Bering Sea. Geophys Rev Lett 37:L02606

Steele M, Ermold W, Zhang J (2008) Arctic Ocean surface warming trends over the past 100 years. Geophys Res Lett 35:L02614

Stutchbury BJM, Tarof SA, Done T, Gow E, Kramer PM, Tautin J, Fox JW, Afanasyev V (2009) Tracking long-distance songbird migration by using geolocators. Science 323:896

Teo SLH, Boustany A, Blackwell S, Walli A, Weng KC, Block BA (2004) Validation of geolocation estimates based on light level and sea surface temperature from electronic tags. Mar Ecol Prog Ser 283:81–98

Toge K, Yamashita R, Kazama K, Fukuwake M, Yamamura O, Watanuki Y (2011) The relationship between pink salmon biomass and the body condition of short-tailed shearwaters in the Bering Sea: can fish compete with seabirds? Proc R S Lond B 278:2584–2590

Vidal J, Smith SL (1986) Biomass, growth, and development of populations of herbivorous zooplankton in the southeastern Bering Sea during spring. Deep-Sea Res 33:523–556

Vlietstra LS, Coyle KO, Kachel NB, Hunt GL Jr (2005) Tidal front affects the size of prey used by a top marine predator, the short-tailed shearwater (Puffinus tenuirostris). Fish Oceanogr 14:196–211

Wassmann P (2011) Arctic marine ecosystems in an era of rapid climate change. Prog Oceanogr 90:1–17

Wassmann P, Duarte CM, Agusti S, Sejr M (2011) Footprints of climate change in the Arctic marine ecosystem. Glob Change Biol 17:1235–1249

Weimerskirch H, Cherel Y (1998) Feeding ecology of short-tailed shearwaters: breeding in Tasmania and foraging in the Antarctic? Mar Ecol Prog Ser 167:261–274

Weimerskirch H, Gault A, Cherel Y (2005) Prey distribution and patchiness: factors in foraging success and efficiency of wandering albatrosses. Ecology 86:2611–2622

Wong SN, Gjerdrum C, Morgan KH, Mallory ML (2014) Hotspots in cold seas: the composition, distribution, and abundance of marine birds in the North American Arctic. J Geophys Res Oceans 119:1691–1705

Wood SN (2006) Generalized additive models: an introduction with R. Chapman and Hall/CRC, London

Woodgate RA, Weingartner T, Lindsay R (2010) The 2007 Bering Strait oceanic heat flux and anomalous Arctic sea-ice retreat. Geophys Res Lett 37:L01602

Woodgate RA, Weingartner TJ, Lindsay R (2012) Observed increases in Bering Strait oceanic fluxes from the Pacific to the Arctic from 2001 to 2011 and their impacts on the Arctic Ocean water column. Geophys Res Lett 39:L24603

Yamamoto T, Takahashi A, Katsumata N, Sato K, Trathan PN (2010) At-sea distribution and behavior of streaked shearwaters (Calonectris leucomelas) during the nonbreeding period. Auk 127:871–881

Žydelis R, Lewison RL, Shaffer SA, Moore JE, Boustany AM, Roberts JJ, Sims M, Dunn DC, Best BD, Tremblay Y, Kappes MA, Halpin PN, Costa DP, Crowder LB (2011) Dynamic habitat models using telemetry data to project fisheries bycatch. Proc R Soc B 278:3191–3200
Acknowledgments
We would like to thank Bruce Robertson and Atsuo Ito for the field assistance, and Kohei Matsuno, Mark J. Carey, George Hunt, and an anonymous reviewer for useful comments on the manuscript. The study was supported by the Japanese Society for Promotion of Science (#20241001, #22405007) and Green Network of Excellence Program funded by the Ministry of Education, Culture, Sports, Science, and Technology, Japan. Research was carried out under La Trobe University Animal Ethics Project AEC 10/32 (W) and Tasmanian Department of Primary Industries Permits to Take Wildlife for Scientific Purposes FA10161 and FA11212 held by CE Meathrel.
Additional information
Communicated by S. Garthe.
Electronic supplementary material
Below is the link to the electronic supplementary material.
About this article
Cite this article
Yamamoto, T., Hoshina, K., Nishizawa, B. et al. Annual and seasonal movements of migrating short-tailed shearwaters reflect environmental variation in sub-Arctic and Arctic waters. Mar Biol 162, 413–424 (2015). https://doi.org/10.1007/s00227-014-2589-1
Received:

Accepted:

Published:

Issue Date:
Keywords
Kuril Island

Aleutian Island

Continuous Flight