Abstract
Gorgonians are widespread sub-littoral benthic suspension feeders in the world oceans. However, data on their trophic ecology and role in benthic–pelagic coupling and biogeochemical cycles remain limited. This study assesses the trophic ecology of Leptogorgia virgulata in the Skidaway River estuary, USA (31.9896N, 81.0242W) by analysing carbon and nitrogen isotopic signatures of its soft tissue and different-sized fractions of particulate organic matter (POM) in its environment. Samples were taken in 5 April, 2 August, and 15 October 2012 and 11 January 2013. Results support a distinct temporal shift in the diet of L. virgulata from the POM fraction <10 µm (i.e. pico- and nanoplankton) to the 10–63-µm fraction (i.e. microplankton). This trophic regime is likely associated with the natural abundance of prey items within these size classes, thus suggesting that L. virgulata may be an opportunistic feeder, and seasonal shifts in food availability in the water column affect its diet. As such small prey items affect the bioenergetics of L. virgulata, it is important to understand the implications of changes in food availability associated with environmental drivers on the physiology and population dynamics of this dominant species in the western Atlantic Ocean.
This is a preview of subscription content, log in to check access.
Access options
Buy single article
Instant access to the full article PDF.
US$ 39.95
Price includes VAT for USA
Subscribe to journal
Immediate online access to all issues from 2019. Subscription will auto renew annually.
US$ 199
This is the net price. Taxes to be calculated in checkout.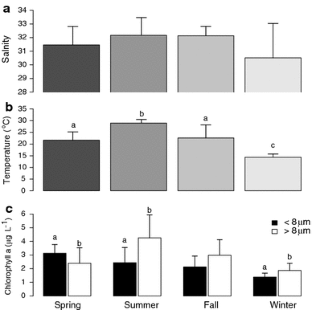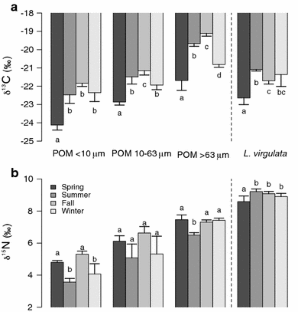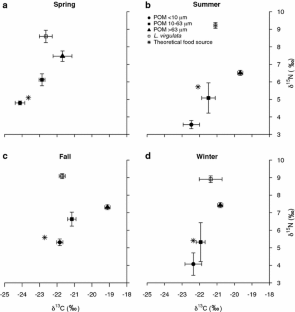 References
Baker DM, Webster KL, Kim K (2010) Caribbean octocorals record changing carbon and nitrogen sources from 1862 to 2005. Global Change Biol 16:2701–2710

Bayer FM (1961) The shallow water Octocorallia of the West Indian region. Martinus Nijhoff, The Hague

Cabana G, Rasmussen JB (1996) Comparison of aquatic food chains using nitrogen isotopes. Proc Natl Acad Sci USA 93:10844–10847

Cocito S, Ferrier-Pagès C, Cupido R, Rottier C, Meier-Augenstein W, Kemp H, Reynaud S, Peirano A (2013) Nutrient acquisition in four Mediterranean gorgonian species. Mar Ecol Prog Ser 473:179–188

Coma R, Ribes M (2003) Seasonal energetic constraints in Mediterranean benthic suspension feeders: effects at different levels of ecological organization. Oikos 101:205–215

Coma R, Gili J-M, Zabala M, Riera T (1994) Feeding and prey capture cycles in the aposymbiotic gorgonian Paramuricea clavata. Mar Ecol Prog Ser 115:257–270

Coma R, Ribes M, Gili J-M, Zabala M (2000) Seasonality in coastal benthic ecosystems. Trends Ecol Evol 15:448–453

Dahlgren EJ (1989) Gorgonian community structure and reef zonation patterns on Yucatan coral reefs. Bull Mar Sci 45:678–696

Doyle TW, O'Neil CP, Melder MPV, From AS, Palta MM (2007) Tidal freshwater swamps of the southeastern United States: effects of land use, hurricanes, sea-level rise, and climate change. In: Conner WH, Doyle TW, Krauss KW (eds) Ecology of tidal freshwater forested wetlands of the Southeastern United States. Springer, Dordrecht, pp 1–28

Elias-Piera F, Rossi S, Gili JM, Orejas C (2013) Trophic ecology of seven Antarctic gorgonian species. Mar Ecol Prog Ser 477:93–106

Ferrier-Pagès C, Peirano A, Abbate M, Cocito S, Negri A, Rottier C, Riera P, Rodolfo-Metalpa R, Reynaud S (2011) Summer autotrophy and winter heterotrophy in the temperate symbiotic coral Cladocora caespitosa. Limnol Oceanogr 56:1429–1438

Fry B (2008) Stable isotope ecoloy. Springer, New York 308 pp

Fry B, Brand W, Mersch FJ, Tholke K, Garritt R (1992) Automated analysis system for coupled δ13C and δ15N measurements. Anal Chem 64:288–291

Gili J-M, Coma R (1998) Benthic suspension feeders: their paramount role in littoral marine food webs. Trends Ecol Evol 13:316–321

Gili J-M, Rossi S, Pagès F, Orejas C, Teixidó N, López-González PJ, Arntz WE (2006) A new trophic link between the pelagic and benthic systems on the Antarctic shelf. Mar Ecol Prog Ser 322:43–49

Gori A, Viladrich N, Gili JM, Kotta M, Cucio C, Magni L, Bramanti L, Rossi S (2012) Reproductive cycle and trophic ecology in deep versus shallow populations of the Mediterranean gorgonian Eunicella singularis (Cap de Creus, northwestern Mediterranean Sea). Coral Reefs 31:823–837

Lasker H (1981) A comparison of the particulate feeding abilities of three species of gorgonian soft coral. Mar Ecol Prog Ser 5:61–67

Leal MC, Ferrier-Pagès C, Calado R, Brandes JA, Frischer ME, Nejstgaard JC (2014) Trophic ecology of the facultative symbiotic coral Oculina arbuscula. Mar Ecol Prog Ser 504:171–179

Linares C, Coma R, Garrabou J, Diaz D, Zabala M (2008) Size distribution, density and disturbance in two Mediterranean gorgonians: Paramuricea clavata and Eunicella singularis. J Appl Ecol 45:688–699

Marcus NH, Boero F (1998) Minireview: the importance of benthic-plagic coupling and the forgotten role of life cycles in coastal aquatic systems. Limnol Oceanogr 43:763–768

Nejstgaard J, Frischer M, Verity P (2006) Plankton development and trophic transfer in seawater enclosures with nutrients and Phaeocystis pouchetii added. Mar Ecol Prog Ser 321:99–121

Parsons TR, Maita Y, Lalli CM (1984) A manual of chemical and biological methods for seawater analysis. Pergamon Press, Oxford

Post DM (2002) Using stable isotopes to estimate trophic position: models, methods, and assumptions. Ecology 83:703–718

R Development Core Team (2012) R: A language and environment for statistical computing. In: R Foundation for Statistical Computing (ed). R Foundation for Statistical Computing, Vienna, Austria (http://www.R-project.org)

Ribes M, Coma R, Gili J (1998) Heterotrophic feeding by gorgonian corals with symbiotic zooxanthella. Limnol Oceanogr 43:1170–1179

Ribes M, Coma R, Gili J-M (1999) Heterogeneous feeding in benthic suspension feeders: the natural diet and grazing rate of the temperate gorgonian Paramuricea clavata (Cnidaria: Octocorallia) over a year cycle. Mar Ecol Prog Ser 183:125–137

Ribes M, Coma R, Gili J-M, Svoboda A, Julià A, Parera J (2000) A 'semi-closed' recirculating system for the in situ study of feeding and respiration of benthic suspension feeders. Sci Mar 64:265–275

Ribes M, Coma R, Rossi S (2003) Natural feeding of the temperate asymbiotic octocoral-gorgonian Leptogorgia sarmentosa (Cnidaria: Octocorallia). Mar Ecol Prog Ser 254:141–150

Rolff C (2000) Seasonal variation in δ13C anf δ15N of size-fractionated plankton at a coastal station in the northern Baltic proper. Mar Ecol Prog Ser 203:47–65

Rossi S, Ribes M, Coma R, Gili J (2004) Temporal variability in zooplankton prey capture rate of the passive suspension feeder Leptogorgia sarmentosa (Cnidaria: Octocorallia), a case study. Mar Biol 144:89–99

Ruppert E, Fox R, Barnes R (2003) Invertebrate zoology: a functional approach. Brookes Cole, Belmont

Sherwood OA, Jamieson RE, Edinger EN, Wareham VE (2008) Stable C and N isotopic composition of cold-water corals from the Newfoundland and Labrador continental slope: examination of trophic, depth and spatial effects. Deep Sea Res I 55:1392–1402

Sherwood OA, Lehmann MF, Schubert CJ, Scott DB, McCarthy MD (2011) Nutrient regime shift in the western North Atlantic indicated by compound-specific δ15N of deep-sea gorgonian corals. Proc Natl Acad Sci USA 108:1011–1015

Verity PG (2001) A decade of change in the Skidaway River estuary I Hydrography and nutrients. Estuaries 25:944–960

Verity PG (2002) A decade of change in the Skdiaway River estuary. II. particulate organic carbon nitrogen and chlorophyll a. Estuaries 25:961–975

Verity P, Borkman D (2010) A decade of change in the Skidaway River estuary. III. Plankton. Estuaries Coasts 33:513–540

Ward-Paige CA, Risk MJ, Sherwood OA (2005) Reconstruction of nitrogen sources on coral reefs: δ15 N and δ13C in gorgonians from Florida Reef Tract. Mar Ecol Prog Ser 296:155–163

Weinberg S (1976) Revision of the common Octocorallia of the Mediterranean circalittoral. I. Gorgonacea. Beaufortia 24:63–204

White MG (1984) Marine benthos. In: Laws RM (ed) Antarctic ecology. Academic Press, London, pp 421–461

Wild C, Huettel M, Klueter A, Kremb S, Rasheed M, Jorgensen B (2004) Coral mucus functions as an energy carrier and particle trap in the reef ecosystem. Nature 428:66–70

Zanden MJV, Rasmussen JB (2001) Variation in δ15 N and δ13C trophic fractionation: implications for aquatic food web studies. Limnol Oceanogr 46:2061–2066
Acknowledgments
We are grateful to two anonymous reviewers for their comments. This project benefited from collaboration with the Skidaway River Monitoring Program (SRiMP) and the SRiMP team. SRiMP members who contributed to data collection and analysis included Laura Birsa, Tina Walters, Victoria Baylor, Megan Thompson, LaGina Fraizer, Kevin McKenzie, Paul Arkwright and Thais Bittar. The SRiMP program was partially funded by the US National Science foundation's LTREB program (Award # 054312). Additional student support for SRiMP activities was provided by the US National Science Foundation under the auspices of the GK-12 program (Award # 0841162 to MEF) and the EDGE program (Award # GEO 0914633 to MEF). M.C.L. was supported by a PhD scholarship (SFRH/BD/63783/2009) funded by the Fundação para a Ciência e Tecnologia (QREN-POPH-Type 4.1—Advanced Training, subsidized by the European Social Fund and national funds Ministério da Educação e Ciência). Partial support was also provided by the US National Science Foundation to M.E.F. (awards OCE 0825999 and OCE 1031263) and J.C.N. (award OCE 0824499), C.F.P. was supported by the government of the Principality of Monaco.
Additional information
Communicated by J. Grassle.
About this article
Cite this article
Leal, M.C., Berger, S.A., Ferrier-Pagès, C. et al. Temporal changes in the trophic ecology of the asymbiotic gorgonian Leptogorgia virgulata . Mar Biol 161, 2191–2197 (2014). https://doi.org/10.1007/s00227-014-2496-5
Received:

Accepted:

Published:

Issue Date:
Keywords
Particulate Organic Matter

Particulate Organic Carbon

Isotopic Signature

Trophic Ecology

Western Atlantic Ocean