Abstract
Knowing the trophic ecology of marine predators is essential to develop an understanding of their ecological role in ecosystems. Research conducted on deep-sea and threatened shark species is limited. Here, by combining analyses of individual stomach contents and stable isotope values, we examined the trophic ecology (dietary composition and trophic position) of the kitefin shark Dalatias licha, a deep-sea shark considered as near threatened globally and as data deficient in the Mediterranean Sea. Results revealed the importance of small sharks in the diet of the kitefin shark at short- and long-term scales, although fin-fish, crustaceans and cephalopods were also found. Predation on sharks reveals the high trophic position of the kitefin shark within the food web of the western Mediterranean Sea. Stable isotope values from liver and muscle tissues confirmed our results from stomach content analysis and the high trophic position.
Access options
Buy single article
Instant access to the full article PDF.
USD 39.95
Price excludes VAT (USA)
Tax calculation will be finalised during checkout.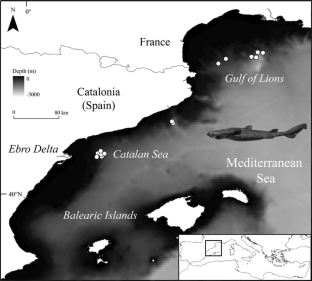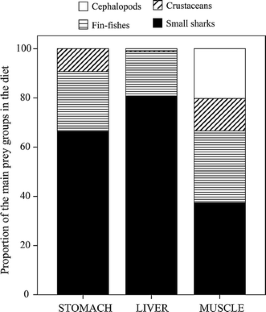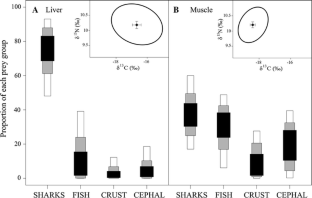 References
Ajemian MJ, Powers SP (2013) Foraging effects of cownose rays (Rhinoptera bonasus) along barrier islands of the northern Gulf of Mexico. J Exp Mar Biol Ecol 439:119–128

Albo-Puigserver M, Navarro J, Coll M, Sáez-Liante R, Cardona L, Aguzzi J (submitted for publication) Feeding behaviour and trophic position of three sympatric demersal chondrichthyes in the NW Mediterranean. Environ Biol Fish

Anderson M, Gorley R, Clarke K (2008) PERMANOVA+ for PRIMER: guide to software and statistical methods. PRIMER-E Ltd., Plymouthm

Bănaru D, Mellon-Duval C, Roos D et al (2013) Trophic structure in the Gulf of Lions marine ecosystem (north-western Mediterranean Sea) and fishing impacts. J Mar Syst 111–112:45–68

Blasdale T, Serena F, Mancusi C, Guallart J, Ungaro N (2009) Dalatias licha. IUCN 2013. IUCN Red List Threat. Species. Version 2013.2. www.iucnredlist.org. Downloaded 20 January 2014

Bozzano A, Sardà F (2002) Fishery discard consumption rate and scavenging activity in the northwestern Mediterranean Sea. ICES J Mar Sci 59:15–28

Bradai M, Saidi B, Enajjar S (2012) Elasmobranchs of the Mediterranean and Black sea: status, ecology and biology. Bibliographic analysis. Studies and reviews. General Fisheries Commission for the Mediterranean no. 91. Rome, Italy, FAO

Capapé C, Hemida F, Quignard J, Ben Amor MM, Reynaud C (2008) Biological observations on a rare deep-sea shark, Dalatias licha (Chondrichthyes: Dalatiidae), off the Maghreb coast (south-western Mediterranean). Pan Am J Aquat Sci 3:355–360

Cardona L, de Quevedo A, Borrell A, Aguilar A (2012) Massive consumption of gelatinous plankton by Mediterranean apex predators. PLoS ONE 7:e31329

Carrassón M, Stefanescu C, Cartes JE (1992) Diets and bathymetric distributions of two bathyal sharks of the Catalan deep sea (western Mediterranean). Mar Ecol Prog Ser 82:21–30

Cartes J, Fanelli E, Lloris D, Matallanas J (2013) Effect of environmental variations on sharks and other top predators in the deep Mediterranean Sea over the last 60 years. Clim Res 55:239–251

Caut S, Jowers M, Michel L, Lepoint G, Fisk AT (2013) Diet- and tissue-specific incorporation of isotopes in the shark Scyliorhinus stellaris, a North Sea mesopredator. Mar Ecol Prog Ser 492:185–198

Celona A, de Maddalena A, Romeo T (2005) Bluntnose sixgill shark, Hexanchus griseus (Bonnaterre, 1788), in the Eastern North sicilian waters. Boll Mus Civ Stor Nat Venezia 56:137–151

Coll M, Palomera I, Tudela S, Sarda F (2006) Trophic flows, ecosystem structure and fishing impacts in the South Catalan Sea, Northwestern Mediterranean. J Mar Syst 59:63–96

Coll M, Palomera I, Tudela S, Dowd M (2008) Food-web dynamics in the South Catalan Sea ecosystem (NW Mediterranean) for 1978–2003. Ecol Model 217:95–116

Coll M, Piroddi C, Albouy C et al (2012) The Mediterranean Sea under siege: spatial overlap between marine biodiversity, cumulative threats and marine reserves. Global Ecol Biogeogr 21:465–480

Coll M, Navarro J, Olson RJ, Christensen V (2013a) Assessing the trophic position and ecological role of squids in marine ecosystems by means of food-web models. Deep Sea Res Partt II 95:21–36

Coll M, Navarro J, Palomera I (2013b) Ecological role, fishing impact, and management options for the recovery of a Mediterranean endemic skate by means of food web models. Biol Conserv 157:108–120

Coll M, Carreras M, Ciércoles C, Cornax MJ, Gorelli G, Morote E, Sáez R (2014) Assessing fishing and marine biodiversity changes using fishers' perceptions: the Spanish Mediterranean and Gulf of Cadiz case study. PLoS ONE 9:e85670

Corner E, Denton E, Forster G (1969) On the buoyancy of some deep-sea sharks. Proc R Soc B Biol Sci 171:415–429

Cortes E (1999) Standardized diet compositions and trophic levels of sharks. ICES J Mar Sci 56:707–717

Dulvy NK, Fowler SL, Musick JA, Cavanagh RD, Kyne PM, Harrison LR, Carlson JK, Davidson LNK, Fordham SV, Francis MP, Pollock CM, Simpfendorfer CA, Burgess GH, Carpenter KE, Compagno LJV, Ebert DA, Gibson C, Heupel MR, Livingstone SR, Sanciangco JC, Stevens JD, Valenti S, White WT (2014) Extinction risk and conservation of the world's sharks and rays. eLife 3:e00590

Dunn MR, Szabo A, McVeagh MS, Smith PJ (2010) The diet of deepwater sharks and the benefits of using DNA identification of prey. Deep Sea Res Part I 57:923–930

Dunn MR, Stevens DW, Forman JS, Connell A (2013) Trophic interactions and distribution of some Squaliformes sharks, including new diet descriptions for Deania calcea and Squalus acanthias. PLoS ONE 8:e59938

Estrada M (1996) Primary production in the northwestern Mediterranean. Sci Mar 60(2):55–64

Fallows C, Gallagher AJ, Hammerschlag N (2013) White sharks (Carcharodon carcharias) scavenging on whales and its potential role in further shaping the ecology of an apex predator. PLoS ONE 8:e60797

Fanelli E, Rey J, Torres P, Gil de Sola L (2009) Feeding habits of blackmouth catshark Galeus melastomus Rafinesque, 1810 and velvet belly lantern shark Etmopterus spinax (Linnaeus, 1758) in the western Mediterranean. J Appl Ichthyol 25:83–93

Ferretti F, Worm B, Britten GL, Heithaus MR, Lotze HK (2010) Patterns and ecosystem consequences of shark declines in the ocean. Ecol Lett 13:1055–1071

Ferretti F, Osio GC, Jenkins CJ, Rosenberg AA, Lotze HK (2013) Long-term change in a meso-predator community in response to prolonged and heterogeneous human impact. Sci Rep 3:1057

Field IC, Meekan MG, Buckworth RC, Bradshaw CJA (2009) Susceptibility of sharks, rays and chimaeras to global extinction. Adv Mar Biol 56:275–363

Folch J, Lees M, Sloane-Stanley G (1957) A simple method for the isolation and purification of total lipids from animal tissues. J Biol Chem 226:497–509

Froese R, Pauly D (2013) FishBase. World Wide Web electronic publication. www.fishbase, version (12/2013)

Hallet CS, Daley RK (2011) Feeding ecology of the southern lanternshark (Etmopterus baxteri) and the brown lanternshark (E. unicolor) off southeastern Australia. ICES J Mar Sci 68:157–165

Hussey NE, Brush J, McCarthy ID, Fisk AT (2010) delta15N and delta13C diet-tissue discrimination factors for large sharks under semi-controlled conditions. Comp Biochem Phys A 155:445–453

Hussey NE, MacNeil MA, McMeans BC, Olin JA, Dudley SF, Cliff G, Wintner SP, Fennessy ST, Fisk AT (2014) Rescaling the trophic structure of marine food webs. Ecol Lett 17:239–250

Hyslop E (1980) Stomach content analysis: a review of methods and their application. J Fish Biol 17:411–429

Jackson AL, Inger R, Parnell AC, Bearhop S (2011) Comparing isotopic niche widths among and within communities: SIBER–Stable Isotope Bayesian Ellipses in R. J Anim Ecol 80:595–602

Kabasakal H, Kabasakal E (2002) Morphometrics of young kitefin sharks, Dalatias licha (Bonnaterre, 1788), from Northeastern Aegean Sea, with notes on its biology. Ann Istran Mediterr Stud Ser Hist Nat 12:161–166

Kelly J (2000) Stable isotopes of carbon and nitrogen in the study of avian and mammalian trophic ecology. Can J Zool 27:1–27

Kiraly SJ, Moore JA, Jasinski PH (2003) Deepwater and other sharks of the US Atlantic Ocean Exclusive Economic Zone. Mar Fishs Rev 65:1–63

Lewis R (1969) Studies on the stomach oils of marine animals—I. Oils of the black shark Dalatias licha (Bonnaterre). Comp Biochem Phys 31:715–724

Logan JM, Lutcavage ME (2010) Stable isotope dynamics in elasmobranch fishes. Hydrobiologia 644:231–244

Logan J, Jardine T, Miller T, Bunn SE, Cunjak RA, Lutcavage ME (2008) Lipid corrections in carbon and nitrogen stable isotope analyses: comparison of chemical extraction and modelling methods. J Anim Ecol 77:838–846

Lotze HK, Lenihan HS, Bourque BJ, Bradbury RH, Cooke RG, Kay MC, Kidwell SM, Kirby MX, Peterson CH, Jackson JBC (2006) Depletion, degradation, and recovery potential of estuaries and coastal seas. Science 312:1806–1809

Lourenço R, Penteriani V, Rabaça JE, Korpimäki E (2013) Lethal interactions among vertebrate top predators: a review of concepts, assumptions and terminology. Biol Rev. doi:10.1111/brv.12054

MacNeil M, Skomal G, Fisk A (2005) Stable isotopes from multiple tissues reveal diet switching in sharks. Mar Ecol Prog Ser 302:199–206

Macpherson E (1980) Régime alimentaire de Galeus melastomus Rafinesque, 1810 Etmopterus spinax (L., 1758) et Scymnorhinus licha (Bonnaterre, 1788) en Méditerranée occidentale. Vie Milieu 30:139–148

Malak D, Livingstone S, Pollard D, Polidoro BA, Cuttelod A, Bariche M, Bilecenoglu M, Carpenter KE, Collette BB, Francour P, Goren M, Kara MH, Massuti E, Papaconstantinou C, Tunesi L (2011) Overview of the conservation status of the marine fishes of the Mediterranean Sea. IUCN, Gland

Mancinelli G, Vizzini S, Mazzola A, Maci S, Basset A (2013) Cross-validation of δ15N and FishBase estimates of fish trophic position in a Mediterranean lagoon: the importance of the isotopic baseline. Estuar Coast Shelf Sci 135:77–85

Matallanas J (1982) Feeding habits of Scymnorhinus licha in Catalan waters. J Fish Biol 20:155–163

Micheli F, Halpern BS, Walbridge S, Ciriaco S, Ferretti F, Fraschetti S, Lewison R, Nykjaer L, Rosenberg AA (2013) Cumulative human impacts on Mediterranean and Black sea marine ecosystems: assessing current pressures and opportunities. PLoS ONE 8:e79889

Munroe SEM, Simpfendorfer CA, Heupel MR (2013) Defining shark ecological specialisation: concepts, context, and examples. Rev Fish Biol Fish. doi:10.1007/s11160-013-9333-7

Myers RA, Baum JK, Shepherd TD, Powers SP, Peterson CH (2007) Cascading effects of the loss of apex predatory sharks from a coastal ocean. Science 315:1846–1850

Navarro J, Coll M, Louzao M, Palomera I, Delgado A, Forero MG (2011) Comparison of ecosystem modelling and isotopic approach as ecological tools to investigate food webs in the NW Mediterranean Sea. J Exp Mar Biol Ecol 401:97–104

Navarro J, Coll M, Preminger M, Palomera I (2013) Feeding ecology and trophic position of a Mediterranean endemic ray: consistency between sexes, maturity stages and seasons. Environ Biol Fish 96:1315–1328

Newton I (2008) The migration ecology of birds, 1st edn. Elsevier Ltd., San Diego

Papastamatiou YP, Wetherbee BM, Lowe CG, Crow GL (2006) Distribution and diet of four species of carcharhinid shark in the Hawaiian Islands: evidence for resource partitioning and competitive exclusion. Mar Ecol Prog Ser 320:239–251

Parnell AC, Inger R, Bearhop S, Jackson AL (2010) Source partitioning using stable isotopes: coping with too much variation. PLoS ONE 5:e9672

Pinkas L, Oliphant S, Iverson I (1971) Food habits of albacore, bluefin tuna and bonito in California waters. Calif Fish Game 152:1–105

Piroddi C, Bearzi G, Gonzalvo J, Christensen V (2011) From common to rare: the case of the Mediterranean common dolphin. Biol Conserv 144:2490–2498

R Development Core Team (2009) R: a Language and environment for statistical computing. Austria: R Foundation for Statistical Computing, Vienna

Ramos R, González-Solís J (2012) Trace me if you can: the use of intrinsic biogeochemical markers in marine top predators. Front Ecol Environ 10:258–266

Salat J (1996) Review of hydrographic environmental factors that may influence anchovy habitats in northwestern Mediterranean. Sci Mar 60:21–32

Shiffman DS, Gallagher AJ, Boyle MD, Hammerschlag-Peyer CM, Hammerschlag N (2012) Stable isotope analysis as a tool for elasmobranch conservation research: a primer for non-specialists. Mar Freshw Res 63:635–643

Simpfendorfer C, Goodreid A, McAuley R (2001) Size, sex and geographic variation in the diet of the tiger shark, Galeocerdo cuvier, from Western Australian waters. Environ Biol Fish 61:37–46

Stehmann M (2002) Proposal of a maturity stages scale for oviparous and viviparous cartilaginous fishes (Pisces, Chondrichthyes). Arch Fish Mar Res 50:23–40

Stergiou KI, Karpouzi VS (2001) Feeding habits and trophic levels of Mediterranean fish. Rev Fish Biol Fisher 11:217–254

Tecchio S, Coll M, Christensen V, Company JB, Ramírez-Llodra E, Sardà F (2013) Food web structure and vulnerability of a deep-sea ecosystem in the NW Mediterranean Sea. Deep Sea Res Part I 75:1–15

Valls M, Quetglas A, Ordines F, Moranta J (2011) Feeding ecology of demersal elasmobranchs from the shelf and slope off the Balearic Sea (western Mediterranean). Sci Mar 75:633–639

Vander Zanden M, Rasmussen J (2001) Variation in δ15N and δ13C trophic fractionation: implications for aquatic food web studies. Limnol Oceanogr 46:2061–2066

Veríssimo A, Gordo L, Figueiredo I (2003) Reproductive biology and embryonic development of Centroscymnus coelolepis in Portuguese mainland waters. ICES J Mar Sci 60:1335–1341

Wearmouth VJ, Sims DW (2008) Sexual segregation in marine fish, reptiles, birds and mammals behaviour patterns, mechanisms and conservation implications. Adv Mar Biol 54:107–170

Wearmouth V, Sims D (2010) Sexual segregation in elasmobranchs. Biol Mar Mediterr 17:236–239
Acknowledgments
The authors would like to acknowledge Marta Albo-Puigserver, Isabel Palomera, Joan B. Company and A. Lombarte for their help in the collection of specimens and laboratory work. Also, special thanks to IEO and the fishermen of Tarragona for allowing us to collect the samples in the Gulf of Lions and Tarragona coast, respectively. Ricardo Álvarez helped in the stable isotope analysis. Sarah Young revised the English. Owen S. Wangensteen and Lluis Cardona provide interesting suggestions in a preliminary draft. Thanks to Aaron Fisk and two anonymous reviewers for their constructive suggestion to improve the manuscript. JN and MC were supported by a research contract of the Marie Curie Career Integration Grant Fellowships to the BIOWEB project. MC was also funded by a postdoctoral contract of the Ramon y Cajal Program (Spanish Ministry of Economy and Competiveness). CB was supported by a doctoral fellowship CONICYT-Becas Chile. This study forms a contribution to the project ECOTRANS (CTM2011-26333, Ministerio de Economía y Competitividad, Spain). The authors declare that all experimental procedures were conducted in strict accordance with good animal practice as defined by the current Spanish, Catalonian and European legislation.
Additional information
Communicated by C. Harrod.
About this article
Cite this article
Navarro, J., López, L., Coll, M. et al. Short- and long-term importance of small sharks in the diet of the rare deep-sea shark Dalatias licha . Mar Biol 161, 1697–1707 (2014). https://doi.org/10.1007/s00227-014-2454-2
Received:

Accepted:

Published:

Issue Date:

DOI: https://doi.org/10.1007/s00227-014-2454-2
Keywords