Abstract
Calving can be a critical period for cetaceans. Areas providing security for vulnerable calves, and high food availability for lactating females can be critical habitats requiring specific conservation measures. Here, we test the hypothesis that calving and nursing habitat could be defined for Risso's dolphins (Grampus griseus). We investigated the spatial and temporal preferences of this species around Pico Island, Azores, using data gathered from land-based surveys and dedicated at-sea observations between 2004 and 2007. We divided observed pods into three groups: (1) those with newborn and young calves, (2) those with older calves or juveniles and (3) those consisting only of adults or sub-adults. We analysed eco-geographical variables and incorporated them into a presence-only spatial distribution model to evaluate differences in habitat suitability among the groups. We identified 694 pods of Risso's dolphins overall. On the 267 pods observed in the first and second groups, 136 calves or juveniles were identified, of which 22 were newborns. The peak of the calving season was between June and August. The pods with newborn calves were larger and closer to shore, whereas the other groups were more widely dispersed offshore. Our results support the definition of critical habitat areas for this species, but we suggest widening the geographical coverage for better mapping around the island and throughout the archipelago generally. Conservation measures can, nevertheless, be implemented immediately, in order to reduce human impacts on a vulnerable component of the Risso's dolphin population
Access options
Buy single article
Instant access to the full article PDF.
USD 39.95
Price excludes VAT (USA)
Tax calculation will be finalised during checkout.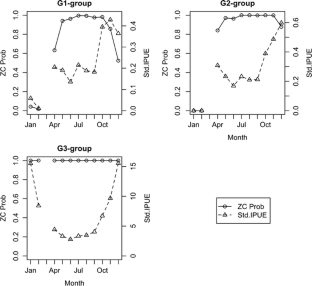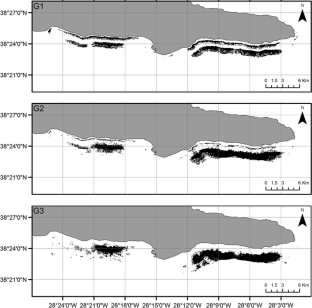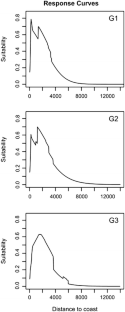 References
Altman J (1974) Observational study of behaviour: sampling methods. Behaviour 49:227–266

Amano M, Miyazaki N (2004) Composition of a school of Risso's Dolphins, Grampus griseus. Mar Mamm Sci 20:152–160

Amundin M (1986) Breeding the bottle-nosed dolphin: at the Kolmården Dolphinarium. Int Zoo Yearb 24:263–271

Arnbom T (1987) Individual identification of sperm whales. Rep Int Whal Comm 37:201–204

Barradell MG, Ritter F (2007) Swim-With-Dolphin Activities in the Azores—Steps towards Sustainability. Rep Int Whal Comm 59/WW12

Bartolino V, Maiorano L, Colloca F (2011) A frequency distribution approach to hotspot identification. Popul Ecol 53:351–359

Bearzi G, Reeves RR, Remonato E, Pierantonio N, Airoldi S (2010) Risso's dolphin (Grampus griseus) in the Mediterranean Sea. Mamm Biol 76:400–584

Bejder L, Samuels A, Whitehead H, Gales N, Mann J, Conner R, Heithaus M, Watson-Capps J, Flaherty C, Krutzen M (2006) Decline in relative abundance of bottlenose dolphins exposed to long-term disturbance. Conserv Biol 20:1791–1798

Bernard HJ, Hohn AA (1989) Feeding habit differences between pregnant and lactating spotted dolphins in the eastern tropical. Pac Ocean J Mammal 70:211–215

Bloch D, Desportes G, Harvey P, Lockyer C, Mikkelsen M (2012) Life History of Risso's Dolphin, Grampus griseus (Cuvier, 1812), in the Faroe Islands. Aquatic Mamm 38:250–266

Burrough PA, McDonnell RA (1998) Principles of geographical information systems. Oxford University Press, Oxford

Cheal AJ, Gales NJ (1992) Growth, sexual maturity and food-intake of Australian Indian-Ocean Bottle-Nosed Dolphins, Tursiops truncatus, in captivity. Aust J Zool 40:215–223

Cruz MJ, Silva M, Jordão V, Pereira JG, Santos RS (2012) Projecto CETPESCA - Monitorização da Interacção de Cetáceos na Pesca à Lula. Project Report, Departamento de Oceanografia e Pescas (DOP) and Centro do Instituto do Mar (IMAR), University of Azores

Evans PGH (1987) The natural history of whales and dolphins. Christopher Helm Ltd, Kent

Fearnbach H, Durban J, Parsons K, Claridge D (2012) Seasonality of calving and predation risk in bottlenose dolphins on Little Bahama Bank. Mar Mamm Sci 28:402–411

Gibson QA, Howells EM, Lambert JD, Mazzoil MM, Richmond JP (2013) The ranging patterns of female bottlenose dolphins with respect to reproductive status: testing the concept of nursery areas. J Exp Mar Bio Ecol 445:53–60

Gullan A, Rocha D, West S, Guissamulo A, Niemeyer G (2012) Swimming with dolphins—an evolving art. The development and implementation of a dolphin swim code of conduct in Mozambique. In: McCaffery R, Walker D (eds) Report on Responsible Whale & Dolphin Watching, pp 6–8

Hartman KL, Visser F, Hendriks AJE (2008) Social structure of Risso's dolphins (Grampus griseus) at the Azores: a stratified community based on highly associated social units. Can J Zool 86:294–306

Heithaus MR (2001) Predator-prey and competitive interactions between sharks (order Selachii) and dolphins (suborder Odontoceti): a review. J Zool Lond 253:53–68

Horn BKP (1981) Hill shading and the reflectance map. P IEEE 69:14–47

Hoyt E (2011) Marine protected areas for whales, dolphins and porpoises: a world handbook for cetacean habitat conservation and planning. Earthscan/Taylor & Francis, London and New York

Jefferson TA, Webber MA, Pitman RL (2008) Marine mammals of the world: a comprehensive guide to their identification. Elsevier, San Diego

Jeness J (2012) DEM surface tools. Jeness Enterprises, Flagstaff

Jereb P, Vecchione M, Roper CFE (2010) Family Loliginidae. In: Jereb P, Roper CFE (eds) Cephalopods of the world. An annotated and illustrated catalogue of species known to date. Volume 2. Myopsid and Oegopsid Squids. FAO Species Catalogue for Fishery Purposes 4. FAO, Rome, pp 38–117

Keller C, Garrison L, Baumstark R, Ward-Geiger L, Hines E (2012) Application of a habitat model to define calving habitat of the North Atlantic right whale in the southeastern United States. Endanger Species Res 18:73–87

Kruse S, Caldwell DK, Caldwell MC (1999) Risso's dolphin (Grampus griseus) (Cuvier, 1812). In: Ridgway SH, Harrison R (eds) Handbook of marine mammals, volume 6. Academic Press, San Diego

Lo NC, Jacobson LD, Squire JL (1992) Indices of relative abundance from fish spotter data based on delta-lognormal models. Can J Fish Aquat Sci 49:2515–2526

Lundquist D, Sironi M, Würsig B, Rowntree V, Martino J, Lundquist L (2012) Response of southern right whales to simulated swim-with-whale tourism at Península Valdés. Mar Mammal Sci, Argentina. doi:10.1111/j.1748-7692.2012.00583

Lusseau D (2004) The hidden cost of tourism: detecting long-term effects of tourism using behavioural information. Ecol Soc 9:2

MacLeod CD (1998) Intraspecific scarring in odontocete cetaceans: an indicator of male 'quality' in aggressive social interactions? J Zool 244:71–77

Mann J (1999) Behavioural sampling methods for cetaceans: a review and critique. Mar Mamm Sci 15:102–112

Mann J, Sargeant B (2003) Like mother, like calf: the ontogeny of foraging traditions in wild Indian Ocean bottlenose dolphins (Tursiops species). In: Fragaszy D, Perry S (eds) The biology of traditions: models and evidence. Cambridge University Press, Cambridge, pp 236–266

Mann J, Smuts BB (1998) Natal attraction: allomaternal care and mother-infant separations in wild bottlenose dolphins. Anim Behav 55:1097–1113

Mann J, Connor RC, Barre LM, Heithaus MR (2000) Female reproductive success in bottlenose dolphins (Tursiops sp.): life history, habitat, provisioning, and groupsize effects. Behav Ecol 11:210–219

Maunder MN, Punt AE (2004) Standardizing catch and effort data: a review of recent approaches. Fish Res 70:141–159

Moore ID, Grayson RB, Ladson AR (1991) Digital terrain modelling: a review of hydrological, geomorphological, and biological applications. Hydrol Process 5:3–30

Nesis KN (1987) Cephalopods of the world. T.F.H Publications Inc, New Jersey

Norris KS, Dohl TP (1980) The structure and function of cetacean schools. In: Hermand LH (ed) Cetacean behavior. Wiley, New York, pp 211–262

Pereira JNDSG (2008) Field notes on Risso´s dolphin (Grampus griseus) distribution, social ecology, behaviour and occurrence in the Azores. Aquatic Mamm 34:426–435

Perrin WF, Reilly SB (1984) Reproductive parameters of dolphins and small whales of the family Delphinidae. Rep Int Whal Comm Spec Issue 6:97–134

Phillips S, Anderson R, Schapire R (2006) Maximum entropy modelling of species geographic distributions. Ecol Model 190:231–259

Quérouil S, Silva MA, Magalhães S, Seabra MI, Machete MA, Santos RS (2008) Why do dolphins form mixed-species associations in the Azores? Ethology 114:1183–1194

Read AJ, Wells RS, Hohn AA, Scot MD (1993) Patterns of growth in wild bottlenose dolphins, Tursiops truncatus. J Zool 231:107–123

Santos RS, Porteiro FM, Barreiros JP (1997) Marine fishes of the Azores: An annotated checklist and bibliography. Arquipélago, Life and Marine Sciences Supplement 1

Silva MA, Feio R, Prieto R, Gonçalves JM, Santos RS (2002) Interactions between cetaceans and the tuna fishery on the Azores. Mar Mamm Sci 18:893–901

Silva MA, Prieto R, Magalhães S, Cabecinhas R, Cruz A, Gonçalves JM, Santos RS (2003) Occurrence and distribution of cetaceans in the waters around the Azores (Portugal), summer and autumn 1999–2000. Aquatic Mamm 29:77–83

Silva MA, Machete M, Reis D, Santos M, Prieto R, Dâmaso C, Pereira JG, Santos RS (2011) A review of interactions between cetaceans and fisheries in the Azores. Aquatic Conserv Mar Freshw Ecosyst 21:17–27

Silva MA, Prieto R, Cascão I, Seabra MI, Machete M, Baumgartner MF, Santos RS (2014) Spatial and temporal distribution of cetaceans in the mid-Atlantic waters around the Azores. Mar Biol Res 10:123–137

Smolker RA, Richards AF, Connor RC, Pepper JW (1992) Sex differences in patterns of association among Indian Ocean bottlenose dolphins. Behaviour 123:38–69

SREA (2013) Serviço Regional de Estatística dos Açores, ad-hoc online query http://estatistica.azores.gov.pt/. Accessed 10 March 2013

Taylor CK, Saayman G (1973) Imitative behaviour by Indian Ocean bottlenose dolphins (Tursiops aduncus) in captivity. Behaviour 44:286–298

Visser F, Hartman KL, Rood EJJ, Hendriks AJE, Zult DB, Wolff WJ, Huisman J, Pierce GJ (2011) Risso's dolphins alter daily resting pattern in response to whale watching at the Azores. Mar Mamm Sci 27:366–381

Wang KR, Payne PM, Thayer VG (1994) Coastal stock(s) of Atlantic bottlenose dolphin: status review and management. NOAA Technical Memorandom US Department Commerce, Workshop Proceedings, North Carolina

Warren DL, Glor RE, Turelli M (2010) ENMTools: a toolbox for comparative studies of environmental niche models. Ecography 33:607–611

Weir JS, Duprey NMT, Würsig B (2008) Dusky dolphin (Lagenorhynchus obscurus) subgroup distribution: are shallow waters a refuge for nursery groups? Can J Zool 86:1225–1234

Whitehead H (2003) Sperm whales. University of Chicago Press, Chicago and London, Social evolution in the ocean

Whitehead H, Mann J (2000) Female reproductive strategies of cetaceans. Cetacean societies: field studies of dolphins and whales. The University of Chicago Press, Chicago, pp 219–246

Williams R, Lusseau D, Hammond PS (2006) Estimating relative energetic costs of human disturbance to killer whales (Orcinus orca). Biol Cons 133:301–311

Worton BJ (1989) Kernel methods for estimating the utilization distribution in home-range studies. Ecology 70:164–168

Zar JH (2010) Biostatistical analysis, 5th edn. Prentice Hall, New Jersey
Acknowledgments
We gratefully thank the following NGOs, companies and private persons for their financial support during our studies: The Netherlands : WWF, Greenpeace, Burgers ZOO, Stichting Lucy Burgers, Federation International Nature Conservation, Wing, Liesbeth-Feikema, Taco van der Harst, Fam. van Hooff, Anna Tiepel and Marloes Hartman. We thank Arthur Hendriks and Fleur Visser for their contribution to the setup of the long term research on Risso's dolphins in Pico. David Janiger provided us with some important literature and several colleagues, students and volunteers helped us collecting and processing data; a special thank you here for Lisa Steiner, Britta Adam and Anja Wittich. Fernando Tempera and the Department of Oceanography and Fisheries at the University of the Azores kindly shared a 50 m resolution grid for the study area. Mark Simmonds and Chris Yesson are particularly acknowledged by their useful comments on earlier versions of this manuscript and for revising the English. This project was carried out under scientific license numbers 4/CN/2004 and 9/CN/2005, issued to the Nova Atlantis Foundation by the Azorean Department of the Environment. This research was partially supported by the European Regional Development Fund (ERDF) through the COMPETE—Operational Competitiveness Programme and national funds through FCT—Foundation for Science and Technology, under the project "PEst-C/MAR/LA0015/2011". Karin Hartman is supported by the Azores Regional Fund for Science (FRC) Ph.D. Grant M3.1.2/F/014/2009. Marc Fernandez is supported with Grants M3.1.5/F/004/2009 and M3.1.2/F/028/2011.
Additional information
Communicated by B. Stewart.
Electronic supplementary material
Below is the link to the electronic supplementary material.
About this article
Cite this article
Hartman, K.L., Fernandez, M. & Azevedo, J.M.N. Spatial segregation of calving and nursing Risso's dolphins (Grampus griseus) in the Azores, and its conservation implications. Mar Biol 161, 1419–1428 (2014). https://doi.org/10.1007/s00227-014-2430-x
Received:

Accepted:

Published:

Issue Date:

DOI: https://doi.org/10.1007/s00227-014-2430-x
Keywords