Abstract
Variation in the release and recruitment of larvae of estuarine invertebrates affects the distribution and abundance of adults, as well as trophic interactions in both the plankton and the benthos. Larval release and supply are often timed to environmental cycles such as the diel and tidal cycles. Here, we determined using plankton tows whether the abundance of larvae spanning salt marsh and mangrove habitats across the intertidal landscape varied with diel and tidal cycles. Using three different sampling designs across two sites and within each of two estuaries over a 12-month period, we covered a range of spatial and temporal scales. This allowed us to test the general prediction that densities of meroplankton in the water column would be greater during nocturnal ebb tides than during other phases of the diel or tidal cycle. As predicted, nocturnal ebb tides yielded the highest densities of meroplanktonic larvae and were dominated by first-stage crab zoeae and this finding was most pronounced in the salt marsh. Throughout the course of the year, greater numbers of meroplankters consistently occurred during the ebb tide compared with the flood tide. The densities of other taxa (e.g. gastropods and polychaetes) showed no clear trends with diel or tidal cycles. This study highlights the effects of these pervasive physical cycles on the timing of larval release and supply in the salt marsh–mangrove complex, and emphasises their contribution to the trophic interactions and the dynamics of benthic populations within estuaries.
Access options
Buy single article
Instant access to the full article PDF.
USD 39.95
Price includes VAT (USA)
Tax calculation will be finalised during checkout.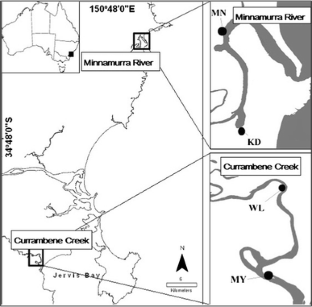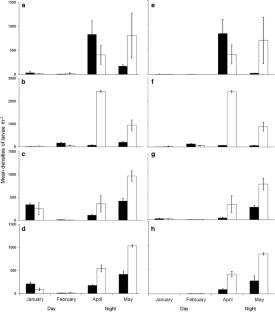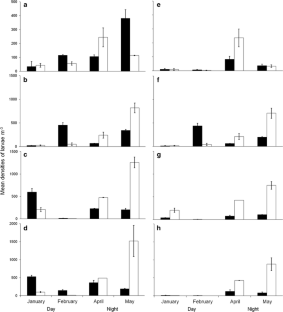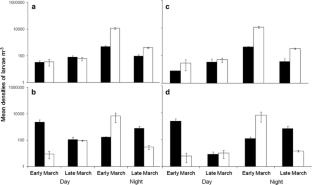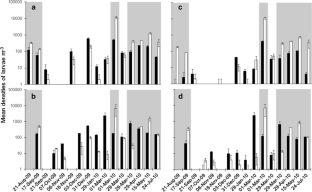 References
Adam P (1981) Australian saltmarshes. Wetlands 1:8–10

Adam P (2009) Australian saltmarshes in global context. In: Saintalin N (ed) Australian saltmarsh ecology. CSIRO, Collingwood

Babcock RC, Bull GD, Harrison PL, Heyward AJ, Oliver JK, Wallace CC, Willis BL (1986) Synchronous spawning of 105 scleractinian coral species on the Great Barrier Reef. Mar Biol 90:379–394

Berry AJ (1986) Semi-lunar and lunar spawning periodicity in some tropical littorinid gastropods. J Molluscan Stud 52:144–149

Bueno M, Moser GAO, Tocci BRC, Flores AAV (2010) Retention-favorable timing of propagule release in barnacles and periwinkles. Mar Ecol Prog Ser 414:155–165

Caspers H (1984) Spawning periodicity and habitat of the palolo worm Eunice viridis (Polychaeta: Eunicidae) in the Samoan Islands. Mar Biol 79:229–236

Christy JH (1982) Adaptive significance of semilunar cycles of larval release in fiddler crabs (genus Uca): test of an hypothesis. Biol Bull 163:251–263

Christy JH (2011) Timing of hatching and release of larvae by brachyuran crabs: patterns, adaptive significance and control. Integr Comp Biol 51:62–72

Christy JH, Morgan SG (1998) Estuarine immigration by crab postlarvae: mechanisms, reliability and adaptive significance. Mar Ecol Prog Ser 174:51–65

Christy JH, Stancyk SE (1982) Timing of larval production and flux of invertebrate larvae in a well-mixed estuary. In: Kennedy V (ed) Estuarine comparisons. Academic Press, New York

Connolly R (1999) Saltmarsh as habitat for fish and nektonic crustaceans: challenges in sampling designs and methods. Aust J Ecol 24:422–430

CSIRO (1994) Jervis Bay baseline studies: final report. CSIRO Division of Fisheries, North Beach

Dittel AI, Epifanio CE (1990) Seasonal and tidal abundance of crab larvae in a tropical mangrove system, Gulf of Nicoya, Costa Rica. Mar Ecol Prog Ser 65:25–34

Emery AR (1968) Preliminary observations on coral reef plankton. Limnol Oceanogr 13:293–303

Epifanio CE, Little KT, Rowe PM (1988) Dispersal and recruitment of fiddler crab larvae in the Delaware River Estuary. Mar Ecol Prog Ser 42:181–188

Fairweather PG (1988) Consequences of supply-side ecology: manipulating the recruitment of intertidal barnacles affects the intensity of predation upon them. Biol Bull 175:349–354

Flores AAV, Mazzuco ACA, Bueno M (2007) A field study to describe diel, tidal and semilunar rhythms of larval release in an assemblage of tropical rocky shore crabs. Mar Biol 152:1989–2002

Forward RB (1987) Larval release of decapod crustaceans: an overview. Bull Mar Sci 41:165–176

Gaines SD, Brown S, Roughgarden J (1985) Spatial variation in larval concentrations as a cause of spatial variation in settlement for the barnacle, Balanus glandula. Oecologia (Berlin) 67:267–272

Green PA, Anderson DT (1972) The first zoea larvae of the estuarine crabs Sesarma erythrodactyla hess, Helograpsus Haswellianus (White-legge) and Chasmagnathus laevis dana (Brachyura, Grapsidae, Sesarminae). Proc Linn Soc NSW 98:13–28

Hollingsworth A, Connolly RM (2006) Feeding by fish visiting inundated subtropical saltmarsh. J Exp Mar Biol Ecol 336:88–98

Hovel KA, Morgan SG (1997) Planktivory as a selective force for reproductive synchrony and larval migration. Mar Ecol Prog Ser 157:79–95

Hughes TP, Baird AH, Dinsdale EA, Moltschaniwskyj NA, Pratchett MS, Tanner JE, Willis BL (2000) Supply-side ecology works both ways: the link between benthic adults, fecundity, and larval recruits. Ecology 81:2241–2249

Kingsford MJ, Murdoch R (1998) Planktonic assemblages. In: Kingsford MJ, Battershill C (eds) Studying temperate marine environments: a handbook for ecologists. Canterbury University Press, Christchurch

Kneib RT (2000) Saltmarsh ecoscapes and production transfers by estuarine nekton in the southeastern US. In: Weinstein MP, Kreeger DA (eds) Concepts and controversies in tidal marsh ecology. Kluwer Academic, Netherlands

Korringa P (1947) Relations between the moon and periodicity in the breeding of marine animals. Ecol Monogr 17:347–381

Lee RS (1995) Mangrove outwelling: a review. Hydrobiologia 295:203–212

Mazumder D (2004) Contribution of saltmarshes to temperate estuarine fish. PhD dissertation, Australian Catholic University, Fitzroy, NSW

Mazumder D, Saintilan N, Williams RJ (2006) Trophic relationships between itinerant fish and crab larvae in a temperate Australian saltmarsh. Mar Freshw Res 57:193–199

Mazumder D, Saintilan N, Williams RJ (2009) Zooplankton inputs and outputs in the saltmarsh at Towra Point, Australia. Wetlands Ecol Manage 17:225–230

Mazumder D, Saintilan N, Williams RJ, Szymczak R (2011) Trophic importance of a temperate intertidal wetland to resident and itinerant taxa: evidence from multiple stable isotope analyses. Mar Freshw Res 62:11–19

Minchinton TE, Scheibling RE (1991) The influence of larval supply and settlement on the population structure of barnacles. Ecology 72:1867–1879

Morgan SG (1995) The timing of larval release. In: McEdward L (ed) Ecology of marine invertebrate larvae. CRC Press, Boca Raton

Morgan SG, Christy JH (1994) Plasticity, constraint, and optimality in reproductive timing. Ecology 75:2185–2203

Morgan SG, Christy JH (1995) Adaptive significance of the timing of larval release by crabs. Am Nat 145:457–479

Morgan SG, Fisher JL (2010) Larval behaviour regulates nearshore retention and offshore migration in an upwelling shadow and along the open coast. Mar Ecol Prog Ser 404:109–126

Morgan SG, Fisher JF, Miller SH, McAfee ST, Largier JL (2009) Nearshore larval retention in a region of strong upwelling and recruitment limitation. Ecology 90:3489–3502

Morrisey D (1995) Saltmarshes. In: Underwood AJ, Chapman MG (eds) Coastal marine ecology of temperate Australian saltmarsh. UNSW Press, Sydney

Moser SM, Macintosh DJ (2001) Diurnal and lunar patterns of larval recruitment of Brachyura into a mangrove estuary system in Ranong Province, Thailand. Mar Biol 138:827–841

Naylor E (2001) Marine animal behaviour in relation to lunar phase. Earth Moon Planets 85–86:291–302

Odum E (2000) Tidal marshes as outwelling/pulsing systems. In: Weinstein M, Kreeger D (eds) Concepts and controversies in tidal marsh ecology. Springer, Netherlands

Olsen RR (1983) Ascidian—Prochloron symbiosis: the role of larval photoadaptions in midday larval release and settlement. Biol Bull 165:221–240

Platell M, Freewater P (2009) Importance of saltmarsh to fish species of a large south-eastern Australian estuary during a spring tide cycle. Mar Freshw Res 60:936–941

Porter SS, Eckert GL, Byron CJ, Fisher JL (2008) Comparison of light traps and plankton tows for sampling brachyuran crab larvae in an Alaskan fjord. J Crust Biol 28:175–179

Ross PM (2001) Larval supply, settlement and survival of barnacles in a temperate mangrove forest. Mar Ecol Prog Ser 215:237–249

Saigusa M (1982) Larval release rhythm coinciding with solar day and tidal cycles in the terrestrial crab Sesarma—harmony with the semilunar timing and its adaptive significance. Biol Bull 162:371–386

Shanks AL, Shearman RK (2009) Paradigm lost? Cross-shelf distributions of intertidal invertebrate larvae are unaffected by upwelling or downwelling. Mar Ecol Prog Ser 385:189–204

Underwood AJ (1997) Experiments in ecology. Their logical design and interpretation using analysis of variance. Cambridge University Press, Cambridge

Underwood AJ, Fairweather PG (1989) Supply-side ecology and benthic marine assemblages. Trends Ecol Evol 4:16–20

van Guelpen L, Markle DF, Duggan DJ (1982) An evaluation of accuracy, precision, and speed of several zooplankton sub-sampling techniques. ICES J Mar Sci 40:226–236

Webley JAC, Connolly RM, Young RA (2009) Habitat selectivity of megalopae and juvenile mud crabs (Scylla serrata): implications for recruitment mechanism. Mar Biol 156:891–899
Acknowledgments
We are grateful of the financial support from Jervis Bay Marine Park and the Institute for Conservation Biology and Environmental Management, University of Wollongong. We would also like to express our thanks to L. Cole, T. Hermansen, D. Bejarano and M. O'Brien for field assistance and C. Ricardo for comments on the manuscript. Also, we would like to thank J.H. Christy for his valuable comments, which greatly improved the manuscript. This represents contribution no. 310 from the Ecology & Genetics group at the University of Wollongong.
Additional information
Communicated by X. Irigoyen.
About this article
Cite this article
Ricardo, G.F., Davis, A.R., Knott, N.A. et al. Diel and tidal cycles regulate larval dynamics in salt marshes and mangrove forests. Mar Biol 161, 769–784 (2014). https://doi.org/10.1007/s00227-013-2376-4
Received:

Accepted:

Published:

Issue Date:
Keywords
Salt Marsh

Polychaete

Mangrove Forest

Tidal Cycle

Flood Tide