Abstract
As central-place foragers, pelagic seabirds are constrained by spatiotemporal heterogeneity to find productive marine areas and compete for prey. We analysed 97 foraging trips to study the movement and oceanographic characteristics of foraging habitats of two different—yet closely related—species of shearwaters (Scopoli's shearwater Calonectris diomedea and Cory's shearwater C. borealis) breeding in sympatry in the Mediterranean. We combined various methodological approaches (GPS-tracking, species distribution modelling and stable isotope analysis) to explore the foraging strategies of these two species. Isotopic results suggested that trophic habits of both shearwater species were similar, mainly based on pelagic fish consumption. Foraging areas of both species were characterized by shallow waters near the colony. Both shearwater species exploited persistent productive marine areas. The foraging areas of the two species broadly overlapped during the incubation period, but during chick-rearing period, Scopoli's shearwaters apparently foraged in different areas than Cory's shearwaters.
Access options
Buy single article
Instant access to the full article PDF.
USD 39.95
Price excludes VAT (USA)
Tax calculation will be finalised during checkout.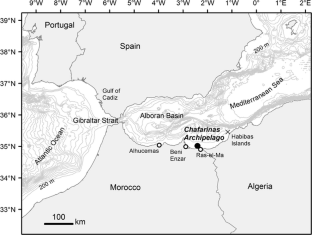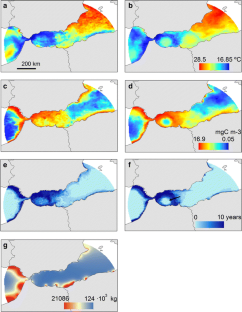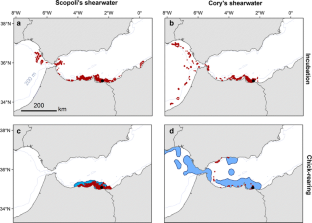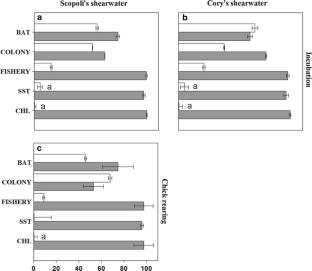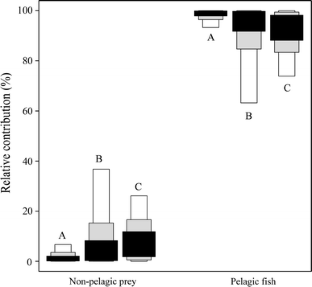 References
Alonso H, Granadeiro JP, Paiva VH, Dias AS, Ramos JA, Catry P (2012) Parent–offspring dietary segregation of Cory's shearwaters breeding in contrasting environments. Mar Biol 159:1197–1207

Anselme L, Durand J-P (2012) The Cory's Shearwater Calonectris diomedea diomedea, updated state of knowledge and conservation of the nesting populations of the small Mediterranean islands. Initiative PIM: 23

Arcos JM, Bécares J, Villero D, Brotons L, Rodríguez B, Ruiz A (2012) Assessing the location and stability of foraging hotspots for pelagic seabirds: an approach to identify marine important bird areas (IBAs) in Spain. Biol Conserv 156:30–42

Arin L, Anxelu X, Morán G, Estrada M (2002) Phytoplankton size distribution and growth rates in the Alboran Sea (SE Mediterranean): short term variability related to mesoscale hydrodynamics. J Plankton Res 24:1019–1033

Barry S, Elith J (2006) Error and uncertainty in habitat models. J Appl Ecol 43:413–423

Bartumeus F, Giuggioli L, Louzao M, Bretagnolle V, Oro D, Levin SA (2010) Fishery discards impact on seabird movement patterns at regional scales. Curr Biol 20:215–222

Beckers JM, Brasseur P, Nihoul JCJ (1997) Circulation of the western Mediterranean: from global to regional scales. Deep Sea Res Pt II:44:531–549

Bertrand S, Bertrand A, Guevara-Carrasco R, Gerlotto F (2007) Scale-invariant movements of fishermen: the same foraging strategy as natural predators. Ecol Appl 17:331–337

Bost C-A, Cotté C, Bailleul F, Cherel Y, Charrassin J-B, Guinet C, Ainley DG, Weimerskirch H (2009) The importance of oceanographic fronts to marine birds and mammals of the southern oceans. J Marine Syst 78:363–376

Bugoni L, D'Alba L, Furness RW (2009) Marine habitat use of wintering spectacled petrels Procellaria conspicillata, and overlap with longline fishery. Mar Ecol Prog Ser 374:273–285

Cama A, Abellana R, Christel I, Ferrer X, Vieites DR (2012) Living on predictability: modelling the density distribution of efficient foraging seabirds. Ecography 35:912–921

Carvalho AC (2010) Estatísticas da Pesca 2010. In: Aquicultura DGdPe (ed). Instituto Nacional de Estatística, Lisboa

Caut S, Angulo E, Courchamp F (2009) Variation in discrimination factors (Δ15N and Δ13C): the effect of diet isotopic values and applications for diet reconstruction. J Appl Ecol 46:443–453

Cecere J, Catoni C, Maggini I, Imperio S, Gaibani G (2012) Movement patterns and habitat use during incubation and chick-rearing of Cory's shearwaters (Calonectris diomedea diomedea) (Aves: Vertebrata) from Central Mediterranean: influence of seascape and breeding stage. Ital J Zool 80:82–89

Dalerum F, Angerbjorn A (2005) Resolving temporal variation in vertebrate diets using naturally occurring stable isotopes. Oecologia 144:647–658

Elith J, Phillips SJ, Hastie T, Dudík M, Chee YE, Yates CJ (2011) A statistical explanation of MaxEnt for ecologists. Divers Distrib 17:43–57

Fauchald P (2009) Spatial interaction between seabirds and prey: review and synthesis. Mar Ecol Prog Ser 391:139–151

Galisteo A, González F, Naranjo S, Abreu L, Losa MT, Alonso C, Cobo R, Espinosa D (2010) Producción pesquera andaluza. Año 2010. In: Pesca CdAy (ed). Junta de Andalucía, pp 123

Genovart M, Sanz-Aguilar A, Fernández-Chacón A, Igual JM, Pradel R, Forero MG, Oro D (2012) Contrasting effects of climatic variability on the demography of a trans-equatorial migratory seabird. J Anim Ecol 82:121–130

Genovart M, Thibault J-C, Igual JM, Del Mar Bauzà-Ribot M, Rabouam C, Bretagnolle V (2013) Population structure and dispersal patterns within and between Atlantic and Mediterranean populations of a large-range pelagic seabird. PLoS ONE 8:e70711

Gómez-Díaz E, González-Solís J, Peinado M, Page RDM (2006) Phylogeography of the Calonectris shearwaters using molecular and morphometric data. Mol Phylogenet Evol 41:322–332

Hanski I (1998) Metapopulation dynamics. Nature 396:41–49

Hobson KA, Clark RG (1992) Assessing avian diets using stable isotopes 1. Turnover of 13C in tissues. Condor 94:181–188

Huertas I, Ríos AF, García-Lafuente J, Navarro G, Makaoui A, Sánchez-Román A, Rodriguez-Galvez S, Orbi A, Ruíz J, Pérez FF (2012) Atlantic forcing of the Mediterranean oligotrophy. Global Biogeochem Cy 26:GB2022

Hutchinson GE (1959) Homage to Santa Rosalia or why are there so many kinds of animals? Am Nat 93:145–159

Hyrenbach KD, Fernández P, Anderson DJ (2002) Oceanographic habitats of two sympatric North Pacific albatrosses during the breeding season. Mar Ecol Prog Ser 233:283–301

Igual J, Forero M, Tavecchia G, González-Solis J, Martínez-Abraín A, Hobson K, Ruiz X, Oro D (2005) Short-term effects of data-loggers on Cory's shearwater (Calonectris diomedea). Mar Biol 146:619–624

Igual JM, Tavecchia G, Jenouvrier S, Forero MG, Oro D (2009) Buying years to extinction: is compensatory mitigation for marine bycatch a sufficient conservation measure for long-lived seabirds? PLoS ONE 4:e4826

Logan JM, Jardine TD, Miller TJ, Bunn SE, Cunjak RA (2008) Lipid corrections in carbon and nitrogen stable isotope analyses: comparison of chemical extraction and modelling methods. J Anim Ecol 77:838–846

Louzao M, Delord K, Garcia D, Boue A, Weimerskirch H (2012) Protecting persistent dynamic oceanographic features: transboundary conservation efforts are needed for the critically endangered balearic shearwater. PLoS ONE 7:e35728

Martinez-Abrain A, Sanchez A, Oro D (2002) Atlantic Cory's Shearwaters breeding in a colony of Mediterranean Cory's Shearwaters. Waterbirds 25:221–224

Monk J, Ierodiaconou D, Harvey E, Rattray A, Versace VL (2012) Are we predicting the actual or apparent distribution of temperate marine fishes? PLoS ONE 7:e34558

Navarro J, González-Solís J (2009) Environmental determinants of foraging strategies in Cory's shearwaters Calonectris diomedea. Mar Ecol Prog Ser 378:259–267

Navarro J, Louzao M, Igual JM, Oro D, Delgado A, Arcos JM, Genovart M, Hobson KA, Forero MG (2009a) Seasonal changes in the diet of a critically endangered seabird and the importance of trawling discards. Mar Biol 156:2571–2578

Navarro J, Forero MG, González-Solís J, Igual JM, Bécares J, Hobson KA (2009b) Foraging segregation between two closely related shearwaters breeding in sympatry. Biology Lett 5:545–548

Navarro J, Votier SC, Aguzzi J, Chiessa JJ, Forero MG, Phillips RA (2013) Ecological segregation in space, time and trophic niche of sympatric planktivorous petrels. PLoS ONE 8:e622897

ONP (2011) La pêche côtière et artisanale au Maroc. Rapport Statistiques 2011. ONP (Office National des Pêches) 22

Paiva VH, Xavier J, Geraldes P, Ramirez I, Garthe S, Ramos JA (2010a) Foraging ecology of Cory's shearwaters in different oceanic environments of the North Atlantic. Mar Ecol Prog Ser 410:257–268

Paiva VH, Geraldes P, Ramírez I, Meirinho A, Garthe S, Ramos JA (2010b) Oceanographic characteristics of areas used by Cory's shearwaters during short and long foraging trips in the North Atlantic. Mar Biol 157:1385–1399

Parnell A, Inger R, Bearhop S, Jackson AL (2008) Stable isotope analysis in R (SIAR). http://cran.r-project.org/web/packages/siar/. Accessed 19 Sept 2012

Passos C, Navarro J, Giudici A, González-Solís J (2010) Effects of an extra mass on the pelagic behaviour of a seabird. Auk 127:100–107

Phillips RA, Xavier JC, Croxall JP (2003) Effects of satellite transmitters on albatrosses and petrels. Auk 120:1082–1090

Phillips SJ, Anderson RP, Schapire RE (2006) Maximum entropy modeling of species geographic distributions. Ecol Model 190:231–259

Pianka ER (2002) Evolutionary ecology. Addison-Wesley, San Francisco

Rangel TF, Alexandre J, Diniz-Filho F, Bini LM (2010) SAM: a comprehensive application for spatial analysis in macroecology. Ecography 33:46–50

Renault L, Oguz T, Pascual A, Vizoso G, Tintoré J (2012) Surface circulation in the Alborán Sea (western Mediterranean) inferred from remotely sensed data. J Geophys Res 117:C08009

Roberts JJ, Best BD, Dunn DC, Treml EA, Halpin PN (2010) Marine geospatial ecology tools: an integrated framework for ecological geoprocessing with ArcGIS, Python, R, MATLAB, and C++. Environ Modell Softw 25:1197–1207

Ropert-Coudert Y, Wilson RP (2005) Trends and perspectives in animal-attached remote sensing. Front Ecol Environ 3:437–444

Sahi M, Bouaicha M (2003) La pêche artisanale en Algérie. In: Halieutiques MdlPedR (ed). Document FAO Copemed, Alger, 23

Sangster G, Collinson JM, Crochet PA, Knox AG, Parkin DT, Votier SC (2012) Taxonomic recommendations for British birds: eighth report. Ibis 154:874–883

Seaman DE, Powell RA (1996) An evaluation of the accuracy of kernel density estimators for home range analysis. Ecology 77:2075–2085

Shaffer SA, Tremblay Y, Weimerskirch H, Scott D, Thompson DR, Sagar PM, Moller H, Taylor GA, Foley DG, Block BA (2006) Migratory shearwaters integrate oceanic resources across the Pacific Ocean in an endless summer. Proc Natl Acad Sci 103:12799–12802

Sigler MF, Kuletz KJ, Ressler PH, Friday NA, Wilson CD, Zerbini AN (2012) Marine predators and persistent prey in the southeast Bering Sea. Deep-Sea Research Part Ii-Topical Studies in Oceanography 65–70:292–303

Thibault JC, Bretagnolle V, Rabouam C (1997) Cory's Shearwater Calonectris diomedea. Birds of the Western Palearctic Update 12:75–98

Vandenabeele SP, Shepard EL, Grogan A, Wilson RP (2012) When three per cent may not be three per cent; device-equipped seabirds experience variable flight constraints. Mar Biol 159:1–14

Villard P, Bonenfant C, Bretagnolle V (2011) Effects of satellite transmitters fitted to breeding Cory's shearwaters. J Wildlife Manage 75:709–714

Wakefield ED, Phillips RA, Matthiopoulos J (2009) Quantifying habitat use and preferences of pelagic seabirds using individual movement data: a review. Mar Ecol Prog Ser 391:165–182

Warren DL, Glor RE, Turelli M (2008) Environmental niche equivalency versus conservatism: quantitative approaches to niche evolution. Evolution 62:2868–2883

Weimerskirch H (2007) Are seabirds foraging for unpredictable resources? Deep Sea Res II 54:211–223

Weimerskirch H, Jouventin P, Stahl JC (1986) Comparative ecology of the six albatross species breeding on the Crozet Islands. Ibis 128:195–213

Weimerskirch H, Le Corre M, Jaquemet S, Marsac F (2005) Foraging strategy of a tropical seabird, the red-footed booby, in a dynamic marine environment. Mar Ecol Prog Ser 288:251–261

Weimerskirch H, Shaffer SA, Tremblay Y, Costa DP, Gadenne H, Kato A, Ropert-Coudert Y, Sato K, Aurioles D (2009) Species- and sex-specific differences in foraging behaviour and foraging zones in blue-footed and brown boobies in the Gulf of California. Mar Ecol Prog Ser 391:267–278

Wilson RP, Pütz K, Peters G, Culik BM, Scolaro JA, Charrassin JB, Ropert-Coudert Y (1997) Long-term attachment of transmitting and recording devices to penguins and others seabirds. Wildl Soc Bull 25:101–106

Xavier JC, Magalhaes MC, Mendonça AS, Antunes M, Carvalho N, Machete M, Santos RS, Paiva VH, Hamer KC (2011) Changes in diet of Cory's shearwaters Calonectris diomedea breeding in the Azores. Mar Ornithol 39:129–134
Acknowledgments
We thank J. Díaz, G. Martínez, Á. Sanz and F.J. López for their help during fieldwork and logistic support at Chafarinas Archipelago; J. Zapata and J.I. Montoya (OAPN) for their institutional support. R. Álvarez helped in the stable isotope analysis (LIE-EBD). N. Chatelain, M. Brucker and F. Crenner customized the GPS at the IPHC-DEPE. SEO/BirdLife provided economical support through the INDEMARES project (LIFE07NAT/E/000732). JN was supported by a postdoctoral contract of the Juan de la Cierva program (Spanish Ministry of Economy and Competitiveness). FR was supported by a postdoctoral contract from FP7-REGPOT 2010-1 (Grant No. 264125 of EcoGenes project). LC was supported by a postdoctoral contract funded by CSIC, FGCSIC and Banco Santander (Steppeahead project). The authors declare that all animals were handled in strict accordance with good animal practice as defined by the current European legislation, and all the experiments comply with the current laws of the Spain country.
Additional information
Communicated by S. Garthe.
Electronic supplementary material
Below is the link to the electronic supplementary material.
Figure S1 Adjust of the threshold speed for resting locations, from the lower limit of the inferring bimodal distribution of the speed transformation (ln (speed + 1)). (TIFF 10603 kb)
Figure S2 Exceptional Cory's shearwater longest trip during incubation stage. Foraging areas were identified only up to 33°N. (TIFF 8036 kb)
About this article
Cite this article
Afán, I., Navarro, J., Cardador, L. et al. Foraging movements and habitat niche of two closely related seabirds breeding in sympatry. Mar Biol 161, 657–668 (2014). https://doi.org/10.1007/s00227-013-2368-4
Received:

Accepted:

Published:

Issue Date:

DOI: https://doi.org/10.1007/s00227-013-2368-4
Keywords
Pelagic Fish

Trip Duration

Trip Distance

Breeding Stage

Alboran Basin