Abstract
In the 1990s, the central Tyrrhenian Sea was regarded as a transit region for fin whales' (Balaenoptera physalus) summer migration. In recent years, a much higher presence of fin whales during the entire summer season was reported in the region. The hypothesis that the central Tyrrhenian Sea may have become a summer feeding ground was tested gathering data from summer presence of whales in the region (40–42.5°N; 9–13°E) and investigating whether it might be related to sea surface temperature and chlorophyll-a concentration, considered as proxies of food availability. Results showed that whales always aggregate in the more productive portions of the investigated area; the general productivity of the area, however, did not directly influence the frequency of occurrence of whales. We concluded that the complex dynamics of the balance between feeding activities and avoiding pressures may have led fin whales to use the region as an opportunistic feeding ground.
Access options
Buy single article
Instant access to the full article PDF.
US$ 39.95
Tax calculation will be finalised during checkout.
Subscribe to journal
Immediate online access to all issues from 2019. Subscription will auto renew annually.
US$ 119
Tax calculation will be finalised during checkout.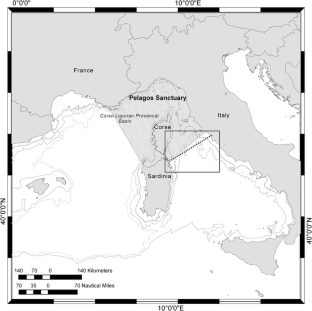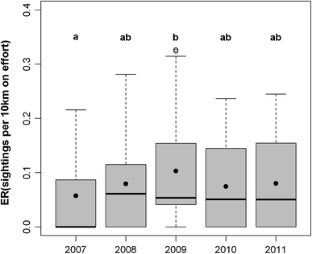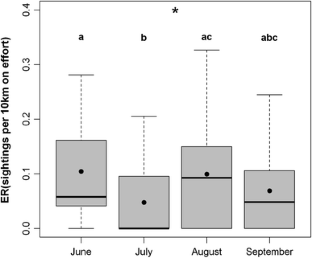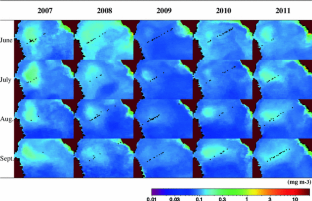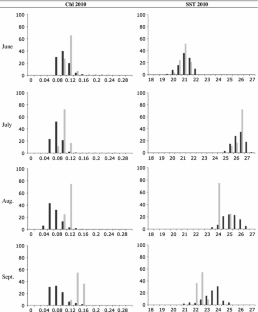 References
Aissi M, Celona A, Comparetto G, Mangano R, Wurtz M, Moulin A (2008) Large-scale seasonal distribution of fin whales (Balaenoptera physalus) in the central Mediterranean Sea. J Mar Biol Assoc UK 88(6):1253–1261

Arcangeli A, Crosti R, Marini L, Poggi A, Poldi A, Pulcini M, Safontas C, Sdringola S, Ukmar E (2008) Monitoring cetacean populations over 15 years in central Tyrrhenian Sea using a non-dedicated ferry as a observation platform. Eur Res Cetacea 22:5

Arcangeli A, Marini L, Crosti R (2012) Changes in cetacean presence, relative abundance and distribution over 20 years along a trans-regional fixed line transect in the central Tyrrhenian Sea. Mar Ecol 34(1):112–121

Astraldi M, Gasparini GP (1994) The seasonal characteristics of the circulation in the Tyrrhenian Sea. In seasonal and interannual variability of the Western Mediterranean Sea. Coastal Estuarine Stud 46:115–134

Azzellino A, Gaspari SA, Airoldi S, Lanfredi C (2008) Biological consequences of global warming: does sea surface temperature affect cetacean distribution in the western Ligurian Sea? J Mar Biol Assoc UK 88(6):1145–1152

Barale V, Panigada S, Zanardelli M (2002) Habitat preferences of fin whales (Balaenoptera physalus) in the northwestern Mediterranean Sea: a comparison between in situ and remote sensing data. 7th International Conference on Remote Sensing for Marine and Coastal Environments, Miami, Florida, 20–22 May 2002

Barale V, Jaquet J-M, Ndiaye M (2008) Algal blooming patterns and anomalies in the Mediterranean Sea as derived from the SeaWiFS data set (1998–2003). Remote Sens Environ 112:3300–3313

Bérubé M, Aguilar A, Dendanto D, Larsen F, Notarbartolo di Sciara G, Sears R, Sigurjonsson J (1998) Population genetic structure of North Atlantic, Mediterranean Sea and Sea of Cortez fin whales, Balaenoptera physalus (Linnaeus 1758): analysis of mitochondrial and nuclear loci. Mol Ecol 7:585–599

Bouman H, Platt T, Sathyendranath S, Stuart V (2005) Dependence of light-satured photosynthesis on temperature and community structure. Deep Sea Res 52:1284–1299

Castellote M, Clark CW, Lammers MO (2011) Fin whale (Balaenoptera physalus) population identity in the western Mediterranean Sea. Mar Mammal Sci 28(2):325–344

Colella S, Santoleri R (2006) Variabilità interannuale della produzione primaria nel Mar Mediterraneo: 8 anni di osservazioni SeaWiFS. Clima e cambiamenti climatici: le attività del CNR, 525–528

Cotté C, Guinet C, Taupier-Letage I, Mate B, Petiau E (2009) Scale-dependent habitat use by a large free-ranging predator, the Mediterranean fin whale. Deep Sea Res 56:801–811

Crosti R, Arcangeli A, Moulins A, Tepsich P, Tringali M (2011) Cetacean and maritime traffic in deep sea waters. A relation to avoid? Biol Mar Mediterr 18(1):178–179

Druon JN, Panigada S, David L, Gannier A, Mayol P, Arcangeli A, Cañadas A, Di Méglio N, Gauffier P (2012) Potential feeding habitat of fin whale in the Western Mediterranean Sea. Mar Ecol Prog Ser 464:289–306

Evans WE (1971) Orientation behaviour of delphinoid: radio telemetric studies. Ann NY Acad Sci 188:142–160

Forcada J, Notarbartolo di Sciara G, Fabbri F (1995) Abundance of fin whales and striped dolphins summering in the Corso-Ligurian Basin. Mammalia 59:127–140

Gambaiani DD, Mayol P, Isaac SJ, Simmonds MP (2009) Potential impacts of climate change and greenhouse gas emissions on Mediterranean marine ecosystems and cetaceans. J Mar Biol Assoc UK 89(1):179–201

Gannier A (2002) Summer distribution of fin whales (Balaenoptera physalus) in the north-western Mediterranean Marine Mammals Sanctuary. Rev Ecol Terr Vie 57:135–150

Gasparini GP, Ortona A, Budillon G, Astraldi M, Sansone E (2005) The effect of the eastern Mediterranean transient on the hydrographic characteristics in the strait of Sicily and in the Tyrrhenian sea. Deep Sea Res 52:915–935

Hengl T (2009) A practical guide to geostatistical mapping, 2nd edn. University of Amsterdam

Hlista BL, Sosik HM, Martin Traykovski LV, Kenney RD, Moore MJ (2009) Seasonal and interannual correlations between right-whale distribution and calving success and chlorophyll concentrations in the Gulf of Maine, USA. Mar Ecol Prog Ser 394:289–302

IPCC (2007) Climate change 2007: impacts, adaptation and vulnerability. Contribution of Working Group II to the Fourth Assessment Report of the Intergovernmental Panel on Climate Change, Parry ML , Canziani OF, Palutikof JP, van der Linden PJ, Hanson CE Eds., Cambridge University Press, Cambridge, UK, p 976

Irwin AJ, Finkel ZV (2008) Mining a Sea of data: deducing the environmental controls of ocean chlorophyll. PLoS ONE 3(11):e3836

Laran S, Gannier A (2008) Spatial and temporal prediction of fin whale distribution in the north-western Mediterranean Sea. ICES J Mar Sci 65:1260–1269

Lauriano G (2008) Censimento cetacei nel Santuario Pelagos. Greenpeace Italia e ISPRA (ex ICRAM). Relazione finale ISPRA

Learmonth JA, Macleod CD, Santos MB, Pierce GJ, Crick HQP, Robinson RA (2006) Potential effects of climate change on marine mammals. Oceanogr Mar Biol Annu Rev 44:431–464

Littaye A, Gannier A, Laran S, Wilson JPF (2004) The relationship between summer aggregation of fin whales and satellite-derived environmental conditions in the north-western Mediterranean Sea. Remote Sens Environ 90:44–52

MacLeod CD (2009) Global climate change, range changes and potential implications for the conservation of marine cetaceans: a review and synthesis. Endanger Species Res 7:125–136

MacLeod CD, Brereton T, Martin C (2008) Changes in the occurrence of common dolphins, striped dolphins and harbour porpoises in the English Channel and Bay of Biscay. J Mar Biol Assoc UK 89(5):1059–1065

Magnone F, Trainito E, Picollo V, De Lazzari A, Fozzi A, Napolitano E, Vitale S (2011) Observation of the feeding behaviour of fin whales (Balaenoptera physalus) along the north-eastern coast of Sardinia Mediterranean Sea. Biol Mar Mediterr 18(1):186–187

Marini L, Consiglio C, Angradi AM, Catalano B, Sanna A, Valentini T, Finoia MG, Villetti G (1997) Distribution, abundance and seasonality of cetaceans sighted during scheduled ferry crossings in the central Tyrrhenian Sea: 1989-1992. Ital J Zool 63:381–388

Monestiez P, Dubroca L, Bonnin E, Durbec JP, Guinet C (2006) Geostatistical modelling of spatial distribution of Balaenoptera physalus in the North-western Mediterranean Sea from sparse count data and heterogeneous observation efforts. Ecol Model 193:615–628

Nascetti D, Notarbartolo di Sciara G (1996) A fin whale and sperm whale sighting programme undertaken by the Italian Navy in the central Mediterranean Sea. Eur Res Cet 10:150–153

Notarbartolo di Sciara G, Zanardelli M, Jahoda M, Panigada S, Airoldi S (2003) The fin whale Balaenoptera physalus (L. 1758) in the Mediterranean Sea. Mamm Rev 33:105–150

Notarbartolo di Sciara G, Agardy T, Hyrenbach D, Scovazzi T, Van Klaveren P (2008) The pelagos sanctuary for mediterranean marine mammals. Aquatic Conserv Mar Freshw Ecosyst 18:367–391

Orsi Relini L, Giordano A (1992) Summer feeding of the fin whale, Balaenoptera physalus, in the Liguro–Provenc al basin. Eur Res Cet 6:138–141

Panigada S, Notarbartolo di Sciara G, Zanardelli Panigada M, Airoldi S, Borsani JF, Jahoda M (2005) Fin whales (Balaenoptera physalus) summering in the Ligurian Sea: distribution, encounter rate, means group size and relation to physiographic variables. J Cetacean Res Manage 7(2):137–145

Panigada S, Lauriano G, Burt L, Pierantonio N, Donovan G (2011) Monitoring winter and summer abundance of cetaceans in the Pelagos sanctuary (Northwestern Mediterranean Sea) through aerial surveys. PLoS ONE 6(7):e22878

Reeves R, Notarbartolo di Sciara G (2006) (compilers and editors) The status and distribution of cetaceans in the Black Sea and Mediterranean Sea. IUCN centre for mediterranean cooperation, Malaga, Spain, p 137

Schroder K, Gasparini GP, Tangherlini M, Astraldi M (2006) Deep and intermediate water in the western Mediterranean under the influence of the Eastern Mediterranean Transient. Geophys Res Lett 33:L21607. doi:10.1029/2006GL027121

Simmonds MP, Eliott WJ (2009) Climate change and cetaceans: concern and recent developments. J Mar Biol Assoc UK 89(1):203–210

Taylor BL, Martinez M, Gerrodette T, Barlow J (2007) Lessons from monitoring trends in abundance of marine mammals. Mar Mamm Sci 23(1):157–175

Vetrano A, Napolitano E, Iacono R, Schroeder K, Gasparini GP (2010) Tyrrhenian Sea circulation and water mass fluxes in spring 2004: observations and model results. J Geophys Res 115:C06023. doi:10.1029/2009JC005680

Volpe G, Nardelli BB, Cipollini P, Santoleri R, Robinson IS (2012) Seasonal to interannual phytoplankton response to physical processes in the Mediterranean Sea from satellite observations. Remote Sens Environ 117:223–235

Wall D, O'Brien J, Meade J, Allen BM (2006) Summer distribution and relative abundance of cetaceans off the west coast of Ireland. Biol Environ 106B(2):135–142

Wells RS, Hansen LJ, Baldridge A, Dohl TP, Kelly DL, Defran RH (1990) Northward extension of the range of bottlenose dolphins along the California coast. In: Leatherwood S, Reeves RR (eds) The bottlenose dolphin. Academic Press, San Diego, pp 421–431
Acknowledgments
We wish to thank Polo Gasparri, Ilaria Campana, Luigi Galvagni, Daniela Ottaviani, Roberto Inghilesi and all the expert observers of the ACCADEMIA DEL LEVIATANO. We are especially grateful to all the staff of CORSICA SARDINIA FERRIES for their friendly "welcome on board." Anton La Guardia and Judith Fisher improved the English understanding of the paper. We are also grateful to FONDAZIONE CARICIV which contributed to this project.
Additional information
Communicated by B. Stewart.
About this article
Cite this article
Arcangeli, A., Orasi, A., Carcassi, S.P. et al. Exploring thermal and trophic preference of Balaenoptera physalus in the central Tyrrhenian Sea: a new summer feeding ground?. Mar Biol 161, 427–436 (2014). https://doi.org/10.1007/s00227-013-2348-8
Received:

Accepted:

Published:

Issue Date:
Keywords
Mediterranean Basin

Whale Sighting

Balaenoptera Physalus

Entire Mediterranean Basin

Whale Distribution