Abstract
Application of stable isotope analysis (SIA) in jellyfish allows definition of trophic patterns not detectable using gut content analysis alone, but analytical protocols require standardization to avoid bias in interpreting isotopic data. We determined δ13C and δ15N in Aurelia sp. from the northern Gulf of Mexico (30°00′N, 89°00′W–30°24′N, 88°00′W) to define differences in stable isotope composition between body parts and whole body, the effect of lipid extraction on δ13C in tissues, and fractionation values from medusa to prey. The isotopic composition of bell and whole Aurelia sp. was not different. The increase in δ13C values after lipid removal suggested a correction is needed. To aid future analyses, we derived a correction equation from empirical data for jellyfish samples. Laboratory feeding experiments indicated medusae increased +4 ‰ in δ13C and +0.1 ‰ in δ15N compared to their diet. These results suggest protocols commonly applied for other species may be inaccurate to define Aurelia sp. trophic ecology. Because Aurelia spp. are commonly found in marine ecosystems, accurately defining their trophic role by use of SIA has implications for understanding marine food webs worldwide.
This is a preview of subscription content,
to check access.
Access this article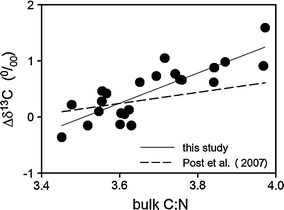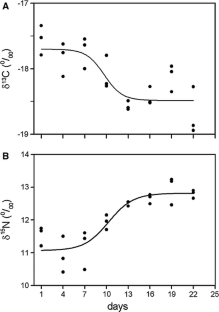 Similar content being viewed by others
References
Arai MN (1997) A functional biology of Scyphozoa. Chapman & Hall, London

Båmstedt U, Martinussen MB (2000) Estimating digestion rate and the problem of individual variability exemplified by a scyphozoan jellyfish. J Exp Mar Biol Ecol 251:1–15

Brodeur RD, Sugisaki H, Hunt GL Jr (2002) Increases in jellyfish biomass in the Bering Sea: implications for the ecosystem. Mar Ecol Prog Ser 233:89–103

D'Ambra I (2012) Application of stable isotopes in the analysis of trophic interactions between jellyfish and fish. Dissertation, University of South Alabama, Mobile

Fleming NEC, Houghton JDR, Magill CL, Harrod C (2011) Preservation methods alter stable isotope values in gelatinous zooplankton: implications for interpreting trophic ecology. Mar Biol 158:2141–2146

Focken U (2001) Stable isotopes in animal ecology: the effect of ration size on the trophic shift of C and N isotopes between feed and carcass. Isotopes Environ Health Stud 37:199–211

Frost J, Denda A, Fox CJ, Jacoby CA, Koppelmann R, Holtegaard Nielsen M, Youngbluth MJ (2012) Distribution and trophic links of gelatinous zooplankton on Dogger Bank, North Sea. Mar Biol 159:239–253

Gaye-Siesseger J, Focken U, Abel H-J, Becker K (2003) Feeding level and diet quality influence trophic shift of C and N isotopes in Nile tilapia (Orechromis niloticus(L.)). Isotopes Environ Health Stud 39:125–134

Gaye-Siesseger J, Focken U, Abel H-J, Becker K (2004) Individual protein balance influences ä15N and ä13C values in Nile tilapia, Orechromis niloticus. Naturwisseschaften 91:90–93

Logan JM, Jardine TD, Miller TJ, Bunn SE, Cunjak RA, Lutcavage ME (2008) Lipid corrections in carbon and nitrogen stable isotope analyses: comparison of chemical extraction and modelling methods. J Anim Ecol 77:838–846

Lorrain A, Paulet Y-M, Chauvaud L, Savoye N, Donval A, Saout C (2002) Differential δ13C and δ15N signatures among scallop tissues: implications for ecology and physiology. J Exp Mar Biol Ecol 275:47–61

Malej A, Faganelli J, Pezdič J (1993) Stable isotopes and biochemical fractionation in the marine pelagic food chain: the jellyfish Pelagia noctiluca and net zooplankton. Mar Biol 116:565–570

Martinussen MB, Båmstedt U (1999) Nutritional ecology of gelatinous planktonic predators. Digestion rate in relation to type and amount of prey. J Exp Mar Biol Ecol 232:61–84

McCutchan JH Jr, Lewis WM Jr, Kendall C, McGrath CC (2003) Variation in trophic shift for stable isotope ratios of carbon, nitrogen and sulfur. Oikos 102:378–390

Miller TW (2006) Tissue-specific response of ä15N in adult Pacific herring (Clupea pallasi) following an isotopic shift in diet. Environ Biol Fish 76:177–189

Parnell A, Inger R, Bearhop S, Jackson AL (2010) Source partitioning using stable isotopes: coping with too much variation. PLoS ONE 5:e9672

Pauly D, Graham WM, Libralato S, Morrissette L, Palomares MLD (2009) Jellyfish in ecosystem, online databases, and ecosystem models. Hydrobiologia 616:67–85

Peterson BJ, Fry B (1987) Stable isotopes in ecosystem studies. Annu Rev Ecol Syst 18:293–320

Pitt KA, Clement A, Connolly R, Thimbault-Botha D (2008) Predation of jellyfish on large and emergent zooplankton: implications for benthic-pelagic coupling. Estuar Coast Shelf Sci 76:827–833

Pitt KA, Connolly RM, Meziane T (2009a) Stable isotope and fatty acid tracers in energy and nutrient studies of jellyfish: a review. Hydrobiologia 616:119–132

Pitt KA, Welsh DT, Condon RH (2009b) Influence of jellyfish blooms on carbon, nitrogen and phosphorus cycling and plankton production. Hydrobiologia 616:133–149

Post DM, Layman CA, Arrington DA, Takimoto G, Quattrocchi J, Montaña GC (2007) Getting to the fat of the matter: models, methods and assumptions for dealing with lipids in stable isotope analysis. Oecologia 152:179–185

Purcell JE (2009) Extension of methods for jellyfish and ctenophore trophic ecology to large-scale research. Hydrobiologia 616:23–50

Purcell JE, Cresswell FP, Cargo DG, Kennedy VS (1991) Differential ingestion and digestion of bivalve larvae by the scyphozoan Chrysaora quinquecirrha and the ctenophore Mnemiopsis leidyi. Biol Bull 180:103–111

Raskoff KA, Sommer FA, Hamner WM, Cross KM (2003) Collection and culture techniques for gelatinous zooplankton. Biol Bull 204:68–80

Taylor JR (1996) An introduction to error analysis. The study of uncertainties in physical measurements, 2nd edn. University Science Books, Sausalito

Towanda T, Thuesen EV (2006) Ectosymbiotic behavior of Cancer gracilis and its trophic relationships with his host Phacellophora camtschatica and the parasitoid Hyperia medusarum. Mar Ecol Prog Ser 315:221–236

Vanderklift MA, Ponsard S (2003) Sources of variation in consumer-diet δ15N enrichment: a meta-analysis. Oecologia 136:169–182
Acknowledgments
Funding for this study was provided by the National Oceanographic and Atmospheric Agency (NOAA)–R.C. Shelby Center for Ecosystem-Based Fisheries Management and National Science Foundation NSF-RAPID (OCE-1043413) to WMG. We thank the Biological Oceanography and Fisheries and Oceanography of Coastal Alabama (FOCAL) laboratories and Technical Support at the Dauphin Island Sea Lab for sample collection and maintenance of living animals. We are particularly grateful to R. Collini, C. Culpepper, J. Herrmann, L. Linn, S. Muffelman, R. Shiplett, and K. Weiss for their invaluable help. D. Harris and J. Matthews at the SIF at UC Davis and C. Cook and B. Errkila at SIRFER provided suggestions for sample analysis. L. Carassou, F. Hernandez Jr, A. Hunter, A. Malej, and two anonymous reviewers improved earlier drafts of the manuscript.
Additional information
Communicated by C. Harrod.
About this article
Cite this article
D'Ambra, I., Carmichael, R.H. & Graham, W.M. Determination of δ13C and δ15N and trophic fractionation in jellyfish: implications for food web ecology. Mar Biol 161, 473–480 (2014). https://doi.org/10.1007/s00227-013-2345-y
Received:

Accepted:

Published:

Issue Date:

DOI: https://doi.org/10.1007/s00227-013-2345-y
Keywords