Abstract
Movement rates of eastern king prawns, Melicertus plebejus (Hess), were estimated from historical and recent conventional tag-recapture information collected across eastern Australia. Data from three studies and 2,656 tag recaptures were used. Recaptured males and females both moved east–north-east in central Queensland and north–north-east in southern Queensland and New South Wales. Over a period of one year, the estimated transition matrix reflected the species strong northerly movement and the more complex longitudinal movement, showing a very high probability of eastern movement in central Queensland and almost negligible eastern or western movement in northern New South Wales. The high exchange probability between New South Wales and Queensland waters indicated that spatial assessment models with movement rates between state jurisdictions would improve the management of this single-unit stock.
Access options
Buy single article
Instant access to the full article PDF.
USD 39.95
Price excludes VAT (USA)
Tax calculation will be finalised during checkout.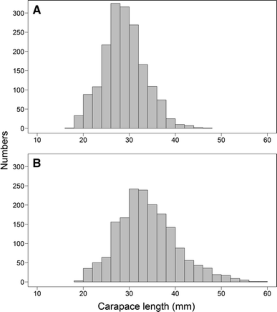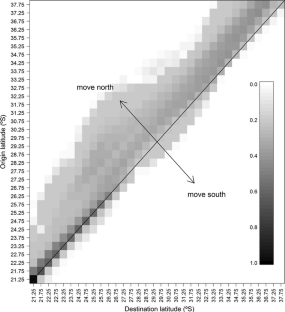 References
Braccini JM, O'Neill MF, Campbell AB, Leigh GM, Courtney AJ (2012) Fishing power and standardised catch rates: implications of missing vessel-characteristic data from the Australian eastern king prawn fishery. Can J Fish Aquat Sci 69(5):797–809

Die DJ, Courtney AJ, Cosgrove MG (1999) Effects of trawl fishing closures on yield and ex-vessel value on the Wide Bay bar eastern king prawn fishery. Department of Primary Industries, Queensland, QI99059, Brisbane

Dredge M, Gardiner P (1984) Survey discovers new central Queensland prawning grounds. Aust Fish 43:16–19

Glaister JP, Lau T, McDonall VC (1987) Growth and migration of tagged eastern Australian king prawns. Aust J Mar Fresh Res 38:225–241

Glaister JP, Montgomery SS, McDonall VC (1990) Yield-per-recruit analysis of Eastern King Prawns Penaeus plebejus Hess, in Eastern Australia. Aust J Mar Fresh Res 41:175–197

Gordon GNG, Andrew NL, Montgomery SS (1995) Deterministic compartment model for the eastern king prawn (Penaus plebejus) fishery in New South Wales. Mar Freshw Res 46:793–807

Hilborn R (1990) Determination of fish movement patterns from tag recoveries using maximum likelihood estimators. Can J Fish Aquat Sci 47:635–643

Jones R (1976) The use of marking data in fish population analysis. FAO Fish Tech Pap 153:1–42

Lucas C (1974) Preliminary estimates of stocks of the king prawn, Penaeus plebejus, in south-east Queensland. Aust J Mar Fresh Res 25:35–47

McGarvey R, Feenstra JE (2002) Estimating rates of fish movement from tag recoveries: conditioning by recapture. Can J Fish Aquat Sci 59:1054–1064

Montgomery SS (1981) Tagging studies on juvenile eastern king prawns reveal record migration. Aust Fish 40:13–14

Montgomery SS (1990) Movements of juvenile eastern king prawns, Penaeus plebejus, and identification of stock along the east coast of Australia. Fish Res 9:189–208

Mulley JC, Latter BDH (1981) Geographic differentiation of eastern Australian penaeid prawn populations. Aust J Mar Fresh Res 32:889–895

O'Callaghan M, Gordon GNG (2008) An individual-based stochastic hazard model of eastern king prawn (Melicertus plebejus) migration with spatially and temporally varying fishing effort. Ecol Model 218:73–94

Potter MA (1975) Movements of the eastern king prawn (Penaeus plebejus) in southern Queensland waters. In: Young PC (ed) First Australian National Prawn Seminar. Australian Government Publishing Service, Place, Canberra, pp 10–17

R Development CoreTeam (2011) R: A language and environment for statistical computing. R Foundation for Statistical Computing. Vienna, Austria ISBN 3-900051-07-0, http://R-project.org

Ruello NV (1975) Geographical distribution, growth and breeding migration of the eastern Australian king prawn Penaeus plebejus Hess. Aust J Mar Fresh Res 26:343–354

Turnbull CT, Tanimoto M, O'Neill MF, Campbell A, Fairweather CL (2009) Torres strait spatial management research project 2007–09. The State of Queensland, Department of Employment, Economic Development and Innovation, Brisbane

Walters CJ, Martell SJD (2004) Fisheries ecology and management. Princeton University Press, Princeton

Wright PJ, Galley E, Gibb IM, Neat FC (2006) Fidelity of adult cod to spawning grounds in Scottish waters. Fish Res 77:148–158

Young PC (1978) Moreton Bay, Queensland: a nursery area for juvenile penaeid prawns. Aust J Mar Fresh Res 29:55–75

Young PC, Carpenter SM (1977) Recruitment of postlarval penaeid prawns to nursery areas in Moreton Bay, Queensland. Aust J Mar Fresh Res 28:745–773
Acknowledgments
This research was supported by the Queensland and Australian Governments through the Australian Fisheries Research and Development Corporation (FRDC 2008/019). We thank the commercial trawl fishers in Queensland and New South Wales who provided the information on recaptured tagged prawns.
Additional information
Communicated by D. Righton.
About this article
Cite this article
Braccini, M., O'Neill, M.F., Courtney, A.J. et al. Quantifying northward movement rates of eastern king prawns along eastern Australia. Mar Biol 159, 2127–2136 (2012). https://doi.org/10.1007/s00227-012-1999-1
Received:

Accepted:

Published:

Issue Date:

DOI: https://doi.org/10.1007/s00227-012-1999-1
Keywords