Abstract
Between 1986 and 2009 nine submersible and remote-operated vehicle expeditions were carried out to study the population biology of the coelacanth Latimeria chalumnae in the Comoro Islands, located in the western Indian Ocean. Latimeria live in large overlapping home ranges that can be occupied for as long as 21 years. Most individuals are confined to relatively small home ranges, resting in the same caves during the day. One hundred and forty five coelacanths are individually known, and we estimate the total population size of Grande Comore as approximately 300–400 adult individuals. The local population inhabiting a census area along an 8-km section of coastline remained stable for at least 18 years. Using LASER-assisted observations, we recorded length frequencies between 100 and 200 cm total length and did not encounter smaller-bodied individuals (<100 cm total length). It appears that coelacanth recruitment in the observation areas occur mainly by immigrating adults. We estimate that the mean numbers of deaths and newcomers are 3–4 individuals per year, suggesting that longevity may exceed 100 years. The domestic fishery represents a threat to the long-term survival of coelacanths in the study area. Recent changes in the local fishery include a decrease in the abundance of the un-motorized canoes associated with exploitation of coelacanths and an increase in motorized canoes. Exploitation rates have fallen in recent years, and by 2000, had fallen to lowest ever reported. Finally, future fishery developments are discussed.
Access options
Buy single article
Instant access to the full article PDF.
US$ 39.95
Tax calculation will be finalised during checkout.
Subscribe to journal
Immediate online access to all issues from 2019. Subscription will auto renew annually.
US$ 119
Tax calculation will be finalised during checkout.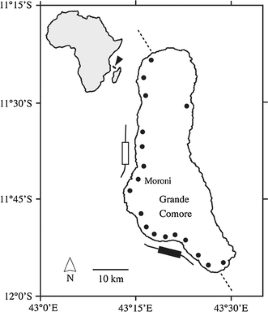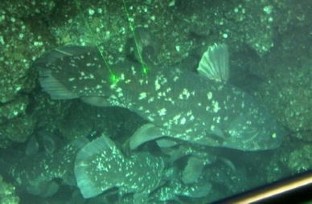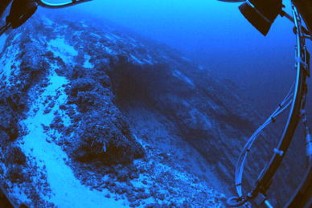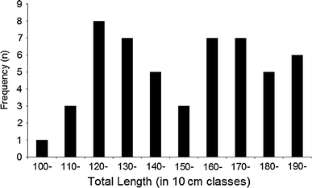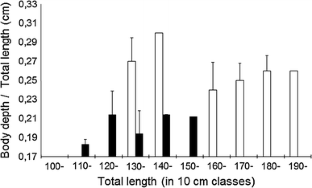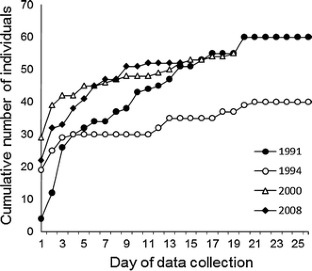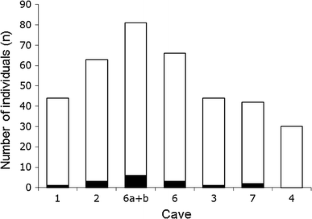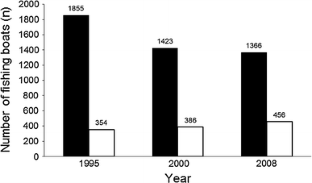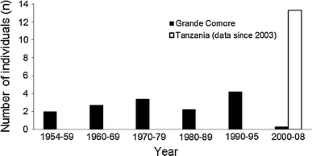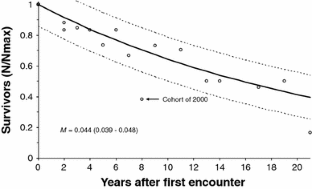 References
Archibald CP, Shaw W, Leaman BM (1981) Growth and mortality estimates of rockfishes (Scorpaenidae) from British Columbia Waters, 1977–1979. Can Tech Rep Fish Aquat Sci 1048:57

Balon EK, Bruton MN, Fricke H (1988) A fiftieth anniversary reflection on the living coelacanth, Latimeria chalumnae. Environ Biol Fish 23:241–280

Boy G (2001) Kenya's first coelacanth. Swara 24:24–26

Bruton MN, Armstrong MJ (1991) The demography of the coelacanth Latimeria chalumnae. Environ Biol Fish 32:301–311

Bruton MN, Coutouvidis SE (1991) An inventory of all known specimens of coelacanth Latimeria chalumnae, with comments on trends in the catches. Environ Biol Fish 32:371–390

Bruton MN, Stobbs RE (1991) The ecology and conservation of the coelacanth. Environ Biol Fish 32:313–339

Bruton MN, Hughes GR, Buxton CD et al (1989) Recommendations on marine conservation in the Federal Islamic Republic of the Comoros. Invest Rep JLB Smith Inst Ichthyol 34:1–103

Bruton MN, Cabral AJP, Fricke H (1992) First capture of a coelacanth, Latimeria chalumnae (Pisces, Latimeriidae), off Mozambique. S Afr J Sci 88:225–227

Charnov EL (1993) Life history invariants: some explorations of symmetry in evolutionary ecology. Oxford University Press, Oxford

DeVos L, Oyugi D (2002) First capture of a coelacanth, Latimeria chalumnae Smith, 1939 (Pisces, Latimeriidae), off Kenya. S Afr J Sci 98:345–347

Erdmann MV, Caldwell RL, Moosa MK (1998) Indonesian 'king of the sea' discovered. Nature 395:335

Forey PL (1988) Golden jubilee for the coelacanth Latimeria chalumnae. Nature 336:727–732

Forey PL (1990) The coelacanth fish: progress and prospects. Sci Prog 74:53–67

Forey PL (1991) Latimeria chalumnae and its pedigree. Environ Biol Fish 32:75–97

Forey PL (1998) History of the coelacanth fishes, 1st edn. Chapman & Hall, London

Fricke H (1993) Der Quastenflosser—Biologie eines legendären Fisches. Biologie in unserer Zeit 23:229–237

Fricke H (2007) Die Jagd nach dem Quastenflosser. C.H. Beck, München

Fricke H, Frahm J (1992) Evidence for lecithotrophic viviparity in the living coelacanth. Naturwissenschaften 79:476–479

Fricke H, Hissmann K (1994) Home-range and migrations of the living coelacanth Latimeria chalumnae. Mar Biol 120:171–180

Fricke H, Hissmann K (2000) Feeding ecology and evolutionary survival of the living coelacanth Latimeria chalumnae. Mar Biol 136:379–386

Fricke H, Plante R (1988) Habitat requirements of the living coelacanth Latimeria chalumnae at Grande Comore, Indian Ocean. Naturwissenschaften 75:149–151

Fricke H, Reinicke O, Hofer H, Nachtigall W (1987) Locomotion of the coelacanth Latimeria chalumnae in its natural environment. Nature 329:331–333

Fricke H, Hissmann K, Schauer J, Reinicke O, Kasang L, Plante R (1991a) Habitat and population size of the coelacanth Latimeria chalumnae at Grande Comore. Environ Biol Fish 32:287–300

Fricke H, Schauer J, Hissmann K, Kasang L, Plante R (1991b) Coelacanth Latimeria chalumnae aggregates in caves: first observations on their resting habitat and social behaviour. Environ Biol Fish 30:281–285

Fricke H, Hissmann K, Schauer J, Erdmann M, Moosa MK, Plante R (2000) Biogeography of the Indonesian coelacanth. Nature 403:38

Froese R, Palomares MLD (2000) Growth, natural mortality, length-weight relationship, maximum length and length-at-first-maturity of the coelacanth Latimeria. Environ Biol Fish 58:45–52

Heemstra PC, Freeman ALJ, Wong HY, Hensley DA, Rabesandratna HD (1996) First authentic capture of a coelacanth, Latimeria chalumnae (Pisces:Latimeriidae), off Madagascar. S Afr J Sci 92:150–151

Hertel H (1963) Struktur, Form und Bewegung. Krauskopf-Verlag, Mainz

Hintze J (2001) NCSS 2001. NCSS, LLC, Kaysville

Hissmann K, Fricke H, Schauer J (1998) Population monitoring of the coelacanth (Latimeria chalumnae). Conserv Biol 12:165–758

Hissmann K, Fricke H, Schauer J (2000) Pattern of time and space utilisation in coelacanths (Latimeria chalumnae), determined by ultrasonic telemetry. Mar Biol 136:943–952

Hissmann K, Fricke H, Schauer J, Ribbink AJ, Roberts M, Sink K, Heemstra P (2006) The South African coelacanths—an account of what is known after tree submersible expeditions. S Afr J Sci 102:1–10

Hoenig JM (1983) Empirical use of longevity data to estimate mortality rates. Fish Bull US 81:898–903

Holden C (2009) Infant fossil. Science 326:132

Hughes GM (1976) On the respiration of Latimeria chalumnae. Zool J Linn Soc 59:195–208

Hughes GM, Itazawa Y (1972) The effect of temperature on the respiratory function of coelacanth blood. Experientia 28:1247

Hureau JC, Ozouf C (1977) Determination de l'âge et croissance du coelacanthe Latimeria Smith, 1939 (poisson, crossoptérygian, coelacanthidé). Cybium Ser 3 2:129–137

IUCN (2009) IUCN red list of threatened species. Version 2009.1

Locket NA (1980) Some advances in coelacanth biology. Proc R Soc Lond Ser B 208:265–307

Nyandwi N (2006) Coastal Tanzania, a new home to the living coelacanth: an oceanographic analysis. Tanz J Sci 32:33–38

Plante R, Fricke H, Hissmann K (1998) Coelacanth population, conservation and fishery activity at Grande Comore, West Indian Ocean. Mar Ecol Prog Ser 166:231–236

Sasaki T, Sato T, Miura S, Bwanthoudi POJ, Ngatunga BP, Okada N (2007) Mitogenomic analysis for coelacanths (Latimeria chalumnae) caught in Tanzania. Gene 389:73–79

Schartl M, Hissmann K, Schauer J, Fricke H (2005) Relatedness among east African coelacanths. Nature 435:901

Schauer J, Hissmann K, Fricke H (1997) A method for deployment of externally attached sonic fish tags from a manned submersible and their effects on coelacanths. Mar Biol 128:359–362

Smith CL, Rand CS, Schaeffer B, Atz JW (1975) Latimeria, the living coelacanth, is ovoviviparous. Science 190:1105–1106

Springer VG (1999) Are the Indonesian and western Indian Ocean coelacanths conspecific: a prediction. Environ Biol Fish 54:453–456

Stevens MM, Andrews AH, Cailliet GM, Coale KH (2004) Radiometric validation of age, growth, and longevity for the blackgill rockfish (Sebastes melanostomus). Fish Bull 102:711–722

Stobbs RE, Bruton MN (1991) The fishery of the Comoros, with comments on its possible impact on coelacanth survival. Environ Biol Fish 32:341–359

Suyehiro Y (1983) Some views on the dissected specimens of coelacanth. Bienn Rep Keikyu Aburat Mar Park Aquar 12:12

Uyeno T (1984) Age estimation of coelacanth by scale and otolith. In: Proceedings of first symposium on coelacanth studies, pp 28–29

Venter P, Timm P, Gunn G, le Roux E, Serfontein C, Smith P, Smith E, Bensch M, Harding D, Heemstra P (2000) Discovery of a viable population of coelacanths (Latimeria chalumnae Smith, 1939) at Sodwana Bay, South Africa. S Afr J Sci 96:567–568
Acknowledgments
This study was supported by grants of the German Research Council DFG to H. Fricke, the last expedition in 2008 by grant No. FR 369/22-1. We thank the Max Planck Institute for Marine Microbiology in Bremen, Germany for financial and administrative assistances. The Max Planck Society in Munich, Germany, and the Frankfurt Zoological Society-Help for Threatened Wildlife supported our research over many years. The Leibniz Institute of Marine Sciences IFM-GEOMAR in Kiel, Germany supplied technical support. We thank all captains and crews of the vessels METOKA, SEA EAGLE, DEEP SALVAGE, INDIAN OCEAN EXPLORER and SOLAND for successful operations during the many years of our submersible operations. We are especially thankful to Paul Allen from Vulcan Co. who placed his MY OCTOPUS with diving equipment at our disposal. The government of the Islamic Republic of the Comoros allowed our diving operations within their territorial waters. The German Embassy in Antananarivo helped with all governmental matters, the CNDRS in Moroni with official internal affairs. Many thanks to Rik Nulens who supplied us with coelacanth literature and to Peter Forey for valuable comments on the text and for smoothing our English. We are especially grateful to Anja Fricke for her valuable help to improve the manuscript. Special thanks also to Mrs. Andree Koechlin and our friend Dr. Heinrich Vischer, both from Basle, Switzerland, for their generous support.
Additional information
Dedicated on the occasion of the 80th birthday of Prof. Dr. Wolfgang Wickler.
Communicated by C. Harrod.
Electronic supplementary material
Below is the link to the electronic supplementary material.
About this article
Cite this article
Fricke, H., Hissmann, K., Froese, R. et al. The population biology of the living coelacanth studied over 21 years. Mar Biol 158, 1511–1522 (2011). https://doi.org/10.1007/s00227-011-1667-x
Received:

Accepted:

Published:

Issue Date:
Keywords
Fishing

Home Range

Western Indian Ocean

Total Population Size

Observation Area