Abstract
We equipped individual tiger (Galeocerdo cuvier Péron and Lesueur, 1822) and Galapagos (Carcharhinus galapagensis Snodgrass and Heller, 1905) sharks with both acoustic and satellite transmitters to quantify their long-term movements in the Papahanaumokuakea Marine National Monument (Northwestern Hawaiian Islands). Tiger sharks exhibited two broad patterns of behavior. Some individuals were detected at French Frigate Shoals (FFS) year round, whereas others visited FFS atoll in summer to forage on fledging albatross, then swam thousands of kilometers along the Hawaiian chain, or out into open ocean to the North Pacific transition zone chlorophyll front, before returning to FFS in subsequent years. These patterns suggest tiger sharks may use cognitive maps to navigate between distant foraging areas. Different patterns of spatial behavior may arise because cognitive maps are built up through individual exploration, and each tiger shark learns a unique combination of foraging sites. Galapagos shark detections were all associated with FFS, suggesting these sharks may be more resident around oceanic islands. Both Galapagos and tiger sharks primarily used the mixed layer (<100 m depth) and made occasional deeper dives through the thermocline down to 680 m. Results show reef-associated sharks utilize a wide variety of habitats ranging from shallow atoll lagoons to deep reefs and open ocean and may provide important trophic links between these habitats.
Access options
Buy single article
Instant access to the full article PDF.
US$ 39.95
Tax calculation will be finalised during checkout.
Subscribe to journal
Immediate online access to all issues from 2019. Subscription will auto renew annually.
US$ 119
Tax calculation will be finalised during checkout.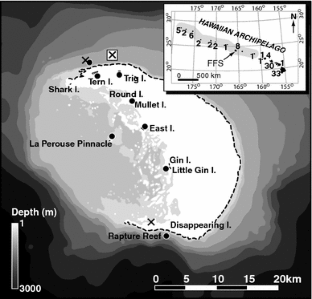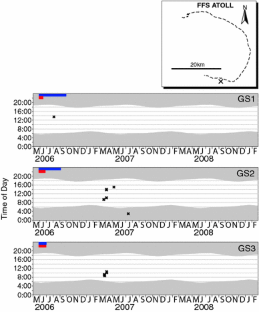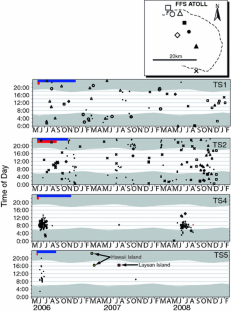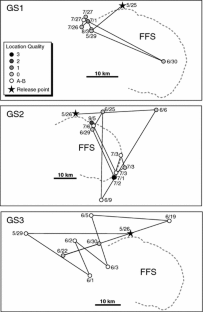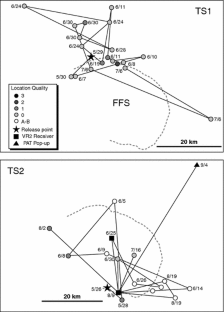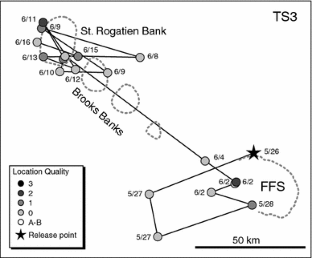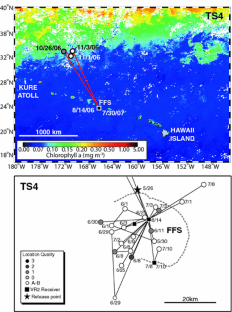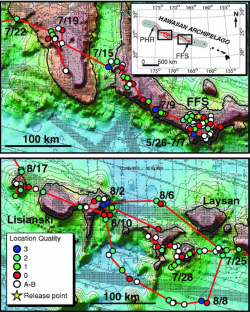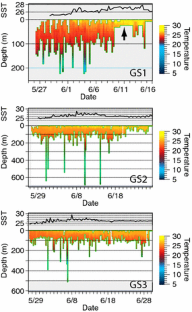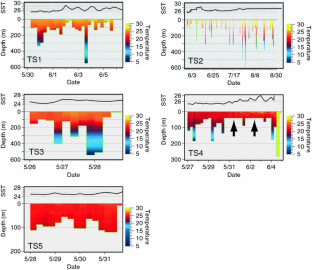 References
Alcorn DJ, Kam AKH (1986) Fatal shark attack on a Hawaiian monk seal (Monachus schauinslandi). Mar Mamm Sci 3:313–315. doi:10.1111/j.1748-7692.1986.tb00140.x

Antonelis GA, Baker JD, Johanos TC, Braun RC, Harting AL (2006) Hawaiian monk seal (Monachus schauinslandi): status and conservation issues. Atoll Res Bull 543:75–101

Balazs GH, Whittow GC (1979) First record of a tiger shark observed feeding on a Hawaiian monk seal. Elepaio 39:107–109

Bruce BD, Stevens JD, Malcolm H (2006) Movements and swimming behaviour of white sharks (Carcharodon carcharias) in Australian waters. Mar Biol 150:161–172. doi:10.1007/s00227-006-0325-1

Chapman DD, Pikitch EK, Babcock EA, Shivji MS (2007) Deep-diving and diel changes in vertical habitat use by Caribbean reef sharks, Carcharhinus perezi. Mar Ecol Prog Ser 344:271–275. doi:10.3354/meps06941

DeCrosta MA, Taylor LR, Parrish JD (1984) Age determination, growth and energetics of three species of carcharhinid sharks in Hawaii. In: Grigg RW, Tanoue KY (eds) Proceedings of 2nd symposium on resource investigations in the northwestern Hawaiian islands, Vol 2 UNIHI-SEAGRANT-MR-84-01, University of Hawaii Sea Grant, Honolulu, Hawaii, pp 75–95

Eckert SA, Stewart BS (2001) Telemetry and satellite tracking of whale sharks, Rhincodon typus, in the Sea of Cortez, Mexico, and the North Pacific Ocean. Environ Biol Fish 60:299–308

Gilbert BK (1999) Opportunities for social learning in bears. In: Box HO, Gibson KR (eds) Mammalian social learning: comparative and ecological perspectives. Cambridge University Press, Cambridge, UK, pp 225–235

Hays GC, Bradshaw CJA, James MC, Lovell P, Sims DW (2007) Why do Argos tags deployed on marine animals stop transmitting? J Exp Mar Biol Ecol 349:52–60. doi:10.1016/j.jembe.2007.04.016

Heithaus MR (2001) The biology of tiger sharks, Galeocerdo cuvier, in Shark Bay, Western Australia: sex ratio, size distribution, diet, and seasonal changes in catch rates. Environ Biol Fish 61:25–36

Heithaus MR, Wirsing AJ, Dill LM, Heithaus LI (2007) Long-term movements of tiger sharks satellite-tagged in Shark Bay, Western Australia. Mar Biol 151:1455–1461. doi:10.1007/s00227-006-0583-y

Holland KN, Wetherbee BM, Lowe CG, Meyer CG (1999) Movements of tiger sharks (Galeocerdo cuvier) in coastal Hawaiian waters. Mar Biol 134:665–673. doi:10.1007/s002270050582

Holland KN, Meyer CG, Dagorn LC (2009) Inter-animal telemetry; results from first deployment of acoustic "business card" tags. Endanger Species Res. doi: 10.3354/esr00226

Kohler NE, Casey JG, Turner PA (1998) NMFS cooperative shark tagging program, 1962–93: an atlas of shark tag and recapture data. Mar Fish Rev 60:1–87

Kohler NE, Natanson LJ, Pratt HL Jr, Turner PA, Briggs R (1999) The shark tagger-1998 annual summary. National Marine Fisheries Service, Narragansett

Lowe CG, Wetherbee BM, Crow GL (1996) Ontogenetic dietary shifts and feeding behaviour of the tiger shark, Galeocerdo cuvier, in Hawaiian waters. Environ Biol Fish 47:203–212. doi:10.1007/BF00005044

Lowe CG, Wetherbee BM, Meyer CG (2006) Using acoustic telemetry monitoring techniques to quantify movement patterns and site fidelity of sharks and giant trevally around French Frigate Shoals and Midway Atoll. Atoll Res Bull 543:281–303

Meyer CG, Clark TB, Papastamatiou YP, Whitney NM, Holland KN (2009a) Long-term movements of tiger sharks (Galeocerdo cuvier) in Hawaii. Mar Ecol Prog Ser 381:223–235. doi:10.3354/meps07951

Meyer CG, Dale JJ, Papastamatiou YP, Whitney NM, Holland KN (2009b) Seasonal cycles and long-term trends in abundance and species composition of sharks associated with cage diving ecotourism activities in Hawaii. Environ Conserv 36:104–111. doi:10.1017/S0376892909990038

Olding-Smee L, Braithwaite VA (2003) The role of learning in fish orientation. Fish Fish 4:235–246. doi:10.1046/j.1467-2979.2003.00127.x

Papastamatiou YP, Wetherbee BM, Lowe CG, Crow G (2006) Distribution and diet of four species of carcharhinid shark in the Hawaiian Islands: evidence for resource partitioning and competitive exclusion. Mar Ecol Prog Ser 320:239–251. doi:10.3354/meps320239

Papastamatiou YP, Meyer CG, Holland KN (2008) A new acoustic pH transmitter for studying the feeding habits of free-ranging sharks. Aquat Living Resour 20:287–290. doi:10.1051/alr:2008003

Polovina JJ, Lau BB (1993) Temporal and spatial distribution of catches of tiger sharks, Galeocerdo cuvier, in the pelagic longline fishery around the Hawaiian Islands. Mar Fish Rev 55:1–3

Polovina JJ, Howell E, Kobayashi DR, Michael P, Seki MP (2001) The transition zone chlorophyll front, a dynamic global feature defining migration and forage habitat for marine resources. Prog Oceanogr 49:469–483. doi:10.1016/S0079-6611(01)00036-2

Rogers AD (1993) The biology of seamounts. Adv Mar Biol 30:305–340. doi:10.1016/S0065-2881(08)60065-6

Sims D et al (2008) Scaling laws of marine predator search behavior. Nature 451:1098–1102. doi:10.1038/nature06518

Stevens JD, Bradford RW, West GJ (2010) Satellite tagging of blue sharks (Prionace glauca) and other pelagic sharks off eastern Australia: depth behaviour, temperature experience and movements. Mar Biol 157:575–591. doi:10.1007/s00227-009-1343-6

Tinker MT, Bentall G, Estes JA (2008) Food limitation leads to behavioral diversification and dietary specialization in sea otters. Proc Nat Acad Sci 105:560–565. doi:10.1073/pnas.0709263105

Tricas TC, Taylor LR, Naftel G (1981) Diel behavior of the tiger shark, Galeocerdo cuvier, at French Frigate Shoals, Hawaiian Islands. Copeia 1981:904–908. doi:10.2307/1444199

Weng KC, Castilho PC, Morrissette JM, Landeira-Fernandez AM, Holts DB, Schallert RJ, Goldman KJ, Block BA (2005) Satellite tagging and cardiac physiology reveal niche expansion in salmon sharks. Science 7:104–106. doi:10.1126/science.1114616

Weng KC, Foley DG, Ganong JE, Perle C, Shillinger GL, Block BA (2008) Migration of an upper trophic level predator, the salmon shark Lamna ditropis, between distant ecoregions. Mar Ecol Prog Ser 372:253–264. doi:10.3354/meps07706

Wetherbee BM, Crow GL, Lowe CG (1996) Biology of the Galapagos shark, Carcharhinus galapagensis, in Hawaii. Environ Biol Fish 45:299–310

Wirsing AJ, Heithaus MR, Dill LM (2006) Tiger shark (Galeocerdo cuvier) abundance and growth in a subtropical embayment: evidence from 7 years of standardized fishing effort. Mar Biol 149:961–996. doi:10.1007/s00227-006-0278-4
Acknowledgments
We thank the crew of the NOAA ship Hi'ialakai especially coxswains S. Jones, J. Kehn and G. Maurizio for scientific mission support. We thank R. Kosaki, B. Bowen, M. Craig, J. Zamzow and P. Santos for their assistance in the field. We are grateful to Lucas Moxey (NOAA) for providing WiFS ocean color satellite imagery. This study was funded by an award to Hawaii Institute of Marine Biology from the National Marine Sanctuary Program (MOA 2005-008/6882). This work was carried out in accordance with the animal use protocols of the University of Hawaii (protocol #05-053). This work was conducted under U.S. Fish and Wildlife Special Use Permit #12521-06048, State of Hawaii Department of Land and Natural Resources permits # DLNR.NWHI06R019, NOAA-NWHIMNM-permit #2006-012, and Papahanaumokuakea Marine National Monument permits # PMNM-2007-031, #PMNM-2008-027 and # PMNM-2009-037. The experiments carried out during this study complied with the current laws of the United States of America.
Additional information
Communicated by S. Garthe.
About this article
Cite this article
Meyer, C.G., Papastamatiou, Y.P. & Holland, K.N. A multiple instrument approach to quantifying the movement patterns and habitat use of tiger (Galeocerdo cuvier) and Galapagos sharks (Carcharhinus galapagensis) at French Frigate Shoals, Hawaii. Mar Biol 157, 1857–1868 (2010). https://doi.org/10.1007/s00227-010-1457-x
Received:

Accepted:

Published:

Issue Date:
Keywords
Atoll

Acoustic Transmitter

Tiger Shark

Acoustic Detection

Atoll Lagoon